The Most Radical Aspect of Jeremy Corbyn's Program? Democratizing the Economy
A report from the Labour Party outlines plans to democratize models of ownership.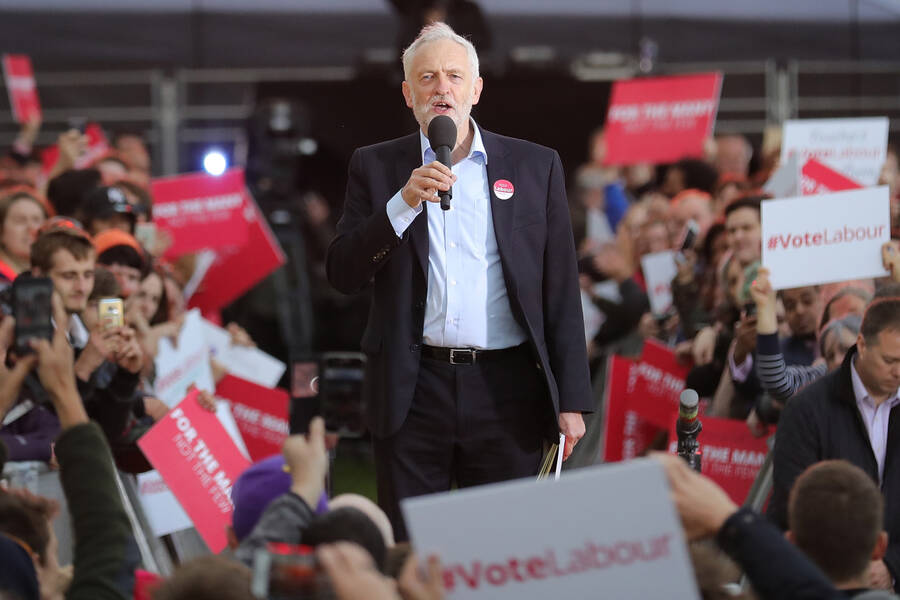 This sto­ry was first pub­lished at Jacobin.
"Alternative Models of Ownership" returns to a key demand of the Left, one posed since the nineteenth century: that we take over the machinery and fundamentally retool it — that we take a private system of production and transform it into a social organism under democratic control.
So much about the 2017 Labour elec­tion cam­paign has been heart­en­ing: the ener­gy, the con­vic­tion, the full-throat­ed embrace of remak­ing gov­ern­ment in the ser­vice of the many.
All of the main cam­paign pledges — from free tuition to thou­sands of new homes to a stronger Nation­al Health Ser­vice — will change where mon­ey and resources flow in the UK, from those who need them least to those who need them most. But one set of pro­pos­als, if imple­ment­ed, would go fur­ther, start­ing to trans­form the foun­da­tions of the economy.
A few months ago, a group of Labour Par­ty researchers qui­et­ly deliv­ered a report titled ​"Alter­na­tive Mod­els of Own­er­ship" to Shad­ow Chan­cel­lor John McDon­nell. Its core mes­sage is sim­ple: the Left must begin to democ­ra­tize the economy.
An aban­doned creed
And democ­ra­tiz­ing the econ­o­my means chal­leng­ing the most impor­tant fun­da­men­tal of cap­i­tal­ist eco­nom­ics: the pri­ma­cy of pri­vate own­er­ship. In par­tic­u­lar, pri­vate own­er­ship of cap­i­tal, of all the things — the build­ings, the machines, the tools, the hard­ware, and the soft­ware — that we use to make oth­er things. With­out a say in how tools are used, work­ers them­selves become pas­sive tools. Being able to active­ly par­tic­i­pate in deci­sion-mak­ing and own­er­ship go hand in hand. Democ­ra­tiz­ing means tak­ing own­er­ship.
These ideas are not new, but they have been sup­pressed under the decades-long advance of right-wing ideas, includ­ing with­in tra­di­tion­al­ly left-wing par­ties and move­ments. In the UK, one of the last major pro­pos­als for democ­ra­tiz­ing the econ­o­my was the Lucas Alter­na­tive Cor­po­rate Plan. It was put for­ward by union­ized work­ers at the Lucas Aero­space in 1976 in response to immi­nent restruc­tur­ing that would see many of them fired.
The unions at Lucas can­vassed their mem­bers and pro­duced a detailed plan for an alter­na­tive kind of restruc­tur­ing that would see the com­pa­ny trans­formed: from one with half of its out­put going to the mil­i­tary, to one pro­duc­ing social­ly use­ful prod­ucts. Expand­ing on exist­ing tech­nol­o­gy, work­ers pro­posed retool­ing to make every­thing from sore­ly need­ed kid­ney dial­y­sis machines to ear­ly solar cells to hybrid pow­er dri­ves for vehicles.
Despite a glob­al cam­paign, the Alter­na­tive Plan failed with­out ade­quate gov­ern­ment pres­sure on Lucas. With the elec­tion of Mar­garet Thatch­er a few short years lat­er, the win­dow on any sim­i­lar push for eco­nom­ic trans­for­ma­tion was shut.
"Alter­na­tive Mod­els of Own­er­ship" is one exam­ple of the window's reopen­ing. Many of the document's ideas have sub­se­quent­ly found their way into the Labour Par­ty elec­tion plat­form. The right-wing press has used it as evi­dence that Cor­byn would ​"take Britain back to the ​'70s." But they're wrong: the plans are firm­ly ori­ent­ed to the future.
Why take control
The UK today is in a low-invest­ment, low-pro­duc­tiv­i­ty trap. And work­ers are feel­ing the brunt of it: long-run wage growth is hit­ting lows not seen since the nine­teenth cen­tu­ry. Inequal­i­ty has grown steadi­ly since the finan­cial cri­sis. The econ­o­my, in short, is not work­ing for most people.
"Alter­na­tive Mod­els of Own­er­ship" makes the case, rarely heard today, that we can tack­le the roots of eco­nom­ic injus­tice and inequal­i­ty, not just man­age their effects. Democ­ra­tiz­ing own­er­ship can move the UK econ­o­my away from the short-ter­mism of the rich, who prof­it from unpro­duc­tive, low-wage work. Social­ists have always sought a high-pro­duc­tiv­i­ty econ­o­my, where com­mon own­er­ship trans­lates pro­duc­tiv­i­ty gains into less work, more leisure, and a bet­ter life — as Cor­byn says — for the many, not the few.
Instead of the usu­al fear­mon­ger­ing about robots tak­ing jobs, the report argues that we can, and should, share in the ben­e­fits of automa­tion and tech­no­log­i­cal progress. Owned in com­mon, tech­no­log­i­cal advances of the future could free us of drudgery, rather than mere­ly leave us unem­ployed and destitute.
And while it still makes too much of the dread­ed automa­tion, which has yet to show up in the pro­duc­tiv­i­ty sta­tis­tics, the doc­u­ment avoids uncrit­i­cal­ly repeat­ing the wildest prog­noses of immi­nent cat­a­stroph­ic unem­ploy­ment. Demo­c­ra­t­ic con­trol over pro­duc­tion, it says, is a goal regard­less of whether robots are doing 20 per­cent, or one day 90 per­cent, of the work. Automa­tion can be a threat or a promise depend­ing on the struc­ture of the economy:
The big­ger imme­di­ate chal­lenge is not the immi­nent rise of the robots but that too many peo­ple will remain trapped in robot­ic, drudgery-filled and low-pro­duc­tiv­i­ty jobs. In this con­text, accel­er­at­ing automa­tion is a key polit­i­cal project. The goal should be to embrace the tech­no­log­i­cal poten­tial of moder­ni­ty, accel­er­at­ing into a more auto­mat­ed, pro­duc­tive future with all its lib­er­at­ing pos­si­bil­i­ties, while build­ing new insti­tu­tions around own­er­ship, work, leisure and invest­ment, where tech­no­log­i­cal change is shaped by the com­mon good.
How to take control
So if more eco­nom­ic democ­ra­cy is the end, Labour's plans focus on three means of reach­ing it.
First, there are co-ops, mem­ber­ship orga­ni­za­tions where own­er­ship and deci­sion-mak­ing are shared by the mem­bers. There are many types of co-ops, from con­sumer co-ops where mem­bers do noth­ing more than elect boards of gov­er­nors every few years to ful­ly work­er-run co-ops where shop floor deci­sions are sub­ject to demo­c­ra­t­ic delib­er­a­tion. At their best, co-ops ensure new tech­nol­o­gy is imple­ment­ed quick­ly but work is redis­trib­uted so that jobs are not lost.
Unsur­pris­ing­ly, the Labour doc­u­ment focus­es on work­er co-ops. It relies on three main exam­ples — ply­wood pro­cess­ing in the US North­west, the region of Emil­ia-Romagna in Italy, and the Mon­drag­on net­work from Spain — to make the case that work­er co-ops can be as effi­cient (if not more effi­cient) than their pri­vate­ly owned coun­ter­parts. This argu­ment is key to pre­sent­ing co-ops as a cure to the diag­no­sis of low productivity.
Next there is ​"munic­i­pal and local­ly-led" own­er­ship. This broad cat­e­go­ry includes every­thing from com­mu­ni­ty shops to farm­ers' mar­kets and devel­op­ment trusts to social enter­pris­es. Many of these are halfway hous­es between cap­i­tal­ist enter­prise and direct eco­nom­ic democ­ra­cy. The impor­tant fact is that they are respon­sive to their com­mu­ni­ties, are lim­it­ed, par­tial­ly or total­ly, in using prof­its for any­thing oth­er than rein­vest­ment in the com­mu­ni­ty, and have broad­er social or envi­ron­men­tal goals.
Because of their gen­er­al­ly small size and pre­car­i­ty as out­crops of democ­ra­cy in rough cap­i­tal­ist seas, both co-ops and local­ly led insti­tu­tions require oth­er ​"anchor insti­tu­tions" to sus­tain or pro­tect them. For instance, co-ops have a hard­er time access­ing finance because lenders can­not gain rights of con­trol if things go wrong. Local social enter­pris­es, on the oth­er hand, often find it dif­fi­cult to get off the ground with­out pro­cure­ment con­tracts from local author­i­ties for what they produce.
The third cat­e­go­ry of eco­nom­ic democ­ra­cy, nation­al own­er­ship, is usu­al­ly on a vast­ly dif­fer­ent scale. Where co-ops or social enter­pris­es are most often quite small, state-owned enter­pris­es are usu­al­ly found among the ​"com­mand­ing heights" of the economy.
Even con­ven­tion­al eco­nom­ics grudg­ing­ly admits that there may be ​"nat­ur­al" monop­o­lies, sec­tors where fixed cap­i­tal costs are so high that any num­ber of firms greater than one is too cost­ly. The post ser­vice is one exam­ple: a net­work of post offices that serves the entire pop­u­la­tion is a very cost­ly thing to cre­ate. Not only does it not make sense to have two; any­one try­ing to cre­ate a sec­ond one will most like­ly fail, con­sumed by the high start-up costs (unless, of course, the gov­ern­ment goes out of its way to ham­string or dis­man­tle these monopolies).
"Alter­na­tive Mod­el of Own­er­ship" argues for state own­er­ship where nat­ur­al monop­o­lies exist, in sec­tors where only the gov­ern­ment can car­ry out the long-term and risky invest­ment that scares off pri­vate investors, and where high-qual­i­ty ser­vices are need­ed. This third cat­e­go­ry is — right­ly! — kept quite broad. Eco­nom­ic democ­ra­cy is not a nar­row niche.
While state-owned enter­pris­es give the gov­ern­ment direct con­trol over such things as pric­ing and pro­duc­tion, there are no guar­an­tees that they will be sig­nif­i­cant­ly more demo­c­ra­t­ic, nei­ther for their work­ers nor the cit­i­zens who use their goods or ser­vices. Labour's report holds out the promise for a dif­fer­ent kind of state, one that rec­og­nizes pub­lic own­er­ship is a means for more democ­ra­cy, not an end in itself.
In a more demo­c­ra­t­ic state, work­ers might elect front-line man­agers with­in a nation­al rail­way com­pa­ny whose board includ­ed rep­re­sen­ta­tives from unions, pas­sen­ger rights groups, and local gov­ern­ment. Com­mu­ni­ty coun­cils of patients could help chart the strat­e­gy of a pub­lic hos­pi­tal — an idea the NHS briefly flirt­ed with in the 1970s. Eco­nom­ic democ­ra­cy is far more than pub­lic ownership.
What to control
Of the ideas with­in ​"Alter­na­tive Mod­els of Own­er­ship," the one that fig­ures most promi­nent­ly in the Labour man­i­festo is nation­al­iza­tion. Or rather, renation­al­iza­tion. Cor­byn has pledged to take cru­cial ser­vices such as rail and mail back under pub­lic ownership.
The pri­va­ti­za­tion of the British rail­roads has been a text­book dis­as­ter: ser­vice has decreased, fares have sky­rock­et­ed, and rid­er­ship has dropped. The UK is a total lag­gard in the con­struc­tion of high-speed rail — pre­cise­ly the type of high-cost, high-risk endeav­or with huge social and eco­log­i­cal ben­e­fits that is large­ly under­tak­en by state-run rail com­pa­nies elsewhere.
The Roy­al Mail has seen some of the same dynam­ics in ser­vice qual­i­ty and cost since becom­ing a for-prof­it busi­ness. Labour has com­mit­ted to tak­ing both back into pub­lic hands step by step: tak­ing over rail com­pa­nies as their fran­chis­es expire and revers­ing Roy­al Mail privatization.
A third major sec­tor of the UK econ­o­my that's gone from pub­lic into pri­vate hands is pow­er gen­er­a­tion and dis­tri­b­u­tion. Unlike the cas­es of rail and mail, the pledge to bring the ener­gy sys­tem back under pub­lic own­er­ship draws on the sec­ond plank of ​"Alter­na­tive Mod­els of Own­er­ship": Labour has said it will cre­ate a decen­tral­ized sys­tem where a sin­gle nation­al­ly owned grid is framed by a net­work of new munic­i­pal­ly owned ener­gy providers. The plan is to cre­ate new munic­i­pal enti­ties along­side exist­ing pri­vate providers, out­com­pet­ing and even­tu­al­ly replac­ing them with a com­bi­na­tion of low­er costs, bet­ter ser­vice, and man­dat­ed green power.
Mov­ing the debate forward
John McDon­nell has also spo­ken reg­u­lar­ly about expand­ing co-ops, espe­cial­ly in cas­es where com­pa­nies are fail­ing and work­ers risk being laid off. Addi­tion­al­ly, McDon­nell has spo­ken of the ​"Right to Own," a key pro­pos­al of Alter­na­tive Mod­els of Own­er­ship, which McDon­nell says would give work­ers ​"first rights on buy­ing out a com­pa­ny or plant that is being dis­solved, sold, or float­ed on the stock exchange." Labour is right to include co-ops as a poten­tial source of eco­nom­ic democ­ra­cy but its report isn't as crit­i­cal as it should be. In the first instance, there are times when busi­ness­es are strug­gling for good rea­son, whether due to tech­no­log­i­cal obso­les­cence, a change in fash­ion or some oth­er cause. Funds should then be direct­ed not just to tak­ing over the firms but to reori­ent­ing them.
This is what the pre­cur­sors to Labour's cur­rent pol­i­cy at Lucas Aero­space want­ed — and it is a much big­ger project, one that may require far more than just buy-out funds: retrain­ing, tech­ni­cal exper­tise, retool­ing, per­haps at least tem­po­rary nation­al­iza­tion to obtain funding.
More broad­ly, co-ops under cap­i­tal­ism often end up adopt­ing cap­i­tal­ist busi­ness prac­tices, even against the best wish­es of their mem­bers. Wage dis­par­i­ties, an increas­ing­ly pro­fes­sion­al­ized cadre of man­agers, arbi­trary shop floor dis­ci­pline — all of these are symp­toms that have come to plague long-stand­ing co-ops, for exam­ple ones in the Mon­drag­on net­work. Oth­ers, such as those in the US ply­wood indus­try, have slow­ly died as the indus­try transformed.
There is noth­ing inher­ent­ly good about small scale. It can, some­times, root pro­duc­ers in com­mu­ni­ties and cre­ate some sem­blance of demo­c­ra­t­ic own­er­ship. But it can also gen­er­ate inef­fi­cien­cies, small­er cush­ions for risk, and provin­cial­ism — more parochial man­age­ment or a lack of innovation.
Start­ing small may be eas­i­er, but ulti­mate­ly more con­trol over eco­nom­ic deci­sion-mak­ing means more con­trol over invest­ment across the econ­o­my. Demo­c­ra­t­ic plan­ning has always been dogged by the ques­tion of direct­ing invest­ment. Along­side local exper­i­ments, we must be think­ing about the heights of the glob­al econ­o­my, the heart of our mod­ern cap­i­tal­ist plan­ning appa­ra­tus: the finan­cial sys­tem. That it is miss­ing from ​"Alter­na­tive Mod­els of Own­er­ship" shows the long road to more whole­sale transformation.
In some sec­tors, eco­nom­ic democ­ra­cy will be eas­i­er at the local lev­el, in oth­ers larg­er enti­ties will be more sta­ble and resilient. There is an old left argu­ment that cap­i­tal­ism cre­ates its own con­di­tions for being sur­passed. Today's enor­mous cor­po­ra­tions pay pover­ty wages, despoil the envi­ron­ment, and are run as per­son­al fief­doms. But they also increase tech­ni­cal pro­duc­tiv­i­ty and bring mass­es of peo­ple togeth­er, reveal­ing the unques­tion­ably social nature of work.
Despite the myth of mer­i­toc­ra­cy, work­ers in today's glob­al sup­ply chains and mas­sive ser­vice oper­a­tions can see imme­di­ate­ly that no one per­son, no Sam Wal­ton, no Richard Bran­son, is respon­si­ble for mak­ing them run. We are bound togeth­er by a grand machin­ery. Under cap­i­tal­ism, the machin­ery dis­trib­utes its grow­ing boun­ty unequal­ly, destroy­ing human lives and nature in the process.
"Alter­na­tive Mod­els of Own­er­ship" returns to a key demand of the Left, one posed since the nine­teenth cen­tu­ry: that we take over the machin­ery and fun­da­men­tal­ly retool it — that we take a pri­vate sys­tem of pro­duc­tion and trans­form it into a social organ­ism under demo­c­ra­t­ic control.
Doing so requires steel­ing our­selves for a big fight. The report offers many pro­pos­als for demo­c­ra­t­ic end goals, but we must also devise strate­gies for the inevitable strug­gles to achieve them. We can­not fall into a tech­no­crat­ic trap. Nation­al­iz­ing indus­tries or insti­tut­ing munic­i­pal con­trol are not neu­tral pro­pos­als but class demands. Labour's surge in the polls and its fan­tas­tic cam­paign are a start – but we need a long-term focus on build­ing the pow­er that will be capa­ble of mak­ing these ideas reality.
"Alter­na­tive Mod­els of Own­er­ship" is a real step for­ward, reviv­ing the demand for eco­nom­ic trans­for­ma­tion. It is an ambi­tious doc­u­ment and, undoubt­ed­ly, one of the most rad­i­cal we have seen in main­stream pol­i­tics for a long time. Jere­my Corbyn's Labour is propos­ing not just that we have a big­ger slice of the pie, but a big­ger say over how it is made.
In These Times is proud to fea­ture con­tent from Jacobin, a print quar­ter­ly that offers social­ist per­spec­tives on pol­i­tics and eco­nom­ics. Sup­port Jacobin and buy a four-issue sub­scrip­tion for just $19.95.
Michal Roz­wors­ki
is a Toron­to-based union researcher and writer. He blogs at Polit­i­cal Eh-conomy.