There's a Simple Solution to the Unemployment Crisis: Offer Everyone a Job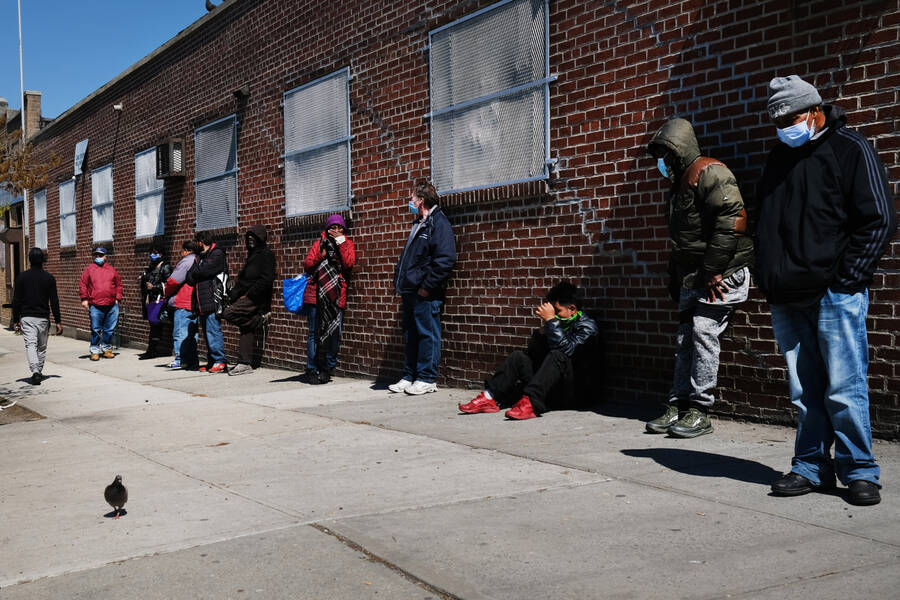 Lat­er this month, Pavli­na Tch­erne­va, an eco­nom­ics pro­fes­sor at Bard Col­lege and a research schol­ar at the Levy Eco­nom­ics Insti­tute, is pub­lish­ing a book enti­tled The Case for a Job Guar­an­tee. The book details a pol­i­cy idea that she's been think­ing about and devel­op­ing through­out her career. It's gained momen­tum in recent years, with sen­a­tors like Kamala Har­ris (D‑Calif.), Cory Book­er (D‑N.J.), and Bernie Sanders (I‑Vt.) embrac­ing it, and many activists have described it as an inte­gral part of any Green New Deal. But what is a Job Guar­an­tee, and how would it work? Con­tribut­ing writer Rachel Cohen talked with Dr. Tch­erne­va about her forth­com­ing book, and how we should be think­ing about a pol­i­cy for guar­an­teed employ­ment amid our cur­rent eco­nom­ic cri­sis. This inter­view has been light­ly edit­ed and condensed.
Rachel Cohen: Read­ing your book, as I under­stand it, a job guar­an­tee is a promise that a job, pay­ing at least $15 an hour, will be giv­en to any­one who wants one. If some­one doesn't want to be unem­ployed, they will be able to access a liv­ing-wage job through this pro­gram. Can you be fired from this job — for poor per­for­mance, co-work­er com­plaints, or some­thing else?
Pavli­na Tch­erne­va: Yes, they can be fired. If some­one is harass­ing peo­ple in the work­place, sure­ly. A job guar­an­tee is a promise that a job will be there, but it's not a promise that bel­liger­ent work­ers will be tol­er­at­ed. But the way we think about ​'bel­liger­ent' just changes com­plete­ly when you start think­ing with a real per­son in mind.
So I some­times equate a job guar­an­tee to pub­lic libraries. You can assume that you can walk into a pub­lic library and get a book, and our libraries have ser­vices beyond books that librar­i­ans help you with. Peo­ple may have all sorts of chal­lenges and dif­fi­cul­ties that pre­vent them from hold­ing onto what­ev­er pri­vate-sec­tor job they have, but with a job guar­an­tee, we would help those indi­vid­u­als with wrap­around ser­vices, and our aim and inter­est is to help peo­ple be suc­cess­ful — like in a pub­lic library.
And just like with libraries — maybe you are escort­ed out at some point for bad behav­ior, but you're not denied access if you return.
Rachel: You trace the Job Guarantee's his­tor­i­cal roots. It was affirmed in the Uni­ver­sal Dec­la­ra­tion of Human Rights and it was in Franklin D. Roosevelt's pro­posed Eco­nom­ic Bill of Rights. It was a sig­na­ture issue for civ­il rights activists in the ​'60s and it's been etched into many nations' con­sti­tu­tions. Has it ever exist­ed any­where in practice?
Pavli­na: We have nev­er had a law any­where that guar­an­tees every­one the legal­ly-enforce­able right to employ­ment per­ma­nent­ly. We've had one that comes close, in India, but it's only for rur­al employ­ment and just for up to 100 days per year. We've had sit­u­a­tions where coun­tries have achieved very low unem­ploy­ment rates — in Japan, for exam­ple, their indus­tri­al labor and mar­ket poli­cies pro­duced unem­ploy­ment at 1% to 2% for much of the post-war era. But I'm not talk­ing about whether we can have poli­cies that pro­duce low unem­ploy­ment. I'm talk­ing about a cod­i­fied right to employ­ment to pro­vide not just the legal, but also the insti­tu­tion­al sup­port for guar­an­tee­ing that right over the long-term. Because even in those coun­tries that have been suc­cess­ful at get­ting us to 1 to 2% unem­ploy­ment, they are not able to sus­tain it. So the Job Guar­an­tee idea is to cre­ate a new legal­ly-assured safe­ty net.
Rachel: Your book went to print in Decem­ber 2019, when U.S unem­ploy­ment was at 3.5%, but it talks a lot about how unem­ploy­ment can spread like a virus. It felt real­ly poignant read­ing your book as unem­ploy­ment is now 16.3%, and a real infec­tious virus is spread­ing. If 10 years ago we had passed a Job Guar­an­tee pro­gram, what role do you think it could play to buffer the kind of mass unem­ploy­ment we're see­ing today with coronavirus?
Pavli­na: Had we put a Job Guar­an­tee in place 10 years ago we would have had insti­tu­tion­al infra­struc­ture that would be ready to employ folks now. How­ev­er, if you were work­ing at a Job Guar­an­tee job, just like if you were work­ing any oth­er job, you might need to stay home and you might need to be paid to social­ly dis­tance. But because the Job Guar­an­tee I'm envi­sion­ing would be aimed at fill­ing cer­tain pub­lic ser­vice gaps, it would also be able to, for exam­ple, mobi­lize peo­ple to check in on the elder­ly, to deliv­er meals, to pro­vide teacher assistance.
Now I'd pre­fer that we respond to Covid-19 like they did in Den­mark, where the gov­ern­ment pro­tects the pri­vate-sec­tor jobs by pay­ing the pay­rolls of the work­ers. That way you wouldn't have this flood of unem­ployed peo­ple. But sure­ly a Job Guar­an­tee could help. I'm not an ide­al­ist, and I know this wouldn't func­tion total­ly smooth­ly. But just like any oth­er insti­tu­tion that we con­sid­er impor­tant, we would make it work.
Rachel: Can you talk about what you've learned with respect to the unique harms of unemployment?
Pavli­na: Econ­o­mists will talk about the ​'scar­ring effects' of unem­ploy­ment, but that's nor­mal­ly lim­it­ed to what are the wages you lost, and you didn't replace. But there are many oth­er costs econ­o­mists tend to ignore. An unem­ployed per­son expe­ri­ences high­er phys­i­cal and men­tal health costs, they are sick­er and weak­er. Unem­ploy­ment also neg­a­tive­ly impacts a person's net-worth, their con­nec­tions, social cap­i­tal. Unem­ploy­ment cre­ates so many con­di­tions that make it hard­er to be re-employed lat­er. And this then impacts fam­i­lies and chil­dren. If we were to add all those costs, we would not tol­er­ate unem­ploy­ment even when it's very low. And I reject the idea that there is a ​"nat­ur­al" rate of unem­ploy­ment, just like we don't accept a nat­ur­al rate of homelessness.
Rachel: What kinds of lessons about unem­ploy­ment did we learn from the Great Recession?

Pavli­na: One irony of our eco­nom­ic sys­tem is that we have nor­mal­ized the idea of ​'job­less recov­er­ies.' What we've learned from the Great Reces­sion is that firms do not want to hire the unem­ployed. That's the prob­lem we have to solve. The folks who earn low wages are the first to be fired dur­ing eco­nom­ic down­turns — we see this very clear­ly. And this has a racial dimen­sion; unem­ploy­ment always shoots up for African Amer­i­cans more, it's always high­er for them and they recov­er more slow­ly. Peo­ple with dis­abil­i­ties also saw their unem­ploy­ment rate recov­er last after the reces­sion. What we learn is that the offi­cial num­bers do not tell the full story.
Rachel: In your book you talk a lot about green jobs. How do see the Job Guar­an­tee as con­nect­ed to the Green New Deal?
Pavli­na: That is the promise, that for the per­son who los­es their fos­sil fuel job, that they will find a job through the Green New Deal. This has been a chal­lenge for the envi­ron­men­tal move­ment — we have not been able to artic­u­late clear­ly how will we pro­tect peo­ple if they lose their jobs from oil rigs and mines or all of that. It's the miss­ing piece of the puz­zle and it ensures a just tran­si­tion, that the most vul­ner­a­ble folks will have access to a liv­ing wage.
Rachel: Will it be just though if those work­ers are used to mak­ing $40 an hour and now can only get a $15-an-hour job?
Pavli­na: Well oth­er peo­ple have struc­tured their Job Guar­an­tee pro­pos­als with tiered wages. In my vision, the pri­ma­ry, over­rid­ing objec­tive is to secure a firm, liv­ing-wage floor. And folks who are more high­ly-skilled typ­i­cal­ly don't have the absolute­ly most hor­rif­ic unem­ploy­ment con­di­tions. Maybe the floor has to be $17 an hour, or $20, but the point is we want to shore up that floor. In my ide­al world, a Job Guar­an­tee would be as small as pos­si­ble. I'd much pre­fer to see per­ma­nent pub­lic ser­vices pro­vid­ed that are well-paid for, but there will always peo­ple who fall through the cracks and they deserve a liv­ing wage with guar­an­teed ben­e­fits, too.
The way I think about it is we lit­er­al­ly are con­strained with two choic­es. We either con­tin­ue to accept unem­ploy­ment as nor­mal, or we have a Job Guar­an­tee. The world with unem­ploy­ment is sim­ply worse than the one where we guar­an­tee employment.
Rachel: What kinds of green jobs are you envisioning?
Pavli­na: When I talk about green jobs, I'm not just talk­ing about tra­di­tion­al­ly envi­ron­men­tal jobs. To me ​'green' is con­ser­va­tion of com­mu­ni­ty and con­ser­va­tion of peo­ple, so it also includes care work. To me there's no lim­it to the kinds of cre­ative projects we could imag­ine. I think in addi­tion to car­ing for peo­ple, we also could have jobs that involve car­ing for the envi­ron­ment like clean­ing up parks, urban farm­ing, plant­i­ng trees, and doing pre­ven­ta­tive work for nat­ur­al disasters.
Rachel: My last ques­tion: Are there any pol­i­cy down­sides you see to the Job Guarantee?
Pavli­na: While I don't see this as a down­side to my pro­pos­al, tra­di­tion­al­ly many job pro­grams have been done in puni­tive terms, like work-fare in the post-Rea­gan era. And with the rise of author­i­tar­i­an gov­ern­ments, there's always the risk of them awak­en­ing to the idea of pro­vid­ing employ­ment and doing so in a puni­tive way. There's always a risk of a pol­i­cy being bas­tardized, but that just means we have to say vigilant.