The Weapons Industry Lobbyist Advising Joe Biden
Stuart Eizenstat has worked as a powerful political advisor, as well as a corporate lobbyist for the oil and arms industries.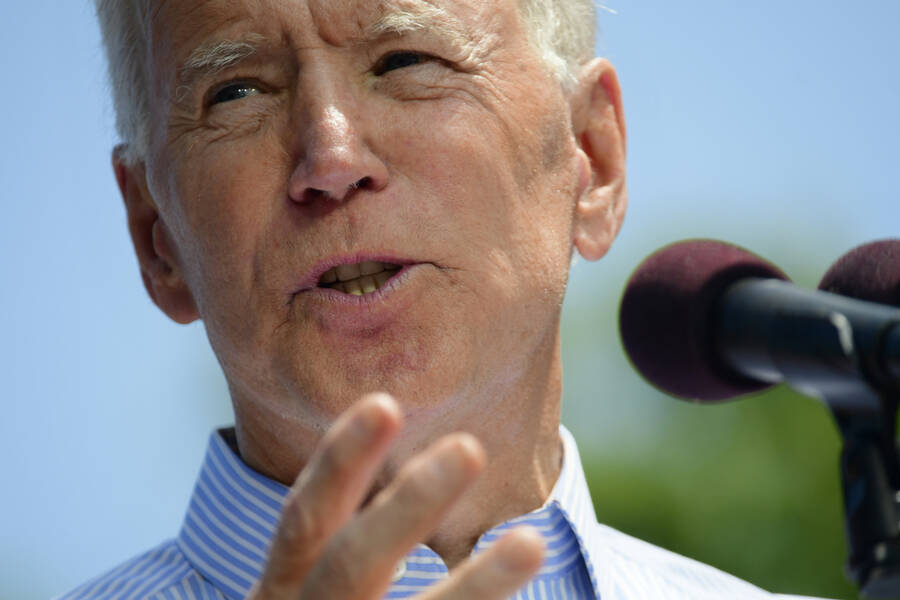 Stu­art Eizen­stat, a long-time play­er in Demo­c­ra­t­ic pol­i­tics, is advis­ing Joe Biden's pres­i­den­tial cam­paign. Eizen­stat told Politi­co he ​"planned to advise the cam­paign on for­eign pol­i­cy," accord­ing to jour­nal­ist Theodor­ic Mey­er, and Eizen­stat also con­firmed the posi­tion via email to In These Times. The for­mer Vice Pres­i­dent has made attempts to pub­licly dis­tance him­self from lob­by­ists, but Eizen­stat has worked as both a pow­er­ful polit­i­cal advis­er and cor­po­rate lob­by­ist, rep­re­sent­ing weapons sell­ers and fos­sil fuel com­pa­nies to the government.
For Raytheon in 2015, Eizenstat lobbied the U.S. on Poland's missile defense system.
Eizen­stat was chief White House domes­tic pol­i­cy advis­er to Pres­i­dent Jim­my Carter, ambas­sador to the Euro­pean Union and Deputy Sec­re­tary of the Trea­sury in the Bill Clin­ton admin­is­tra­tion, and Spe­cial Advis­er on Holo­caust Issues dur­ing the Barack Oba­ma admin­is­tra­tion. He has cashed in on this pub­lic sec­tor expe­ri­ence with cor­po­rate clients. As a lawyer and lob­by­ist at the firm Cov­ing­ton & Burl­ing, Eizen­stat has rep­re­sent­ed fos­sil fuel com­pa­nies Shell, BP and Noble Ener­gy, as well as defense con­trac­tors Cater­pil­lar, Raytheon, BAE Sys­tems, Boe­ing and the noto­ri­ous pri­vate secu­ri­ty firm Blackwater.
In March, Eizen­stat, along­side his peer group of Wash­ing­ton influ­ence ped­dlers, spoke at the annu­al con­fer­ence orga­nized by Amer­i­can Israel Pub­lic Affairs Com­mit­tee (AIPAC), the pow­er­ful bipar­ti­san pro-Israel lob­by­ing group. Rough­ly 18,000 peo­ple gath­ered in Wash­ing­ton, D.C. to hear pro-Israel talk­ing points from law­mak­ers, lob­by­ists and war prof­i­teers. In a pam­phlet from AIPAC on its lob­by­ing agen­da, atten­dees were asked to ​"urge Sen­a­tors" to sup­port spe­cif­ic bills, includ­ing leg­is­la­tion con­demn­ing the Pales­tin­ian-led Boy­cott, Divest­ment and Sanc­tions (BDS) move­ment. ​"Put Con­gress on record as oppos­ing the anti-Semit­ic BDS move­ment, which threat­ens U.S. com­pa­nies and Amer­i­can con­sumers," the pam­phlet read.
On a pan­el at the AIPAC con­fer­ence on March 24, Eizen­stat called BDS ​"a wolf in sheep's cloth­ing." He said, ​"The BDS movement's main threat, in my opin­ion, is not that it will ham­per U.S. invest­ment in Israel. It's not that it will ham­per bilat­er­al trade. It is that it will erode sup­port for Israel by paint­ing Israel as a colo­nial coun­try, an oppres­sor, and it will peel away pub­lic sup­port in Europe and in the Unit­ed States."
Eizen­stat added that the anti-BDS leg­is­la­tion ​"is very care­ful to say it does not pre­clude any com­pa­ny, any indi­vid­ual from crit­i­ciz­ing Israeli pol­i­cy. Don't like the set­tle­ments? You can say so. There's no bar on it. It only bars com­mer­cial imple­men­ta­tion … it has noth­ing to do with free speech."
Many speak­ers at AIPAC have uni­form talk­ing points, and one of them is crit­i­cism of the BDS move­ment. The nar­ra­tive that Israel is under attack from all sides has been used to under­mine — and crim­i­nal­ize — peo­ple con­cerned about the human rights of Pales­tini­ans. At AIPAC in 2016, Biden said, ​"We will con­tin­ue to push back against the cause here in the Unit­ed States for peo­ple to boy­cott, dis­in­vest or sanc­tion Israel."
The Biden cam­paign did not respond to a request for com­ment from In These Times.
In 2012, Eizen­stat lob­bied Con­gress and the Oba­ma admin­is­tra­tion for Cater­pil­lar on ​"U.S. gov­ern­ment rela­tions regard­ing a report by the Unit­ed Nations' Spe­cial Rap­por­teur for the Pales­tin­ian Ter­ri­to­ries," accord­ing to lob­by­ing dis­clo­sures. Cater­pil­lar sells bull­doz­ers to Israel that the coun­try uses to kill Pales­tini­ans and demol­ish their homes. At the time, the UN was con­duct­ing an inves­ti­ga­tion into Israeli set­tle­ments and vot­ed to rec­og­nize Pales­tine as a sov­er­eign state. An inde­pen­dent UN expert called for a boy­cott on com­pa­nies prof­it­ing from set­tle­ments, includ­ing Caterpillar.
While Eizen­stat did not dis­close his Cater­pil­lar work at the recent AIPAC con­fer­ence, he did men­tion lob­by­ing for anoth­er U.S. com­pa­ny doing busi­ness in Israel: Noble Ener­gy, a Texas oil com­pa­ny. In 2011, Eizen­stat lob­bied on tax­es for drilling for nat­ur­al gas in the Mediter­ranean, accord­ing to lob­by­ing fil­ings.
"One of the great nat­ur­al gas finds in the world is found off of the Israeli Mediter­ranean," he told the AIPAC audi­ence. ​"And yet, except for Noble, there are very few oth­er Amer­i­can com­pa­nies that are will­ing to con­test and try to get bids for that implic­it­ly because they're con­cerned with the impact that it would have in their doing busi­ness with the Arab countries."
Eizen­stat declined to answer fol­low-up ques­tions from In These Times.
At AIPAC, months after the dead­liest attack on Jews in U.S. his­to­ry at the Tree of Life Syn­a­gogue in Pitts­burgh, Eizen­stat base­less­ly pinned anti-Semi­tism on Mus­lims and the left.
Eizen­stat described anti-Semi­tism as ​"part of the BDS effort," and also down­played the threat of white suprema­cist vio­lence in the U.S. ​"We live in a dream­land over here," he said. ​"I mean, okay, we have the Tree of Life syn­a­gogue and so forth, but we have noth­ing like [what] one bil­lion Euro­pean Jews are fac­ing with 15 mil­lion Mus­lims. A small per­cent­age, but a very hard core who are part of this whole BDS thing are doing this. It's fright­en­ing. It's real­ly frightening."
In pri­vate emails from 2015 released by Wik­iLeaks, Eizen­stat char­ac­ter­ized the BDS move­ment dif­fer­ent­ly: ​"Their abil­i­ty to get sup­port­ers on U.S. cam­pus­es and in Euro­pean pub­lic opin­ion and EU for­eign min­is­ters (e.g. label­ing West Bank prod­ucts) comes not from anti-Israel or anti-Semit­ic views, but because of sin­cere con­cerns with Israeli set­tle­ment pol­i­cy," he wrote to Hillary Clinton's chief for­eign pol­i­cy advi­sor, Jake Sullivan.
Eizen­stat is some­thing of an expert on sanc­tions — and has used his influ­ence in a vari­ety of sce­nar­ios. In 2017, he lob­bied for BP on leg­is­la­tion sanc­tion­ing Iran, North Korea, and Rus­sia in ​"sup­port for the export of nat­ur­al gas from Azer­bai­jan to Europe." In 2012, he lob­bied for BP on the same issue for an Iran sanc­tions bill. From 2007 to 2008, he lob­bied for Shell on ​"eco­nom­ic sanc­tions matters."
For Raytheon in 2015, Eizen­stat lob­bied the U.S. on Poland's mis­sile defense sys­tem. In 2010, he rep­re­sent­ed the pri­vate secu­ri­ty com­pa­ny for­mer­ly called Black­wa­ter, then called Xe, now called Acad­e­mi, on gov­ern­ment con­tracts. The com­pa­ny was under scruti­ny from the Sen­ate over actions in Iraq and Afghanistan. Two sol­diers work­ing for Par­a­vant, a shell com­pa­ny of Black­wa­ter and a Raytheon sub­con­trac­tor, killed two Afghan civil­ians in 2009.
Inves­tiga­tive reporter Jere­my Scahill wrote in 2010 about the company's rela­tion­ship with the gov­ern­ment, ​"What we are see­ing clear­ly is the Oba­ma admin­is­tra­tion not only using Black­wa­ter in sen­si­tive oper­a­tions glob­al­ly, but active­ly defend­ing the company's con­tin­ued exis­tence as a gov­ern­ment con­trac­tor in good standing."
Biden's new slo­gan—"Not You. Not Me. But We." — sounds sim­i­lar to the Bernie Sanders (I‑Vt.) campaign's slo­gan: ​"Not me. Us." Biden is run­ning in a Demo­c­ra­t­ic field where can­di­dates are being encour­aged by activists to avoid cor­po­rate cash. His advis­er, Eizen­stat, a Demo­c­ra­t­ic dar­ling of fos­sil fuel com­pa­nies and defense con­trac­tors, has made his career doing just the opposite.
Nao­mi LaChance
is a free­lance jour­nal­ist cov­er­ing influ­ence and cor­rup­tion from Wash­ing­ton, D.C.