Remembering the Life and Music of Labor Agitator Joe Hill, Who Was Executed 100 Years Ago Today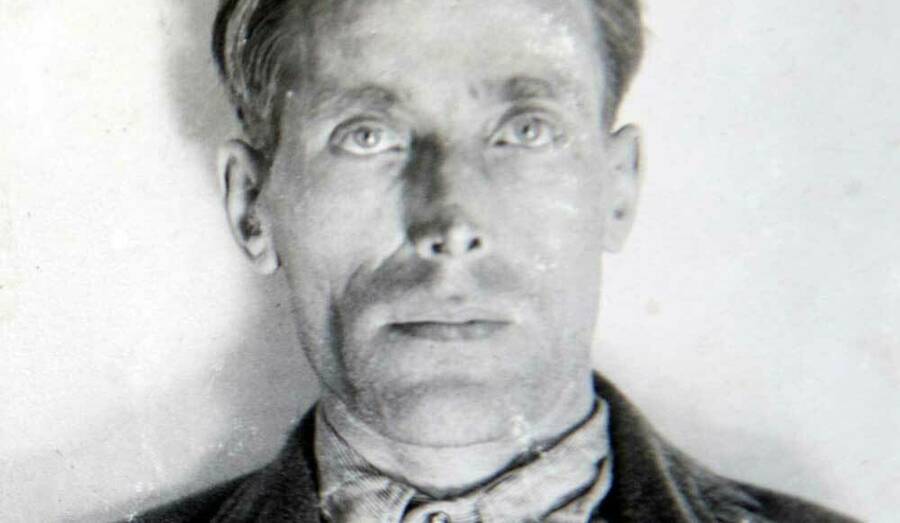 Joe Hill saw his music as a weapon in the class war, com­pos­ing songs to be sung on soap­box­es, pick­et lines or in jail. And 100 years ago today, the forces of cap­i­tal and the state of Utah exe­cut­ed him.
Chica­go musi­cian and schol­ar Bucky Halk­er is hon­or­ing the cen­ten­ni­al with a CD of new inter­pre­ta­tions of Hill's music, ​"Any­where But Utah — The Songs of Joe Hill," tak­ing his title from Hill's dying wish that his remains be trans­port­ed out of state because he didn't want ​"to be found dead in Utah." The album includes such famil­iar Hill clas­sics as ​"The Preach­er and the Slave," ​"There is Pow­er in a Union" and ​"Rebel Girl" as well as some sur­pris­ing obscu­ri­ties, like the wist­ful­ly roman­tic ​"Come and Take a Joy-Ride in My Aeroplane."
Born Joel Hag­glu­nd in Swe­den, Hill immi­grat­ed to the Unit­ed States in 1902, chang­ing his name to Joseph Hill­strom, which would even­tu­al­ly be short­ened to Joe Hill. Work­ing his way across the coun­try, Hill became politi­cized, even­tu­al­ly join­ing the Indus­tri­al Work­ers of the World. Pop­u­lar­ly known as the Wob­blies, the IWW sought to orga­nize those work­ers more main­stream unions avoid­ed — the unskilled, migrants, immi­grants, minori­ties — in an effort to com­bine the entire work­ing class into One Big Union.
As a Wob­bly, Hill was active in free speech fights in Fres­no and San Diego, a strike of rail­road con­struc­tion work­ers in British Colum­bia and even fought in the Mex­i­can Revolution.
In 1914, Hill was arrest­ed in Salt Lake City and charged with killing a store­keep­er, alleged­ly in a botched rob­bery. Despite the flim­sy nature of the evi­dence, Hill was con­vict­ed and sen­tenced to death, with the pros­e­cu­tor urg­ing con­vic­tion as much on the basis of Hill's IWW mem­ber­ship as any puta­tive evi­dence of his involve­ment in the crime. An inter­na­tion­al amnesty move­ment pressed for a new tri­al, but the Utah gov­er­nor refused and Hill was exe­cut­ed by fir­ing squad on Novem­ber 19, 1915. In a final mes­sage to IWW Gen­er­al Sec­re­tary Bill Hay­wood, Hill urged, ​"Don't waste any time in mourn­ing — organize."
Since his death, Hill has been immor­tal­ized in a wide vari­ety of cul­tur­al expres­sion, includ­ing poet­ry by Ken­neth Patchen, fic­tion by Wal­lace Steg­n­er, and a song by Alfred Hayes and Earl Robin­son, pop­u­lar­ized by Paul Robe­son, promis­ing ​"where work­ing­men are out on strike, Joe Hill is at their side."
I talked to Halk­er about Hill's music, pol­i­tics and lega­cy. Halk­er is the author of the sem­i­nal work on Gild­ed Age labor music, For Democ­ra­cy, Work­ers, and God: Labor Song-Poems and Labor Protest, 1865 – 95, and has pre­vi­ous­ly released a trib­ute album to Woody Guthrie.
For one who was not a native Eng­lish speak­er, Joe Hill had a keen under­stand­ing of Amer­i­can slang, humor, and var­i­ous folk and pop­u­lar song forms. How did he become such a mas­ter of the Amer­i­can ver­nac­u­lar? How does he com­pare with oth­er folksingers close­ly asso­ci­at­ed with insur­gent move­ments, such as Woody Guthrie?
Hill is part of a long tra­di­tion of ​"organ­ic" intel­lec­tu­als in the USA. He was also just plain smart, which you can tell from read­ing his lyrics and oth­er writ­ing. He was self-edu­cat­ed, with an appetite for ideas. And remem­ber that the labor move­ment was filled with men and women of this sort, dat­ing to the ear­ly 19th cen­tu­ry. Unions, of course, often had their own libraries, so work­ers could check out lit­er­a­ture relat­ed to every­thing from poet­ry to eco­nom­ics. Also, cheap pam­phlets on the issues of the day, includ­ing Marx­ism, were extreme­ly com­mon in the years after the Civ­il War and well into the 20th cen­tu­ry. If you look at the peo­ple who wrote labor music and poet­ry, they typ­i­cal­ly share this kind of background.
Hill and Guthrie also share a tremen­dous skill in the realm of ver­nac­u­lar speech. He mas­tered all this hobo and Wob­bly slang of the era and the lat­est music-hall, vaude­ville lyrics of the day. Also, Hill's work is filled with humor, irony and sar­casm — hard­ly easy skills to gain in your sec­ond lan­guage. No doubt he picked all this up from hobos, labor activists, and Wob­blies, but I also believe his ear for music helped him in this effort.
Hill had some musi­cal train­ing and a pas­sion for music that is obvi­ous in his lyri­cal approach. You can tell from his lyrics that he paid close atten­tion to the musi­cal hall and Tin Pan Alley writ­ers of the day. Most of them were also immi­grants or chil­dren of immi­grants and were very skilled at slang, lyri­cal twists and clever use of idioms. Indeed, Hill's lyrics and choice of tunes have much more in com­mon with music hall com­posers than the folk or coun­ty mod­els that Guthrie and oth­ers made use of in the years of the great labor upris­ing of the 1930s and which became the tem­plate for labor song­sters thereafter.
Hill and oth­er Wob­bly bards and writ­ers should get some cred­it for their use of sar­casm and irony in the devel­op­ment of Amer­i­can lit­er­a­ture. They had sharp wits and tongues that worked deft­ly and quick­ly, which only pissed off the lunkhead boss­es, the law and the rul­ing elite even more. The author­i­ties and their lack­eys dis­like rad­i­cals even more when they're much smarter than they are.
What was the role of music in the cre­ation of the Wob­bly move­ment culture?
Music was a cen­ter­piece of the Wob­bly ​"move­ment cul­ture." How­ev­er, I wouldn't say this came into exis­tence with the IWW. Ear­li­er, the abo­li­tion­ists and the Gild­ed Age labor move­ment made singing, song­writ­ing, poet­ry and oth­er forms of writ­ing a key part of their efforts. Coal min­ers and Jew­ish tex­tile work­ers had already devel­oped a strong work­ing-class poet­ic and musi­cal tra­di­tion, as did the Knights of Labor. So Joe Hill and Woody Guthrie were stand­ing on big shoulders.
Hav­ing said that, the IWW took the music and poet­ry to new heights and clev­er­ly used singing and chant­i­ng as a way to gar­ner atten­tion from work­ers, the media, and the author­i­ties. Fifty work­ers singing makes a lot more noise at a ral­ly or in a jail cell than one speak­er on a soap­box or one per­son rant­i­ng in the joint.
What kinds of con­sid­er­a­tions did you take into account in updat­ing Hill​'s music?
I quick­ly decid­ed I want­ed to record a cou­ple of the sen­ti­men­tal love songs because that part of Hill's per­son­al­i­ty had been neglect­ed. They read like old vaude­ville and Tin Pan Alley lyrics, so I worked on melodies and chord changes that were com­mon to those types of pieces. I also decid­ed that on songs like ​"Ta Ra Ra Boom De Ay" and ​"It's A Long Way Down to the Sou­pline" that I want­ed to use a brass band that had the fla­vor of the music hall that Hill was lean­ing on. I hoped to make it a bit like a drunk­en Sal­va­tion Army band in the process, which fit the brass band sound anyway.
I knew he'd been to Hawaii and the Pacif­ic Islands too, so I decid­ed to do a cou­ple songs with the ukulele at the cen­ter, which was appro­pri­ate giv­en some things I'd read on Hill and the music he heard on that trip (plus the ukulele had become pop­u­lar at the time).
I want­ed to make a record that Hill would like. That was my pri­or­i­ty from the begin­ning. I don't think he'd like a straight folk revival, strum­ming acoustic gui­tar approach, as that has noth­ing to do with most of his mate­r­i­al. He played the piano and the fid­dle, after all. The folk revival­ists did a great ser­vice by keep­ing Hill's work in cir­cu­la­tion, but try­ing to keep him in that small musi­cal box is way off the mark. So, I bor­rowed from vaude­ville and the music hall, piano blues and ear­ly jazz, alt-coun­try, swing, punk and gospel.
I think Joe would be very hap­py with this record­ing — more so than what's preceded.
What sorts of musi­cal choic­es did Hill make? What kinds of influ­ences did he draw on?
Hill came from a music-lov­ing fam­i­ly and he also had some musi­cal train­ing as a child before his dad died and the fam­i­ly fell on hard times. He heard a lot of reli­gious music, as his fam­i­ly were strong Luther­ans and some­times attend­ed Sal­va­tion Army gath­er­ings. Since hymns were well known, even across sec­tar­i­an reli­gious (and polit­i­cal) lines, hymn tunes were often used by labor song­writ­ers going back to the mid-19th cen­tu­ry. Hill's use of ​"In the Sweet By and By" as the tune for ​"The Preach­er and the Slave" was very much in a labor tra­di­tion, as was ​"Near­er My God to Thee" for his ​"Near­er My Job to Thee."
Hill also wrote his own music for some of his songs — for his clas­sic ​"Rebel Girl," for exam­ple. And though he leaned heav­i­ly for the music of the ​"Inter­na­tionale" for his ​"Work­ers of the World Awak­en," he did include clear pieces of his own work in writ­ing that one, too.
But most often he drew on the vaude­ville, music hall, ear­ly Tin Pan Alley songs that were pop­u­lar with work­ers at the time. For ​"Ta Ra Ra Boom De Ay" he took the tune from a music hall hit by the same name. For ​"Scis­sor Bill" he took the tune from ​"Steam­boat Bill," which was a huge hit at the time and a best-sell­ing ear­ly recording.
With all his tune choic­es, he was like oth­er work­ing-class writ­ers and had the same goal — use tunes that work­ers knew already for labor songs and then they'd be easy for work­ers to sing.
Can you give the back­ground of some of the oth­er songs?
"Der Chief of Fres­no" grew out of the IWW's free speech cam­paign. Fres­no was a place where the police were notably con­fronta­tion­al. Hill added his voice to the mix with a piece that appears to have been a chant of sorts. That's why I added the mul­ti­ple voic­es on the words ​"der chief" when­ev­er it comes around. I like the use of the Ger­man ​"Der" in the title, as if the chief might make a good mem­ber of the oppres­sive Pruss­ian army.
"Stung Right" rep­re­sents the strong anti-mil­i­tary bent of the IWW, even before the out­break of World War I. Many immi­grant work­ers had already come from regions of the world where they were draft­ed and made to fight the bat­tles for the rul­ing class and were deter­mined to stay out of future such wars. What's more, many work­ing-class groups saw war as a sense­less rul­ing class fight that only pit­ted work­ers against each oth­er. Nation­al­ism was seen as suspect.
Lit­tle won­der, then, that after the Span­ish-Amer­i­can War in 1898, and the need­less slaugh­ter it entailed, anti-war and anti-mil­i­tary sen­ti­ments found wel­come ears. Hill was aware that work­ers also signed up with the mil­i­tary when their eco­nom­ic sit­u­a­tions were dif­fi­cult. At least they gave you a bit of cash and some food in the army. In this piece, he's warn­ing work­ers not to fall for it
"Rebel Girl" is anoth­er of his best efforts. Hill wrote it him­self for Eliz­a­beth Gur­ley Fly­nn. Hill fol­lowed her career close­ly and admired her work on behalf of labor. They fre­quent­ly cor­re­spond­ed while Hill was in prison. He even wrote a cute lit­tle song for her son called ​"Bron­co Buster Fly­nn." Fly­nn had vis­it­ed Hill while he was await­ing exe­cu­tion and sent him a pho­to of her son Buster.
One song that struck me was ​"Come Take a Joy Ride in My Aero­plane." As you say in your lin­er notes, that seems to rep­re­sent a ​"roman­tic and care­free side" that we don't typ­i­cal­ly asso­ciate with Hill.
There were three of these roman­tic, sen­ti­men­tal songs that Hill wrote, all of which were dis­cov­ered after his arrest and none of which had music or tunes for them. Of course, there may be more, but we haven't yet found those. They weren't typ­i­cal of Hill's writ­ing, which is gen­er­al­ly focused on labor and polit­i­cal issues. But you can find some of this same sen­ti­ment in his let­ters, so it clear­ly was a key com­po­nent of who Joe Hill was.
Frankly, I think his­to­ri­ans and musi­cians have missed the boat in not address­ing this roman­tic impulse. I sup­pose it seems counter to our image of the left-wing rad­i­cal. But hell — I'd rather hang out with a per­son with strong roman­tic ten­den­cies and a left-wing lean­ing per­son­al­i­ty, than some dour old sour­puss like Marx or Lenin, wouldn't you? I also think with­in the IWW there was a strong sense of romance about the world. This can be found clear­ly in Wob­bly writ­ers like Hay­wire Mac or Ralph Chap­lin. Some of this could be chan­neled toward a utopi­an impulse, as in the clas­sic IWW song ​"Big Rock Can­dy Mountain."
Hill just gave it a more per­son­al twist. Why shouldn't he want to fall in love and be car­ried away for a while in the rever­ie of romance? Don't we all? Here's a guy who went to work at age nine, con­tract­ed tuber­cu­lo­sis, went on the tramp to sur­vive and worked an end­less stream of low-pay­ing jobs. Why not dream of tak­ing flight above this drea­ry earth with your gal and soar above the trou­bles below? Sounds like fun to me.
What is it about Hill that makes his lega­cy res­onate so widely?
Obvi­ous­ly, the injus­tice of his arrest, tri­al, and exe­cu­tion con­tin­ues to res­onate, espe­cial­ly when a day doesn't pass with­out some pris­on­er being released from prison after new evi­dence or DNA tests exon­er­at­ed him or her.
Beyond that obvi­ous point, I think there are many peo­ple who hear his songs and imme­di­ate­ly sense that the issues raised by Hill and oth­er Wob­bly bards remain impor­tant to our nation­al dis­cus­sion, includ­ing decent wages and work­ing con­di­tions, immi­grant rights, dis­crim­i­na­tion based on race, the oppres­sion of women, the right to form a union and the right to free speech.
I have to admit, how­ev­er, that I'm often bewil­dered by con­ser­v­a­tive labor lead­ers in the USA who pull out Hill's lega­cy when it's con­ve­nient and make pos­i­tive com­ments about him. If he were around today, they'd throw him out of their con­ven­tions in a minute.
I also think there's con­sid­er­able appeal to Hill's per­son­al demeanor through­out the tri­al. He died a hero­ic, noble death — some­thing few peo­ple can claim for their lives. He gave his life for the cause, and his tri­al and exe­cu­tion played out in the inter­na­tion­al media of the day. He's a roman­tic char­ac­ter of the type that is more com­mon in ear­ly movies than in reality.
David Cochran
is a pro­fes­sor of his­to­ry in the Social Sci­ences Depart­ment at John A. Logan College.