We Must Stop John Bolton From Escalating War in Syria
Trump's threats to escalate military intervention could open a new, dangerous front in the ongoing conflict.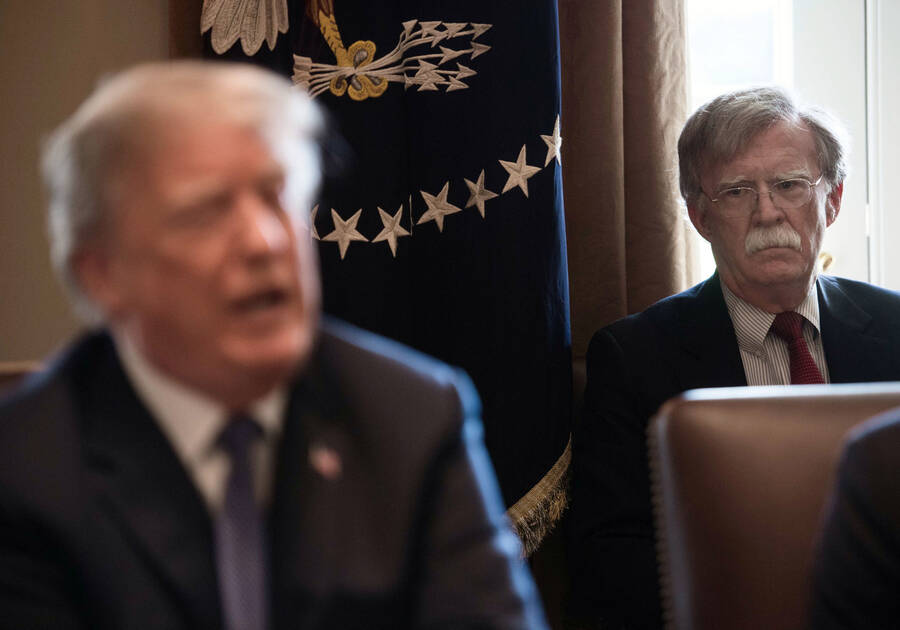 Today, fanat­ic war pro­po­nent John Bolton is tak­ing office as Pres­i­dent Don­ald Trump's Nation­al Secu­ri­ty Advis­er — and it comes at a per­ilous moment for inter­na­tion­al secu­ri­ty. The volatile sit­u­a­tion in Syr­ia sig­nif­i­cant­ly rais­es the dan­ger of a major inten­si­fi­ca­tion of direct U.S. mil­i­tary involve­ment. Over the week­end, the oppo­si­tion's extrem­ist Jaish al-Islam group reached a deal with the gov­ern­ment to leave its ter­ri­to­ry, paving the way for the Dam­as­cus régime to reclaim con­trol over Douma, the last oppo­si­tion-held area in the cap­i­tal's sub­urbs. Fol­low­ing Saturday's alleged dead­ly chem­i­cal attack on civil­ians, which Trump imme­di­ate­ly blamed on Assad backed by Rus­sia and Iran, Trump said his admin­is­tra­tion is con­sid­er­ing mil­i­tary retal­i­a­tion, which could come with­in 24 hours. Ear­ly Mon­day morn­ing saw air strikes on a Syr­i­an mil­i­tary base, pos­si­bly car­ried out by Israel, fur­ther esca­lat­ing the dan­ger of an inten­si­fied conflict.
A U.S. war against Syria would also be a war against Syria's allies: Iran and Russia.
Bolton is a long­time hawk who dis­par­ages diplo­ma­cy, dis­dains the Unit­ed Nations and defends the vio­la­tion of inter­na­tion­al law. He recent­ly called for a first-strike attack on North Korea and for aban­don­ing the Iran nuclear deal and replac­ing diplo­mat­ic efforts with amil­i­tary attack, if not all-out war. The cur­rent esca­la­tion in Syr­ia, includ­ing the reprise of chem­i­cal weapons alle­ga­tions (there has still been no con­fir­ma­tion from the Orga­ni­za­tion for the Pre­ven­tion of Chem­i­cal Weapons regard­ing what caused the casu­al­ties, let alone who was respon­si­ble for using them), rais­es the polit­i­cal stakes and threat­ens the pos­si­bil­i­ty of new wars.
Trump has sug­gest­ed that he will hold both Iran and Rus­sia respon­si­ble for the alleged Syr­i­an gov­ern­ment role in the chem­i­cal weapons attack, which gives Bolton an imme­di­ate Day One project: to endorse any reck­less mil­i­tary move the pres­i­dent might choose, regard­less of its dead­ly con­se­quences. When Bolton first made the out­ra­geous claim near­ly 25 years ago that ​"there is no such thing as the Unit­ed Nations," it was shock­ing. But at that time he was cool­ing his heels at a right-wing think tank, and he had lit­tle pow­er to do any­thing except talk. That's not true any longer. His op-eds in the New York Times and the Wall Street Jour­nal call­ing for new wars are now the words of the man who has the first and last words to whis­per in this pres­i­den­t's ear. That's a ter­ri­fy­ing real­i­ty for Syr­i­ans, Ira­ni­ans, Kore­ans and many oth­ers around the world. It should also be a ter­ri­fy­ing real­i­ty for us.
Bolton starts today, with no Sen­ate con­fir­ma­tion required. But his war-mon­ger­ing, tor­ture-back­ing col­lab­o­ra­tors — Mike Pom­peo, nom­i­nat­ed for Sec­re­tary of State, and Gina Haspel, nom­i­nat­ed for CIA direc­tor) — do need con­fir­ma­tion. These hear­ings should be turned into forums on the threats of war and — cru­cial­ly — the com­plete lack of con­gres­sion­al autho­riza­tion and hence ille­gal­i­ty of the Fcur­rent U.S. direct involve­ment in the Yemen war, or any new threat­ened war in Iran or North Korea. That also means push­ing back against the idea that U.S. air strikes and drone attacks are some­how legal. They are not. And claim­ing those attacks are revenge for alleged chem­i­cal weapons does not make them legal either. Peri­od, full stop.
Some mem­bers of Con­gress argue that the Autho­riza­tion for the Use of Mil­i­tary Force (AUMF), passed in the days after Sep­tem­ber 11, 2001 to jus­ti­fy war against al Qae­da and the Tal­iban in Afghanistan, some­how legal­izes war across the Mid­dle East and beyond against orga­ni­za­tions that did not even exist when the AUMF was passed. That autho­riza­tion has been used to jus­ti­fy U.S. strikes against alleged ISIS tar­gets in Syr­ia and Iraq, with large num­bers of civil­ians pay­ing the price. But, so far at least, no one argues that that 17-year-old author­i­ty some­how makes it legal for the U.S. to launch direct strikes, mean­ing going to war, against the Syr­i­an government.
This cur­rent sit­u­a­tion under­scores the dan­ger of that could result from pres­sur­ing Trump to show he is tough on Rus­sia — pres­sure that is com­ing from some on the right, as well as some on the Demo­c­ra­t­ic Par­ty and the pro­gres­sive side of the anti-Trump mobi­liza­tions. There's lit­tle doubt that Rus­sia tried to influ­ence U.S. elec­tions — much as the Unit­ed States has done for years in coun­tries around the world. Inves­ti­gat­ing that effort remains impor­tant. How­ev­er, the Russ­ian effort pales before the huge attack on our democ­ra­cy caused by racist vot­er sup­pres­sion, which has a far greater and far more dev­as­tat­ing impact on our elec­tions and our democ­ra­cy than any­thing dreamed up in Moscow or any­where else. Esca­lat­ing legit­i­mate crit­i­cism of Russ­ian elec­tion med­dling efforts to the lev­el of Cold War-style rhetoric we are hear­ing today rais­es the threat of U.S. mil­i­tary action against Rus­sia to increas­ing­ly dan­ger­ous lev­els. Now we are see­ing what might hap­pen when Trump responds to mount­ing pres­sure to prove that he too can be con­fronta­tion­al towards Rus­sia and its allies. And it's very dangerous.
Even ​"lim­it­ed" mil­i­tary engage­ments such as a no-fly zone, which some Syr­i­ans fac­ing dev­as­tat­ing bomb­ing cam­paigns by the régime have under­stand­ably have called for, nev­er stay lim­it­ed. Back in 2011, when the U.S. was debat­ing estab­lish­ing a no-fly zone over Libya osten­si­bly to pro­tect civil­ians, it was then-Defense Sec­re­tary Robert Gates who said, ​"Let's just call a spade a spade. A no-fly zone begins with an attack on Libya to destroy the air defens­es. That's the way you do a no-fly zone. And then you can fly planes around the coun­try and not wor­ry about our guys being shot down. But that's the way it starts." And we know what hap­pened in Libya – pro­tect­ing civil­ians was not the result. Syria's air defens­es, backed by Rus­sia, are far more robust than Libya's ever were.
A U.S. war against Syr­ia would also be a war against Syr­i­a's allies, Iran and Rus­sia. Such a war — with or with­out Wash­ing­ton's allies Israel, Sau­di Ara­bia, Jor­dan, the UAE and more — has the poten­tial to esca­late into full-scale glob­al war. A war between the two largest nuclear weapons pow­ers, the Unit­ed States and Rus­sia, might not turn into a nuclear war. But it might.
Accord­ing to the British mon­i­tor­ing agency Air­wars, U.S.-led coali­tion airstrikes have already killed between 3,640 and 5,637 Syr­i­an civil­ians since the U.S. began bomb­ing Syr­ia in 2014. If none of the apoc­a­lyp­tic sce­nar­ios of region­al war come true, an esca­lat­ed U.S. war in Syr­ia will still kill even more Syr­i­ans every day.
Mov­ing to stop a new front in the war now is more urgent than ever — before any of those sce­nar­ios come to pass.
A ver­sion of this arti­cle appeared on Com­mon Dreams.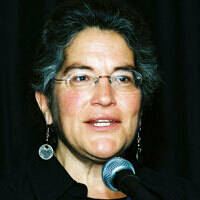 Phyl­lis Ben­nis
is a fel­low of the Insti­tute for Pol­i­cy Stud­ies. Her most recent book is the
2018
edi­tion of Under­stand­ing the Pales­tin­ian-Israeli Con­flict: A Primer.