Jonathan Chait Is Wrong: Neoliberalism Is Real and Fundamentally Opposed to Left Principles
Neoliberalism stands in direct conflict with socialism. We must name it so we can overcome it.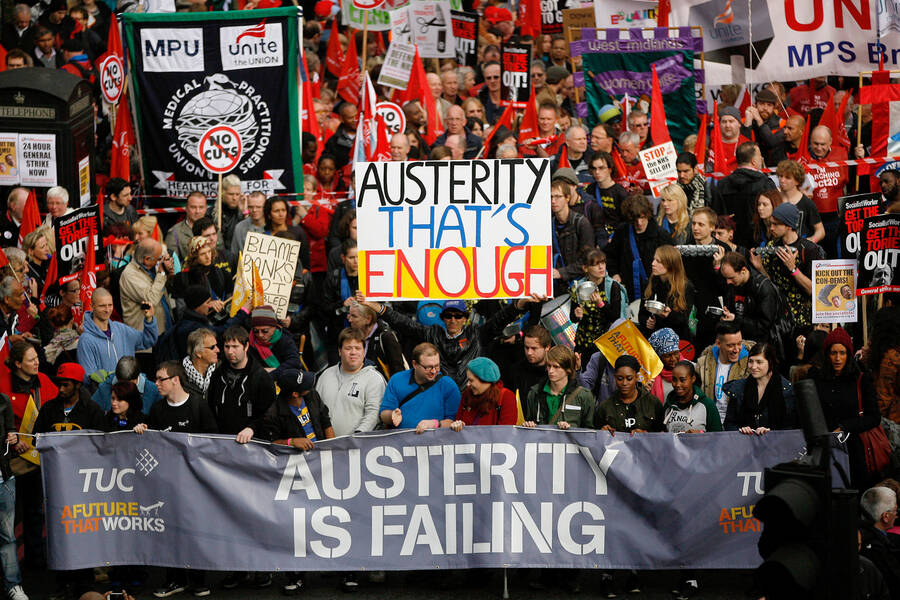 In 2010, the Nation­al Review​'s Stan­ley Kurtz pub­lished a book titled Rad­i­cal-in-Chief: Barack Oba­ma and the Untold Sto­ry of Amer­i­can Social­ism, in which he argued that then-Pres­i­dent Oba­ma embod­ied a ​"stealthy, prag­mat­ic and grad­u­al­ist socialism."
The neoliberal center is actively supportive of market freedom, while the Left isn't. That distinction matters.
At the time, main­stream lib­er­als want­ed noth­ing to do with the polit­i­cal­ly poi­so­nous term, and the Oba­ma campaign's own fact-check­ing web­site ​"Fight the Smears" strong­ly denied Kurtz's claims that the pres­i­dent shared the social­ist pol­i­tics of the com­mu­ni­ty orga­niz­ers he'd worked with in Chicago.
That was sev­en years ago, and things have changed. Now, in the wake of Bernie Sanders' unex­pect­ed­ly his­toric cam­paign, social­ism has lost some of its tox­i­c­i­ty among main­stream liberals.
Pop­u­lar web­sites such as Vox and The Huff­in­g­ton Post reg­u­lar­ly pub­lish sto­ries debat­ing social­ist poli­cies. In a post on Medi­um ear­li­er this year, one self-described lib­er­al ​"solu­tion­ist" even used the same phrase­ol­o­gy as Kurtz, cit­ing Barack Oba­ma and Elon Musk approv­ing­ly as the kind of ​"prag­mat­ic social­ists" — unfair­ly derid­ed as ​"neolib­er­als" by ​"absolute social­ists" — that the world needs.
At first glance, it's encour­ag­ing that in 2017 social­ism has enough polit­i­cal cur­ren­cy that some lib­er­als are com­fort­able open­ly acknowl­edg­ing its rel­a­tive mer­its rather than dis­tanc­ing them­selves for fear of con­t­a­m­i­na­tion. But, on the oth­er hand, this for­mu­la of sep­a­rat­ing the broad Left into prag­ma­tists and purists is patron­iz­ing — and wrong. ​"We want what you want," it heck­les, ​"only we're smarter and more realistic."
Such a for­mu­la­tion obscures the fact that social­ism and neolib­er­al­ism are dis­tinct polit­i­cal-eco­nom­ic ori­en­ta­tions, opposed to each oth­er on crit­i­cal issues — par­tic­u­lar­ly the role of the state in reg­u­lat­ing mar­kets and the role of pri­vate enter­prise in pro­vid­ing essen­tial goods and services.
On July 16, Jonathan Chait pulled a sim­i­lar maneu­ver in an arti­cle for New York Mag­a­zine, round­ly dis­miss­ing the term ​"neolib­er­al" as an emp­ty insult devised by the puri­ty Left to attack its stead­fast allies in the Demo­c­ra­t­ic Par­ty. (The piece was art­ful­ly dis­as­sem­bled by both Paul Blest at The Out­line and Mike Kon­czal at Vox, who refute Chait's claim that the Demo­c­ra­t­ic Par­ty hasn't moved right on eco­nom­ic issues since the 1970s.)
Where lib­er­al com­men­ta­tors have his­tor­i­cal­ly been uncom­fort­able asso­ci­at­ing with social­ists, they now demon­strate a grow­ing ten­den­cy to elide the oppo­si­tion­al nature of the Left and the cen­ter to insist on shared pur­suit of com­mon goals. To hear some lib­er­als tell it, the dif­fer­ence is pri­mar­i­ly one of method, not sub­stance. This over­fa­mil­iar­i­ty gives lib­er­als spe­cial license to scold the Left for attack­ing the cen­ter, which is on its side for heaven's sake.
In real­i­ty, it's not sim­ply that the cen­ter is more pro-cap­i­tal­ist than the Left — as though the two sides exist on a gra­dat­ed spec­trum, impos­si­ble to pin­point where one ends and the oth­er begins. The dif­fer­ence is actu­al­ly quite clear: the neolib­er­al cen­ter is active­ly sup­port­ive of mar­ket free­dom, while the Left isn't. That dis­tinc­tion matters.
Neolib­er­al­ism is an eco­nom­ic phi­los­o­phy that has its ori­gins in Ger­many, France and the Unit­ed King­dom. After World War II, the doc­trine migrat­ed to the Uni­ver­si­ty of Chica­go, where neolib­er­al econ­o­mists, chief among them Friedrich von Hayek and Mil­ton Fried­man, estab­lished what became known as the Chica­go School. This bas­tion of free-mar­ket fun­da­men­tal­ism proved mas­sive­ly influ­en­tial in advanc­ing neolib­er­al ide­ol­o­gy around the world, most notably in Chile fol­low­ing the U.S.-backed over­throw of Sal­vador Allende's social­ist gov­ern­ment in 1973.
Neolib­er­al ide­ol­o­gy is root­ed in the belief that the cap­i­tal­ist econ­o­my should be but­tressed and pro­tect­ed from col­lapse by state assis­tance. But the state should oth­er­wise allow mar­ket forces to move freely, unim­ped­ed by gov­ern­ment regulation.
In A Brief His­to­ry of Neolib­er­al­ism, Marx­ist schol­ar David Har­vey points out that the 1970s glob­al finan­cial crises ​"appeared to point towards the emer­gence of a social­ist alter­na­tive," and neolib­er­al­ism surged in pop­u­lar­i­ty among cap­i­tal­ists who were unwill­ing to lose the ​"social com­pro­mise between cap­i­tal and labor that had ground­ed cap­i­tal accu­mu­la­tion so suc­cess­ful­ly in the post-war period."
In the Unit­ed States, neoliberalism's rai­son d'être — espe­cial­ly as it began migrat­ing out of acad­e­mia and into polit­i­cal-pol­i­cy-mak­ing in the 1970s and 1980s — was to dis­man­tle trade union­ism and New Deal social demo­c­ra­t­ic pro­grams, and to dereg­u­late busi­ness at every opportunity.
Through­out his­to­ry, neolib­er­al­ism has proven to be anti-social­ist at its core.
The area where social­ism and neolib­er­al­ism inter­sect is their insis­tence that the econ­o­my requires some degree of state inter­ven­tion and plan­ning, as opposed to clas­si­cal lib­er­al­ism, which puts full faith in the belief that the ​"invis­i­ble hand" of the mar­ket should guide and sus­tain cap­i­tal­ist economies with­out state assistance.
But the sim­i­lar­i­ties stop there, because the next dif­fer­ence is fun­da­men­tal: Neolib­er­als believe that, wher­ev­er pos­si­ble, the state should sup­port pri­vate enter­prise tak­ing on vital func­tions in soci­ety. Social­ists, on the oth­er hand, believe in elim­i­nat­ing these pri­vate enter­pris­es wher­ev­er pos­si­ble and replac­ing them with demo­c­ra­t­i­cal­ly-run pub­lic institutions.
Just so we're clear, neolib­er­al­ism means cap­i­tal­ism — a spe­cif­ic form of cap­i­tal­ism, where the busi­ness-friend­ly state encour­ages the com­mod­i­fi­ca­tion of sphere after sphere of both pub­lic and pri­vate life.
So, are Democ­rats neolib­er­als? Well, yes, many of them are, as is the par­ty on the whole. Con­sid­er the gov­ern­ment bailouts after the 2008 eco­nom­ic col­lapse. The Oba­ma admin­is­tra­tion took a neolib­er­al approach by bail­ing out the big banks large­ly respon­si­ble for the cri­sis rather than break­ing them up. In doing so they demon­strat­ed their belief that the gov­ern­ment has a hal­lowed respon­si­bil­i­ty to pre­serve the integri­ty of cor­po­rate finan­cial institutions.
We can also look to the Trans-Pacif­ic Part­ner­ship, the failed inter­na­tion­al trade agree­ment backed by Oba­ma and many nation­al Democ­rats that would have empow­ered cor­po­ra­tions to chal­lenge any nation's eco­nom­ic reg­u­la­tions before an inter­na­tion­al tri­bunal. The result, Noam Chom­sky not­ed, would have been to ​"max­i­mize prof­it and dom­i­na­tion, and to set the work­ing peo­ple in the world in com­pe­ti­tion with one anoth­er so as to low­er wages to increase insecurity."
Those who object to the term ​"neolib­er­al" are appalled that, for instance, defend­ers of Oba­macare could be lumped togeth­er with its would-be destroy­ers. Oba­macare, remem­ber, con­sists main­ly of tax-fund­ed sub­si­dies meant to plug Amer­i­cans into pri­vate health insur­ance networks.
Democ­rats and Repub­li­cans are bit­ter­ly divid­ed over the issue, and lives lit­er­al­ly hang in the bal­ance. Dif­fer­ences in opin­ion on Oba­macare are nei­ther small nor unim­por­tant. But make no mis­take: Oba­macare is a com­pro­mise intend­ed to extend cov­er­age and pre­serve the integri­ty of the pri­vate health insur­ance industry.
Social­ists want uni­ver­sal social pro­grams, fund­ed and used by every­one, with­out the intru­sion of prof­it-dri­ven enti­ties. They want goods and ser­vices such as health­care, edu­ca­tion, hous­ing and even com­mod­i­ty pro­duc­tion to be shel­tered from the con­stant com­pul­sion to gen­er­ate prof­it at the expense of all else.
Neolib­er­als believe that soci­ety func­tions best when cor­po­ra­tions are pub­licly fur­nished with what they need to sur­vive and thrive. Social­ists feel this way about the pub­lic, not corporations.
Neolib­er­al Democ­rats are not fun­da­men­tal­ly opposed to wel­fare, but they dif­fer strong­ly from social­ists in this are­na too. Where social­ists tend toward uni­ver­sal­ism in pro­gram design, neolib­er­als like to split the baby with means-test­ing: the pub­lic (but non-uni­ver­sal) pro­vi­sion of a min­i­mal social safe­ty net, so long as it doesn't intrude on pri­vate industry.
These Democ­rats pre­fer to assess people's needs and divide them into two camps — those who qual­i­fy for pub­lic ser­vices and those who don't. This form of means-test­ing is a neolib­er­al solu­tion pre­cise­ly because it doesn't under­mine the prof­it-seek­ing cor­po­ra­tions that pro­vide ser­vices to peo­ple above a cer­tain income thresh­old, such as health insur­ance companies.
Social­ists' pro­posed health­care solu­tion, Medicare for All, would wipe out the pri­vate health insur­ance indus­try. This is clear­ly not a neolib­er­al propo­si­tion, as it results in less cap­i­tal­ism, not more. Social­ists' ide­al health­care solu­tion, nation­al­ized med­i­cine, is entire­ly anath­e­ma to neolib­er­als, who only make allowances for the wel­fare state when it runs par­al­lel to and sup­ports, rather than sup­plants, pri­vate industry.
So no, social­ists and neolib­er­als are not unit­ed in shared pur­suit of com­mon goals. Neolib­er­al­ism is not ​"prag­mat­ic" social­ism any more than a char­ter school is a ​"prag­mat­ic" pub­lic school, or Oba­macare is ​"prag­mat­ic" Medicare for All. They are alto­geth­er dif­fer­ent approach­es to the pro­vi­sion of ser­vices and care.
Since Chait's arti­cle was pub­lished, lib­er­al com­men­ta­tors have been increas­ing­ly echo­ing his argu­ment that ​"neolib­er­al­ism" is a mean­ing­less term. But it's far from mean­ing­less. In fact, we need it as a way to dis­tin­guish between mar­ket-friend­ly state solu­tions and mar­ket-unfriend­ly state solu­tions — espe­cial­ly as social­ism gains trac­tion among a new gen­er­a­tion of thinkers and activists.
"Neolib­er­al" is at base a neu­tral descrip­tor of the dom­i­nant strain of polit­i­cal-eco­nom­ic think­ing in the mod­er­ate fac­tions of both major polit­i­cal par­ties. When it is used as an insult, we can blame neoliberalism's poor record of pro­vid­ing a decent stan­dard of liv­ing for all people.
​
Mea­gan Day
is a free­lance writer who focus­es on pol­i­tics, social move­ments, labor, law and history.