Judge Jails Anti-Drone Granny
A 58-year-old protester is sentenced to one year.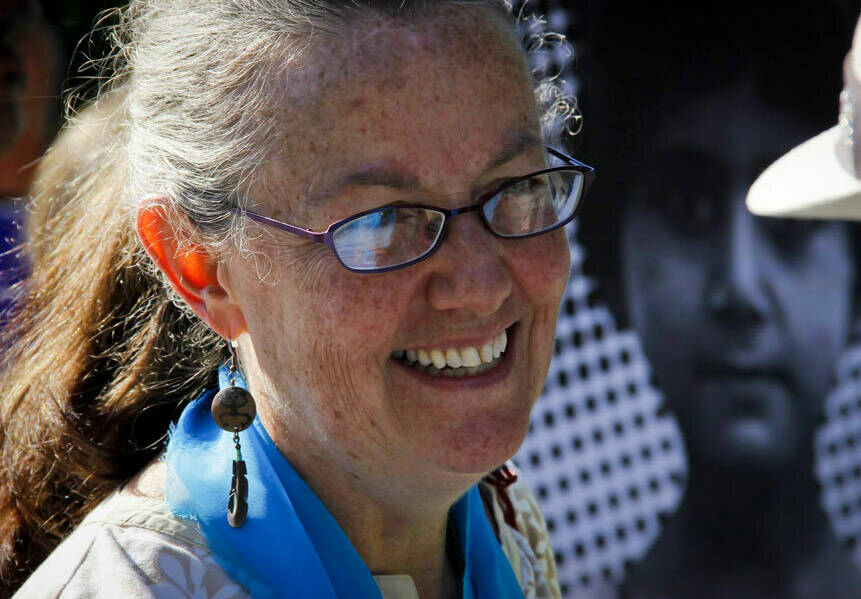 ​"This has got to stop."
Drones are the go-to weapon for budget-conscious war-fighters in Washington who are unwilling to bear the public scrutiny that accompanies U.S. military body counts.
Judge David Gideon's words refer not to the use of drones, but the activ­i­ties of anti-drone activists. He has uttered this phrase from the bench repeat­ed­ly in recent months as activists have appeared before him, and the words must have been echo­ing through his mind as he sen­tenced Mary Anne Grady Flo­res, a 58-year-old grand­moth­er from Itha­ca, New York, to one year in prison on July 10. Her crime? Par­tic­i­pat­ing in a non­vi­o­lent anti-drone protest at an upstate New York mil­i­tary base after being ordered by the local courts to stay away from the site. The base is used to train drone pilots and tech­ni­cians, and to con­trol drone sur­veil­lance and strikes in Afghanistan and elsewhere.
Such Orders of Pro­tec­tion typ­i­cal­ly pro­tect vic­tims of domes­tic vio­lence from their abusers and wit­ness­es of vio­lent crimes from threats of ret­ri­bu­tion. Grady Flo­res' one-year sen­tence is the result of a strange legal sleight of hand that posi­tions the Han­cock Air Base com­man­der, Col. Earl A. Evans, as the vic­tim of protests. Jus­tices in the town of DeWitt, where the base is locat­ed, have slapped these Orders of Pro­tec­tion on dozens of activists arrest­ed at Han­cock since 2012.
But Grady Flo­res was the first pro­test­er to be sen­tenced for vio­lat­ing one. Pros­e­cu­tors in Grady Flo­res' case did not seek jail time, cit­ing her role as care­giv­er for her elder­ly moth­er. Appar­ent­ly, how­ev­er, Judge Gideon was deter­mined to make an exam­ple of her, in the hopes that a long sen­tence would deter oth­ers from resistance.
Grady Flo­res is now out on bond and has filed an appeal, which may take months to resolve. Her case will be close­ly watched by the 30 or so activists accused of vio­lat­ing Orders of Pro­tec­tion who await tri­al. If Judge Gideon hoped to quell resis­tance with his harsh sen­tence, his plan seems to have back­fired: Anti-drone activists say their resis­tance and orga­niz­ing will only increase. What real­ly needs to stop, they say, are the Unit­ed States' drone strikes in coun­tries such as Afghanistan, Pak­istan and Yemen.
​"Mary Anne's sen­tence is big news," says Bri­an Ter­rell, anti-drone orga­niz­er with Voic­es for Cre­ative Non­vi­o­lence. ​"The drone pro­gram is so bla­tant­ly ille­gal that the author­i­ties have to go to absurd lengths to jus­ti­fy and pro­tect it. They need to rede­fine words like ​'immi­nent threat' and ​'due process' to cov­er up the crim­i­nal­i­ty. Here, they have to rede­fine the mean­ing of an Order of Pro­tec­tion. I hope that this will bring more peo­ple out to protest."
It has. On July 23 — just days after local activists raised $5,000 to free Grady Flo­res on bond so she could do media work and pre­pare for her appeal — sev­en activists were arrest­ed at the base (includ­ing my 74-year-old moth­er). They car­ried with them doc­u­ments they hope to make part of their legal defense, includ­ing a People's Order of Pro­tec­tion, demand­ing that the 174th Attack Wing of the Air Nation­al Guard ​"stay away from the Chil­dren of the World and their fam­i­lies, includ­ing their homes, schools, places of play and work." The judge freed two on their own recog­ni­zance and set bonds for the rest, includ­ing an unprece­dent­ed $10,000 bond for two repeat offend­ers, includ­ing Grady Flo­res' younger sis­ter, Clare Grady. All were charged with tres­pass­ing, and two (includ­ing Clare) were charged with vio­lat­ing Orders of Protection.
Drones, drones everywhere
Preda­tors armed with Hell­fire mis­siles. Reapers armed with Joint Direct Attack Muni­tions. Glob­al Hawks stuffed with high-tech sur­veil­lance equip­ment. These and oth­er drones are quick­ly becom­ing the go-to weapon for bud­get-con­scious war-fight­ers in Wash­ing­ton unwill­ing to bear the pub­lic scruti­ny that accom­pa­nies U.S. mil­i­tary body counts. Already, the Air Force is train­ing more drone pilots than old-fash­ioned seat-in-the-plane fight­er and bomber pilots combined.
And strug­gling munic­i­pal­i­ties that have reaped lit­tle from Pres­i­dent Barack Obama's much-tout­ed ​"recov­ery" are eager to host the drone bases as a way of retain­ing and reviv­ing thread­bare mil­i­tary instal­la­tions in their com­mu­ni­ties. Han­cock is just one of 64 mil­i­tary bases from which drone sur­veil­lance or strikes are co-ordi­nat­ed and car­ried out. There's White­man Air Force Base in Mis­souri, Wright Army Air­field in Geor­gia, Spring­field Air Nation­al Guard Base in Ohio — the list goes on.
While weaponized drones keep U.S. mil­i­tary per­son­nel off the bat­tle­field and out of harm's way, car­ry­ing out remote-con­trolled, long-range assas­si­na­tions can be deeply psy­cho­log­i­cal­ly scar­ring. A 2011 Air Force study found that 42 per­cent of drone oper­a­tors report mod­er­ate to high lev­els of stress as a result of their work and attribute those feel­ings at least in part to the ​"exis­ten­tial con­flict" of long-dis­tance war fight­ing. And, in Afghanistan, Iraq, Yemen, Soma­lia and Pak­istan, civil­ian casu­al­ties mount. In a Jan­u­ary study, the Bureau of Inves­tiga­tive Jour­nal­ism esti­mat­ed that under the Oba­ma admin­is­tra­tion, U.S. drone strikes have killed at least 2,400 peo­ple in near­ly 400 sep­a­rate attacks.
In New York, the protest group Upstate Drone Action has turned its atten­tion even far­ther north to the Nia­gra Falls Air Reserve Sta­tion, where Reaper drones have recent­ly been deployed. The group staged a ​"Fly Kites, Not Drones" action on July 6.
The Empire State is not the only com­mu­ni­ty orga­niz­ing against drone bases. In June, a robust coali­tion in Michi­gan orga­nized a 163-mile walk from Chica­go to Bat­tle Creek, Michi­gan, to raise aware­ness about the estab­lish­ment of a new node of drone flights there. Bat­tle Creek, the home city of Kellogg's, has been nick­named Cere­al City, but local activist Joan­na Learn­er warned in an open let­ter to Sen. Carl Levin (D‑Mich.) that the drone base could earn the city a new nick­name: ​"The Ser­i­al (Killing) City." More than a hun­dred peo­ple par­tic­i­pat­ed in the 12-day walk, many of them first-time activists.
Mean­while, anti-drone orga­niz­ers around the world are coor­di­nat­ing their efforts, declar­ing Octo­ber 4 the first Glob­al Action Day Against the Use of Drones for Sur­veil­lance and Killing.
At her sen­tenc­ing before Judge Gideon, Grady Flo­res asked, ​"Who is the real vic­tim here: the com­man­der of a mil­i­tary base whose drones kill inno­cent peo­ple halfway around the world, or those inno­cent peo­ple them­selves who are the real ones in need of pro­tec­tion from the ter­ror of U.S. drone attacks?" The answer is clear.