Barack Oba­ma replaced George W. Bush in the White House near­ly two years ago, but the ​"word" lib­er­al remains a dirty word in America's polit­i­cal lex­i­con. Justin Krebs, author of 538 Ways to Live, Work And Play Like a Lib­er­al, wants to make it a badge of honor.
A polit­i­cal entre­pre­neur and orga­niz­er based in Brook­lyn, Krebs is the co-founder and exec­u­tive direc­tor of Liv­ing Lib­er­al­ly, a nation­al net­work build­ing social com­mu­ni­ties through pro­gres­sive pol­i­tics. Liv­ing Lib­er­al­ly start­ed with ​"Drink­ing Lib­er­al­ly" hap­py hours in 2003, a rou­tine reprieve for Krebs and his pro­gres­sive friends who need­ed a drink as they dis­cussed the lib­er­al agen­da in the face of the Bush admin­is­tra­tion. Now the orga­ni­za­tion has expand­ed to encour­age com­mu­ni­ty build­ing through all sorts of cul­tur­al avenues: Eat­ing Lib­er­al­ly meals, Laugh­ing Lib­er­al­ly com­e­dy shows, Read­ing Lib­er­al­ly book clubs and Screen­ing Lib­er­al­ly films.
In his new book (released July 2010), Krebs applies the spir­it of the Liv­ing Lib­er­al­ly orga­ni­za­tion to demon­strate how Amer­i­cans can incor­po­rate pro­gres­sive val­ues into their every­day lives. By mak­ing bet­ter food and enter­tain­ment choic­es, and choos­ing media, retail and com­mu­ni­ty resources free from cor­po­rate con­trol, Krebs says Amer­i­cans can live a more social­ly con­scious, envi­ron­men­tal­ly friend­ly and lib­er­al­ly mind­ed life. He even advis­es read­ers on how to raise their kids lib­er­al­ly and how to effec­tive­ly engage in din­ner table debate with their con­ser­v­a­tive coun­ter­parts. Being lib­er­al isn't just a polit­i­cal choice, Krebs argues. It's a lifestyle.
Krebs' polit­i­cal expe­ri­ences at the city, state and fed­er­al lev­els include serv­ing as a Work­ing Assets Activist Fel­low and a con­stituent liai­son for for­mer U.S. Sen­a­tor Hillary Rod­ham Clin­ton. Krebs has also man­aged advo­ca­cy cam­paigns in New York City and pro­duced an award-win­ning doc­u­men­tary on youth civic engage­ment for pub­lic tele­vi­sion. In These Times inter­viewed the New Jer­sey native and Har­vard Uni­ver­si­ty grad­u­ate via e‑mail in Octo­ber 2010.
—Alexan­dra Markowski
In 25 words or less, what makes you so spe­cial? (Keep in mind that humil­i­ty, while admirable, is boring).
I remem­ber people's names. At polit­i­cal events, in bars, espe­cial­ly at Drink­ing Lib­er­al­ly gath­er­ings, I have a knack for learn­ing names quick­ly. That's my super power.
What's the first thing that comes up when your name is Googled?
Top Google hits are for my book, 538 Ways to Live, Work and Play Like a Lib­er­al, because it's been in the news this sum­mer. Soon after is a slight­ly creepy blog post from a Drink­ing Lib­er­al­ly attendee a few years back who, I guess, is shock­ing­ly good at search result opti­miza­tion. After that a fea­ture from Alter­Net. Then a bunch about the ter­rif­ic JV cross-coun­try run­ning exploits of some­one else who shares my name.
Shame­less­ly plug a colleague's project.
The Oth­er 98% is an ini­tia­tive around cor­po­rate mon­ey and the influ­ence of lob­by­ing that my old Liv­ing Lib­er­al­ly col­league Josh Bolot­sky has fall­en in with. Check out the ​"Tar­get Ain't Peo­ple" music video. Most Liv­ing Lib­er­al­ly alums end up good places, like the ​"Just Say Now" cam­paign to change mar­i­jua­na laws.
Describe your politics
Lib­er­al. Not ashamed of the word so it doesn't need to be qualified.
(Come up with a ques­tion for your­self and answer it)
Where's your neighborhood?
Good ques­tion. I've been in Hell's Kitchen, Manhattan's west side, for 10 years and it feels like home. I know the neigh­bors, the busi­ness­es, the street char­ac­ters. I make friends sit­ting on the stoop. A year ago, though, I moved in with my sig­nif­i­cant oth­er in Brook­lyn. It's great – you can bike around, there's always more to dis­cov­er – but Hell's Kitchen still shares my heart. And I'm still Pres­i­dent of the West 45th Street Block Asso­ci­a­tion, a year later.
Media
Pick your five favorite web­sites and tell us why.
Five reg­u­lar sites I hit to con­sume news: New York Times, to give a base­line of what the world is talk­ing about, for bet­ter or for worse; Alter­Net, to see what the world should be talk­ing about; Dai­lyKos, to feel the ener­gy of the dynam­ic Net­roots; Every​Block​.com, because I'm obsessed with hyper-local news; Open­Left, because it's a hub of pro­gres­sive strategy.
Name 5 oth­er web­sites you go to when you're procrastinating.
Yan​kees​.com because I'm a fan; Eat­ing Lib­er­al­ly because I always learn some­thing new; Face­book because I got con­vinced that I should; Greater Greater Wash­ing­ton because it's thought­ful, insight­ful and well-writ­ten, even if I'm not deeply involved in D.C. metro area plan­ning and tran­sit issues; Kayak​.com to see where I could fly off to next
What's a mis­take the main­stream media always makes that real­ly gets under your skin?
The false right-left equiv­a­len­cy. ​"Here's one per­spec­tive, so we bet­ter give the oth­er" — even when one is based in sci­ence and the oth­er in extremism.
What's your favorite web-based tool for your job? Give us a quick walk through on how to use it.
Every­Block. It aggre­gates all the online news by hyper-local cat­e­go­ry: all the police reports, restau­rant reviews, geo-cod­ed pho­tos, local blogs for your zip code, etc. It gives you a quick sense of what local mavens are into, which is help­ful when I para­chute into a new neighborhood.
Pol­i­tics
My polit­i­cal awak­en­ing occurred when…
My par­ents took me to a Mon­dale ral­ly when I was six years old. I wasn't able to avoid pol­i­tics. Through my child­hood, though, I assumed every­one was lib­er­al. Then in 7th grade, I switched to a pri­vate school and encoun­tered con­ser­v­a­tive views for the first time. It's not that kids were tru­ly con­ser­v­a­tive, but that they were echo­ing their par­ents (as was I). I real­ly heard peo­ple demo­nize tax­es for the first time, talk about wel­fare as a bad thing, cel­e­brate the mil­i­tary. That woke me up.
Which con­ser­v­a­tive politi­cian has pleas­ant­ly sur­prised you the most?
Trans­porta­tion Sec­re­tary Ray LaHood. He's a for­mer con­ser­v­a­tive Con­gress­man from Illi­nois and every­one assumed he got appoint­ed in some show of bipar­ti­san­ship that real­ly meant Oba­ma didn't care about trans­porta­tion. As it turns out, LaHood has become a real cham­pi­on of bicy­cle and pedes­tri­an rights – often to the oppo­si­tion of his for­mer Repub­li­can colleagues.
Are you involved with any inter­est­ing forms of activism? Could you tell us about any of these projects?
I Drink Lib­er­al­ly. Drink­ing Lib­er­al­ly is a net­work of pro­gres­sive social clubs all around the coun­try. In bars, cafes and restau­rants peo­ple come togeth­er — new­com­ers learn about pol­i­tics, vet­er­an vol­un­teers recharge their bat­ter­ies, can­di­dates recruit sup­port and every­one remem­bers that they are not alone. We start­ed the first chap­ter in NYC in 2003. Since then, as it's grown, DL has made it into con­ser­v­a­tive areas in the red­dest states where it is more than a hap­py hob­by — it is a lifeline.
Cre­at­ing con­ver­sa­tions, fos­ter­ing con­nec­tions and build­ing com­mu­ni­ty are all ways to acti­vate and engage new lib­er­als and that is how I spend most of my activism energy.
What cam­paign should we all sign on to right now?
Turn off Fox News. If you're read­ing this, chances are that you don't watch Fox News. But do they have it on in your local din­er, your den­tist office wait­ing room, or above the cash reg­is­ter in your favorite bar? Ask them to change it. CRE­DO and Col­or of Change are lead­ing an inven­tive cam­paign that ulti­mate­ly will help take away the legit­i­ma­cy of Fox and end its ubiquity.
Per­son­al
How do you get around (bike, pub­lic trans­porta­tion, car)? Why?
Bike when I'm in the neigh­bor­hood. In my 10 years in Man­hat­tan, I wasn't coura­geous enough to bike reg­u­lar­ly and I didn't have a place to store it. In Brook­lyn, I get to take advan­tage of the bicy­cle cul­ture and it's fast, fun, mild­ly ath­let­ic and refresh­ing. I also take the sub­way reg­u­lar­ly – it's the ulti­mate New York expe­ri­ence. You look around, no two peo­ple look the same, and yet you know you're all New Yorkers.
What's a lifestyle choice you've made recent­ly to be greener?
I'm eat­ing less meat. It helps that my fiancée is a veg­e­tar­i­an and loves to cook. I don't bring meat into our house. I'm still car­niv­o­rous, but reduc­ing my meat intake – for my health, for our econ­o­my, and for our environment.
If you could join Bill and Ted in their time machine, what bygone age would you trav­el to and who would be your tour guide?
I'd head to Ante­bel­lum Amer­i­ca. The 1850s were a time of incred­i­ble activism, as the coun­try pre­pared to put their bod­ies and souls behind fun­da­men­tal dif­fer­ences. It was an era of lit­er­ary explo­sion as well. I'd either want Walt Whit­man to show me around Brook­lyn or John Brown to take me through the bat­tle­grounds between Free and Slave. Though if he did, I might not make it back.
Have you ever had any run-ins with the law that you'd like to share?
I have one vio­la­tion on the record with the NYPD. An open con­tain­er vio­la­tion. Yup, that means I was brown-bag­ging it. Now, I think some amount of pub­lic drink­ing should be OK…but I know it's against the law. That said, this was right before Game 7 of the 2003 Yan­kees-Sox ALCS right out­side Yan­kee Sta­di­um. There were dozens of us get­ting tick­ets. And we were proud of it. Plus the Yanks won.
The fun­ni­est part is that my Mom was hold­ing the bag 10 sec­onds before they grabbed me.
Cul­ture
Guilty tele­vi­sion watch­ing pleasure?
Bat­tlestar Galac­ti­ca. When I dis­cov­ered Net­flix would let me watch Sea­son 4 on my com­put­er, I was wor­ried I wouldn't leave the house until I learned the iden­ti­ty of the final Cylon. The thing is, it's not total­ly a ​"guilty" plea­sure. You can love it for the ships and guns and rough-and-tum­ble sur­vival­ism. But any show that chal­lenges con­ven­tion­al notions about ter­ror and occu­pa­tion, jus­tice and human­i­ty, has some polit­i­cal rel­e­vance that should make a right-winger reflect a little.
Give us some exam­ple of pop cul­ture that you love and make the case that is it sub­tly or sub­ver­sive­ly leftist.
Old Twi­light Zone episodes are amaz­ing­ly told sto­ries – para­bles about fear and hatred, about how human­i­ty can sur­vive or doom itself, tucked into 23-minute tales. They endure as episodes with sur­pris­ing plot twists and iron­ic end­ings, but they were also extreme­ly fear­ful of nuclear war, con­cerned about how humans treat the least among us, and are as anti-xeno­pho­bic as they are anti-fascist.
What texts, per­sons, or events have inspired you the most?
Kurt Von­negut. He offers glimpses of how the world could be, wrapped in absur­di­ty that makes you laugh as well. His books are easy reads – but the ideas stay with me. In Slap­stick, the pres­i­dent divid­ed every­one in the coun­try arbi­trar­i­ly into fam­i­lies under the slo­gan ​"Lone­some No More." In Cat's Cra­dle, you under­stand that there are peo­ple who push you by encour­age­ment or neg­a­tive exam­ple along your course in life. Kil­go­re Trout, his sci-fi nov­el­ist stand-in, offers alle­gories that con­sume my imag­i­na­tion decades after I first read them.
I had the chance to meet him once — and he took almost an hour to talk to me, a 16-year-old at the time, about writ­ing, pol­i­tics, history.
One of his most influ­en­tial lines on my own work: ​"Every tru­ly cre­ative per­son cre­ates with an audi­ence of one in mind."
What per­son deserves to be a lot more famous than they are?
The come­di­ans of Laugh­ing Lib­er­al­ly, our polit­i­cal com­e­dy project, deserve fame – and slow­ly they are get­ting it. Baratunde Thurston is becom­ing omnipresent whether dis­cussing race, tech­nol­o­gy or com­e­dy. Katie Halper has one of the most inci­sive, left­ists wits there is and her posts are get­ting more cir­cu­la­tion on Huff­in­g­ton and else­where. Lee Camp went on Fox News and called Fox a ​"parade of pro­pa­gan­da and fes­ti­val of lies" on air. These are the folks who are going to be the George Car­lins and Lenny Bruces of our era.
—Novem­ber 10, 2010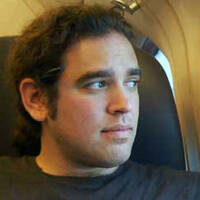 Justin Krebs

is the co-founder and exec­u­tive direc­tor of Liv­ing Lib­er­al­ly, a nation­al net­work build­ing social com­mu­ni­ties through pro­gres­sive pol­i­tics. He is the author of

538

Ways to Live, Work And Play Like a Lib­er­al

(

2010

).