Kaiser Election Results KOed: Judge Orders Rematch Between SEIU and NUHW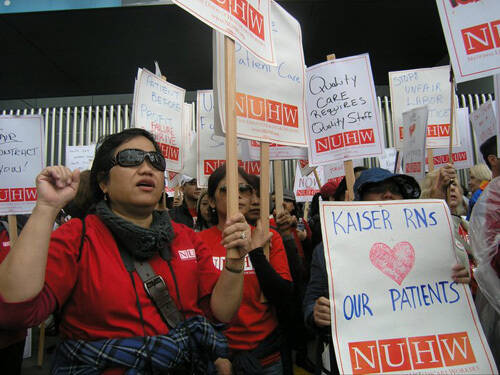 When the Ser­vice Employ­ees Inter­na­tion­al Union (SEIU) defeat­ed the Nation­al Union of Health­care Work­ers (NUHW) in bal­lot­ing among 43,000 work­ers at Kaiser Per­ma­nente (KP) last Octo­ber, SEIU Exec­u­tive Vice Pres­i­dent Dave Regan was exul­tant. SEIU's vic­to­ry was ​"a huge achieve­ment," he said. ​"NUHW is now, for all intents and pur­pos­es, irrel­e­vant. We're thrilled."
On a con­fer­ence call with union staffers and SEIU sup­port­ers at Kaiser ear­li­er this week, Regan sound­ed a lot less thrilled. And for good rea­son. On Mon­day, July 18, a Nation­al Labor Rela­tions Board (NLRB) hear­ing offi­cer found evi­dence of elec­tion mis­con­duct by SEIU and Kaiser — pre­sent­ed by NUHW — was very rel­e­vant to her deter­mi­na­tion of whether the largest NLRB vote in 70 years should be overturned.
In a strong­ly-word­ed 34-page rebuke, fed­er­al Admin­is­tra­tive Law Judge Lana H. Parke ruled that col­lu­sion between Kaiser and its largest union so ​"inter­fered with employ­ees' exer­cise of a free and rea­soned choice" that a new elec­tion must be held. In par­tic­u­lar, Parke cit­ed the impact of man­age­ment in unfair labor prac­tices in sev­er­al small­er Kaiser bar­gain­ing units where work­ers vot­ed to leave SEIU and join NUHW pri­or to the Sep­tem­ber-Octo­ber 2010 elec­tion in a statewide unit of ser­vice and tech­ni­cal employees.
Kaiser sub­se­quent­ly pun­ished those 2,300 nurs­es and oth­er pro­fes­sion­al employ­ees for switch­ing unions by with­hold­ing sched­uled rais­es and oth­er ben­e­fits. As report­ed in my new book about ​"labor's civ­il wars" at Kaiser and else­where, the giant HMO vio­lat­ed the Nation­al Labor Rela­tions Act in such egre­gious fash­ion that the NLRB sought a rare ​"10(j) injunc­tion" to enforce the NLRA. The result­ing fed­er­al court order com­pelled man­age­ment to pro­vide $2 mil­lion in back pay and inter­est to the affect­ed work­ers, who remain locked in dif­fi­cult nego­ti­a­tions on their first NUHW con­tract with Kaiser.
As Parke not­ed, ​"Kaiser's ULPs [unfair labor prac­tices] fig­ured as silent, men­ac­ing reminders that Kaiser not only could, but already had, uni­lat­er­al­ly with­held ben­e­fits when oth­er employ­ees had cho­sen to be rep­re­sent­ed by NUHW."
Parke's deci­sion was unusu­al giv­en the lop­sided mar­gin of SEIU's vic­to­ry last fall, a prod­uct of fear-mon­ger­ing and far greater orga­ni­za­tion­al resources. While the small­er Kaiser units that have switched unions have done so by large mar­gins, the tal­ly last fall was 18,290 for SEIU, 11,364 for NUHW, and 365 for no union.
Back in Feb­ru­ary 2009, sup­port for NUHW was far greater. More than 25,000 Kaiser work­ers signed cards and peti­tions seek­ing an elec­tion to oust SEIU after then-SEIU Pres­i­dent Andy Stern put Regan and Eliseo Med­i­na in charge of their local union, Unit­ed Health­care Work­ers-West (UHW). Stern removed all of UHW's elect­ed lead­ers and fired or forced out sev­er­al hun­dred staffers. (In the inter­ests of full dis­clo­sure, I should note that one of my daugh­ters was among them.)
Actu­al vot­ing at Kaiser was then delayed for 20 months, enabling the UHW trustee­ship, run by Regan and Med­i­na, to remove hun­dreds of elect­ed shop stew­ards and install appoint­ed replace­ments. In the sum­mer of 2010, the trustees nego­ti­at­ed a three-year wage agree­ment with Kaiser, with lit­tle mem­ber­ship mobi­liza­tion or pub­lic­i­ty — a con­tract that NUHW claimed would open the way for health­care cost shift­ing and oth­er concessions.
Mean­while, KP man­age­ment open­ly favored UHW/SEIU against NUHW, the new union formed in response to the trustee­ship. The SEIU-dom­i­nat­ed Labor-Man­age­ment Part­ner­ship (LMP) — still much applaud­ed by the AFL-CIO and Kaiser-fund­ed aca­d­e­mics – announced that NUHW was unwel­come to join, a black­balling deci­sion that has made even more Kaiser work­ers wary about ​"part­ner­ing" with a repeat vio­la­tor of the NLRA.
In Parke's deci­sion, she sin­gled out Ben Chu, pres­i­dent of Kaiser's south­ern Cal­i­for­nia region, for inter­fer­ing ​"with employ­ees' free­dom of choice" by threat­en­ing the loss of ben­e­fits if work­ers changed unions — a man­age­ment warn­ing, deliv­ered at a large employ­ee meet­ing, that SEIU then ​"wide­ly dis­sem­i­nat­ed" pri­or to the vote last Fall.
In almost every NLRB elec­tion con­test sought by NUHW (which has won bar­gain­ing rights for 8,500 work­ers so far), SEIU has gen­er­at­ed pro­ce­dur­al delays to improve its chances of win­ning. Accord­ing to one par­tic­i­pant, in Regan's con­fer­ence call dis­cus­sion with UHW loy­al­ists this week, the new UHW pres­i­dent pre­dict­ed that SEIU could, if nec­es­sary, delay any re-match at Kaiser for anoth­er nine months to a year by appeal­ing Parke's decision.
NUHW attor­ney Jonathan Siegel pre­dict­ed that SEIU would appeal but expressed con­fi­dence that ​"the rul­ing will stand, so we're look­ing for a new elec­tion in 2012." The par­ties have until July 28 to file excep­tions to the ruling.
On UHW's web­site, Regan claimed that ​"sup­port for SEIU-UHW has only got­ten stronger since last fall, espe­cial­ly since NUHW has failed to get a con­tract for the Kaiser work­ers they rep­re­sent and faces major give-backs. If a new elec­tion is run, we will defeat them by a larg­er mar­gin than last time."
Late­ly, UHW-SEIU attempts to under­mine NUHW have focused on the new union's impres­sive and cre­ative use of one-day strikes to back up its on-going bar­gain­ing at Kaiser and Sali­nas Val­ley Memo­r­i­al Hos­pi­tal. In UHW's July 18 state­ment on Judge Parke's deci­sion, UHW deri­sive­ly refers to the ​"small group of employ­ees" NUHW rep­re­sents (at Kaiser, they actu­al­ly num­ber about 4,000) and claims that ​"NUHW has twice gone on strike to no effect and called off a third strike due to lack of sup­port by its members."
NUHW orga­niz­ers say the elec­tion deci­sion will boost the morale of Kaiser work­ers who have vot­ed to switch unions and reju­ve­nate their sup­port­ers who remain trapped in SEIU. On Regan's con­fer­ence call, some par­tic­i­pants expressed con­cern that the post-elec­tion with­draw­al of hun­dreds of out-of-state SEIU staffers sent into Kaiser facil­i­ties last fall left UHW dues pay­ers feel­ing un-rep­re­sent­ed and aban­doned. Their low morale might pro­vide an open­ing for NUHW, assum­ing it can find a way to fund its own sec­ond cam­paign with­in Kaiser's huge and far-flung ser­vice and tech­ni­cal unit.
In north­ern Cal­i­for­nia, Kaiser call cen­ter work­er Roy Chafee is among those NUHW activists who claim that, ​"since the elec­tion, SEIU pulled out almost all of its staff and sup­port, leav­ing indi­vid­ual work­ers to fend for them­selves." At a small NUHW fundrais­er in Los Ange­les last week, among those attend­ing was a dis­il­lu­sioned young Lati­no sup­port­er of SEIU, who echoed Chafee's com­plaint. This Kaiser work­er, who drove sev­er­al hours to get to the event, recent­ly became crit­i­cal of UHW after cam­paign­ing aggres­sive­ly on its behalf dur­ing the elec­tion last fall. His defec­tion was reward­ed in the usu­al UHW fash­ion — removal as shop steward.
If NUHW and UHW-SEIU do face off again next year, their NLRB elec­tion com­pe­ti­tion could take place right in the mid­dle of Barack Obama's re-elec­tion cam­paign. Just as in 2008, SEIU will be forced to divert many full-time staffers and mil­lions of dol­lars in dues mon­ey to quelling mem­ber­ship dis­sent in Cal­i­for­nia, instead of devot­ing all of its orga­ni­za­tion­al atten­tion to the pres­i­den­tial election.
Already, SEIU has failed to meet the nation­al orga­niz­ing goals it unveiled three years ago, because tens of mil­lions of dol­lars were squan­dered on the take-over of UHW, and then SEIU's result­ing legal and orga­niz­ing bat­tles with NUHW.
Between 2006 and 2008 — before labor civ­il war­fare in Cal­i­for­nia reached its peak — SEIU added 300,000 mem­bers or agency fee-pay­ers to its ranks. At the union's 2008 con­ven­tion in Puer­to Rico, Regan and oth­er SEIU lead­ers declared that they were going to recruit anoth­er 500,000 by 2012, includ­ing 350,000 more health­care work­ers. In 2009 and 2010, SEIU actu­al growth aver­aged only about 55,000 a year, an annu­al rate that falls far short of 2008 pro­jec­tions and is much low­er than in the past.
When SEIU holds its 2012 con­ven­tion, in Den­ver next spring, the cost of its counter-insur­gency cam­paign in Cal­i­for­nia will be hard to ignore — par­tic­u­lar­ly if field com­man­ders like Regan are simul­ta­ne­ous­ly gear­ing up for anoth­er cost­ly ​"surge" in response to Judge Parke's rul­ing this week.
Steve Ear­ly is the author of The Civ­il Wars in U.S. Labor, which reports on the cost­ly con­flict between SEIU and NUHW in the Cal­i­for­nia health­care indus­try. For more infor­ma­tion on the book, see www​.civil​warsin​la​bor​.org.
Steve Ear­ly worked for 27 years as an orga­niz­er and inter­na­tion­al rep­re­sen­ta­tive for the Com­mu­ni­ca­tions Work­ers of Amer­i­ca. He is the author of sev­er­al books, includ­ing Refin­ery Town: Big Oil, Big Mon­ey, and the Remak­ing of an Amer­i­can City (Bea­con Press).