The Green New Deal Must Have a Zero Waste Policy
Disrupting the extractivist logic of capitalism is crucial to addressing climate change.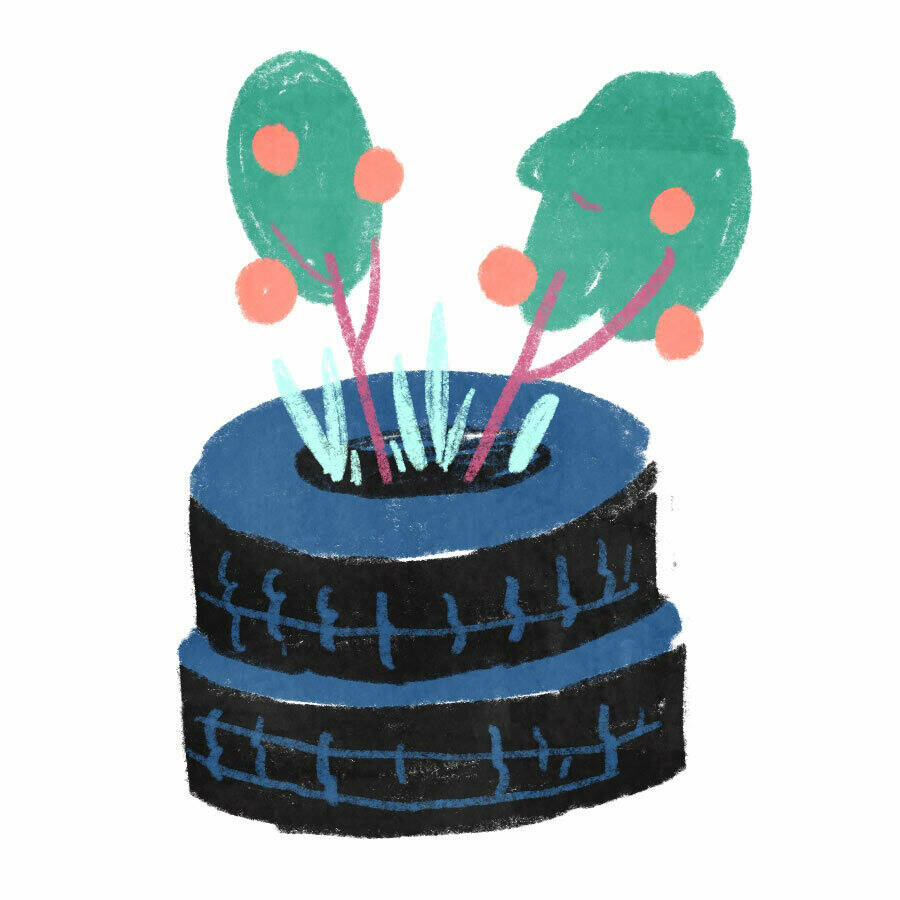 One way to waste the oppor­tu­ni­ty of the Green New Deal would be to lim­it the terms of debate to what con­ven­tion­al wis­dom deems polit­i­cal­ly pos­si­ble, rather than what we sci­en­tif­i­cal­ly and moral­ly under­stand to be nec­es­sary. If we are seri­ous about ush­er­ing in a just tran­si­tion of our econ­o­my, then we have to be pre­pared to launch a no-holds-barred debate about the need to trans­form all the pro­duc­tive rela­tion­ships in our soci­ety. That includes talk­ing about the phys­i­cal objects we use every day — in our homes, our work­places, our streets, our cities — whose mate­ri­als are a major source of green­house gas, from cement to iron to plastics.
Ecosocialism, loosely defined, is a transformed society where the relations of production are not only in harmony with the limits of nature but also help regenerate the ecosystems of our planet.
In fact, 29 per­cent of U.S. emis­sions come from man­u­fac­tur­ing. A quar­ter of this comes indi­rect­ly through elec­tric­i­ty use — the rest results from the direct burn­ing of fuels or from gas­es or chem­i­cals released as part of the pro­duc­tion process. And this does not include emis­sions from forests cleared to extract mate­ri­als, ships and trucks used to trans­port them, or, at the end of a product's life, gas­es pro­duced in land­fills and incin­er­a­tors. To zero these out will require tak­ing action against con­sump­tion and waste, as well as chang­ing the mate­ri­als we use and how we make them.
First, we have to con­front the extrac­tivisst log­ic at the heart of the cap­i­tal­ist sys­tem. This log­ic of detached accu­mu­la­tion treats the Earth and all of its nat­ur­al resources as objects that exist sole­ly for human con­sump­tion. This leads to min­ing, har­vest­ing, clear-cut­ting and damming to pro­duce com­modi­ties, pri­mar­i­ly in the form of con­sumer goods — be they per­son­al, com­mer­cial or indus­tri­al — with­out end. In fact, trop­i­cal for­est loss dri­ven large­ly by extrac­tive indus­tries is now respon­si­ble for 8 per­cent of glob­al car­bon emissions.
Our plan­et and its unique bios­phere have lim­its, and there is no way to sus­tain unlim­it­ed growth. If we don't learn to oper­ate with­in these lim­its, we will suf­fer the con­se­quence: what ecol­o­gists say is already on pace to be one of the six largest extinc­tion events in plan­e­tary history.
If the Green New Deal is going to pro­duce the out­comes we need, it must delib­er­ate­ly dis­rupt the cap­i­tal­ist log­ic of extrac­tivism and end­less accu­mu­la­tion and set us on a path toward ecosocialism.
Ecoso­cial­ism, loose­ly defined, is a trans­formed soci­ety where the rela­tions of pro­duc­tion are not only in har­mo­ny with the lim­its of nature but also help regen­er­ate the ecosys­tems of our plan­et. Social rela­tions would be reshaped through the elim­i­na­tion of white suprema­cy, set­tler colo­nial­ism, impe­ri­al­ism, patri­archy, het­ero­sex­ism, speciesism, and all sys­tems of exploita­tion and oppres­sion that fos­ter destruction.
To be clear, no leg­is­la­tion alone, even a Green New Deal, can con­struct an ecoso­cial­ist future: This will take the agency and col­lec­tive pow­er of the multi­na­tion­al work­ing class: build­ing work­er- and com­mu­ni­ty-owned and self-man­aged coop­er­a­tives; orga­niz­ing work­er-led labor unions that aim to own and con­trol their places of work; and form­ing people's assem­blies on com­mu­ni­ty or munic­i­pal lev­els to deep­en democracy.
The Green New Deal can, how­ev­er, make this tran­si­tion less cum­ber­some through a com­pre­hen­sive pro­gram of degrowth in the ener­gy and mate­ri­als we pro­duce and consume.
Part of this pro­gram must be a plan to reduce the pro­duc­tion and con­sump­tion of var­i­ous con­sumer goods. Plas­tic bags and wrap­pings, for instance, release green­house gas­es in the man­u­fac­tur­ing process and fill land­fills, water­ways and the oceans. Plas­tic in the ocean threat­ens life up and down the food chain, from zoo­plank­ton to whales, and dis­rupts nutri­ent cycles in a way that reduces oceans' abil­i­ty to store car­bon dioxide.
The pro­gram should also require the elim­i­na­tion of the planned obso­les­cence built into the life cycle of all mod­ern con­sumer prod­ucts from cars to cell phones, a prac­tice that both enrich­es cor­po­ra­tions and dri­ves the need to extract more resources and expend more fos­sil fuels to make more products.
Impor­tant­ly, the Green New Deal must expand the pro­duc­tion of pub­lic goods and ser­vices held in com­mon, in order to end the false scarci­ties pro­duced by cap­i­tal­ism. Design­ing cities around mass tran­sit could reduce the need for indi­vid­ual cars. Col­lec­tive urban farms and edi­ble lawns could ensure greater food sov­er­eign­ty on local lev­els, while dras­ti­cal­ly reduc­ing emis­sions for food trans­port and storage.
We must also imple­ment ​"regen­er­a­tive pro­duc­tion" stan­dards, and there­by counter extrac­tivist log­ic with regen­er­a­tive log­ic. For every resource we extract and use, we must either replace it or cre­ate con­di­tions for it to regrow or regen­er­ate itself. This could mean, for exam­ple, that we plant three trees for every tree we cut, reha­bil­i­tate dam­aged habi­tats and rein­tro­duce species that have been harmed by extrac­tive industries.
Giv­en the expan­sive dri­ve of the cap­i­tal­ist sys­tem, the restora­tion of Earth's nat­ur­al habi­tats will be no small feat. In prac­tice, this will include regen­er­at­ing our soils, mas­sive refor­esta­tion and ocean clean­ing projects, all of which require a shift from an extrac­tion- and con­sump­tion-based economy.
The Green New Deal must there­fore facil­i­tate a tran­si­tion to waste-free meth­ods of pro­duc­tion, dis­tri­b­u­tion, con­sump­tion and recy­cling. This is most eas­i­ly done if accom­pa­nied with local mate­r­i­al sourc­ing, local pro­duc­tion, and local­ized sup­ply and val­ue chains. We must ramp up the recy­cling, reuse and com­post­ing of both exist­ing and future mate­ri­als, reduc­ing down­stream waste in land­fills and incin­er­a­tors, both of which release green­house gases.
This means we need com­pre­hen­sive zero-waste and recy­cling process­es for all non-per­ish­able prod­ucts, plac­ing the pri­ma­ry respon­si­bil­i­ty of com­pli­ance on pro­duc­ers. Con­crete­ly, this could entail a require­ment that cor­po­ra­tions invest in the pro­duc­tion of ful­ly recy­clable or reusable prod­ucts. Should their goods con­tin­ue to include dis­pos­able com­po­nents — e.g., plas­tic or card­board wrap­pings — cor­po­ra­tions must ful­ly inter­nal­ize this cost, rather than exter­nal­iz­ing it onto con­sumers and the public.
Some new pro­duc­tion meth­ods will require new tech­nol­o­gy. We need mas­sive pub­lic fund­ing for open-source research into the devel­op­ment of car­bon-neu­tral pro­duc­tion tech­niques for the indus­tri­al and con­sumer goods need­ed to ensure a high qual­i­ty of life for bil­lions of peo­ple. Sev­er­al young tech­nolo­gies are head­ed in the right direc­tion: Dig­i­tal fab­ri­ca­tion, for instance — in which com­put­ers direct pro­duc­tion — allows for decen­tral­ized man­u­fac­tur­ing and uses far less mate­r­i­al than tra­di­tion­al process­es. The Green New Deal must include pol­i­cy man­dates that ensure these tech­no­log­i­cal devel­op­ments continue.
Parts of this process, too, will neces­si­tate learn­ing and incor­po­rat­ing a mix-ture of Indige­nous and sus­tain­able meth­ods of pro­duc­tion drawn from pre­cap­i­tal­ist cul­tures. To be clear, this is not a call to return to the days of pre­cap­i­tal­ist pro­duc­tion. It is a call for us to press for­ward with the full range of sci­en­tif­ic knowl­edge that human­i­ty has accu­mu­lat­ed — for exam­ple, draw­ing on the more durable and sus­tain­able meth­ods of con­crete pro­duc­tion used in ancient Rome, or eco­log­i­cal­ly sound food cul­ti­va­tion meth­ods from the Incas and Aztecs.
If we are going to stop run­away cli­mate change and save the species and habi­tats that can still be saved, we are going to have to get seri­ous, ful­ly open our imag­i­na­tions and dig deep into the reser­voirs of our accu­mu­lat­ed knowl­edge to enact com­pre­hen­sive sys­tems change over the next 10 to 15 years.
Giv­en the tremen­dous obsta­cles our ances­tors have over­come over the past 200,000 years — from extreme ice ages to super­vol­canic erup­tions to the geno­ci­dal intro­duc­tion and impo­si­tion of the cap­i­tal­ist sys­tem on a glob­al scale — we know we have the capac­i­ty to sur­vive the hor­rors this sys­tem has unleashed. The ques­tion is: Will we devel­op the will and orga­ni­za­tion to do so? I believe we can as much as I believe that we must.
Kali Akuno
is the co-founder and exec­u­tive direc­tor of Coop­er­a­tion Jack­son, an emerg­ing net­work of work­er coop­er­a­tives in Jack­son, Miss. He served as the direc­tor of spe­cial projects and exter­nal fund­ing in the may­oral admin­is­tra­tion of the late Chok­we Lumum­ba, and served as the exec­u­tive direc­tor of the Peo­ples' Hur­ri­cane Relief Fund in New Orleans after Hur­ri­cane Kat­ri­na. He is the co-edi­tor of Jack­son Rising.