To Organize Foreign Carmakers, UAW Must Build Transnational Labor Coalition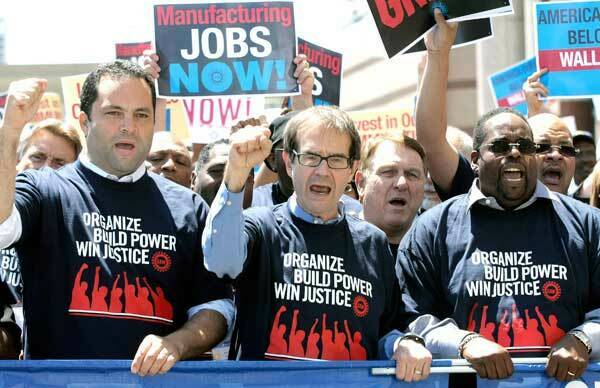 After years of get­ting shut out of for­eign car com­pa­nies' fac­to­ries across the Unit­ed States, the auto work­ers union fig­ured its heart­break was final­ly over.
Mer­cedes-Benz, Chrysler's new own­ers, had just opened a plant in a lone­ly rur­al area in Alaba­ma. The com­pa­ny was nego­ti­at­ing a new con­tract with the union, and had tak­en a very unusu­al strat­e­gy for a for­eign auto mak­er. It said it wouldn't fight the union drive.
"I feel very con­fi­dent that those work­ers, giv­en a free choice, will chose the UAW," pre­dict­ed Bob King, who, at the time, head­ed the union's orga­niz­ing efforts.
That was 1999. Shift to 2011 and Bob King is pres­i­dent of the Unit­ed Auto Work­ers. The UAW nev­er orga­nized Alaba­ma. Nor has it orga­nized the flood of plants owned by Euro­pean, Kore­an and Japan­ese com­pa­nies that churn out mil­lions of cars in the Unit­ed States. Maz­da and Mit­subishi are the only for­eign car­mak­ers with UAW members.
In the years since, the UAW has also been a hum­bled union. Its mem­ber­ship has report­ed­ly tum­bled to under 400,000, from near­ly 1.6 mil­lion in the 1970s. It has swal­lowed its pride, accept­ing con­tacts and cut­backs that it swore would nev­er see a UAW signature.
But the UAW pres­i­dent now vows to wage anoth­er dri­ve to line up the for­eign car­mak­ers. Announc­ing the UAW's strat­e­gy recent­ly, King said the union had no choice. ​"If we don't orga­nize these transna­tion­als, I don't think there's a long-term future for the UAW, I real­ly don't," King told a union meet­ing, accord­ing to news reports.
He's right.
If the for­eign car­mak­ers con­tin­ue to grow and to ramp up pro­duc­tion, the union's lever­age with the U.S. car­mak­ers will shrink even more. More con­tract give-backs. More con­tracts with less than before.
The same goes for the auto parts indus­try, where the UAW already has suf­fered severe los­es. Most of the for­eign car­mak­ers like to bring along their parts-mak­ing allies or they seek out domes­tic or for­eign parts mak­ers with the low­est costs.
When the for­eign auto com­pa­nies first arrived here, they kept their wages and ben­e­fits as close as pos­si­ble to those received by UAW mem­bers. That defense seems to have worked very well for them.
They also tried to avoid the North­ern and Mid­west­ern states, if pos­si­ble, fear­ing they would wind up with too many union-mind­ed folks in their ranks.
But some of the recent arrivals aban­doned the strat­e­gy of match­ing the UAW's con­tract. That was because they set up facil­i­ties in the South where wages are low and state leg­is­la­tors, hun­gry for any kind of jobs and hard­ly friends of orga­nized labor, have not demand­ed high wages in exchange for the mil­lions in state-fund­ed give­aways some of the com­pa­nies have received.
So what is the UAW to do?
If it takes on the car­mak­ers on its own, it is going to be a very tough fight, a fight, like all of the oth­ers, it hasn't won.
But if oth­er unions line up behind the UAW, the for­eign car­mak­ers may think dif­fer­ent­ly and work­ers in places in unions are a mirage may look on orga­nized labor differently.
To build a car you need steel, glass and rub­ber and a lot of items made by union mem­bers. You have to ship the car; union mem­bers dri­ve a lot of those trucks. And if they ship cars or parts of cars from Mex­i­co or else­where, many of those work­ers belong to unions in those countries.
This is the kind of mas­sive, far-reach­ing, polit­i­cal­ly savvy glob­al strug­gle that orga­nized labor has talked about mount­ing for years.
The oth­er choice is to let the UAW con­tin­ue shriv­el. Iif you want to see what comes from that, I can sug­gest a num­ber of Mid­west towns for you to visit.
Stephen Franklin is a for­mer labor and work­place reporter for the Chica­go Tri­bune, was until recent­ly the eth­nic media project direc­tor with Pub­lic Nar­ra­tive in Chica­go. He is the author of Three Strikes: Labor's Heart­land Loss­es and What They Mean for Work­ing Amer­i­cans (2002), and has report­ed through­out the Unit­ed States and the Mid­dle East.