To Organize Foreign Carmakers, UAW Must Build Transnational Labor Coalition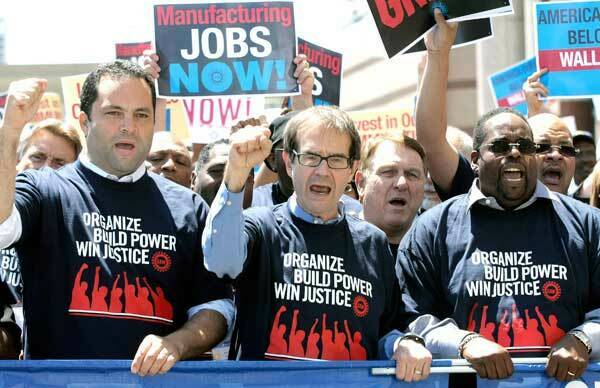 After years of getting shut out of foreign car companies' factories across the United States, the auto workers union figured its heartbreak was finally over.
Mercedes-Benz, Chrysler's new owners, had just opened a plant in a lonely rural area in Alabama. The company was negotiating a new contract with the union, and had taken a very unusual strategy for a foreign auto maker. It said it wouldn't fight the union drive.
"I feel very confident that those workers, given a free choice, will chose the UAW," predicted Bob King, who, at the time, headed the union's organizing efforts.
That was 1999. Shift to 2011 and Bob King is president of the United Auto Workers. The UAW never organized Alabama. Nor has it organized the flood of plants owned by European, Korean and Japanese companies that churn out millions of cars in the United States. Mazda and Mitsubishi are the only foreign carmakers with UAW members.
In the years since, the UAW has also been a humbled union. Its membership has reportedly tumbled to under 400,000, from nearly 1.6 million in the 1970s. It has swallowed its pride, accepting contacts and cutbacks that it swore would never see a UAW signature.
But the UAW president now vows to wage another drive to line up the foreign carmakers. Announcing the UAW's strategy recently, King said the union had no choice. ​"If we don't organize these transnationals, I don't think there's a long-term future for the UAW, I really don't," King told a union meeting, according to news reports.
He's right.
If the foreign carmakers continue to grow and to ramp up production, the union's leverage with the U.S. carmakers will shrink even more. More contract give-backs. More contracts with less than before.
The same goes for the auto parts industry, where the UAW already has suffered severe loses. Most of the foreign carmakers like to bring along their parts-making allies or they seek out domestic or foreign parts makers with the lowest costs.
When the foreign auto companies first arrived here, they kept their wages and benefits as close as possible to those received by UAW members. That defense seems to have worked very well for them.
They also tried to avoid the Northern and Midwestern states, if possible, fearing they would wind up with too many union-minded folks in their ranks.
But some of the recent arrivals abandoned the strategy of matching the UAW's contract. That was because they set up facilities in the South where wages are low and state legislators, hungry for any kind of jobs and hardly friends of organized labor, have not demanded high wages in exchange for the millions in state-funded giveaways some of the companies have received.
So what is the UAW to do?
If it takes on the carmakers on its own, it is going to be a very tough fight, a fight, like all of the others, it hasn't won.
But if other unions line up behind the UAW, the foreign carmakers may think differently and workers in places in unions are a mirage may look on organized labor differently.
To build a car you need steel, glass and rubber and a lot of items made by union members. You have to ship the car; union members drive a lot of those trucks. And if they ship cars or parts of cars from Mexico or elsewhere, many of those workers belong to unions in those countries.
This is the kind of massive, far-reaching, politically savvy global struggle that organized labor has talked about mounting for years.
The other choice is to let the UAW continue shrivel. Iif you want to see what comes from that, I can suggest a number of Midwest towns for you to visit.
Stephen Franklin is a former labor and workplace reporter for the Chicago Tribune, was until recently the ethnic media project director with Public Narrative in Chicago. He is the author of Three Strikes: Labor's Heartland Losses and What They Mean for Working Americans (2002), and has reported throughout the United States and the Middle East.