What People in Kentucky Coal Country Really Think About a Green New Deal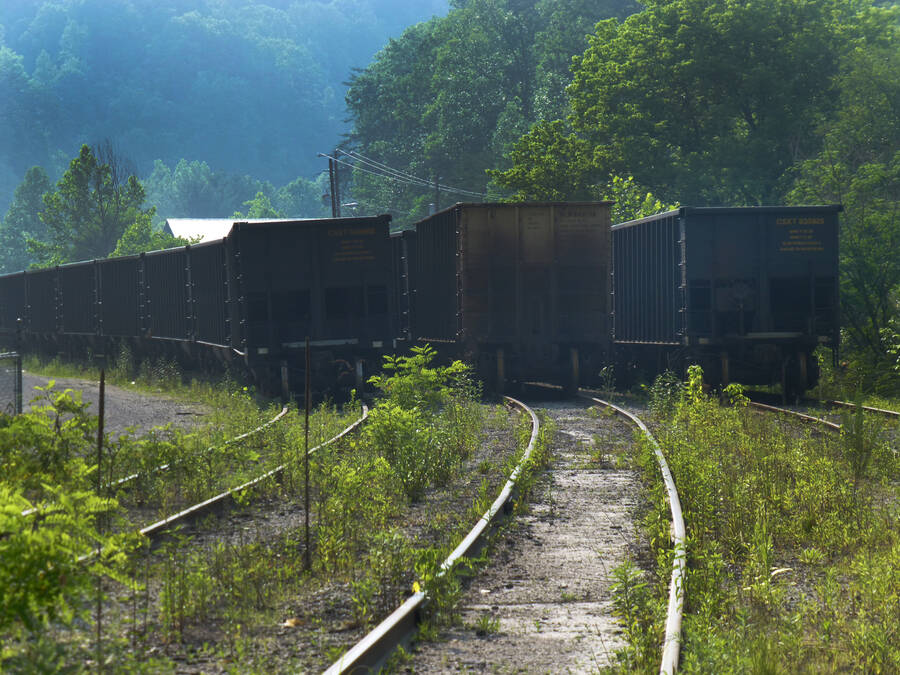 In late March, Repub­li­can Rep. Andy Barr of Ken­tucky — a mem­ber of the Con­gres­sion­al Coal Cau­cus—invit­ed Demo­c­ra­t­ic Rep. Alexan­dria Oca­sio-Cortez of New York to come to his state to talk with coal min­ers about what her pro­posed Green New Deal ​"would mean for their fam­i­lies, their pay­checks." The invi­ta­tion came after Oca­sio-Cortez spoke pas­sion­ate­ly in Con­gress against the idea that aggres­sive­ly tack­ling cli­mate change is some­thing that mat­ters only to rich, coastal elites.

Oca­sio-Cortez read­i­ly embraced Barr's invi­ta­tion to vis­it Appalachia, but a cou­ple weeks lat­er, when she crit­i­cized anoth­er Repub­li­can con­gress­man, Repub­li­can Rep. Dan Cren­shaw from Texas, for his con­dem­na­tion of Rep. Ilhan Omar — Barr demand­ed Oca­sio-Cortez apol­o­gize to his col­league before vis­it­ing. The pub­lic dra­ma con­tin­ued to esca­late, with Oca­sio-Cortez say­ing the GOP is clear­ly ​"get­ting scared" of her com­ing to Ken­tucky, where con­stituents ​"will real­ize I'm fight­ing hard­er for their health­care than their own Reps.
While some in Ken­tucky chuck­led over the fact that Barr's leg­isla­tive dis­trict doesn't actu­al­ly have any coal mines, activists nonethe­less say they under­stand that any suc­cess­ful Green New Deal will require engag­ing those most direct­ly affect­ed by the ener­gy tran­si­tion, like those liv­ing in West Vir­ginia and Kentucky.
Forty-four-year-old Scott Shoupe offers a mod­el of what's pos­si­ble. Shoupe spent 22 years work­ing as an under­ground coal min­er in east­ern Ken­tucky, and final­ly left the indus­try last April. He has black lung, two rup­tured ver­te­brae and oth­er health prob­lems. Feel­ing gen­er­al­ly burnt out, Shoupe said he knew the coal indus­try was head­ed for an irre­versible decline, yet he didn't know what he could do instead. (The U.S. Ener­gy Infor­ma­tion Admin­is­tra­tion projects coal pro­duc­tion will decline through 2040 in Cen­tral Appalachia.)
Shoupe even­tu­al­ly enrolled in a six-month job retrain­ing intern­ship, spon­sored by the Moun­tain Asso­ci­a­tion for Com­mu­ni­ty Eco­nom­ic Devel­op­ment, a local non­prof­it. Interns are paid hourly wages and health ben­e­fits while earn­ing cre­den­tials for a wide range of ener­gy effi­cien­cy skills, like solar pan­el­ing and weath­er­iza­tion. After grad­u­at­ing from the intern­ship pro­gram, Shoupe start­ed his own con­sult­ing busi­ness, where he now works on ener­gy effi­cien­cy and renew­ables for com­mer­cial and res­i­den­tial clients. He says that while he took a pay cut to par­tic­i­pate in the intern­ship, he thinks by the end of his first year of busi­ness he'll be earn­ing more mon­ey than he did when he worked as a miner.
One chal­lenge, Shoupe said, is con­vinc­ing oth­er mem­bers of his com­mu­ni­ty that coal — long under­stood as a boom-and-bust indus­try — is real­ly not com­ing back. The polit­i­cal influ­ence of the coal indus­try remains strong, and ​"you've got a lot of peo­ple in this area who real­ly tru­ly think Pres­i­dent Don­ald Trump is going to bring coal jobs back," he said. Since Trump took office, Ken­tucky has lost more coal jobs.
While Shoupe feels opti­mistic that oth­er coal min­ers could go through the type of retrain­ing pro­gram he did, he warns that a major chal­lenge will be per­suad­ing min­ers to sac­ri­fice their high earn­ing poten­tial. Oca­sio-Cortez has said it's her pri­or­i­ty to make sure that min­ers' pen­sions remain ful­ly-fund­ed, and she has co-spon­sored a bill to pre­vent min­ers' health­care and pen­sion ben­e­fits from being lost as a result of com­pa­ny bank­rupt­cy. But Shoupe says work­ers could still expect to see a cut in wages in their new jobs.
"It's real­ly tough because with coal, an 18 year old out of high school could earn $60,000 or $70,000 their first year on the job," he said. ​"That's one thing peo­ple over­look when they talk about a just tran­si­tion, and I don't know the answer to it. Many peo­ple with col­lege degrees can't even find that type of work."
Anoth­er chal­lenge is con­vinc­ing non-coal min­ers who rely on the coal indus­try to sup­port bold cli­mate leg­is­la­tion. While advo­cates for the Green New Deal sup­port a ​"job guar­an­tee" as a path for eco­nom­ic pros­per­i­ty, details on what that would mean in prac­tice remain scant. John Quin­trell, a gen­er­al man­ag­er of JRL Coal in Har­lan Coun­ty, told the local CBS-affil­i­at­ed tele­vi­sion sta­tion that with­out coal in the region, oth­er local busi­ness­es might dis­ap­pear. ​"Every­thing from the bis­cuits the guys buy in the morn­ing, to the gro­ceries, to the local hard­ware stores, the car deal­er­ships, every­thing is based around coal," he said.
While focus­ing on the future employ­ment of min­ers makes sense and car­ries clear polit­i­cal log­ic, oth­ers say that pri­or­i­tiz­ing those who already earn decent liv­ings risks miss­ing the fact that most of the state has long been shut out of good eco­nom­ic opportunity.
Tom Sex­ton, the 33-year-old co-host of the left­ist Ken­tucky pod­cast, Trill­bil­ly Worker's Par­ty, reflects on how politi­cians and the media char­ac­ter­ize coal min­ers in his state. ​"I grew up in a sin­gle-par­ent house­hold. My mom nev­er made more than $13 an hour and she retired last year," he said. ​"We always looked at coal min­ers' kids as the rich kids, and now the indi­gent min­er has become an arche­type and it's so weird to con­tex­tu­al­ize that with how I grew up, and just the work­ing poor in Ken­tucky in general."
Sex­ton expects a Green New Deal to be a big­ger polit­i­cal under­tak­ing than its sup­port­ers have sug­gest­ed. ​"I'm not say­ing that to be a stick in the mud," he explained. ​"I just think we need to know what we're get­ting into."
Ken­tucky has been trend­ing right in recent years, and Repub­li­cans have had full con­trol over the state's gov­ern­ment since 2016. In 2017, state law­mak­ers approved right-to-work leg­is­la­tion, and as of last year, for the first time since the Civ­il War, Democ­rats no longer make up the major­i­ty of reg­is­tered Ken­tucky vot­ers. There are also no active union-run coal mines left the state.
But Sex­ton notes sup­port for ambi­tious fed­er­al ini­tia­tives like the New Deal has prece­dent in his state. ​"FDR was just a peg or two under Jesus Christ here," he jokes. ​"You still hear that from peo­ple in their 80s who are still very much tied to the Demo­c­ra­t­ic Par­ty of yes­ter­day, includ­ing my fam­i­ly." And the GOP's dom­i­nance in Frank­fort is still a rel­a­tive­ly new phe­nom­e­non. Before Repub­li­cans seized con­trol of the state House in 2016, Democ­rats had con­trolled the cham­ber for the pre­ced­ing 95 years.

​"I guess what I don't want to see hap­pen in the Green New Deal is we just get a green­er cap­i­tal­ism," Sex­ton said. ​"And I under­stand that you build bridges to get to the ide­al world that you want to live in, but there are so many things we need to restruc­ture and it just doesn't seem like politi­cians are think­ing about this in a very rev­o­lu­tion­ary sense."
While Repub­li­can leg­is­la­tors in Ken­tucky remain skep­ti­cal about the Green New Deal, and aggres­sive­ly tack­ling cli­mate change in gen­er­al, oth­er res­i­dents across the state have said they will not wait around for their slug­gish politi­cians to act.

In 2017, Ken­tuck­ians For The Com­mon­wealth, a statewide com­mu­ni­ty orga­ni­za­tion, released its ​"Empow­er Ken­tucky" plan for tran­si­tion­ing to a clean ener­gy econ­o­my and imple­ment­ing a just tran­si­tion by 2032. The plan was devel­oped over two years of con­cert­ed grass­roots out­reach, where lead­ers engaged over 1,200 res­i­dents to help deter­mine the plan's 15-year goals. Among oth­er things, the plan calls for reduc­ing elec­tric­i­ty demand by 17 per­cent, gen­er­at­ing a quar­ter of Kentucky's elec­tric­i­ty from renew­able sources, dis­trib­ut­ing 18 per­cent of ener­gy-sav­ing ben­e­fits to low-income house­holds, and imple­ment­ing a $1 car­bon tax that would then help coal min­ing com­mu­ni­ties and res­i­dents tran­si­tion to new jobs.
"In the absence of respon­si­ble pub­lic lead­er­ship or any effort to devel­op a state plan," the report states, ​"Ken­tuck­ians For The Com­mon­wealth stepped up to take on the task."
On Sat­ur­day, as part of their ​"Road to a Green New Deal Tour," the youth-led Sun­rise move­ment is spon­sor­ing an event in Frank­fort, with the back­ing of Ken­tuck­ians For the Com­mon­wealth and SEIU 32BJ. Scott Shoupe will be telling his sto­ry at the event, too.
"I think a lot of peo­ple can do what I did," Shoupe says of his career shift. ​"I think any­one [who] tru­ly wants to can do it, it just takes a lit­tle ini­tia­tive and dri­ve. Every­thing in life isn't easy, but — yeah man — any­one could do it."