Maryland's Keystone Pipeline Lite Reignites Green vs. Blue Fight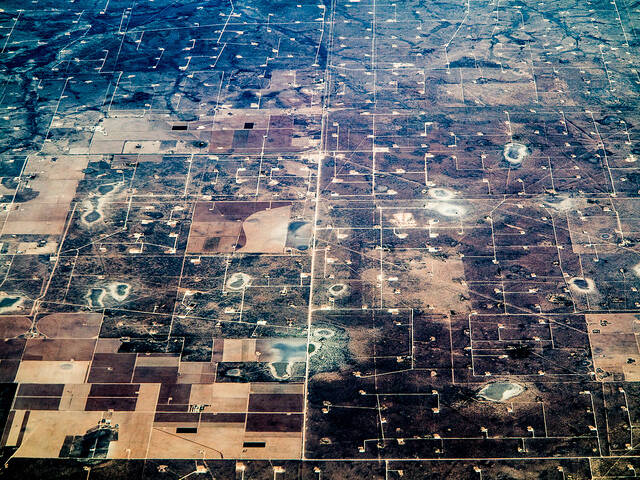 BAL­TI­MORE — The con­tin­u­ing dra­ma of orga­nized labor's con­flict with the envi­ron­men­tal move­ment, espe­cial­ly notable in the con­tro­ver­sy sur­round­ing the Key­stone XL pipeline project, is ready­ing for anoth­er round as a coali­tion of green groups launch­es a cam­paign to stop the pro­posed con­struc­tion of a Mary­land nat­ur­al gas export ter­mi­nal linked to increased frack­ing in the region.
The fight in Mary­land was put into motion last year, when Rich­mond, Va.-based ener­gy giant Domin­ion Resources Inc. sug­gest­ed con­vert­ing its exist­ing liq­ue­fied nat­ur­al gas (LNG) import ter­mi­nal at Cove Point in Lus­by, Md., to a much larg­er export ter­mi­nal. Accord­ing to Domin­ion, the rapid expan­sion of nat­ur­al gas pro­duc­tion inside the Unit­ed States in recent years has all but elim­i­nat­ed the need to import LNG — by con­trast, mar­ket demand to export the gas to places like India and Japan is expect­ed to rise dramatically.
Domin­ion there­fore pro­posed spend­ing some $3.8 bil­lion to mod­i­fy the Cove Point ter­mi­nal with con­struc­tion of a new liq­ue­fac­tion plant, elec­tric­i­ty-gen­er­at­ing sta­tion and relat­ed facil­i­ties to han­dle the LNG exports. The U.S. Depart­ment of Ener­gy gave its qual­i­fied approval for the project last month.
That approval prompt­ed the Chesa­peake Cli­mate Action Net­work (CCAN) to begin the first stage of its pub­lic cam­paign against the project ear­ly this month, says CCAN Direc­tor Mike Tid­well. The group, along with allies like the Sier­ra Club, had been work­ing qui­et­ly for months against the plan by lob­by­ing gov­ern­ment agen­cies (like the Ener­gy Depart­ment and Mary­land Depart­ment of the Envi­ron­ment), lin­ing up polit­i­cal allies and sup­port­ing a law­suit by the Sier­ra Club against Domin­ion in Mary­land state court, he says. But the fail­ure of the law­suit to block LNG exports, along with the Ener­gy Depart­men­t's approval of Domin­ion's plan, prompt­ed CCAN to launch its pub­lic cam­paign this month.
In a nine-stop tour of towns and cities across Mary­land, CCAN held pub­lic meet­ings to rebut many of Dominion's claims about the eco­nom­ic ben­e­fits of its pro­pos­al, and to make CCAN's case that the project will wors­en glob­al cli­mate change, espe­cial­ly by encour­ag­ing new nat­ur­al gas pro­duc­tion through hydraulic frac­tur­ing, or frack­ing, in Mary­land and neigh­bor­ing states, Tid­well says.
The heart of the CCAN argu­ment is that frack­ing relases methane into the air in the course of nat­ur­al gas drilling and trans­port that is near­ly as dam­ag­ing to the envi­ron­ment as burn­ing the gas itself. Thus the frack­ing process itself con­tributes to glob­al warm­ing even before the gas is burned to cre­ate elec­tric­i­ty or for oth­er uses, CCAN says. Frack­ing and LNG exports are inher­ent­ly dam­ag­ing to the envi­ron­ment, the group con­tends, and can only wors­en the prob­lem of glob­al warming.
But, just as CCAN held its first meet­ing on Novem­ber 5 in the state cap­i­tal of Annapo­lis, full-page adver­tise­ments appeared in the Bal­ti­more Sun and Wash­ing­ton Post tout­ing the ben­e­fits of the project. The ads took the form of an ​"open let­ter" to the pub­lic signed by 10 busi­ness lob­by­ists and 20 labor union rep­re­sen­ta­tives, includ­ing Sean McGar­vey the top offi­cer of the AFL-CIO's Build­ing and Con­struc­tion Trades Depart­ment. In an appar­ent shot at CCAN, the ad states, ​"There is much mis­in­for­ma­tion being thrown about by those who would undo the project. They gross­ly inflate and mis­rep­re­sent envi­ron­men­tal impacts. At the same time, they severe­ly under­count eco­nom­ic ben­e­fits and dis­miss what the Cove Point project will mean to hard-work­ing men and women who have fam­i­lies to support."
Vance Ayres, Sec­re­tary-Trea­sur­er of the Wash­ing­ton, D.C. Build­ing and Con­struc­tion Trades Coun­cil, also signed the let­ter. Ayres tells Work­ing In These Times that his orga­ni­za­tion, a coali­tion of 15 union locals active­ly engaged in con­struc­tion projects in D.C., Mary­land and Vir­ginia, has an agree­ment with Domin­ion Resources to use union labor on the project. Dur­ing the three-year con­struc­tion phase at Cove Point, he says, as many of 3,000 well-paid jobs will be cre­at­ed for iron­work­ers, elec­tri­cians, plumbers, steam­fit­ters and oth­ers. The Coun­cil has had a long rela­tion­ship with Domin­ion, he says, and the com­pa­ny has used union labor on a num­ber of build­ing projects in the region in the past.
​"I'm a con­ser­va­tion­ist myself … We [at the Coun­cil] care about the envi­ron­ment just like every­body else," Ayres says. The Coun­cil will not sup­port any bypass of the rel­e­vant envi­ron­men­tal reg­u­la­tions, he says, but as long as Cove Point is con­struct­ed to high pro­fes­sion­al stan­dards, the Coun­cil will con­tin­ue to sup­port it. He con­tin­ues, ​"Nat­ur­al gas is a lot clean­er than oil or coal, so we are going in the right direc­tion … We like smart, clean projects." Ayres points out that unions on the Coun­cil fre­quent­ly work on solar and wind ener­gy con­struc­tion, which have few­er neg­a­tive envi­ron­men­tal impacts when com­pared to coal and nat­ur­al gas projects.
In addi­tion to drum­ming up pub­lic sup­port, rep­re­sen­ta­tives from both the labor and envi­ron­men­tal camps have voiced their inten­tions to increase pres­sure on Mary­land's elect­ed offi­cials, includ­ing Gov­er­nor Mar­tin O'Malley. Accord­ing to Tid­well, the Mary­land gov­ern­ment agen­cies under O'Mal­ley's con­trol are key to whether the project will go for­ward. Fed­er­al gov­ern­ment agen­cies like the Ener­gy Depart­ment and the Fed­er­al Ener­gy Reg­u­la­to­ry Com­mis­sion (FERC) favor nat­ur­al gas exports as a mat­ter of pol­i­cy, he told a CCAN pub­lic meet­ing in Bal­ti­more on Novem­ber 12, so the best line of defense against the Cove Point project is now the Mary­land Depart­ment of the Envi­ron­ment, the state Pub­lic Ser­vice Com­mis­sion and O'Mal­ley him­self. Approvals from those two agen­cies are nec­es­sary before con­struc­tion work can begin, accord­ing to Tidwell.
Though O'Malley is con­sid­ered by CCAN to have a good envi­ron­men­tal record, he has thus far refused to com­mit him­self one way or the oth­er on the Domin­ion pro­pos­al. He's been exten­sive­ly lob­bied by both sides, Tid­well says, but he con­tin­ues to avoid tak­ing a defin­i­tive position.
For its part, Ayres says the Coun­cil will also con­tin­ue tes­ti­fy­ing in favor of Cove Point at gov­ern­ment hear­ings, as it did at a FERC hear­ing in late Octo­ber and lob­by­ing elect­ed offi­cials, includ­ing O'Malley.
Despite the oppo­si­tion from Mary­land's large con­struc­tion unions, Tid­well says CCAN will be seek­ing sup­port for its cam­paign from all sources, includ­ing those unions not already lined up behind Dominion's Cove Point project. That would include unions that have bro­ken ranks with AFL-CIO con­struc­tion unions in the past to oppose Key­stone, such as the Com­mu­ni­ca­tions Work­ers of Amer­i­ca or Unit­ed Steelworkers.
Even as the dra­ma height­ens in Mary­land, Tid­well does­n't believe that envi­ron­men­tal and labor groups are doomed to be at odds for­ev­er. Alter­na­tive clean ener­gy projects can cre­ate the jobs need­ed to sus­tain the build­ing trade unions in the future he says, and CCAN is he hope­ful that the con­struc­tion unions can ulti­mate­ly be con­vinced to adopt a neu­tral posi­tion on Cove Point and projects like it.
Full dis­clo­sure: The Com­mu­ni­ca­tions Work­ers of Amer­i­ca are a web­site spon­sor of In These Times.
Bruce Vail
is a Bal­ti­more-based free­lance writer with decades of expe­ri­ence cov­er­ing labor and busi­ness sto­ries for news­pa­pers, mag­a­zines and new media. He was a reporter for Bloomberg BNA's Dai­ly Labor Report, cov­er­ing col­lec­tive bar­gain­ing issues in a wide range of indus­tries, and a mar­itime indus­try reporter and edi­tor for the Jour­nal of Com­merce, serv­ing both in the newspaper's New York City head­quar­ters and in the Wash­ing­ton, D.C. bureau.