In Novem­ber, Kurt Von­negut turned 80. He pub­lished his first nov­el, Play­er Piano, in 1952 at the age of 29. Since then he has writ­ten 13 oth­ers, includ­ing Slaugh­ter­house Five, which stands as one of the pre-emi­nent anti-war nov­els of the 20th century.
As war against Iraq looms, I asked Von­negut, a read­er and sup­port­er of this mag­a­zine, to weigh in. Von­negut is an Amer­i­can social­ist in the tra­di­tion of Eugene Vic­tor Debs, a fel­low Hoosier whom he likes to quote: ​"As long as there is a low­er class, I am in it. As long as there is a crim­i­nal ele­ment, I am of it. As long as there is a soul in prison, I am not free."
—Joel Blei­fuss
You have lived through World War II, Korea, Viet­nam, the Rea­gan wars, Desert Storm, the Balkan wars and now this com­ing war in Iraq. What has changed, and what has remained the same?
One thing which has not changed is that none of us, no mat­ter what con­ti­nent or island or ice cap, asked to be born in the first place, and that even some­body as old as I am, which is 80, only just got here. There were already all these games going on when I got here. … An apt mot­to for any poli­ty any­where, to put on its state seal or cur­ren­cy or what­ev­er, might be this quo­ta­tion from the late base­ball man­ag­er Casey Sten­gel, who was address­ing a team of los­ing pro­fes­sion­al ath­letes: ​"Can't any­body here play this game?"
My daugh­ter Lily, for an exam­ple close to home, who has just turned 20, finds her­self — as does George W. Bush, him­self a kid — an heir to a shock­ing­ly recent his­to­ry of human slav­ery, to an AIDS epi­dem­ic and to nuclear sub­marines slum­ber­ing on the floors of fjords in Ice­land and else­where, crews pre­pared at a momen­t's notice to turn indus­tri­al quan­ti­ties of men, women and chil­dren into radioac­tive soot and bone meal by means of rock­ets and H‑bomb war­heads. And to the choice between lib­er­al­ism or con­ser­vatism and on and on.
What is rad­i­cal­ly new in 2003 is that my daugh­ter, along with our pres­i­dent and Sad­dam Hus­sein and on and on, has inher­it­ed tech­nolo­gies whose byprod­ucts, whether in war or peace, are rapid­ly destroy­ing the whole plan­et as a breath­able, drink­able sys­tem for sup­port­ing life of any kind. Human beings, past and present, have trashed the joint.
Based on what you've read and seen in the media, what is not being said in the main­stream press about Pres­i­dent Bush's poli­cies and the impend­ing war in Iraq?
That they are nonsense.
My feel­ing from talk­ing to read­ers and friends is that many peo­ple are begin­ning to despair. Do you think that we've lost rea­son to hope?
I myself feel that our coun­try, for whose Con­sti­tu­tion I fought in a just war, might as well have been invad­ed by Mar­tians and body snatch­ers. Some­times I wish it had been. What has hap­pened, though, is that it has been tak­en over by means of the sleazi­est, low-com­e­dy, Key­stone Cops-style coup d'é­tat imag­in­able. And those now in charge of the fed­er­al gov­ern­ment are upper-crust C‑students who know no his­to­ry or geog­ra­phy, plus not-so-clos­et­ed white suprema­cists, aka ​"Chris­tians," and plus, most fright­en­ing­ly, psy­cho­path­ic per­son­al­i­ties, or ​"PPs."
To say some­body is a PP is to make a per­fect­ly respectable med­ical diag­no­sis, like say­ing he or she has appen­dici­tis or ath­lete's foot. The clas­sic med­ical text on PPs is The Mask of San­i­ty by Dr. Her­vey Cleck­ley. Read it! PPs are pre­sentable, they know full well the suf­fer­ing their actions may cause oth­ers, but they do not care. They can­not care because they are nuts. They have a screw loose!
And what syn­drome bet­ter describes so many exec­u­tives at Enron and World­Com and on and on, who have enriched them­selves while ruin­ing their employ­ees and investors and coun­try, and who still feel as pure as the dri­ven snow, no mat­ter what any­body may say to or about them? And so many of these heart­less PPs now hold big jobs in our fed­er­al gov­ern­ment, as though they were lead­ers instead of sick.
What has allowed so many PPs to rise so high in cor­po­ra­tions, and now in gov­ern­ment, is that they are so deci­sive. Unlike nor­mal peo­ple, they are nev­er filled with doubts, for the sim­ple rea­son that they can­not care what hap­pens next. Sim­ply can't. Do this! Do that! Mobi­lize the reserves! Pri­va­tize the pub­lic schools! Attack Iraq! Cut health care! Tap every­body's tele­phone! Cut tax­es on the rich! Build a tril­lion-dol­lar mis­sile shield! Fuck habeas cor­pus and the Sier­ra Club and In These Times, and kiss my ass!
How have you got­ten involved in the anti-war move­ment? And how would you com­pare the move­ment against a war in Iraq with the anti-war move­ment of the Viet­nam era?
When it became obvi­ous what a dumb and cru­el and spir­i­tu­al­ly and finan­cial­ly and mil­i­tar­i­ly ruinous mis­take our war in Viet­nam was, every artist worth a damn in this coun­try, every seri­ous writer, painter, stand-up come­di­an, musi­cian, actor and actress, you name it, came out against the thing. We formed what might be described as a laser beam of protest, with every­body aimed in the same direc­tion, focused and intense. This weapon proved to have the pow­er of a banana-cream pie three feet in diam­e­ter when dropped from a steplad­der five-feet high.
And so it is with anti-war protests in the present day. Then as now, TV did not like anti-war pro­test­ers, nor any oth­er sort of pro­test­ers, unless they riot­ed. Now, as then, on account of TV, the right of cit­i­zens to peace­ably assem­ble, and peti­tion their gov­ern­ment for a redress of griev­ances, ​"ain't worth a pitch­er of warm spit," as the say­ing goes.
As a writer and artist, have you noticed any dif­fer­ence between how the cul­tur­al lead­ers of the past and the cul­tur­al lead­ers of today view their respon­si­bil­i­ty to society?
Respon­si­bil­i­ty to which soci­ety? To Nazi Ger­many? To the Stal­in­ist Sovi­et Union? What about respon­si­bil­i­ty to human­i­ty in gen­er­al? And lead­ers in what par­tic­u­lar cul­tur­al activ­i­ty? I guess you mean the fine arts. I hope you mean the fine arts. … Any­body prac­tic­ing the fine art of com­pos­ing music, no mat­ter how cyn­i­cal or greedy or scared, still can't help serv­ing all human­i­ty. Music makes prac­ti­cal­ly every­body fonder of life than he or she would be with­out it. Even mil­i­tary bands, although I am a paci­fist, always cheer me up.
But that is the pow­er of ear can­dy. The cre­ation of such a uni­ver­sal con­fec­tion for the eye, by means of print­ed poet­ry or fic­tion or his­to­ry or essays or mem­oirs and so on, isn't pos­si­ble. Lit­er­a­ture is by def­i­n­i­tion opin­ion­at­ed. It is bound to pro­voke the argu­ments in many quar­ters, not exclud­ing the home­town or even the fam­i­ly of the author. Any ink-on-paper author can only hope at best to seem respon­si­ble to small groups or like-mind­ed peo­ple some­where. He or she might as well have giv­en an inter­view to the edi­tor of a small-cir­cu­la­tion publication.
Maybe we can talk about the respon­si­bil­i­ties to their soci­eties of archi­tects and sculp­tors and painters anoth­er time. And I will say this: TV dra­ma, although not yet clas­si­fied as fine art, has on occa­sion per­formed mar­velous ser­vices for Amer­i­cans who want us to be less para­noid, to be fair­er and more mer­ci­ful. M.A.S.H. and Law and Order, to name only two shows, have been stun­ning mas­ter­pieces in that regard.
That said, do you have any ideas for a real­ly scary real­i­ty TV show?
"C stu­dents from Yale." It would stand your hair on end.
What tar­gets would you con­sid­er fair game for a satirist today?
Ass­holes.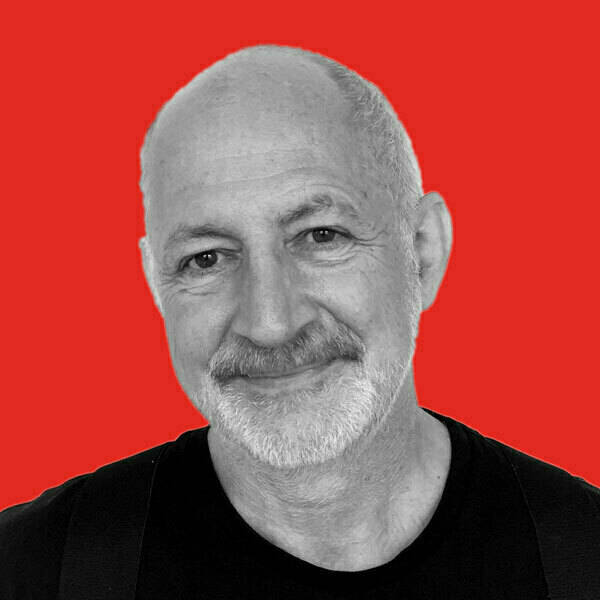 Joel Blei­fuss, a for­mer direc­tor of the Peace Stud­ies Pro­gram at the Uni­ver­si­ty of Mis­souri-Colum­bia, is the edi­tor & pub­lish­er of In These Times, where he has worked since Octo­ber 1986.