LA Unions Rally to Support Grocery Workers, as Strike Looms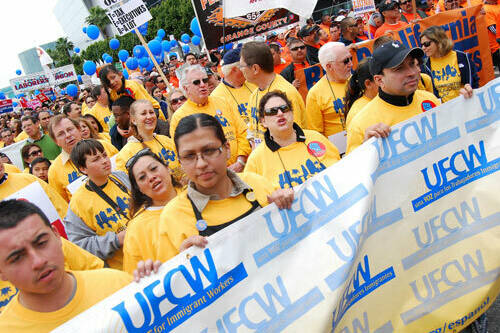 Gro­cery store work­ers in south­ern Cal­i­for­nia are prepar­ing to ral­ly on Tues­day for afford­able health­care ben­e­fits, as nego­ti­a­tions with three major super­mar­ket chains drag on and the pos­si­bil­i­ty of a strike increases.
Albert­sons, Ralphs and Vons super­mar­kets and the Unit­ed Food and Com­mer­cial Work­ers (UFCW) Local 770 have been nego­ti­at­ing through a fed­er­al medi­a­tor since March, when the union's con­tract expired. Now, fear­ing an increase in health­care pre­mi­ums, co-pays and deductibles, the union is mus­ter­ing the sup­port of the Los Ange­les Coun­ty Fed­er­a­tion of Labor in prepa­ra­tion for a strike, the Los Ange­les Times report­ed this week.
The fed­er­a­tion announced its sup­port of Local 770 Wednes­day, pledg­ing more than $100,000 to sus­tain more than 62,000 union work­ers and their fam­i­lies in the event of strike, Maria Ele­na Dura­zo, exec­u­tive sec­re­tary-trea­sur­er of the fed­er­a­tion, said.
"We pledge $100,000 to start the Gro­cery Work­ers' Hard­ship Fund should these work­ers be forced to strike," she said. ​"This fund will grow as need­ed. We are pre­pared to do what­ev­er it takes to sup­port these gro­cery workers."
The fed­er­a­tion has also drummed up the sup­port of oth­er local unions, such as the Inter­na­tion­al Alliance of The­atri­cal Stage Employ­ees. A rep­re­sen­ta­tive of the union told the Los Ange­les Times, ​"we're going to open our hearts, our union halls and our pock­ets to these work­ers."
Local 770 orga­niz­ers could not be reached for com­ment on the like­li­hood of a strike, but Rick Icaza, pres­i­dent of the union, told the Times, ​"we're so far apart, if some­thing doesn't hap­pen soon we'll have to strike." Mem­bers of the union vot­ed to autho­rize a strike in April.
Accord­ing to Local 770, which reg­u­lar­ly posts con­tract nego­ti­a­tion updates on their web­site, as of May 19, the health­care pro­pos­al offered by the super­mar­kets would cost employ­ees $450 mil­lion over the course of three years:
Their plan would shift an esti­mat­ed 80 per­cent of future cost increas­es to you by increas­ing pre­mi­ums, cut­ting ben­e­fits, and lim­it­ing your access to cer­tain ben­e­fits. These changes will increase the cost of your health care to unaf­ford­able levels.

Essen­tial­ly, your man­age­ment has refused to com­pro­mise on pro­vid­ing health ben­e­fits, instead cre­at­ing a plan that mir­rors that of cor­po­rate health­care vil­lain Wal­Mart: so expen­sive and inef­fec­tive that most employ­ees choose not to participate.

The amount of costs they are try­ing to shift to you, over three years, is equiv­a­lent to 3 per­cent of their total $15 bil­lion prof­its. Despite the fact that it would only cost them 3 per­cent of their total prof­it to main­tain your and your family's health care, they would rather risk a strike and abuse their employ­ees to mar­gin­al­ly increase their already con­sid­er­able profits.
Vic­to­ria Ran­gle, a spokesper­son from Albert­sons, which is owned by Super­Valu, Inc., dis­put­ed that the company's health­care pro­pos­al would cost some work­ers $7,500 annu­al­ly, as the coun­ty labor fed­er­a­tion claims on its web­site. In nego­ti­a­tions, Ran­gle said indi­vid­ual work­ers were asked to con­tribute $9 a week, $15 a week for work­ers and their chil­dren or $23 a week for fam­i­ly coverage.
"We are still active­ly nego­ti­at­ing, and any talk of a strike is unnec­es­sary," Ran­gle told In These Times. ​"Our con­tract exten­sion agree­ment is still in place, and we have addi­tion­al nego­ti­at­ing meet­ing dates on the cal­en­dar. The only place where we can reach an agree­ment is at the bar­gain­ing table, and we believe our focus should be there, reach­ing a fair and rea­son­able contract."
If a strike does start soon, it wouldn't be with­out prece­dent. In 2003, when Local 770 was nego­ti­at­ing a con­tract with the same super­mar­kets, work­ers went on strike. The fed­er­a­tion of labor claims to have cost the super­mar­kets more than $2 bil­lion in sales. It's unclear how a strike this year might impact cus­tomers or com­pa­ny sales.