NLRB Backs Hyatt Workers Fired During Union Campaign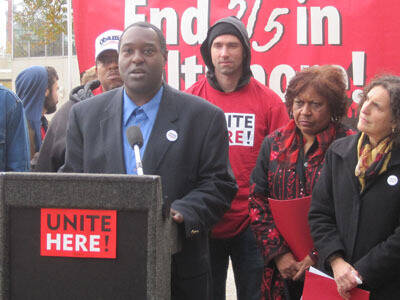 BALTIMORE – ​"They fired me [for organizing]," said Hyatt worker Mike Jones at a Baltimore rally this month hosted by Hyatt Hurts, a nationwide campaign against labor abuses at the hotel chain. Jones, a 10-year employee of the Hyatt Regency Baltimore, is one of four workers there who claim they were axed in a crackdown against a unionization initiative by UNITE HERE Local 7.
Jones' statement has been backed up by the National Labor Relations Board (NLRB), which filed a complaint against the hotel November 1. In the complaint, NLRB Acting Regional Director Albert W. Palewicz ordered a formal hearing on the charges to be held on January 14, 2013.
According to Jones, the Local 7 unionization campaign has been under way for about 18 months, but was not confirmed to hotel managers until May of this year. Since then, he says, managers have singled out union supporters for unfair disciplinary procedures in order to build a case for firings and to intimidate other workers.
​"Right after we started picketing and leafleting, they introduced the ​'one-minute rule.' Before that, we had a five-minute grace period for clocking in. With the one-minute rule, they started to write you up for discipline after one minute….They just wanted to have a paper trail so they could fire the union supporters," Jones told Working In These Times.
While the intimidation, unfair discipline and illegal firings are the focus of the NLRB complaint, workers at the Hyatt Regency Baltimore also report broader concerns.
At the top of the list is the excessive use of temporary and contract workers, says Regina Davis, a union supporter from the hotel's banquet department. This puts unneeded stress on the permanent staff, she says, and forces the temporary workers to subsist on poverty-level wages.
Davis' complaint was echoed by Tessa Hill-Aston, president of the Baltimore chapter of National Association for the Advancement of Colored People (NAACP). She says that the city's African-American community is in desperate need of decent full-time jobs, and Hyatt should step up and increase hiring of permanent employees. Until the hotel agrees to unionize and hire more local workers, the Baltimore NAACP will honor UNITE HERE's global boycott of Hyatt, Hill-Aston says. She vows, ​"We will never use a hotel without the permission of the unions."
Gail Smith-Howard, general manager of the Hyatt Regency Baltimore, provided Working In These Times with a formal statement in response to UNITE HERE's charges against the company:
Since 2009, UNITE HERE has been engaged in an ongoing campaign to boost its membership by attempting to organize associates at Hyatt properties, including the Hyatt Regency Baltimore, through a non-democratic and intimidating process called card check. Hyatt believes our associates should have the right to say ​'yes' or ​'no' to a union with a democratic secret ballot election as the NLRB has provided for more than 75 years. Because of our disagreement with UNITE HERE over its organizing tactics, the union has said and done anything to advance its cause, including making false accusations about Hyatt's workplace environment in Baltimore and elsewhere.
Smith-Howard's defense of Hyatt was dismissed my Ernie Grecco, President of the Metropolitan Baltimore Council of the AFL-CIO. Grecco, a veteran of decades of local Baltimore labor struggles, recalled that Hyatt had agreed to unionize some 30 years ago when the hotel was first built as part of the government-assisted Inner Harbor downtown redevelopment project.
​"We go back in this fight a long way. Hyatt agreed to allow unions back then, but Hyatt broke the agreement," Grecco says. ​"They hired the most expensive anti-union law firm in Baltimore, and we lost the election. … Now, it's time for Hyatt to let the workers sign the cards" and become union members.
Any argument that Hyatt merely objects to the card check process — as opposed to a full NLRB certification election — is simply not supported by the historical record, Grecco adds.
Nancy Cleeland, a spokesperson for the NLRB headquarters in Washington, D.C., said that Jones could be re-instated in his job at Hyatt by the labor board if the administrative law judge rules in his favor next year, and if the judge's decision is upheld in further legal proceedings.
​"It's impossible to tell in a case like this how long it might take. An employer can fight till all legal options are exhausted, and that could take years and years. But sometime an employer will settle (the case) early on," she says.
Jones says he understands that reinstatement might never happen, or, if it does, that it might take a long time.
​"My mother and father are both union members, so I talked to them" before getting involved in the Local 7 organizing campaign, Jones says. ​"My father said to me, ​'I'm proud of you — but you know there will be repercussions.' He was right."
Bruce Vail
is a Baltimore-based freelance writer with decades of experience covering labor and business stories for newspapers, magazines and new media. He was a reporter for Bloomberg BNA's Daily Labor Report, covering collective bargaining issues in a wide range of industries, and a maritime industry reporter and editor for the Journal of Commerce, serving both in the newspaper's New York City headquarters and in the Washington, D.C. bureau.