Labor Day in Old Milwaukee: Obama and the Urgency of 'Our Cause'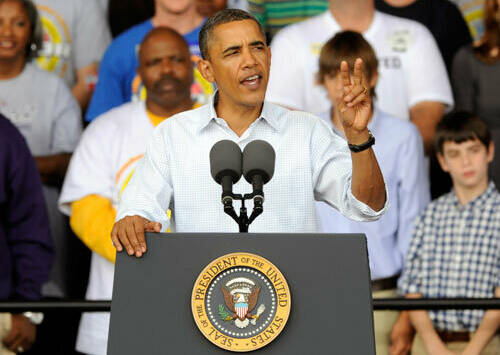 When it comes to labor, Mil­wau­kee sits per­haps a bit in the shad­ow of Chica­go to the south. But Mil­wau­kee has a rich labor his­to­ry of its own, includ­ing a five-day sweep­ing indus­tri­al work stop­page in the 1886 fight for the eight-hour day and the lat­er suc­cess of ​"Fight­ing Bob" La Follette's Pro­gres­sive Par­ty. Mil­wau­kee is still a bas­tion of union jobs at plants includ­ing Harley-David­son, where a ten­ta­tive deal was reached Fri­day to nar­row­ly avoid mov­ing pro­duc­tion of the famous motorcycles.(See Roger Bybee's blog about the issue here.)
Hence it was fit­ting that Pres­i­dent Oba­ma spent Labor Day at Milwaukee's annu­al Labor­fest, where he announced a $50 bil­lion jobs plan cen­tered around trans­porta­tion infra­struc­ture includ­ing the con­struc­tion or rehab­bing of 150,000 miles of roads, 4,000 miles of rail and 150 miles of air run­ways. (Read his speech here).
Oba­ma described the econ­o­my as a car dri­ven into a ditch by Repub­li­cans, and decried their hopes for a case of col­lec­tive amne­sia that would help them get the keys back.
Oba­ma also vis­it­ed Milwaukee's Labor­fest dur­ing his pres­i­den­tial cam­paign two years ago. This year, Mil­wau­kee was like­ly cho­sen by the admin­is­tra­tion large­ly because of two tight races in upcom­ing elec­tions – for U.S. Sen­a­tor Russ Feingold's seat and the governor's man­sion. Fein­gold is the only run­ning incum­bent whose Sen­ate seat is con­sid­ered up for grabs with the poten­tial to tip the polit­i­cal bal­ance in the Senate.
And pop­u­lar Demo­c­ra­t­ic Mil­wau­kee may­or Tom Bar­rett is run­ning for gov­er­nor against either Repub­li­can Mil­wau­kee Coun­ty Exec­u­tive Scott Walk­er or for­mer U.S. Rep. Mark Neu­mann. Both Fein­gold and Bar­rett are being sig­nif­i­cant­ly out­spent by their wealthy oppo­nents, and recent polls have placed them in extreme­ly tight races. Polls also show Obama's sup­port in Wis­con­sin drop­ping, to below 50 per­cent in an August Ras­mussen report.
The Asso­ci­at­ed Press notes:
Wis­con­sin has already lost 35,000 man­u­fac­tur­ing jobs since Oba­ma took office in Jan­u­ary 2009, and 182,000 such jobs since 2000. Statewide unem­ploy­ment, at 7.8 per­cent in July, had hit a 26-year high of 9.4 per­cent in March 2009 once the reces­sion took hold. As it has nation­wide, the sour econ­o­my in Wis­con­sin has embold­ened Repub­li­cans who see an oppor­tu­ni­ty to not only gain back seats long held by Democ­rats but also hurt Obama's chances of re-elec­tion in 2012.
In his speech, Oba­ma espoused the impor­tance of the mid­dle class and pledged to revive it, saying:
Amer­i­ca can­not have a strong, grow­ing econ­o­my with­out a strong, grow­ing mid­dle class, and the chance for every­body, no mat­ter how hum­ble their begin­nings, to join that mid­dle class. A mid­dle class built on the idea that if you work hard and live up to your respon­si­bil­i­ties, you can get ahead — and enjoy some basic guar­an­tees in life. A good job that pays a good wage. Health care that'll be there when you get sick. A secure retire­ment even if you're not rich. An edu­ca­tion that'll give our kids a bet­ter life than we had. These are sim­ple ideas. Amer­i­can ideas.
He took swipes at Repub­li­can ideas of trick­le-down eco­nom­ics, tax breaks for the rich and trust in high finance:
Well, any­one who thinks we can move this econ­o­my for­ward with a few doing well at the top, hop­ing it'll trick­le down to work­ing folks run­ning faster and faster just to keep up — they just haven't stud­ied our his­to­ry. We didn't become the most pros­per­ous coun­try in the world by reward­ing greed and reck­less­ness. We didn't come this far by let­ting spe­cial inter­ests run wild. We didn't do it by just gam­bling and chas­ing paper prof­its on Wall Street. We did it by pro­duc­ing goods we could sell; we did it with sweat and effort and inno­va­tion. We did it by invest­ing in the peo­ple who built this coun­try from the ground up — work­ers, and mid­dle-class fam­i­lies, and small busi­ness own­ers. We did it by out-work­ing, out-edu­cat­ing, and out-com­pet­ing every­one else.
The infra­struc­ture plan and a larg­er shift to Amer­i­can-made prod­ucts and ​"green jobs" will make this hap­pen, Oba­ma promised, telling Wis­con­sin res­i­dents ​"we want to see the solar pan­els and wind tur­bines and elec­tric cars of tomor­row man­u­fac­tured here."
The trans­porta­tion infra­struc­ture plan still needs Con­gres­sion­al approval to become real­i­ty, a chal­leng­ing task giv­en staunch oppo­si­tion by Repub­li­cans and even Democ­rats leery of rais­ing tax­es or inflam­ing crit­ics of the pre­vi­ous stim­u­lus package.
Mean­while, the Harley-David­son saga is like­ly not over. Unit­ed Steel Work­ers mem­bers still need to vote on the agree­ment which would like­ly pro­tect the 1,340 Harley-David­son jobs in Wis­con­sin; the com­pa­ny had threat­ened to move to Kansas City or else­where in the U.S. Even after this agree­ment, the com­pa­ny is like­ly to con­tin­ue push­ing for cuts. A year ago, work­ers at the company's York, Pa. fac­to­ry agreed to mas­sive job cuts to avoid man­u­fac­tur­ing moved to Kentucky.
In Mil­wau­kee Oba­ma acknowl­edged Amer­i­can work­ers are in dire straits, invok­ing the Great Depres­sion and plant clos­ings of decades past to note: ​"The prob­lems fac­ing work­ing fam­i­lies are noth­ing new. But they are more seri­ous than ever. And that makes our cause more urgent than ever."
Wis­con­sin res­i­dents may take heart from their past, as the Wis­con­sin Labor His­to­ry Soci­ety web­site states after its long chron­i­cle of lumi­nary moments in state history:
Labor's his­to­ry tells us that the strug­gle is a con­stant one-often in frus­tra­tion, but always seek­ing to move for­ward to build a bet­ter life for the work­ers of future generations.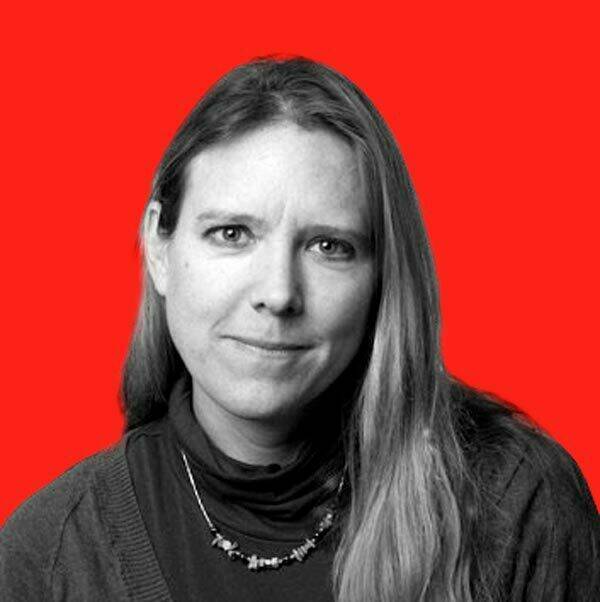 Kari Lyder­sen
is a Chica­go-based reporter, author and jour­nal­ism instruc­tor, lead­ing the Social Jus­tice
&
amp; Inves­tiga­tive spe­cial­iza­tion in the grad­u­ate pro­gram at North­west­ern Uni­ver­si­ty. She is the author of May­or
1
%: Rahm Emanuel and the Rise of Chicago's
99
%.