What the Revival of Socialism in America Means for the Labor Movement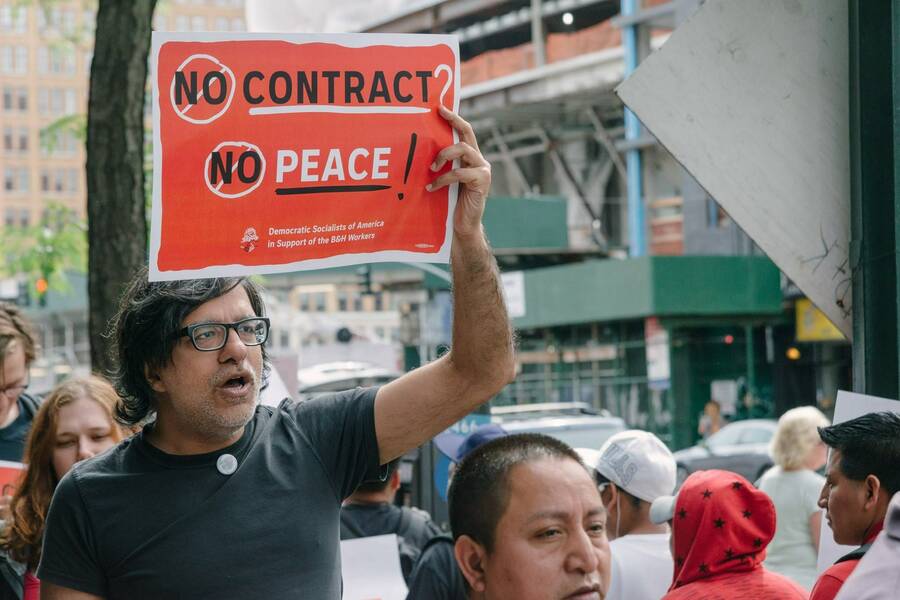 Bill Fletch­er, Jr. and Shaun Rich­man are con­tribut­ing writ­ers to In These Times, as well as vet­er­ans of the labor and social­ist move­ments. Both have worked for sev­er­al labor unions, with Fletch­er hav­ing served as a senior staffer in the nation­al AFL-CIO and Rich­man as a for­mer orga­niz­ing direc­tor for the Amer­i­can Fed­er­a­tion of Teach­ers. Both came of age dur­ing dif­fer­ent eras of left pol­i­tics. In this con­ver­sa­tion, the two writ­ers and orga­niz­ers exam­ine what a revived social­ist move­ment could mean for unions—and the broad­er push for work­ers' rights and dignity.
Shaun Rich­man: We're in a polit­i­cal moment when tens of thou­sands of Amer­i­cans are declar­ing them­selves to be social­ists and join­ing and pay­ing dues to social­ist orga­ni­za­tions. It's not just Demo­c­ra­t­ic Social­ists of Amer­i­ca (DSA), although DSA is grow­ing the largest and the fastest. The entire alpha­bet soup of the Left, basi­cal­ly any social­ist group that isn't a weirdo cult, is expe­ri­enc­ing an influx of new mem­bers and activ­i­ty. In the con­text of the ​"Orga­nize or Die!" union push of the last 30 years, this is new and poten­tial­ly a game-chang­er. There are now orga­nized social­ist groups that exist in sig­nif­i­cant num­bers and are try­ing to fig­ure out what their labor pro­gram should be, how they relate to a labor move­ment, and how they can be help­ful. And it's not obvi­ous what they should do. Bill, what are the oppor­tu­ni­ties and pit­falls, and what does this growth mean for labor?
Bill Fletch­er: It is use­ful to con­trast this growth with what took place in the Left dur­ing the late 1960s and ear­ly 1970s. The Left, at that point, saw a project that was nec­es­sary with­in the work­ing class. And so there was a whole wave of peo­ple, myself includ­ed, that went into work­places, if we weren't already there, as a way of orga­niz­ing to rebuild a vibrant labor move­ment and to lay the foun­da­tion for a work­ing-class-based rad­i­cal polit­i­cal move­ment that would, hope­ful­ly, result in the con­struc­tion of a new polit­i­cal par­ty of the social­ist Left.

That's dif­fer­ent from what I'm see­ing right now, which is the growth in inter­est in social­ism, broad­ly defined, among a large num­ber of peo­ple, par­tic­u­lar­ly younger peo­ple. That is fan­tas­tic! But it is far from clear that they are wed­ded to a class project, except in a very abstract sense. And that dif­fer­ence is fun­da­men­tal. It's not just an ide­o­log­i­cal ques­tion; it is also a strate­gic ques­tion. Where and how does a reborn social­ist move­ment build a base?

One of the ten­den­cies that we began to see in the late 1980s and ear­ly 1990s was an ori­en­ta­tion among many younger left­ists that assumed that the work they did orga­niz­ing the work­ing class had to be done via staff posi­tions: staff for unions and staff for work­ers cen­ters. So the work­place-based orga­niz­ing became less and less of a pri­or­i­ty and activ­i­ty. We need to unpack this a bit.

Shaun: One chal­lenge of orga­niz­ing work­ers cur­rent­ly is that most peo­ple out there — even union mem­bers — don't real­ly under­stand what a union is. They under­stand them as some sort of abstrac­tion. The way some bud­ding left crit­ics of unions talk, it's like, ​"Well why won't ​'the unions' break with the Demo­c­ra­t­ic par­ty?" Or, ​"Why are they so loy­al to the com­pa­nies they rep­re­sent?" This reflects a lack of under­stand­ing of how heav­i­ly reg­u­lat­ed unions are and the struc­tur­al trap that unions find them­selves in.
Anoth­er prob­lem is the one you note. I've been doing a lot of recruit­ing of new union orga­niz­ers in the last decade. There are these moments that flare up when you see tremen­dous inter­est from new activists: maybe it's Wis­con­sin, maybe it's the Chica­go teach­ers' strike. There was def­i­nite­ly a big influx of new orga­niz­ers com­ing out of the 2008 Oba­ma cam­paign. Peo­ple had that light­bulb moment when they want­ed to get more involved in social jus­tice, and they decid­ed to go straight for a staff job at a union.
Almost no one paused to ask how to stand in place and fight for a union at the job they were in. And one of the pit­falls of the staff mod­el is, obvi­ous­ly, there just aren't that many staff jobs, and they're dwin­dling. The oppor­tu­ni­ty of an orga­nized social­ist move­ment is that it pro­vides a dif­fer­ent way to get involved and to do some­thing at your work­place, or find a new work­place where you have com­rades and you can maybe start push­ing in the right direc­tion and lay­ing the seeds for labor's next upris­ing.

Bill: Left pol­i­tics need to unite with work­ers — and the lives and activ­i­ties of work­ers. And there are dif­fer­ent ways that that's going to hap­pen. One aspect of that work is the build­ing of unions.

But even when it comes to build­ing unions — if you think back on the work that the Left did in the 1930s, whether it was the com­mu­nists, the Trot­sky­ists or what­ev­er — the process of build­ing those unions was a major pri­or­i­ty of the Left. And cadres were made avail­able to help to build unions. In addi­tion, build­ing a pres­ence of the Left in the work­ing class goes beyond the work­place and includes com­mu­ni­ties. That's what today's social­ist left real­ly needs to be think­ing about.

Shaun: I pre­fer to look at the 1920s. First of all, from a pow­er per­spec­tive, they seem very anal­o­gous to our era. But there's also an ele­ment of opti­mism: If this is our era is the 1920s, what can we do to get to our 1934?

There were real­ly inter­est­ing projects dur­ing the 1920s social­ist Left that helped change the envi­ron­ment and made the 1930's upris­ing pos­si­ble. One is the Trade Union Edu­ca­tion League (TUEL). They devel­oped a smart way of address­ing the prob­lems of union struc­ture — how the craft mod­el some­times got in the way of sol­i­dar­i­ty. They also got past that ear­li­er Wob­bly thrust of just quit­ting the AFL to cre­ate new ​"per­fect" orga­ni­za­tions that would com­pete against and ​"defeat" the craft unions.
"Amal­ga­ma­tion" was the watch­word, and the prin­ci­ple was that we can put struc­tur­al rigid­i­ty aside while we fig­ure out a mod­el where every union that claims juris­dic­tion gets those mem­bers, as long as all mem­bers are fight­ing with­in the same col­lec­tive bar­gain­ing frame­work. But the impor­tant thing is to go into the unions where the work­ers are, instead of being the per­fect union hang­ing off to the side. ​"Go where the work­ers are," seems to be a pret­ty good and long-stand­ing rule of social­ist organizing.

They still wound up get­ting accused of being ​"dual union­ists" by exist­ing lead­er­ship, which felt threat­ened by these folks who were orga­niz­ing as cau­cus­es. Many were expelled from those unions. The per­il of that sort of mod­el— which mod­ern-day social­ists fall into a bit too eas­i­ly– is suc­cumb­ing to knee jerk oppo­si­tion­al­ism. With­out a real analy­sis of the struc­tur­al, legal and orga­niz­ing chal­lenges to unions, you fall into the mind­set of, ​"If only this per­son was in charge instead of that per­son," or, ​"If only these peo­ple weren't the ones on staff but these oth­er peo­ple were." Then you're just ​"the opposition."

First of all, we've got at least 30 years of expe­ri­ence here, where just replac­ing folks at the top, or just replac­ing the staff with more ​"ded­i­cat­ed" peo­ple, is clear­ly not the break­through strat­e­gy. But more strate­gi­cal­ly, if DSA or if any of these groups are able to be paint­ed as knee-jerk oppo­si­tion cau­cus join­ers, you could very quick­ly find your­self black­list­ed or mar­gin­al­ized, and that would be a waste of this oppor­tu­ni­ty. Which is not to say don't ever engage in oppo­si­tion (if you can win). But, it's telling how much peo­ple point to the Chica­go Teach­ers Union (CTU), because it's the best exam­ple of where new lead­er­ship was need­ed. That new lead­er­ship orga­nized the mem­ber­ship in a real and mean­ing­ful way and has improved the state of the union. But the fact that that's the exam­ple every­one talks about should tell you that it's the excep­tion that proves the rule.

Bill: There's an assump­tion implic­it in what you were say­ing that I would chal­lenge. Based on my own expe­ri­ence, I can tell you that one does not have to be in direct oppo­si­tion in order for the tra­di­tion­al­ists or the prag­ma­tists in the lead­er­ship of orga­nized labor to red-bait or oth­er­wise mar­gin­al­ize you. We have had seg­ments of the Left that decid­ed to tail the union lead­er­ship in order to — in their own view — build alliances. In oth­er cas­es, they may have hoped that, through build­ing such a rela­tion­ship, they would increase the oppor­tu­ni­ty to be in a posi­tion of influ­ence and power.

On the one hand, you have the oppo­si­tion cau­cus­es. As you note, they can be very sec­tar­i­an and unpro­duc­tive. Although in cas­es like Team­sters for a Demo­c­ra­t­ic Union (TDU) and the reform move­ment that took over the CTU, they can be real­ly impor­tant. The chal­lenge for left­ists is that even in the absence of a reform cau­cus, to the extent that you're try­ing to push the enve­lope, even when you have absolute dis­plays of loy­al­ty, you still can be per­ceived as a threat. So peo­ple should not think, ​"Well I'm not going to be a sec­tar­i­an ass, and there­fore peo­ple will lis­ten to me, I'll be able to serve a pro­duc­tive role." I wish it worked that easily.

I have argued for a long time that peo­ple on the Left can't treat the labor move­ment as a panacea nor as some sort of hideous crea­ture. It's com­pli­cat­ed. It is also a strong argu­ment for why we need Left orga­ni­za­tions rather than left­ists rely­ing only upon them­selves as indi­vid­u­als.

Shaun: Work­ing for unions as staff is not for every­body and shouldn't be the default posi­tion. If you can do it, the pay and ben­e­fits will be good, you'll learn some stuff, but you also might hit a lim­it of what you can learn. The role of move­ment is to help you to fig­ure out where the next smart place to go is.
Back to the TUEL, one thing they did is that they didn't just focus on where unions already exist­ed, which — like today — was in only a hand­ful of indus­tries that they were able to hold onto. It was clear there were growth indus­tries where work­ers had to be orga­nized, but there weren't any unions that were seri­ous­ly try­ing to orga­nize — the auto fac­to­ries being the best exam­ple. So TUEL activists took jobs in those auto fac­to­ries and focused on just get­ting the job, mak­ing friends, becom­ing trust­ed co-work­ers and show­ing shop floor lead­er­ship. All the while, they were puz­zling out with each oth­er what seri­ous union orga­niz­ing would look like in mass pro­duc­tion fac­to­ries. And they wound up being a very cru­cial base of cadre when the UAW came along in the 1930's.

So one of the excit­ing things about there being orga­nized social­ist groups is the idea of salt­ing. When I was run­ning the AFT's char­ter schools orga­niz­ing pro­gram, I prob­a­bly had a dif­fer­ent take on this. Back then, I need­ed folks who were ide­o­log­i­cal­ly com­mit­ted and will­ing to go work at a non-union char­ter school and help us orga­nize it. An inside orga­niz­er makes a mas­sive difference.
My wife salt­ed a char­ter school, and she man­aged to orga­nize the place in three weeks. But now that I'm not cur­rent­ly run­ning any union orga­niz­ing divi­sion, what I see more is that the mem­bers of these social­ist orga­ni­za­tions already have jobs in the indus­tries that we know we need to orga­nize but nobody cur­rent­ly knows how.
I'm sure there are a ton of IT work­ers and free­lancers who are now card-car­ry­ing social­ists. I think salt­ing looks more like tap­ping into social­ist mem­ber­ship net­works on the job. Find each oth­er, and get a book club togeth­er, start read­ing togeth­er, start meet­ing togeth­er, and start think­ing what would work­place action look like. Don't mod­el this on what the cur­rent unions look like, because how­ev­er we're going to orga­nize IT, it's nev­er going to look like the UAW. The indus­try is just vast­ly more com­pli­cat­ed by design.

Bill: The same mod­el was imple­ment­ed in var­i­ous forms and on a dif­fer­ent scale in the 1970s, but the Left as a whole was small­er then. Let's dis­sect this word ​"salt­ing" a lit­tle bit fur­ther. There's salt­ing that refers to send­ing peo­ple into work­places in order to lay the foun­da­tion for new orga­niz­ing of a union, and then there's salt­ing in the sense of in-shop orga­niz­ing that aims at play­ing a trans­for­ma­tive role with­in exist­ing unions.

When I went to work at a ship­yard in the 1970s, there was already a union, but it was a very con­ser­v­a­tive union. With oth­er peo­ple on the Left, we built a reform move­ment that aimed to change the pow­er sit­u­a­tion with­in that local. We need peo­ple who are pre­pared to go into work­places where there's already orga­ni­za­tion. But we also need peo­ple who are going to be going into new places.

Here's where it gets more com­pli­cat­ed. Much of what needs to be orga­nized is very low-paid work. The entry-lev­el rate at the ship­yard was low, but it was still some­thing that I could live on. Many peo­ple shy away from salt­ing pre­cise­ly because of this. It's not an obsta­cle, but it is a challenge.

Shaun: Much of this depends on who is will­ing and able. If you're a foot­loose col­lege senior who has that free­dom and isn't tied down by a fam­i­ly or a mort­gage, who can take a front-desk job at a non-union hotel, that's a spe­cial kind of help you can pro­vide. But giv­en just how much of the econ­o­my is cur­rent­ly unor­ga­nized, I think a lot of peo­ple are already in jobs that need to be orga­nized. Again, I'm sure that there are tons of card-car­ry­ing social­ists who work in IT. They shouldn't leave that job. They should stay and fight, and they can con­tribute tremen­dous­ly by find­ing each oth­er and by think­ing about what are the actions, the con­cert­ed activ­i­ty, that we could take togeth­er that can demon­strate some pow­er and inspire more cowork­ers to join.

I became a teenage social­ist in the 1990s. I only heard about that 1970s push to ​"go into indus­try" as a cau­tion­ary tale. What I heard was the Social­ist Work­ers Par­ty told all their mem­bers who had built careers as aca­d­e­mics or as writ­ers to go into indus­try — basi­cal­ly upend your pro­fes­sion­al life. It kind of tore the par­ty apart and left it as a tiny sect after what had been a fair­ly rich his­to­ry of move­ment building.

And, yes, sac­ri­fices will have to be made, but I do think that we have an oppor­tu­ni­ty just because of how dis­or­ga­nized the econ­o­my cur­rent­ly is. Many peo­ple are already in a job that needs to be orga­nized, and just by talk­ing, read­ing, think­ing and plan­ning small actions with com­rades, they move the nee­dle.

Bill: The role of orga­ni­za­tion becomes very impor­tant here — specif­i­cal­ly, the type of orga­ni­za­tion. One of the things about the Com­mu­nist Par­ty in the 1920s and 1930s was that they had an analy­sis of strate­gic sec­tors of the econ­o­my — min­ing, steel and auto — that need­ed to be organized.
One of the cen­tral tasks of orga­nized social­ists, as opposed to indi­vid­u­als, is to real­ly exam­ine the econ­o­my and think about where we need to be, includ­ing orga­niz­ing the unem­ployed and infor­mal sec­tor. Not just orga­niz­ing unions, but how do you build a left pres­ence in these sec­tors? Do we have to do it in a dif­fer­ent way? Is this one of the rea­sons or one of the ways that we need to be think­ing about work­ers cen­ters, for exam­ple, or oth­er orga­ni­za­tion­al vehi­cles, as ways of pen­e­trat­ing sec­tions of the work­place that we haven't been oth­er­wise able to pen­e­trate?

Shaun: That takes us to one of the oth­er left projects of the 1920s that we need a 21st cen­tu­ry mod­el for: the labor col­leges that sprang up. I'm think­ing of places like Brook­wood Labor Col­lege in upstate New York, Work Peo­ple's Col­lege in the Mid­west and Com­mon­wealth Col­lege down south. The mod­el of the schools was, first of all, every­one was in the room: peo­ple from dif­fer­ent indus­tries, dif­fer­ent unions, or non-union work­ers, peo­ple with dif­fer­ent edu­ca­tion­al attain­ments. The point was to step back from the dai­ly work and to eval­u­ate — with no sacred cows — the law, the union struc­ture and the industries.

Our cur­rent labor col­leges are great. I'm a big fan of the Uni­ver­si­ty of Mass­a­chu­setts Union Lead­er­ship and Activism (ULA) pro­gram for doing some of this, but it's a mas­ters pro­gram so it's sort of inher­ent­ly elit­ist. We need PhDs in the room with high school dropouts as equals, elec­tri­cians in the room with non-union IT work­ers, teach­ers in the room as stu­dents. It shouldn't be tied to col­lege cred­its, although if you can find a way to incor­po­rate that, that's always helpful.

The way labor edu­ca­tion is fund­ed now makes it hard to not have sacred cows. The 1920s labor col­lege lead­ers, like A.J. Muste and Kate Richards O'Hare, real­ly drove a process of nev­er sim­ply accept­ing ​"it is what it is" as an answer to any­thing. They were cru­cial for get­ting past the abstrac­tion of craft union struc­ture ver­sus pure indus­tri­al union, and com­ing up with new­er mod­els of work­er rep­re­sen­ta­tion and protest. They exam­ined crit­i­cal ques­tions: How do we not let our pick­et lines get smashed? What if we locked our­selves in instead of let­ting our­selves get locked out?

As you not­ed, these con­ver­sa­tions can be threat­en­ing to union lead­er­ship, but it's not like some­one made a mis­take. It's not like William Green and John L Lewis and Sid­ney Hill­man all sat down at a table and took a vote on the best frame­work for col­lec­tive bar­gain­ing. The com­bi­na­tion of exclu­sive rep­re­sen­ta­tion, the duty of fair rep­re­sen­ta­tion, agency fee, and enter­prise-lev­el bar­gain­ing is the prod­uct of a series of his­tor­i­cal acci­dents. We need to under­stand how this came about by acci­dent, how this sys­tem worked, when and why it worked, and start to devel­op ideas about how to replace it. Increas­ing­ly, it's not work­ing for us. Cer­tain­ly it's not work­ing for the non-union seg­ment of the econ­o­my, which is most of it now.

Bill: The AFL-CIO went through a process of build­ing a Nation­al Labor Col­lege (NLC), when John Sweeney took over as pres­i­dent of the AFL-CIO in 1995. It was a con­tro­ver­sial deci­sion, because there were many labor aca­d­e­mics and labor stud­ies pro­grams that felt threat­ened by the idea of what the NLC might mean for their respec­tive pro­grams. It was very unfor­tu­nate. That even­tu­al­ly calmed down.

There was the ques­tion of whether edu­ca­tion was main­ly going to be found at brick-and-mor­tar insti­tu­tions that labor unions set up, like the NLC or the Unit­ed Auto Work­ers' icon­ic site at Black Lake Michi­gan. Alter­na­tive­ly, there was the ques­tion of whether the edu­ca­tion offered by unions would be through pro­grams and ini­tia­tives that were get­ting out into the field and devel­op­ing pro­grams where the mem­bers were. Anoth­er ques­tion was whether it should be a BA and Mas­ters, ver­sus devel­op­ing our own West Point where we would be train­ing the upcom­ing ​'gen­er­als' and ​'colonels' of the move­ment. That dis­cus­sion nev­er came to fruition.

Through cost over­runs and sev­er­al oth­er prob­lems — includ­ing the split in the AFL-CIO, which led some unions that had split off to stop using the Labor Col­lege (appar­ent­ly because they want­ed it to col­lapse) — the Labor Col­lege found itself in a crisis.

But there was also a lack of con­sen­sus at the lead­er­ship lev­el as to what pri­or­i­ty it should be and whether it was worth the expense. Lead­ers of affil­i­at­ed unions, by and large, went along with Sweeney's pro­pos­al, but I'm not even sure that Trum­ka was all that enthu­si­as­tic about it. This lack of con­sen­sus, I have con­clud­ed, was the ulti­mate demise of the NLC.

All of the edu­ca­tion­al efforts that you're point­ing to dur­ing the ear­ly part of the 20th cen­tu­ry — and to which I would add the High­lander Cen­ter — were cen­tral in terms of offer­ing advanced edu­ca­tion for labor intel­lec­tu­als. I use that term very broad­ly and do not mean just labor aca­d­e­mics. These insti­tu­tions helped to train and shape the think­ing of peo­ple who would play major lead­er­ship roles in the new labor move­ment. At this point we need to look at the form and con­tent that work­er-cen­tered, move­ment-build­ing edu­ca­tion should pos­sess.

Shaun: Cer­tain­ly, in the year 2017 it's fol­ly to try to run labor edu­ca­tion out of the unions. They're fac­ing an exis­ten­tial threat from Janus. Nobody has an appetite to fund it. So it has to be inde­pen­dent. Is it done at the uni­ver­si­ties — at UMass, Mur­phy, Rut­gers and the rest? Yes, obvi­ous­ly, and all of those insti­tu­tions are doing good work. Some are find­ing ways to grow in this moment and to bring in new rev­enue to do inter­est­ing pro­grams. But there is still a need to build an insti­tu­tion of labor edu­ca­tion that is inde­pen­dent and not based on a tra­di­tion­al tuition and cred­it mod­el. Book clubs, like the Jacobin read­ing groups, seem like a real­ly smart thing to do right now. All you have to do is find a library read­ing room, or somebody's liv­ing room, and buy or bor­row the books. So it's fair­ly low invest­ment to get started.

But those have to start get­ting con­nect­ed to each oth­er, so that the con­ver­sa­tion that's hap­pen­ing in the Bronx gets con­nect­ed to the con­ver­sa­tion that's hap­pen­ing in Chica­go and in Raleigh-Durham. But if you have maybe 100,000 card-car­ry­ing social­ists putting mon­ey into a pot, you start to be able to devel­op some­thing that pos­si­bly looks like the Social­ist Party's Rand School, to go even fur­ther back in time.

Back to the 1920s, the third inter­est­ing project to me that cries out for a 21st cen­tu­ry ana­logue is the Inter­na­tion­al Labor Defense orga­ni­za­tion that was led by James P. Can­non. Back then, union lead­ers would get jailed on trumped-up charges of con­spir­a­cy, like incit­ing riots on pick­et lines. The infra­struc­ture to raise mon­ey for bail and defense lawyers was a lit­er­al life saver. We're not yet fac­ing those kinds of fights, thank­ful­ly, but folks lose their jobs in orga­niz­ing all the time. And there's a lot of mon­ey that needs to be raised. The inter­est­ing ques­tion is what does an Inter­na­tion­al Labor Defense look like in the GoFundMe era? The Sil­i­con Val­ley cap­i­tal­ists have cre­at­ed the tech­no­log­i­cal infra­struc­ture that we can either use or steal.

I've put out this report, Labor's Bill of Rights, which argues that we should be using more con­sti­tu­tion­al chal­lenges to the laws that real­ly restrict work­ers' activ­i­ties, which will involve break­ing the law. Look at the Jim­my Johns work­ers in the Twin Cities area who got fired for hand-billing about the fact that they could not take a sick day unless they found a cowork­er to replace them. The company's rule was come into work sick if you can't find some­one to fill in for your shift. They put out leaflets mak­ing com­mon cause with the cus­tomers. I would want to know if the peo­ple mak­ing my sand­wich were pos­si­bly con­ta­gious. The activists got fired, and now we have a Cir­cuit Court deci­sion that says that they deserved to be fired because they were being dis­loy­al to their employer.
There is a major black hole in free speech law around work­ers. We're going to need more fights like this, and I would point out that was an Indus­tri­al Work­ers of the World orga­niz­ing effort, which sug­gests the val­ue of out­sider activist strate­gies and rel­a­tive­ly small orga­ni­za­tions that think dif­fer­ent­ly and are nim­ble. But you can't ask some­body to take a risk like that unless you can offer them some sort of sup­port, and again that's where fundrais­ing for work­ers' defense as a social­ist project would be huge. Folks are already doing this, but there's an oppor­tu­ni­ty to do it in a more orga­nized man­ner, tap into social media and make it more vis­i­ble.

Bill: There are actu­al­ly two issues here. There's the ques­tion of orga­niz­ing legal defense and the broad­er mat­ter of strat­e­gy in the work­place around author­i­tar­i­an­ism. It's con­ceiv­able that a 21st cen­tu­ry ver­sion of Inter­na­tion­al Labor Defense could be con­sti­tut­ed. There are orga­ni­za­tions that take on some cas­es, par­tic­u­lar­ly around union democ­ra­cy issues, like the Asso­ci­a­tion for Union Democ­ra­cy. The prob­lem is that you will quick­ly encounter ​"donor fatigue." This is some­thing that we see par­tic­u­lar­ly in respons­es to dis­as­ters. Peo­ple can be affect­ed in the begin­ning, and then after a while they start get­ting tired. And so you have to be very care­ful about how you move such efforts. One should not assume that each and every injus­tice will result in a mass cam­paign. It's going to have to be very strate­gic. And that will mean that some peo­ple will get help, and oth­er peo­ple won't.

But the deep­er strate­gic and pro­gram­mat­ic issue is some­thing that I think that orga­nized labor and much of the left have large­ly aban­doned. That is what Bar­bara Ehren­re­ich talked about back in 2000 and what Rand Wil­son have been rais­ing since the 1980s: the author­i­tar­i­an nature of the non-union work­place. The fact is that work­ers give up their rights when they're walk­ing into non-union work­places. I am con­vinced that tak­ing on that strug­gle would be elec­tri­fy­ing for sev­er­al rea­sons. One is the idea of being pro­tect­ed against wrong­ful ter­mi­na­tion means more than the cur­rent sit­u­a­tion in the Unit­ed States, where if one gets fired in a non-union work­place, one has few options oth­er than try­ing to get unem­ploy­ment compensation.

​"Just cause" dis­missal means devel­op­ing insti­tu­tions, such as labor courts, as you have in much of the rest of the world. Now at the lev­el of strat­e­gy, it's seemed to me for a long time that this is some­thing that should be pur­sued, par­tic­u­lar­ly in so-called ​"right to work" states. We should be advo­cates of rights at work and use that to flip the script.

Shaun: I agree, and we're in a moment when these notions are bub­bling up — at elite lev­els, at least. First of all, for any social­ist book clubs that are start­ing out there, I would high­ly rec­om­mend Eliz­a­beth Anderson's new book Pri­vate Gov­ern­ment. It makes a real­ly clear and fair­ly deep argu­ment about why we don't even see how we give up our rights when we walk through the boss' door and why that needs to change. There was a write-up in The New York­er this week­end, and she had a piece in Vox: It's get­ting out there. I includ­ed Just Cause as one of the ten parts of Labor's Bill of Rights, and I'm get­ting some inter­est­ing feed­back about that.

Bill: Like what?

Shaun: I had a con­ver­sa­tion with the staff of a well-respect­ed pro­gres­sive in Con­gress, where they expressed inter­est in doing some­thing as bold as intro­duc­ing a Just Cause bill, par­tic­u­lar­ly if it would spark state-lev­el efforts. I heard that some of the alt-labor groups in Cal­i­for­nia were think­ing about it as a poten­tial bal­lot ini­tia­tive after we saw in Novem­ber that pro­gres­sive bal­lot ini­tia­tives win even when right-wing politi­cians win. When you put work­ers' rights and work­ers' pay on the bal­lot, work­ers are going to vote for that.

There are two bits of push­back that I get on this. One is folks say, peo­ple actu­al­ly assume that they can't be fired for just about any rea­son, and they only find out after they lose the job. I'm not sure that that's the case. First of all we're see­ing a lot of Nazis get­ting fired after they had their pic­tures tak­en at Char­lottesville. We see peo­ple get fired for things they say on social media. But there's still that push­back that work­ers don't under­stand they don't have these rights. Well that seems like a project of pop­u­lar left edu­ca­tion, to make sure work­ers under­stand what their rights are (and aren't).

The oth­er push­back is a feel­ing among a lot of union peo­ple that if every work­er had job pro­tec­tions, why would work­ers form unions? And that's just a lack of imag­i­na­tion. If every work­er in a state had just cause pro­tec­tion, and there was some sort of recourse to a labor court, or arbi­tra­tion, then you have lots of work­ers who would under­stand the good sense of pay­ing for rep­re­sen­ta­tion. You have right now mil­lions and mil­lions of work­ers who would like to join a union tomor­row but can't, because they need to con­vince a major­i­ty of their cowork­ers to vote for it. But if there were just cause pro­tec­tions, I think there are tons of unions that could go out there and say, join us and we'll be there for you.
And then there are all these oth­er things you get by being a part of the union, includ­ing, one would hope, some more pop­u­lar edu­ca­tion around eco­nom­ics and work­ers pow­er. So it seems like a poten­tial path­way back not only to work­er pow­er but to union pow­er. And again we're in a moment when peo­ple are just start­ing to talk about it. So we should push on it, so yeah it's time that we joined Europe on this.

Bill: Exact­ly. Not just Europe – oth­er parts of the world. The objec­tion that you heard, I've been hear­ing since the 1980s, when I first got involved in the issue of wrong­ful ter­mi­na­tion. Trade union­ists were say­ing, why would peo­ple join unions? As if that's the major obsta­cle that we face now. I mean, it's so absurd, so small-mind­ed, that it almost doesn't deserve a response. But I think that your response is a very good one.

Shaun: It gets back to hav­ing a struc­tur­al cri­tique. We should be look­ing at what is keep­ing us from grow­ing into areas of the econ­o­my where we need to be, what is dimin­ish­ing union pow­er, and we need to think about break­throughs. A lot of the break­throughs have to come through chang­ing the law, and break­ing out of this mod­el of NLRB-cer­ti­fied, enter­prise-lev­el bar­gain­ing. I'm not say­ing get rid of it, but it can't be our mod­el for growth. We're not going to grow back to 33 per­cent union den­si­ty through that mod­el — not with card check, not even with repeal­ing Taft-Hart­ley. We're just not going to grow to the high-water mark of union den­si­ty under a mod­el col­lec­tive bar­gain­ing cen­tered around atom­ized workplaces.
We need some­thing that gets us to have a voice in indus­try, and in entire sec­tors, all at once. And sec­toral bar­gain­ing — or sec­toral rule-mak­ing, even — is anoth­er idea I see bub­bling up, also at more elite lev­els, in think tanks and labor col­leges. But it is some­thing that work­ers and mem­bers of social­ist book clubs should be talk­ing about too.

The push­back is that it's pie-in-the-sky when we had a triple-crown Demo­c­ra­t­ic gov­ern­ment and couldn't even get card check passed. But oppor­tu­ni­ties for change some­times come at you faster than you expect. God for­bid 20 mil­lion work­ers sat down at the job tomor­row and cre­at­ed the cri­sis that would actu­al­ly get Con­gress to change our labor laws. What would we win? Card check, because that's the last idea we put on the table? We should be dis­cussing ideas that are big, that are utopi­an, that seem hope­less. Oth­er­wise, when the moment aris­es to actu­al­ly make a gain, we're going to be caught flat-foot­ed.

Bill: Absolute­ly. You know we have to be advanc­ing new and excit­ing ideas. And one of the ideas that is impor­tant for orga­niz­ers to appre­ci­ate and cer­tain­ly for the left to appre­ci­ate, is that when peo­ple are actu­al­ly inspired by vision­ary notions, they are capa­ble of extra­or­di­nary accom­plish­ments. When there is a lack of inspi­ra­tion, some­thing dif­fer­ent hap­pens, and that is that peo­ple tend to fall back into their every­day lives, and their every­day prob­lems, and get held down, smoth­ered by them. If we're attempt­ing to build a new move­ment and going on the counter-offen­sive, we must ensure some lev­el of inspi­ra­tion. And that doesn't mean pro­vid­ing all the answers, it doesn't mean detail­ing the ulti­mate utopia. It means that we're lay­ing out an idea about how change can hap­pen and the dif­fer­ence that it actu­al­ly can make.

Shaun: I agree, and that might be a good note to end on. This moment presents an oppor­tu­ni­ty to gain some new ambi­tion and to think a hell of a lot big­ger than we've been think­ing for decades now.
Shaun Rich­man is a for­mer orga­niz­ing direc­tor for the Amer­i­can Fed­er­a­tion of Teach­ers. His Twit­ter han­dle is @Ess_Dog.Bill Fletch­er, Jr. is a talk show host, writer and activist. You can fol­low him on Twit­ter, Face­book and at http://​www​.bill​fletcher​jr​.com.