Labor Must Embrace the Anti-Trump Resistance to Fight for the Working Class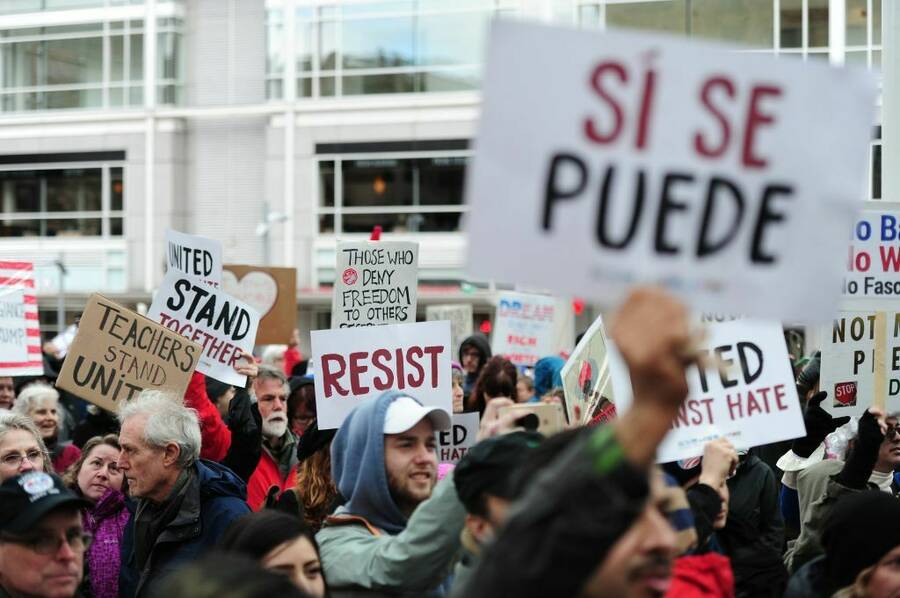 The Trump pres­i­den­cy presents orga­nized labor with a dilemma.
On the one hand, Trump's advo­ca­cy for fos­sil fuel, infra­struc­ture and mil­i­tary expan­sion promis­es to pro­vide jobs for some union work­ers. His pro­pos­als to end trade deals and put tar­iffs on man­u­fac­tur­ing imports align with long-stand­ing labor oppo­si­tion to pro-cor­po­rate globalization.
On the oth­er hand, Trump and his Repub­li­can allies in Con­gress pro­pose tax, bud­get and social wel­fare poli­cies that would impov­er­ish most work­ers. His Cab­i­net nom­i­nees are proven ene­mies of orga­nized labor and the rights of work­ers. And his exec­u­tive poli­cies, leg­isla­tive pri­or­i­ties and like­ly Supreme Court appoint­ments point towards cat­a­stroph­ic restric­tions on orga­nized labor.
A por­tent of the future: Vice-Pres­i­dent Mike Pence recent­ly dis­cussed with Wis­con­sin Gov. Scott Walk­er how to go nation­al with Wisconsin's restric­tions on col­lec­tive bar­gain­ing and union rights. Union mem­ber­ship has dropped some 40 per­cent in the state since Walker's col­lec­tive bar­gain­ing law passed in 2011. Only 8 per­cent of Wisconsin's work­ers were in unions last year.
Some in orga­nized labor, espe­cial­ly in the build­ings trades, have met with Trump, pro­vid­ed pho­to ops, and advo­cat­ed that unions try to work with him, par­tic­u­lar­ly on trade, ener­gy and infra­struc­ture. They know that many union mem­bers vot­ed for him. Oth­ers have called for resis­tance to the entire Trump agenda.
The effort to embrace and work with Trump is short-sight­ed at best, and it may be short-lived. The sur­vival of the labor move­ment depends on deny­ing Trump the pow­er to imple­ment his agen­da. The Trump pres­i­den­cy is like­ly to be cat­a­stroph­ic even for those unions that are cur­rent­ly seek­ing his favor. If the pow­er of orga­nized labor and its allies is fur­ther dimin­ished, gov­ern­ments and cor­po­ra­tions will be free to cre­ate a ​"union-free envi­ron­ment" for the build­ing trades as for every­body else.
Trump's infra­struc­ture pro­pos­als are based on tax cred­its to pri­vate investors, pri­vate equi­ty, and low-cost con­struc­tion. The result is like­ly to be the ban­ning of pre­vail­ing-wage rules and union secu­ri­ty pro­vi­sions for con­struc­tion work­ers. Case in point: The Repub­li­can-led Ken­tucky leg­is­la­ture recent­ly passed not only ​"right-to-work" and ​"pay­check pro­tec­tion" laws, but repealed the state's pre­vail­ing wage law — a cru­cial sup­port for build­ing trades unions.
The attack by Trump and his Repub­li­can allies comes at a time when orga­nized labor is already weak­ened. Less than 11 per­cent of all wage and salary work­ers are in unions, com­pared to some 20 per­cent in 1983. Less than 7 per­cent of pri­vate sec­tor work­ers are in unions. Close to 35 per­cent of pub­lic sec­tor work­ers are union mem­bers, but they are already under attack that will inten­si­fy under Trump.
While Trump's actions will be dev­as­tat­ing for orga­nized labor, they may also have a sil­ver lin­ing. The Trump era is see­ing the emer­gence of what has been called ​"social self-defense," a mas­sive self-orga­ni­za­tion of mil­lions of Amer­i­cans to resist Trump's agen­da. It has been man­i­fest­ed by the mil­lions who par­tic­i­pat­ed in the Women's March, the spon­ta­neous actions against Trump's Mus­lim ban, the mass demon­stra­tions and com­mu­ni­ty meet­ings in cities around the coun­try, the mil­lions of calls that have tied up politi­cians' phone lines and myr­i­ad oth­er forms of resistance.
The term ​"social self-defense" is bor­rowed from the strug­gle against the author­i­tar­i­an régime in Poland 40 years ago. In the midst of harsh repres­sion, Pol­ish activists formed a loose net­work to pro­vide finan­cial, legal, med­ical and oth­er help to peo­ple per­se­cut­ed by police or unjust­ly dis­missed from work. They orga­nized free trade unions to defend the rights of work­ers and cit­i­zens, and nur­tured many of the net­works, strate­gies, and ideas that even­tu­al­ly helped top­ple the repres­sive regimes in Poland and oth­er countries.
The emer­gence of social self-defense here may pro­vide the labor move­ment a way not only to pro­tect itself from the Trump assault, but to begin the trans­for­ma­tion towards becom­ing a pow­er­ful force for work­ing peo­ple and social jus­tice again. Here is a four-point plan to jump-start that process:
1

. Devel­op an alliance of unions will­ing to fight the whole Trump agenda.

Such a coali­tion includes labor rights, LGBT rights, immi­grant rights, wom­en's rights, cli­mate pro­tec­tion, inter­na­tion­al peace and coop­er­a­tion, gov­ern­ment under law — the whole nine yards. The ​"big tent" needs to include unions that are not part of the AFL-CIO and have tak­en a strong stand against the Trump agen­da, such as the Ser­vice Employ­ees Inter­na­tion­al Union, the Nation­al Edu­ca­tion Asso­ci­a­tion and work­er cen­ters. It also needs to include locals that don't go along with their pro-Trump inter­na­tion­als. Such an alliance might start with a sim­ple state­ment by these unions of their oppo­si­tion to the Trump agen­da, call­ing for orga­nized labor to par­tic­i­pate in both the polit­i­cal and the street-lev­el aspects of social self-defense. At the very least, it can oblit­er­ate the Trump-pro­mot­ed pub­lic per­cep­tion that much of labor sup­ports Trump. As the real impli­ca­tions of his agen­da for labor become clear, a strong and prin­ci­pled stand against it is like­ly to find grow­ing sup­port even among unions that ini­tial­ly found some ele­ments of it attractive.
2

. Par­tic­i­pate in social self-defense.

When peo­ple go to air­ports to pro­tect immi­grants from Trump's Mus­lim ban, unions should be part of the action. Labor was rep­re­sent­ed at the Women's March and many unions will par­tic­i­pate, under labor ban­ners, in the People's Cli­mate Move­ment on April 29.
3

. Make work­er rights part of social self-defense.

When police arrest work­ers strik­ing for a decent wage and the right to orga­nize a union, social self-defense activists should be invit­ed to show up, protest, and pro­vide sup­port. When a city or state denies its employ­ees the right to orga­nize and bar­gain col­lec­tive­ly, the local forces of social self-defense should be edu­cat­ed and encour­aged to treat it as one more attack of Trump­ism on the rights of the people.
4

. Fight for full employ­ment fix­ing the cli­mate and build­ing a new economy.

While Trump's strat­e­gy is based on divid­ing the work­ing class along lines of race, gen­der, sex­u­al pref­er­ence, nation­al­i­ty and oth­er lines, one of his most effec­tive ploys has been to play con­struc­tion work­ers who want new ener­gy infra­struc­ture jobs against cli­mate pro­tec­tors who want to save the earth's atmos­phere from dev­as­tat­ing glob­al warm­ing. It is his dan­gling of pipeline jobs that threat­ens the cli­mate and Native Amer­i­can rights that has brought divi­sions in the labor move­ment to a head. But there is a far bet­ter way to pro­vide jobs that can over­come this divi­sion. At the core of a new labor strat­e­gy should be a pro­gram for a work­er-friend­ly ​"just tran­si­tion" to a new econ­o­my that will put every­one who wants a job to work build­ing a cli­mate-safe America.

Many unions are tak­ing a strong stand against Trump and his Repub­li­can allies. Oth­ers are like­ly to do so as the real impli­ca­tions of his agen­da become more and more evi­dent. Now is the time to reach out to each oth­er and cre­ate a uni­fied voice for labor as a cru­cial strand of social self-defense against Trump and Trumpism.
Jere­my Brech­er is the author of more than a dozen books on labor and social move­ments, includ­ing his clas­sic labor his­to­ry Strike! and most recent­ly Against Doom: A Cli­mate Insur­gency Man­u­al (PM Press,
2017
). His book Cli­mate Insur­gency: A Strat­e­gy for Sur­vival (Stone Soup,
2016
) is avail­able for free down­load at www​.jere​my​brech​er​.org. He is a co-founder of the Labor Net­work for Sus­tain­abil­i­ty www​.labor
4
​sus​tain​abil​i​ty​.org.Joe Uehlein is the for­mer sec­re­tary-trea­sur­er of the AFL-CIO's Indus­tri­al Union Depart­ment and for­mer direc­tor of the AFL-CIO Cen­ter for Strate­gic Cam­paigns. He is found­ing pres­i­dent of the Labor Net­work for Sus­tain­abil­i­ty www​.labor
4
​sus​tain​abil​i​ty​.org.