Labor Tension Rising at American Airlines, As Bankruptcy Judge OKs Union Busting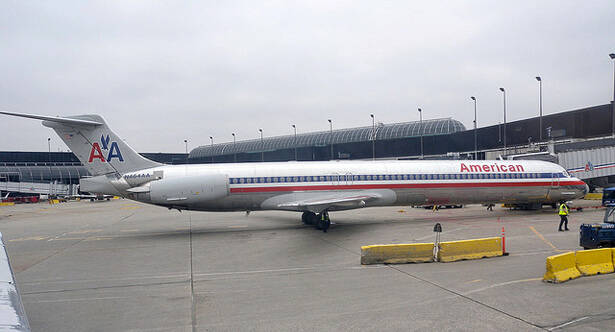 With the stroke of a pen, federal Judge Sean L. Lane this week stripped away the contract rights of about 10,000 men and women who work as unionized pilots for American Airlines.
Judge Lane acted against the pilots' union on September 4 – just hours after the end of the Labor Day holiday – as part of the bankruptcy proceeding of AMR Corp., the parent company of American Airlines and American Eagle. Fort Worth, Texas-based AMR filed for bankruptcy in November last year, saying it needed $1.25 billion in concessions from its 88,000 employees, most of whom are union members.
Since then, AMR executives have used the threat of the bankruptcy code's notorious Section 1113, which allows a company to unilaterally cancel union contracts, to force concessions from other unions representing the flight attendants, mechanics and baggage handlers. A similar agreement had also been negotiated with the pilots' union, but members turned down the pact in a rank-and-file ratification vote last month.
Keith Wilson, president of the 10,000-member Allied Pilots Association (APA), reacted to the news with restraint.
There is ​"no reliable forecast for what to expect next from Judge Lane's decision. … About the only prediction I'm willing to make is this – we'll find out whether management decides to proceed with caution , or whether the urge to take punitive measures carries the day," Wilson wrote to union members in a message issued immediately after Judge Lane's decision came down.
Union members should continue to work and maintain high professional standards on the job, Wilson wrote. Airline managers are now free to impose whatever working conditions they wish, he stated, but it is not yet clear precisely what they intend to do.
Though it wasn't explicitly stated in Wilson's message to members, there was a clear implication that union leaders are busy trying to salvage the union from the wreckage of Judge Lane's decision. A meeting of the union's governing board is scheduled for September 10 to decide on next steps, he wrote.
Executives of American Airlines were equally restrained in public. The company would not comment on its plans for the pilots, or even confirm that it would exercise the authority granted by Judge Lane to cancel the existing APA contract. The possibility of further negotiations toward a new concessionary contract seems open.
Providing a potential way forward for both APA and American Airlines is the prospect that the company will be sold to another airline. Indeed, American announced on August 31 that it had entered into an agreement to discuss a sale to US Airways, a Tempe, Arizona-based company that is about half the size of American.
APA Director of Communications Greg Overman says any combination with US Airways would necessarily overturn all existing labor relationships at American Airlines. Should US Airways complete a purchase of AMR Corp., Overman says, the company would be faced with the problems of merging the pilots groups from both airlines into a single organization.
It is therefore possible, according to Overman, that APA might be merged with the US Airline Pilots Associations (USAPA) union, which currently represents about 5,200 US Airways pilots. Such a combination would likely include a rank-and-file election that would be overseen by the National Mediation Board, the federal agency that enforces labor law in the railway and airline industries, Overman says.
Talk of such a merger is only speculative, Overman cautions, and much depends on how American Airlines executives use the power granted them by Judge Lane. A heavy-handed approach will drive pilots away and create confusion that could reduce the sale value of the company, he says. Alternately, an approach that recognizes the legitimate labor rights of the pilots may ease the transition out of bankruptcy and into the hands of new owner, he says.
Support this work
Reader donations, many as small as just $5, are what fund the work of writers like this—and keep our content free and accessible to everyone. If you support this work, will chip in to help fund it?

It only takes a minute to donate. Click here to make a tax-deductible donation.
Bruce Vail
is a Baltimore-based freelance writer with decades of experience covering labor and business stories for newspapers, magazines and new media. He was a reporter for Bloomberg BNA's Daily Labor Report, covering collective bargaining issues in a wide range of industries, and a maritime industry reporter and editor for the Journal of Commerce, serving both in the newspaper's New York City headquarters and in the Washington, D.C. bureau.
Help support this work
As a reader-supported, nonprofit publication, all of the journalism In These Times produces is made possible by readers like you. If you support this work, will chip in $5 or more to help fund it?