Labor Unions Were Crucial in Bernie Sanders' New Hampshire Victory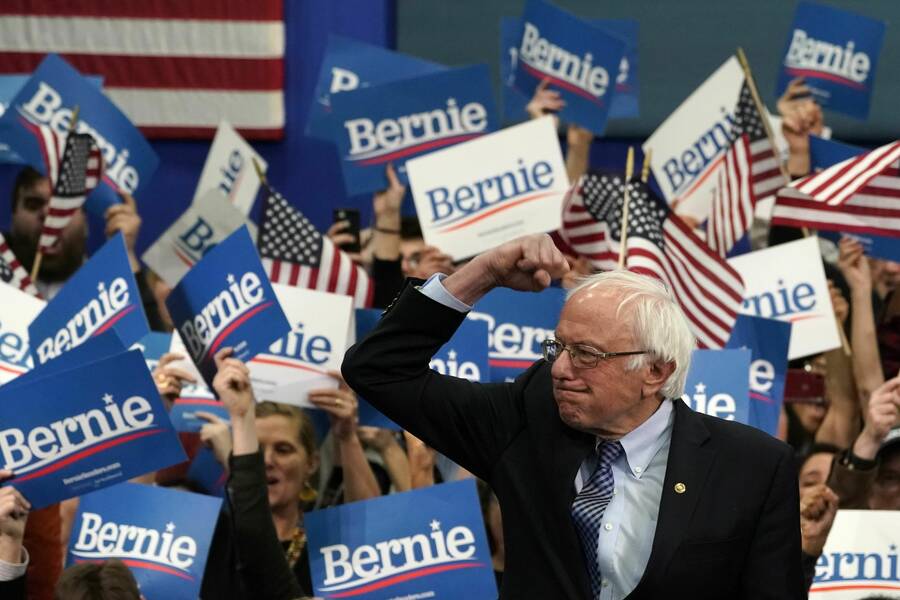 Sen. Bernie Sanders has emerged vic­to­ri­ous fol­low­ing the nation's first Demo­c­ra­t­ic pri­ma­ry in New Hamp­shire on Tues­day. The win fur­ther solid­i­fies Sanders' posi­tion as the fron­trun­ner in the race to take on Pres­i­dent Trump in November's gen­er­al election.
Sanders was pro­pelled to vic­to­ry in the Gran­ite State with help from a broad coali­tion of grass­roots activist net­works and com­mu­ni­ty orga­ni­za­tions, includ­ing Rights & Democ­ra­cy New Hamp­shire, the New Hamp­shire Youth Move­ment and the Sun­rise Move­ment. Cam­paign vol­un­teers knocked on 150,000 doors across the state this past Sat­ur­day alone.
Anoth­er cru­cial play­er in Sanders' New Hamp­shire coali­tion: orga­nized labor. One of the state's largest unions — the over 10,000-member State Employ­ees' Asso­ci­a­tion of New Hampshire/​SEIU Local 1984—endorsed the Ver­mont sen­a­tor last month. Since then, the union's mem­bers have been door-knock­ing and phone-bank­ing for Sanders, and the local's union hall in Con­cord has been used as a stag­ing area for canvassers.
"Sen­a­tor Sanders not only talks the talk about build­ing a fair econ­o­my but has been walk­ing the walk his whole career," SEA/SEIU Local 1984 pres­i­dent Rich Gul­la tells In These Times. ​"He's some­body you can trust. He hasn't just said, ​'ok, I'm run­ning for pres­i­dent and this is what I think peo­ple want to hear.' He believes in what he's doing."
Gul­la explains that last Sep­tem­ber, Sanders joined a ral­ly of nurs­ing home work­ers in Brent­wood, New Hamp­shire who were try­ing to union­ize with SEA/SEIU Local 1984.
"What impressed me about him, he didn't once talk about his run for pres­i­dent," Gul­la says. ​"He engaged the employ­ees there and got them talk­ing about why they want­ed to union­ize. Before he left, he pulled folks aside and kind of gave them a pep talk. He was speak­ing from the heart."
A few days lat­er, the nurs­ing home work­ers suc­cess­ful­ly vot­ed to join the union.
Anoth­er major New Hamp­shire union endorse­ment for Sanders came in Decem­ber from the statewide orga­ni­za­tion of the Amer­i­can Postal Work­ers Union (APWU), as well as APWU Local 230 in Manchester.
"What I appre­ci­ate about Bernie more than any­thing is that he gets the inter­con­nec­tiv­i­ty between prob­lems," says Jan­ice Kel­ble, leg­isla­tive direc­tor of New Hamp­shire APWU. ​"He's been a huge advo­cate of postal bank­ing, which is a win-win. It helps peo­ple in com­mu­ni­ties that don't have bank­ing avail­able and helps strength­en the Postal Ser­vice. It solves a num­ber of prob­lems at once and he seems real­ly good at doing that with a lot of issues."
Kel­ble says APWU mem­bers were can­vass­ing and phone-bank­ing across the state, as well as attend­ing cam­paign ral­lies, debates and town halls to show their sup­port for Sanders.
Nation­al­ly, Sanders has been endorsed by the Unit­ed Elec­tri­cal Work­ers, Nation­al Nurs­es Unit­ed, the Nation­al Union of Health­care Work­ers and the nation­al APWU. He also has the back­ing of the Clark Coun­ty Edu­ca­tion Asso­ci­a­tion — the largest teach­ers' union in Neva­da — along with Unit­ed Teach­ers Los Ange­les (UTLA), which went on strike last Jan­u­ary with Sanders's sup­port.
Over the past year, Sanders has repeat­ed­ly used his plat­form to draw atten­tion to union bat­tles large and small across the coun­try. Using its expan­sive con­tact lists, his cam­paign has called on sup­port­ers to join work­ers on pick­et lines and at ral­lies. Through his Work­place Democ­ra­cy Plan, which would remove the many legal bar­ri­ers to union­iza­tion, Sanders aims to dou­ble union mem­ber­ship if elect­ed president.
Mean­while, ahead of the Feb­ru­ary 22 Neva­da cau­cus, the lead­er­ship of the influ­en­tial Culi­nary Work­ers Union of Las Vegas Local 226, has begun flood­ing its mem­ber­ship with a fly­er attack­ing Sanders' Medicare for All plan. The union, which runs its own health insur­ance pro­gram, is warn­ing mem­bers that Medicare for All would ​"end" their health­care — par­rot­ing talk­ing points that mod­er­ates such as Joe Biden and Pete Buttigieg have employed in the Demo­c­ra­t­ic race.
Labor lead­ers like Sara Nel­son, pres­i­dent of the Asso­ci­a­tion of Flight Atten­dants, have come to the defense of Medicare for All, not­ing that by guar­an­tee­ing health­care to every­one and remov­ing it as a sub­ject of con­tract nego­ti­a­tions, unions would be in a more advan­ta­geous posi­tion when bar­gain­ing over oth­er issues like wages, paid leave and work­place safety.
"Bernie's behind the labor move­ment. Not just when it's pop­u­lar. He's marched on our pick­et lines, he's helped us orga­nize, he's cham­pi­oned our leg­is­la­tion in Con­gress. He's got a 30- or 40-year track record," Rand Wil­son, an orga­niz­er with SEIU Local 888, tells In These Times. ​"To ignore that and sup­port oth­er can­di­dates that just mouth the words is almost dis­re­spect­ful to a per­son who's been that much of a friend to labor and who's got that much to offer."
Wil­son is an activist with Labor for Bernie, a net­work of Sanders sup­port­ers in the labor move­ment. Start­ed in 2015 dur­ing the senator's last run for the pres­i­den­cy, Labor for Bernie's mis­sion is to edu­cate work­ers about why Sanders is the best can­di­date — and to help rank-and-file union mem­bers encour­age their unions to endorse him.
"He's best posi­tioned to ener­gize a move­ment, par­tic­u­lar­ly of mil­len­ni­als and the youth who are going to be key for the ground game, key for the door-knock­ing and phone-bank­ing and tex­ting and ral­lies that will shape this elec­tion," Wil­son explains, adding that Sanders is also ​"the only can­di­date to actu­al­ly take votes away from Trump's base."
Kel­ble says she thinks a lot of peo­ple vot­ed for Trump in 2016 ​"because they were look­ing for some­body who wasn't going to do busi­ness as usu­al" and ​"decid­ed to take a chance with some­body who was talk­ing about how much he cared about their issues."
"Well, they were dead wrong about Trump and we've suf­fered a lot of dis­as­ters because of it," she con­tin­ues. ​"Hope­ful­ly this time vot­ers will have the oppor­tu­ni­ty to select some­body who's real­ly going to be there for us. I can't remem­ber ever hav­ing the oppor­tu­ni­ty to elect an advo­cate for work­ing peo­ple like we do today."
Views expressed are those of the writer. As a 501©3 non­prof­it, In These Times does not sup­port or oppose any can­di­date for pub­lic office.
Get the lat­est news and analy­sis from inside the labor move­ment in your inbox every Fri­day. Sign up for the Work­ing In These Times newsletter.
Jeff Schuhrke has been a Work­ing In These Times con­trib­u­tor since 2013. He has a Ph.D. in His­to­ry from the Uni­ver­si­ty of Illi­nois at Chica­go and a Master's in Labor Stud­ies from UMass Amherst. Fol­low him on Twit­ter: @JeffSchuhrke