Meet Michael Grimm, Labor's Favorite Tea Party Republican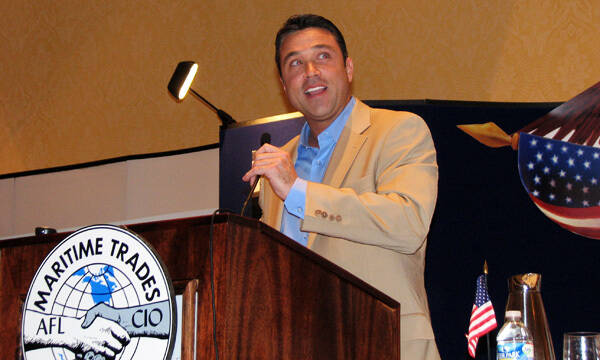 Most of the media attention at the big gathering of construction unions this week in Washington, D.C., will be on President Obama's keynote speech, which he gave today. But also newsworthy will be the unlikely appearance there of a Tea Party Republican involved in a blooming romance with organized labor.
Invited to speak to the gathering of bricklayers, electricians, ironworkers, and other building trades unions is the little-known Rep. Michael Grimm (R‑NY). Elected to public office for the first time just
18
months ago, Grimm appeared at first blush to exemplify the small government, anti-labor ethos of the Tea Party — and an unlikely candidate to be welcomed along with Obama to this week's conference of the AFL-CIO Building and Construction Trades Department (BCTD).
But Grimm's short and little-noticed tenure in Washington has revealed an unexpected feature of the Marine Corps veteran and former FBI agent — he is a committed supporter of organized labor with no fear at all of the anti-union zealots in his own party.
​
"
We all thought that these new guys (in Congress) would be cut from the same Tea Party cloth. But they weren't, and Grimm has shown real independence and real guts," commented Brian Schoeneman, director of political and legislative affairs for the Seafarers International Union.
Grimm will get a warm welcome from the union delegates at the BCTD conference, Schoeneman predicted. The reason? The Congressman is the only freshman Republican to vote consistently in favor of organized labor, and he gives a ​"hell of a good speech to a union audience," he said.
Matt Dwyer, political director of the union Marine Engineers' Beneficial Association, heard Grimm speak recently and agrees wholeheartedly.
​
"
He gave a great speech. He talked about growing up in a union household and how good union wages helped his father make ends meet….He said he votes for labor not because he wants our (financial) support, but because it is the right thing to do. It seemed very heartfelt….He got a standing ovation," at a March
9
gathering of maritime union officials in Florida, Dwyer said.
Grimm spokeswoman Carol Danko told In These Times that the congressman's outlook on organized labor is strongly influenced by his father's experience as a union member. The elder Grimm was a member of the United Union of Roofers, Waterproofers and Allied Workers, she said, and instilled a sense of union pride in his children. Furthermore, union families are a strong voting influence in the Brooklyn and Staten Island neighborhoods represented by the son, Danko said.
Grimm's
2010
campaign for office featured a high-profile endorsement from Sarah Palin (including a generous financial contribution from SarahPAC), and a very public flirtation with local Tea Party groups. But his Tea Party associations may have been overblown, labor sources suggested.
Instead, they point out that he also represents a small but hardy strain of Republican politicians who are socially and economically conservative, but largely moderate on labor issues. Leading examples of this faction are Rep. Frank LoBiondo (R‑N.J.), Steve LaTourette (R‑OH), and Peter King (R‑N.Y.). All are conservatives but have long enjoyed labor's electoral and financial support, particularly from the building trades unions.
Grimm signaled his independence from the Tea Party immediately after his narrow victory over incumbent Staten Island Democrat Michael McMahon
18
months ago. Many of the other newly elected Republican lawmakers were quick to join the congressional Tea Party Caucus that has attracted some
60
other Republican members, but Grimm was conspicuously absent among that group.
More substantively, he voted in February
2011
against measures to repeal the Davis-Bacon Act and to cut back on the use of Project Labor Agreements, two issues that are of strategic importance to the BCTD. The votes were a major victory for the labor unions deeply involved in the construction business because they signaled that the new Republican majority would not succeed in a wholesale assault on the building unions, BCTD spokesman Tom Owens told
In These Times
.
​
"
He is one of a handful of House Republicans who have taken the time to engage our folks at the local level. He is one of the few to understand and appreciate that what we do has a positive impact at the local level, like training and apprenticeships for young people, and providing a good income to working people in the community," Owens said.
Grimm followed up on his early votes that supported BCTD positions with a series of additional votes that supported broader worker protections, according to Owens. He voted against attempts to cripple the National Labor Relations Board, in favor of union rights for aviation and railway workers, and against attempts to undermine workers employed by the federal government, he said.
Owens' assessment is confirmed by the right-wing advocacy group Competitive Enterprise Institute. The Institute has created a labor vote scorecard for all members of Congress, based on
13
recent labor votes. On a scale that awards a
100
percent rating for strict anti-union voting, Grimm scored a mere
15
percent, only a shade higher than many longtime pro-labor Democrats.
All of this means that labor support is now flowing freely to the
42
-year-old Grimm, who is facing uncertain prospects in his bid for re-election this year.
The Seafarers officially endorsed Grimm for re-election last month, Schoeneman said, and the union PAC is providing financial support. According to Federal Election Commission records reported by OpenSe​crets​.com, contributions have also come in from a wide range of labor union PACs, including the Carpenters, Painters, BCTD, Firefighters, Plumbers, Longshoremen, Marine Engineers, Sheet Metal Workers, and Communications Workers.
Grimm may find support from labor unions crucial in the next few months. He has been accused of corruption in his fundraising practices, and seems likely to face a strong Democratic Party challenge this fall. His re-election is far from assured, but he seems determined to push ahead as the Tea Party guy who's an unlikely friend of labor.
Disclosure: Bruce Vail is a former staff member of the Marine Engineers' Beneficial Association.
Support progressive media
As a nonprofit, reader-supported publication, In These Times depends on donations from people like you to continue publishing. Our final, end-of-year fundraising drive accounts for nearly half of our total budget. That's why this fundraising drive is so important.
If you are someone who depends on In These Times to learn what is going on in the movements for social, racial, environmental and economic justice, the outcome of this fundraising drive is important to you as well.
How many readers like you are able to contribute between now and December 31 will determine the number of stories we can report, the resources we can put into each story and how many people our journalism reaches. If we come up short, it will mean making difficult cuts at time when we can least afford to do so.
If it is within your means, please make a tax-deductible donation today, to ensure that In These Times can continue publishing in the year ahead.

Bruce Vail
is a Baltimore-based freelance writer with decades of experience covering labor and business stories for newspapers, magazines and new media. He was a reporter for Bloomberg BNA's Daily Labor Report, covering collective bargaining issues in a wide range of industries, and a maritime industry reporter and editor for the Journal of Commerce, serving both in the newspaper's New York City headquarters and in the Washington, D.C. bureau.
This is important
As a nonprofit, reader-supported publication, In These Times depends on our end-of-year fundraising drive for nearly half of our total budget. That's how important this fundraising drive is. If you support progressive media, please consider making a tax-deductible donation today to ensure that In These Times can continue publishing in the year ahead.