Lake Mead is one of the most impor­tant sources of water in the West. It is the largest reser­voir in the coun­try when full — 120 miles long and 532 feet deep — with a sur­face area of 247 square miles and a shore­line that spans 759 miles. The reser­voir pro­vides recre­ation­al water activ­i­ties for many and drink­ing, indus­tri­al, and irri­ga­tion water to about 22 mil­lion users. It's the main source of water for Las Vegas.
In 2015, Lake Mead reached its low­est lev­el since the Hoover Dam was built in the 1930s. Warmer tem­per­a­tures are mak­ing the effects of the region's 5‑year drought worse. Win­ter snow pack to the north is encour­ag­ing, but the chance for rain remains low in the south­west and the tem­per­a­tures are ris­ing. Accord­ing to the Unit­ed States drought mon­i­tor, about 98 per­cent of the state of Neva­da is abnor­mal­ly dry — 70 per­cent is in a mod­er­ate drought while the con­di­tions in 25 per­cent of the state are con­sid­ered extreme. Five per­cent of Neva­da is expe­ri­enc­ing an ​"excep­tion­al drought," the worst level.
My grand­par­ents live in Pahrump, Nev. — cur­rent­ly on the severe end of the drought spec­trum, one step below ​"excep­tion­al." Vis­it­ing them as a child, I remem­ber how dry the land­scape was and always bring­ing water in the car in case it broke down or some­thing unex­pect­ed occurred. In a recent tele­phone con­ver­sa­tion with my grand­moth­er, the sever­i­ty of the drought was front and center.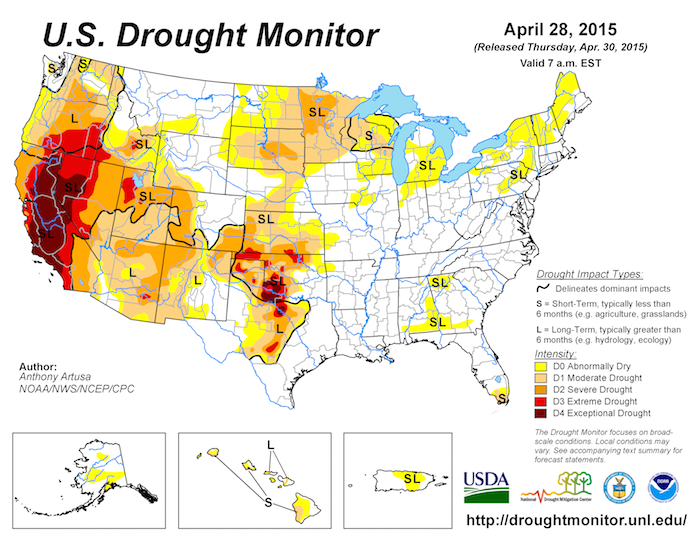 (Image: noaa​.gov)
"Me and your grand­fa­ther are wor­ried," she said.
Pahrump is a remote desert town and the dry con­di­tions are not mak­ing life any eas­i­er. My grand­par­ents have one well that they use for every­thing — drink­ing, cook­ing and wash­ing. The under­ground water sup­ply is finite and they are begin­ning to won­der if their well will dry up, as one well on the south end of town has already done.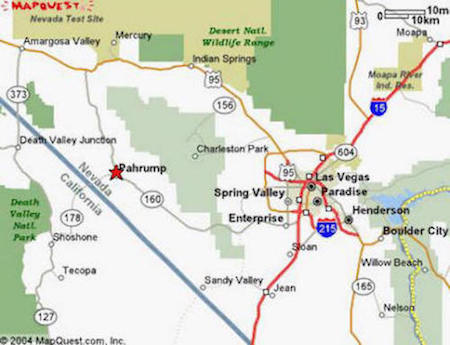 (Image: mapquest​.com)
My grand­par­ents, both in their late sev­en­ties, men­tioned they're even con­sid­er­ing mov­ing to the Chica­go area. ​"Peo­ple like me and grand­pa are espe­cial­ly con­cerned," my grand­moth­er tells me. To fix a dry well costs thou­sands of dol­lars. They would need to dig the well deep­er. But even if they do dig deep­er, there is no guar­an­tee they find more water, she says.
With this wor­ry, it is get­ting hard­er for them to take care of them­selves. They aren't over­ly vocal about this prob­lem, but have more than enough spare time to think about it. In the past, res­i­dents in Pahrump would plant gar­dens on their prop­er­ties. Most have since stopped because they don't want to waste the water for fear they may run out.
When it rains, it is big news for good rea­son. With­out rain, the wells will run dry. The future is uncertain.
The need for conservation
Accord­ing to a recent study, the drought from 2012 to 2014 in the state of Cal­i­for­nia is the worst it has been in 1,200 years — mean­ing it is now hot­ter and dri­er than it has been in this time peri­od. Farm­ers in the west are los­ing a sub­stan­tial per­cent­age of their yield. In Cal­i­for­nia, rur­al farm­ers lost 20 to 25 per­cent of their yield in 2014. Lake Mead irri­gates about a mil­lion acres of farm­land not just in south­ern Cal­i­for­nia but cen­tral Ari­zona and south­ern Neva­da as well. Imag­ing shows the bor­der of the lake shrink­ing over years — down as much as 120 feet from past levels.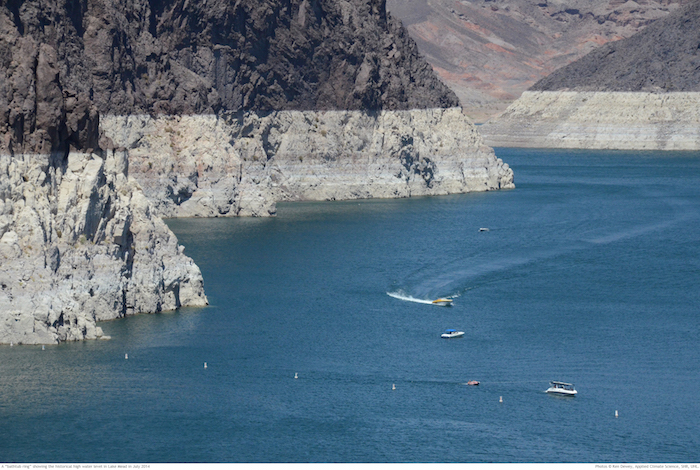 Lake Mead in July, 2014. (Pho­to: cli​mate​.gov)
Drought and low­er­ing high water lines in the region's reser­voirs are going to con­tin­ue to put a stress on west­ern agri­cul­ture. The low­er the water lev­els go, the high­er anx­i­ety ris­es. Peo­ple in cities find it hard to under­stand the plight of the rur­al farm­ers in this severe drought and vice ver­sa. Rur­al farm­ers tend to blame the city for the water prob­lems. The city tends to blame the farm­ers. And with that fin­ger point­ing a rur­al-urban divide emerges.
The main mes­sage, of course, needs to be water con­ser­va­tion. Bear­ing in mind not just small towns in the bar­ren lands of Neva­da where elder­ly peo­ple like my grand­par­ents live, but the farm­ers on whom we all depend. We need to think about water con­ser­va­tion as a goal for the entire nation.
A cer­tain degree of col­lec­tivism is required to save the water in this area of the coun­try and it's worth remind­ing our­selves of the basics: Water con­ser­va­tion can range any­where from turn­ing off the water when brush­ing teeth to mak­ing a con­scious, every­day effort to use less water. Show­er­ing is more water effi­cient than tak­ing a bath. Cut show­ers to 10 min­utes or less.
Even if it seems like the water will nev­er run out because of water recy­cling pro­grams, it's still good to be cautious.
In the mean­time, farm­ers are being forced to adapt and inno­vate new solu­tions to the water cri­sis. In some areas, the ancient prac­tice of ​"dry farm­ing" is mak­ing a come­back. This method — where farm­ers use the mois­ture in the soil to farm rather than rely on rain­fall or irri­ga­tion — trades qual­i­ty for quan­ti­ty. Farm­ers yield less (where­as wet farmed apples yield 20 to 40 tons, dry farmed apples yield 12 to 14 tons) but the result­ing pro­duce is report­ed­ly excep­tion­al­ly good. Con­sumers often have to pay a some­what high­er price for the goods farmed dry, and it will not work for all crops, but our abil­i­ty to weath­er this cri­sis may even­tu­al­ly depend on shared sacrifice.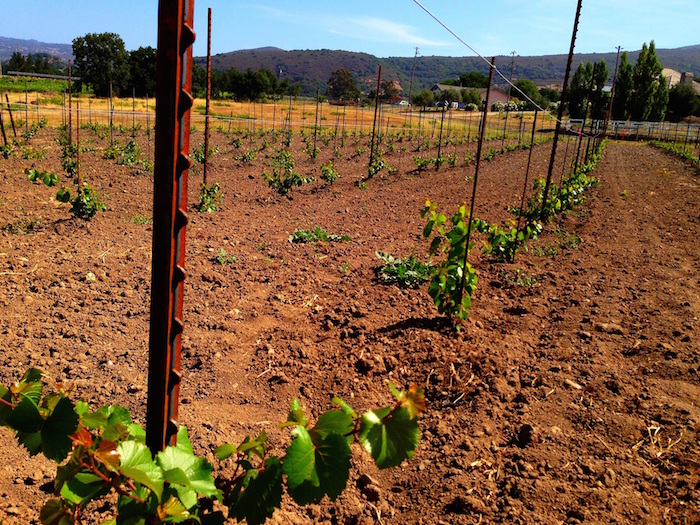 A ​"dry farmed" vine­yard in Napa Val­ley, Ca. The ancient prac­tice relies on mois­ture-con­serv­ing tillage and drought-resis­tant crops. (Pho­to: atlasvm​.com)
Jen­nifer Ball
is a Spring
2016
edi­to­r­i­al intern at In These Times. She is a grad­u­ate of the Medill School of Jour­nal­ism at North­west­ern University.