How a Small City in Pennsylvania Became A White Nationalist Target
Energized by Trump, outright white supremacists are moving from the fringes into active roles in local Pennsylvania politics.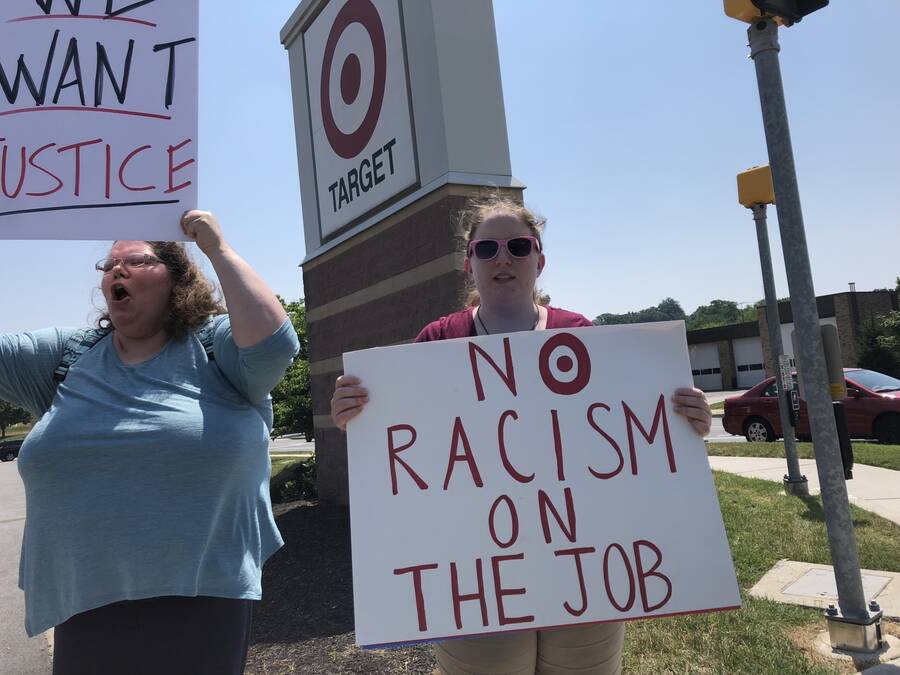 One night this past Octo­ber in Lan­cast­er, Penn­syl­va­nia, a love­ly old city of around 60,000 about 90 min­utes west of Philadel­phia, a hand­ful of pro­test­ers strode to the mid­dle of the near­ly-desert­ed Penn Square and unfurled a ban­ner next to a memo­r­i­al to U.S. sol­diers who died fight­ing the forces of fas­cism and racial supremacy.
"Lancaster's battle for its soul is a common one in America."
"Import the third world, become the third world," it read.
After the small group chant­ed ​"You will not replace us," a speak­er declaimed into the night that ​"every­one loves Lan­cast­er," before inveigh­ing against the place, assail­ing the city's wel­com­ing atti­tude towards refugees — the town takes in up to 20 times more refugees per capi­ta than the rest of the US — and accus­ing it of allow­ing ​"Syr­i­an invaders" into the Unit­ed States.
In a sub­se­quent video Tweet of the protest — backed by ama­teur­ish syn­the­siz­er music and with the face of one par­tic­i­pant strate­gi­cal­ly blurred — Iden­ti­ty Evropa, the group that said it was behind the ban­ner-unfurl­ing, claimed that it was protest­ing ​"immi­gra­tion and the demo­graph­ic dis­place­ment of White Americans."
Of the two self-described lead­ers of the street the­ater, the Twit­ter pro­file of one, Evan McLaren, notes that he works as the exec­u­tive direc­tor of white suprema­cist Richard Spencer's Nation­al Pol­i­cy Insti­tute. The oth­er, William Clark, is a self-iden­ti­fied Iden­ti­ty Evropa member.
Penn­syl­va­nia tar­get­ed by white suprema­cist resurgence
Cit­ed as a racist white suprema­cist orga­ni­za­tion by both the South­ern Pover­ty Law Cen­ter (SPLC) and the Anti-Defama­tion League (ADL), Iden­ti­ty Evropa was found­ed in Cal­i­for­nia by Nathan Dami­go, a for­mer Marine who received an Oth­er Than Hon­or­able (OTH) dis­charge from the corps after rob­bing a Cal­i­for­nia cab dri­ver at gun­point because he believed the man ​"looked" Iraqi.
Dami­go served five years in prison, and after his release cycled through sev­er­al iter­a­tions of dif­fer­ent white suprema­cist orga­ni­za­tions (includ­ing one affil­i­at­ed with the extrem­ist Amer­i­can Free­dom Par­ty) before found­ing Iden­ti­ty Evropa in 2016. He lat­er gained noto­ri­ety when a video of him punch­ing a 95-pound left-wing female pro­test­er in Berke­ley, Calif. ear­li­er this year went viral.
Dami­go resigned from his lead­er­ship posi­tion this past August, replaced at the helm by Elliott Kline, a res­i­dent of the near­by city of Read­ing, whose pub­lic moniker, Eli Mosley, is a nod to British Union of Fas­cists leader Oswald Mosley.
The group's modus operan­di — what it refers to as ​"Project Siege" — is to post provoca­tive fly­ers around col­lege cam­pus­es to attempt to draw atten­tion to its cause.
This past autumn, in advance of their appear­ance in Lan­cast­er, stick­ers and posters pro­mot­ing Iden­ti­ty Evropa were found plas­tered around the county's Eliz­a­beth­town Col­lege and Millersville Uni­ver­si­ty. Eliz­a­beth­town Col­lege pres­i­dent Carl J. Strik­w­er­da released a state­ment say­ing that the insti­tu­tion ​"strong­ly con­demns the place­ment of the stick­ers and posters as well as Iden­ti­ty Evropa's pur­pose and philosophy…[And] as a com­mu­ni­ty, affirms the val­ues of peace, non-vio­lence, human dig­ni­ty and social jus­tice for all."
Like­wise, Lan­cast­er city offi­cials have made their dis­taste for the group clear.
"White suprema­cy has no place in Lan­cast­er," said Lan­cast­er may­or Danene Sorace. ​"The idea that the col­or of one's skin is a jus­ti­fi­ca­tion for suprema­cy of any kind is absurd and has been proven false repeatedly."
Trump paving the way for the far Right
Ener­gized by the can­di­da­cy and elec­tion of Don­ald Trump — who hailed ​"very fine peo­ple" after a white suprema­cist mêlée roiled Char­lottesville, Va. and result­ed in the death of Heather Hey­er in August — polit­i­cal cur­rents of vary­ing shades of white nation­al­ism, white suprema­cy and neo-Nazism have come into the pub­lic eye as at no time in decades.
As if to make their admi­ra­tion for the pres­i­dent clear, pro­test­ers in Char­lottesville, some wear­ing Trump's sig­na­ture red ​"Mak­ing Amer­i­ca Great Again" hats, chant­ed ​"Jews Will Not Replace Us" and ​"Blood and Soil," the lat­ter a trans­la­tion of the Ger­man nation­al­ist slo­gan Blut und Boden and pop­u­lar­ized by the Nazis dur­ing their rise to pow­er, as they marched. At a protest in Wash­ing­ton, D.C. against an exten­sion of the Deferred Action for Child­hood Arrivals (DACA) immi­gra­tion pol­i­cy last year, Iden­ti­ty Evropa's Kline told atten­dees through a mega­phone that ​"Don­ald Trump made us, white Amer­i­cans, feel that we were the Dream­ers … Don­ald Trump won because of us, because of our movement."
The reemer­gence of the far right is a phe­nom­e­non for which Penn­syl­va­nia, a state far from the deep south but from time to time sus­cep­ti­ble to extrem­ist pol­i­tics, could be seen as some­thing of a harbinger.
Accord­ing to an August 2017 report by the SPLC, Penn­syl­va­nia ranks sixth in the nation in terms of active hate groups, with 40 dif­fer­ent orga­ni­za­tions call­ing the state home.
"There's no ques­tion that hate groups in gen­er­al were very empow­ered by the Trump cam­paign and are mak­ing the leap from the inter­net to the real world," said Hei­di Beirich, the direc­tor of the SPLC's Intel­li­gence Project.
A his­toric strug­gle with racism
In Penn­syl­va­nia, how­ev­er, a lega­cy of vio­lent racism is noth­ing new, despite the state's his­to­ry as a linch­pin of the Union dur­ing the 1861 – 65 Civ­il War and as the loca­tion of the piv­otal Union vic­to­ry over the Con­fed­er­a­cy at Get­tys­burg, the largest bat­tle ever fought in North America.
The state's long, per­co­lat­ing his­to­ry of racist vio­lence stretch­es back at least until the mid-1700s, when a group of Scotch-Irish fron­tiers­men who had set­tled along the Susque­han­na Riv­er became known as the Pax­ton Boys (named after a set­tle­ment in present-day Dauphin Coun­ty) and con­duct­ed a spate of racial­ly-moti­vat­ed vio­lence in the south-cen­tral and east­ern por­tions of Pennsylvania.
On Dec. 14 1763, in a naked land grab, the gang mur­dered six mem­bers of the Susque­han­nock tribe (known as Con­esto­ga among Eng­lish-speak­ers) and burned their cab­ins for good measure.
When 16 of the remain­ing Susque­han­nock were placed in pro­tec­tive cus­tody in the old city jail in Lan­cast­er (just next to the site of the present-day Ful­ton Opera House), on 27 Decem­ber, the Pax­ton Boys broke into the jail and killed, scalped and dis­mem­bered the six adults and eight chil­dren who shel­tered there.
Despite Lan­cast­er Coun­ty's promi­nent role as the polit­i­cal base of the fierce abo­li­tion­ist Thad­deus Stevens, who rep­re­sent­ed the region in the U.S. Con­gress for most of the era between 1849 to 1868, the years fol­low­ing the Civ­il War saw a stra­ta of Penn­syl­va­nia soci­ety show anoth­er face to the world.
In the first half of the 20th cen­tu­ry, as doc­u­ment­ed in the his­to­ri­an Philip Jenk­ins' book Hoods and Shirts: The Extreme Right in Penn­syl­va­nia, dozens of white suprema­cist groups stud­ded the state's polit­i­cal land­scape. By 1925, the Ku Klux Klan claimed that it had about 250,000 mem­bers statewide and the anti-semit­ic radio preach­er Charles Cough­lin com­mand­ed a large following.
More recent­ly, the for­mer Demo­c­ra­t­ic may­or of York, Char­lie Robert­son — in office from 1994 to 2002 — was acquit­ted by an all-white jury after being charged along with 9 oth­ers for the mur­der of African-Amer­i­can Lil­lie Belle Allen dur­ing a race riot that rocked the city in July 1969.
Some of the sev­en who plead­ed guilty or no-con­test to the mur­der said they had received ammu­ni­tion from Robert­son, then a York city police offi­cer, and that he had urged them to kill African-Amer­i­cans while scream­ing ​"white pow­er!" (the lat­ter charge Rober­ston admit­ted). Robert­son nev­er issued a pub­lic apol­o­gy to the Allen family.
Racist rhetoric mak­ing polit­i­cal inroads
In recent years, out­right white suprema­cists have moved from the fringes into active roles in local Penn­syl­va­nia politics.
In Novem­ber 2016, Steve Smith — who co-found­ed the white-suprema­cist skin­head group Key­stone Unit­ed in 2001 — was reelect­ed to the Repub­li­can Par­ty com­mit­tee for Luzerne Coun­ty, of which Wilkes-Barre is the coun­ty seat. Smith quick­ly shared news of his vic­to­ry on Storm­front, the largest white suprema­cist forum.
Smith is a for­mer mem­ber of the neo-Nazi Aryan Nations, formed by white suprema­cist Richard Girnt But­ler in the 1970s, and of the Nation­al Asso­ci­a­tion for the Advance­ment of White Peo­ple, the lat­ter found­ed by for­mer Knights of the Ku Klux Klan leader (and con­vict­ed felon) David Duke. Key­stone United's web­site cites its goal as ​"unit­ing all racial­ly aware skin­heads in the state of Penn­syl­va­nia" and boasts of ​"stand­ing shoul­der to shoul­der … in defense of oth­er White Nationalists."
Such inroads hard­ly take place in a vacuum.
"There have been reports of inci­dents in schools after the pres­i­den­tial elec­tion, as well as oth­er hate inci­dents such as the des­e­cra­tion of the Jew­ish ceme­tery in Philadel­phia, the bomb threats in the Jew­ish com­mu­ni­ty cen­ters and threats to Mus­lim com­mu­ni­ties," said Christi­na Reese, press sec­re­tary for the Penn­syl­va­nia Human Rela­tions Com­mis­sion (PHRC), which is tasked with enforc­ing state law that pro­hibits dis­crim­i­na­tion in employ­ment, hous­ing, com­mer­cial prop­er­ty, edu­ca­tion and pub­lic accom­mo­da­tions. ​"Mus­lim com­mu­ni­ties across the state have been intim­i­dat­ed and a num­ber of schools across the state have expe­ri­ences racial ten­sion incidents."
In August, police found swastikas and racial epi­thets spray-paint­ed through­out Chester Coun­ty, while in May of last year, the East Coast Knights of the True Invis­i­ble Empire of the Ku Klux Klan claimed to have held a cross light­ing cer­e­mo­ny on a south­ern Lan­cast­er Coun­ty prop­er­ty. A counter-demon­stra­tion in Lan­cast­er city attract­ed sev­er­al hun­dred people.
Nor has the whiff of white suprema­cy been con­fined to the polit­i­cal margins.
U.S. Rep­re­sen­ta­tive Lou Bar­let­ta, (R‑Hazleton), an avowed Trump sup­port­er, serves on the nation­al board of advi­sors of the Fed­er­a­tion for Amer­i­can Immi­gra­tion Reform (FAIR), which the SPLC has des­ig­nat­ed a hate group due to its links with the far-right Bel­gian polit­i­cal par­ty Vlaams Blok (since renamed Vlaams Belang after a Bel­gian court found it racist and effec­tive­ly dis­band­ed it). Kansas Sec­re­tary of State Kris Kobach, who chaired what Trump had dubbed an ​"elec­tion integri­ty" com­mis­sion and who has made often-unsub­stan­ti­at­ed claims regard­ing vot­er fraud, has served as an attor­ney for the Immi­gra­tion Reform Law Insti­tute. FAIR's legal arm.
FAIR's founder, John Tan­ton, has open­ly embraced eugen­ics and pro­mot­ed the idea of the the ster­il­iza­tion of genet­i­cal­ly ​"unde­sir­able" groups (Tan­ton remains list­ed on FAIR's Nation­al Board of Advisers).
Bar­let­ta is cur­rent­ly chal­leng­ing Penn­syl­va­ni­a's Demo­c­ra­t­ic Sen­a­tor Bob Casey for the lat­ter's sen­ate seat in the 2018 elections.
Last year, Bar­let­ta intro­duced H.R.83 the ​"Mobi­liz­ing Against Sanc­tu­ary Cities Act," in which he advo­cat­ed strip­ping all fed­er­al fund­ing from so-called sanc­tu­ary cities (includ­ing Philadel­phia), that is, as cities that lim­it their coop­er­a­tion with the fed­er­al gov­ern­ment on what they view as unjust immi­gra­tion laws.
Bar­let­ta denies har­bor­ing racist views.
"Groups fueled by hatred or a false and repug­nant sense of racial suprema­cy have no place in Amer­i­can soci­ety, and I strong­ly con­demn them," Bar­let­ta assert­ed via email.
"FAIR, which is a non-par­ti­san orga­ni­za­tion with over 1.3 mil­lion diverse mem­bers, also con­demns any indi­vid­ual or group that engages in hate­ful or vio­lent behav­ior. I am proud to be on the Advi­so­ry Board for an orga­ni­za­tion that seeks to fix our nation's bro­ken immi­gra­tion sys­tem to help improve our nation's secu­ri­ty, econ­o­my, work­force, health­care, and environment."
In August, state Sen. Scott Wag­n­er, who rep­re­sents part of York Coun­ty, was record­ed dis­parag­ing the busi­ness­man and phil­an­thropist George Soros as a ​"Hun­gar­i­an Jew" who har­bored ​"a hatred for Amer­i­ca." Wag­n­er is run­ning to become the Repub­li­can chal­lenger to Penn­syl­va­ni­a's incum­bent Demo­c­ra­t­ic Gov­er­nor Tom Wolf.
Wag­n­er did not respond to requests for com­ment, but pre­vi­ous­ly expressed no remorse at the remarks and com­plained about not under­stand­ing why ​"every­body's get­ting their knick­ers around their ankles over this."
Though Lan­cast­er city itself has grown increas­ing­ly diverse — as of 2010 its demo­graph­ics hov­ered around 55.2 per­cent white, 39.3 per­cent Lati­no and 16.3 per­cent African-Amer­i­can — it's not hard to find the occa­sion­al Con­fed­er­ate flag in the more rur­al parts of the coun­ty. And both the coun­ty and state as a whole remain in a strug­gle to come to terms with the both their past and present when it comes to race. It was a strug­gle that was present before those few Iden­ti­ty Evropa mem­bers strode into Penn Square one cool Octo­ber night.
It is a strug­gle that echoes the one of the nation at large.
"Lan­cast­er's bat­tle for its soul is a com­mon one in Amer­i­ca," said Kevin Ressler, the co-founder of the Lan­cast­er Action Now Coali­tion, which describes itself as pro­tect­ing and empow­er­ing mar­gin­al­ized, oppressed and tar­get­ed communities.
"Why on Earth would peo­ple fly Con­fed­er­ate flags in Lan­cast­er?" Ressler posed. ​"It isn't their her­itage or their his­to­ry, unless they see their her­itage as white and inher­ent­ly supe­ri­or. Our com­mu­ni­ty is real­ly good at gath­er­ing in the streets respon­sive­ly to tragedy in oth­er com­mu­ni­ties and while this is one of the most impor­tant first steps, there must be more steps. Lan­cast­er feels, always, a place at bat­tle with two dis­tinct identities."
Michael Deib­ert
is an author and jour­nal­ist whose work has appeared in the Guardian, the Wash­ing­ton Post, the Wall Street Jour­nal, the Mia­mi Her­ald, Le Monde diplo­ma­tique, Fol­ha de Sao Paulo and the World Pol­i­cy Jour­nal, among oth­er venues. He has been a fea­tured com­men­ta­tor on inter­na­tion­al affairs on the BBC, Al Jazeera, Chan­nel
4
, France
24
, Nation­al Pub­lic Radio, WNYC New York Pub­lic Radio and KPFK Paci­fi­ca Radio. He is the author of Haiti Will Not Per­ish: A Recent His­to­ry (Zed Books,
2017
), In the Shad­ow of Saint Death: The Gulf Car­tel and the Price of Amer­i­ca's Drug War in Mex­i­co (Lyons Press,
2014
), The Demo­c­ra­t­ic Repub­lic of Con­go: Between Hope and Despair (Zed Books,
2013
) and Notes from the Last Tes­ta­ment: The Strug­gle for Haiti (Sev­en Sto­ries Press,
2005
). Fol­low him on Twit­ter at @michaelcdeibert.