What It Will Take To Bring Real Justice for Laquan McDonald
Organizers don't just want Chicago cop Jason Van Dyke indicted, they want community control of the police.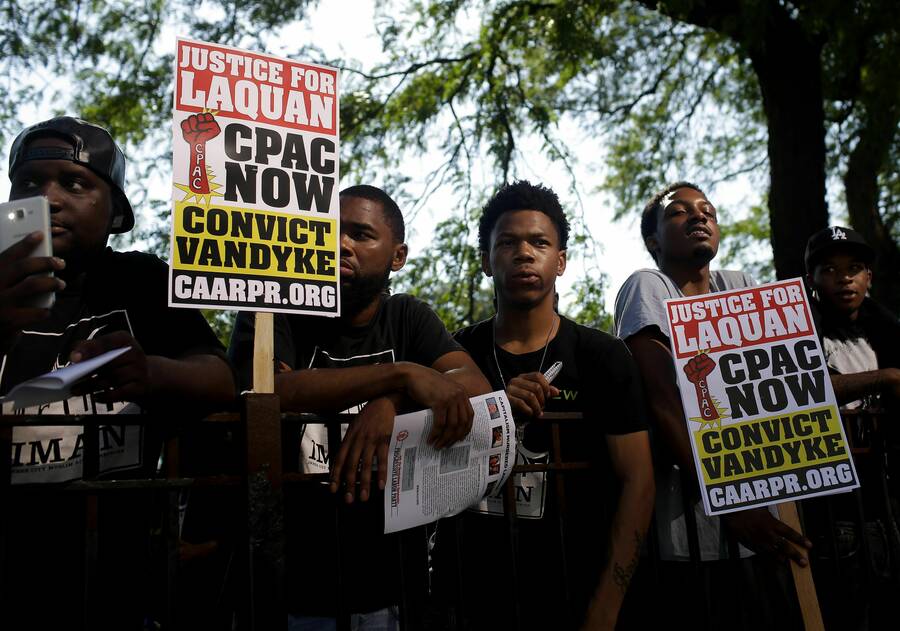 Chica­go May­or Rahm Emanuel once framed the fatal shoot­ing of 17-year-old Laquan McDon­ald by the hands of white Chica­go police offi­cer Jason Van Dyke as a case of one bad cop who deserved to be pun­ished, stat­ing ​"One indi­vid­ual needs to be held account­able. [He] needs to be held account­able for what [he's] done." But the over 100 peo­ple who gath­ered out­side the Cook Coun­ty Crim­i­nal Cour­t­house for a ral­ly mark­ing the start of Van Dyke's tri­al last week — almost three years since the release of dash­cam footage which cap­tured 16 shots unloaded into a flee­ing McDon­ald — dis­agree. To them, jus­tice for Laquan McDon­ald doesn't end with con­vict­ing Van Dyke. Instead, it means mak­ing the whole sys­tem accountable.
"Had CPAC been in place, Laquan McDonald may very well be alive today."
Orga­niz­ers for the Civil­ian Police Account­abil­i­ty Coun­cil (CPAC), one of the lead groups behind the cour­t­house demon­stra­tion, has a plan to do just that. CPAC orga­niz­ers are demand­ing the imple­men­ta­tion of a com­mit­tee made up of elect­ed indi­vid­u­als that would replace the cur­rent police board and han­dle its dis­ci­pline poli­cies, civil­ian com­plaint inves­ti­ga­tions, the department's bud­get and more.
"[The coun­cil] would change the role that the police are play­ing on the streets," says Kit Bren­nen, an orga­niz­er for CPAC. ​"Right now, their whole job is designed to pro­tect white peo­ple and pri­vate prop­er­ty and to repress and psy­cho­log­i­cal­ly ter­ror­ize poor peo­ple and black peo­ple and brown peo­ple. We need to reori­ent the whole police sys­tem in Chica­go. The only way to do that is to give com­mu­ni­ties con­trol over the police."
And the cam­paign for CPAC is pick­ing up speed, accord­ing to Frank Chap­man, a lead orga­niz­er in the move­ment. He points to the elec­toral defeat of for­mer State's Attor­ney Ani­ta Alvarez, the ter­mi­na­tion of Police Super­in­ten­dent Gar­ry McCarthy, and even Rahm Emanuel's sur­prise deci­sion not to seek reelec­tion, as results of their organizing.
"The day before this tri­al, the may­or decides not to run for reelec­tion," says Chap­man, ​"you think that doesn't have any­thing to with the mur­der of Laquan McDon­ald? If you don't, then think again, because it does."
This is the same may­or who, along­side the city's lawyers, fought for 13 months to sup­press the video used to indict Van Dyke on first-degree mur­der charges before a Cook Coun­ty judge final­ly ordered the tapes to be released. That release result­ed in a $5 mil­lion set­tle­ment between the city and McDonald's fam­i­ly, despite them nev­er hav­ing even filed a lawsuit.
The time of the set­tle­ment, April 2015, is when Emanuel claims to have been ful­ly briefed on the case. How­ev­er, offi­cial city cal­en­dars and emails between the mayor's clos­est aides show that top staffers were aware of key details, such as fal­si­fied police blot­ters that report Van Dyke fired a sin­gle shot when the autop­sy indi­cat­ed 15 more. Many have claimed these fal­si­fied reports are a part of a cov­er-up designed to pro­tect offend­ing offi­cers, as is alleged in a July law­suit brought against three offi­cers involved with fil­ing the reports, which could expand to include city offi­cials accused of mis­lead­ing the public.
"Not only was May­or Emanuel involved in cov­er­ing up this hideous crime for 400 days," says Chap­man, ​"but many oth­er lev­els of gov­ern­ment were involved. The city's law depart­ment, indi­vid­ual police offi­cers who wrote false reports, the fra­ter­nal order of police shel­tered [Van Dyke] and gave him paid desk work, and the City Coun­cil signed off on the $5 mil­lion set­tle­ment pro­vid­ed that Laquan's fam­i­ly kept quiet."
If the cops involved with McDonald's case are con­vict­ed of crim­i­nal con­spir­a­cy, it wouldn't be the first time the Chica­go Police Depart­ment con­spired to pro­tect one of their own. In June, a jury award­ed Jacques Rivera $17 mil­lion and an exon­er­a­tion after hav­ing been kept in prison for 21 years. The jury found that Rivera was framed by police detec­tive Rey­nal­do Gue­vara for a mur­der he didn't com­mit in 1988 and that Rivera's con­sti­tu­tion­al rights had been denied when the CPD with­held doc­u­ments from his defense attor­ney. Gue­vara is respon­si­ble for near­ly 20 wrong­ful con­vic­tion cas­es, a num­ber that con­tin­ues to grow as more and more peo­ple move to have their cas­es reheard. Esther Her­nan­dez, the moth­er of two men cap­tured by Gue­vara in 1997, spoke out against Van Dyke at CPAC's ral­ly out­side the cour­t­house on Sep­tem­ber 5.
In front of the chant­i­ng crowd, Her­nan­dez said, "[The police] cov­er up the truth. They stick up for each oth­er. Inno­cent peo­ple are in jail for crimes they didn't com­mit, while the killers are out here!"
"We have to fight for our demo­c­ra­t­ic right to say who polices our com­mu­ni­ties and how our com­mu­ni­ties are policed," says Chap­man, ​"And that has to be an uncom­pro­mis­ing fight to the fin­ish. There will be more Laquan McDon­alds and more Jason Van Dykes if we don't get con­trol of the situation."
Van Dyke isn't the only Chica­go police offi­cer in recent mem­o­ry to shoot 16 times at a flee­ing vic­tim. Last year, Mar­co Proano was sen­tenced to five years in fed­er­al prison for unload­ing his weapon into a car full of teenagers when the dri­ver backed up after their stolen car was stopped for speed­ing. Proano's attor­ney, Daniel Her­bert, him­self a for­mer cop, is also rep­re­sent­ing Van Dyke.
Van Dyke had nev­er fired his gun on duty before killing McDon­ald, but it wasn't his first case of police mis­con­duct. In fact, the num­ber of civil­ian com­plaints brought against Van Dyke from 2002 to 2014 place him in the top three per­cent of cops. This includes a case of police bru­tal­i­ty that cost the city $500,000 in a civ­il set­tle­ment. He nev­er received any dis­ci­pli­nary pun­ish­ment for these complaints.
"Had CPAC been in place, Laquan McDon­ald may very well be alive today," said Bren­nen. ​"If Van Dyke was already under scruti­ny [from civil­ian com­plaints], he would be under inves­ti­ga­tion by peo­ple who answer direct­ly to the com­mu­ni­ty, which is not how it works right now. [Instead], cas­es are han­dled by the same peo­ple who knew he was dan­ger­ous and there­fore have an incen­tive to cov­er it up."
The fall­out from McDoanld's death prompt­ed a review of the Chica­go Police Depart­ment by the Depart­ment of Jus­tice (DOJ) which found that few­er than two per­cent of police mis­con­duct com­plaints were sus­tained, and 98 per­cent of com­plaints went with­out dis­ci­pli­nary action. The DOJ con­clud­ed that the city does not inves­ti­gate cas­es it is required by law to inves­ti­gate, the few inves­ti­ga­tions that occur are seri­ous­ly flawed, and there exists a code of silence among offi­cers which extends to lying and con­ceal­ing evi­dence that obstructs efforts to make cops account­able for mis­con­duct. Among their rec­om­men­da­tions to the city is reform­ing the Police Board, the same struc­ture which CPAC would replace.
Con­vict­ing Van Dyke would pun­ish an offi­cer for the crime he com­mit­ted, but how would that bring jus­tice for Laquan McDon­ald? CPAC orga­niz­ers argue that it won't.
"What makes Chica­go the epi­cen­ter of the fight against police vio­lence isn't just the mur­der of Laquan," says Chap­man. ​"There's noth­ing excep­tion­al or extra­or­di­nary about police killing black peo­ple. What hap­pened in this one case was the expo­sure of the entire sys­tem. We're not say­ing that this mur­der is unique. They were doing what they nor­mal­ly do, but this time they got caught."
Across the coun­try, police reform activists are close­ly fol­low­ing the Van Dyke tri­al. They're also watch­ing CPAC, which orga­nized with over ten cities from New York to Saint Louis in sol­i­dar­i­ty with their cam­paign, which they hope will serve as a mod­el through­out the Unit­ed States. Whether it be ral­lies in Tam­pa, march­es in New York City, state­ments of sol­i­dar­i­ty from the NAACP in Hous­ton, or a ban­ner drop in San Fran­cis­co, peo­ple across the coun­try are show­ing up to sup­port this movement's mes­sage. Accord­ing to orga­niz­ers, that move­ment doesn't end with a Van Dyke con­vic­tion — it ends with com­mu­ni­ty con­trol of the police.