Why 50,000 Las Vegas Workers Are on the Verge of Striking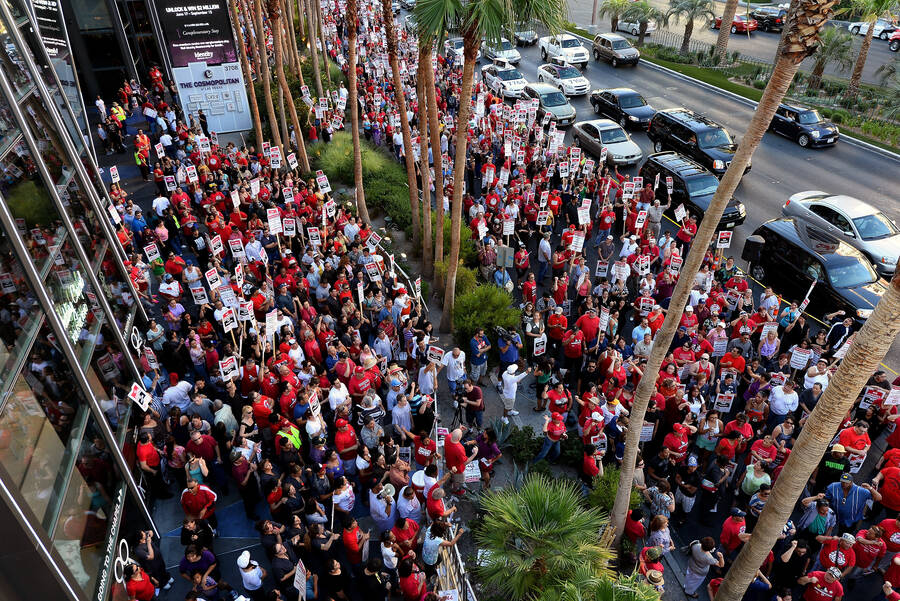 Over the next two weeks, Las Vegas will see an even larg­er influx of tourists than usu­al as the city hosts the Stan­ley Cup hock­ey finals, with the Las Vegas Gold­en Knights fac­ing off against the Wash­ing­ton Cap­i­tals. But these vis­i­tors could soon find them­selves in a city where most of the ser­vices are shut down.
On May 22, UNITE HERE's Culi­nary and Bar­tenders Unions, which rep­re­sent over 57,000 hos­pi­tal­i­ty work­ers in Las Vegas and Reno, held a strike autho­riza­tion vote. Of the 25,000 mem­bers who par­tic­i­pat­ed, 99 per­cent vot­ed to autho­rize a strike if a new con­tract isn't signed by June 1. If the strike takes place, 50,000 employ­ees at 34 casi­no resorts in Las Vegas — includ­ing most of the wait staff, bar­tenders, kitchen work­ers, and hotel employ­ees who work on the strip — will walk off the job. It would be the first city­wide strike since 1984, when thou­sands of Culi­nary Union mem­bers went on strike for 67 days. A city­wide strike vote hasn't tak­en place since 2002, even though the unions rene­go­ti­ate con­tracts every four years.
Such a strike could have an enor­mous impact. UNITE HERE Gam­ing Research, the unions' research arm, pro­ject­ed that a one-month strike could cost MGM Resorts and Cae­sars Enter­tain­ment, the two largest employ­ers on the strip, more than $300 million.
Sara Enciso, who has worked set­ting up ban­quet halls at Man­dalay Bay Resort and Casi­no for about two and half years, vot­ed in favor of the strike. ​"I don't expect to go on strike, I don't want to go on strike. But that is what it takes for them to under­stand that we need bet­ter con­di­tions," she said. ​"We're an impor­tant part of their com­pa­ny… We are the ones that put [in] the labor and we are the ones that give them all the mon­ey they are making."
While a strike could hurt her family's finances, fail­ing to get the work­ers' demands met will, too. ​"We don't want to be wor­ried about where my check is [com­ing] from," she said. ​"We want to make sure we have a job to go to, work to do every day."
One issue work­ers have raised beyond increased pay and ben­e­fits is to ensure bet­ter job secu­ri­ty in the face of new tech­nolo­gies and changes in the indus­try. They want com­pa­nies to guar­an­tee that even if a casi­no is sold to a dif­fer­ent own­er, the employ­ees will remain rep­re­sent­ed by their unions and cov­ered by their con­tracts. They also want the unions to have a for­mal role in the adop­tion and imple­men­ta­tion of new tech­nolo­gies, includ­ing pro­vid­ing new job oppor­tu­ni­ties and train­ing for workers.
Anoth­er demand is to give casi­no staff, par­tic­u­lar­ly the house­keep­ers who clean hotel rooms, safe­ty but­tons that they could press if they find them­selves in an unsafe sit­u­a­tion. Press­ing the but­ton would alert secu­ri­ty, send­ing out a worker's loca­tion. Safe­ty ​"is a real­ly, real­ly big issue," said Bethany Khan, direc­tor of com­mu­ni­ca­tions at UNITE HERE Culi­nary Work­ers Union Local 226. ​"After the #MeToo movement…we think it was a good pro­pos­al." Chica­go and Seat­tle recent­ly passed laws requir­ing sim­i­lar but­tons for hotel house­keep­ers as a way to com­bat sex­u­al harass­ment and assault, and union­ized house­keep­ers in New Jer­sey and New York City all receive them. The but­tons address a wide­spread prob­lem: in a sur­vey of Chica­go hotel work­ers, 58 per­cent said they had been sex­u­al­ly harassed by a guest, includ­ing guests open­ing the door naked or touch­ing work­ers inappropriately.
Work­ers are also address­ing immi­gra­tion in their nego­ti­a­tions. A major­i­ty of the unions' mem­bers are immi­grants, but for some, their legal sta­tus­es are up in the air after the Trump admin­is­tra­tion end­ed the Deferred Action for Child­hood Arrivals pro­gram and Tem­po­rary Pro­tect­ed Sta­tus for hun­dreds of thou­sands of immigrants.
The com­pa­nies have already agreed to give employ­ees time off to gath­er and sub­mit any nec­es­sary paper­work, and nego­ti­a­tions are still under­way to have employ­ers let work­ers return to their jobs if their immi­gra­tion sta­tus­es are dis­rupt­ed by the admin­is­tra­tion but lat­er restored by Con­gress or anoth­er pres­i­dent. But even with the ten­ta­tive agree­ment, Khan not­ed, noth­ing is set in stone until a con­tract is signed.
Work­ers also argue that after the Repub­li­can tax bill cut the cor­po­rate tax rate, and many of their employ­ers have announced bil­lions of dol­lars in stock buy­backs to ben­e­fit share­hold­ers, work­ers should share in the spoils. ​"Work­ers are the largest and most impor­tant part of their share­hold­ers," Khan said. ​"Work­ers have worked with them through the Great Reces­sion to make sure their busi­ness was open and prof­itable, we [forewent] raises…and we're say­ing you're mak­ing record prof­its and work­ers should­n't be left behind." The unions have pro­posed aver­age rais­es of four per­cent a year for the five-year con­tract, but the com­pa­nies have coun­tered with 2.7 percent.
While they stress that they'd pre­fer to come to an agree­ment before June 1, work­ers are already mak­ing prepa­ra­tions for a strike: assign­ing pick­et shifts, mak­ing signs, and dis­trib­ut­ing infor­ma­tion about strike pay and ben­e­fits, as well as eco­nom­ic resources for those who may need them while off the job.
"We want cor­po­ra­tions to under­stand that we're doing our jobs, and we want them to do their jobs also," Enciso said. ​"If we give excel­lent cus­tomer ser­vice, the guests keep com­ing to Las Vegas."
Bryce Covert
, a con­tribut­ing op-ed writer at the
New York Times
, has writ­ten for
The New Repub­lic, The Nation,
the
Wash­ing­ton Post
, the
New York Dai­ly News
,
New York Mag­a­zine
and
Slate
, and has appeared on ABC, CBS, MSNBC and NPR. She won a
2016
Excep­tion­al Mer­it in Media Award from the Nation­al Women's Polit­i­cal Caucus.