The Wrong Way To Defend Later Abortions
We shouldn't use worst-case scenarios to justify later abortions. We should defend them unequivocally.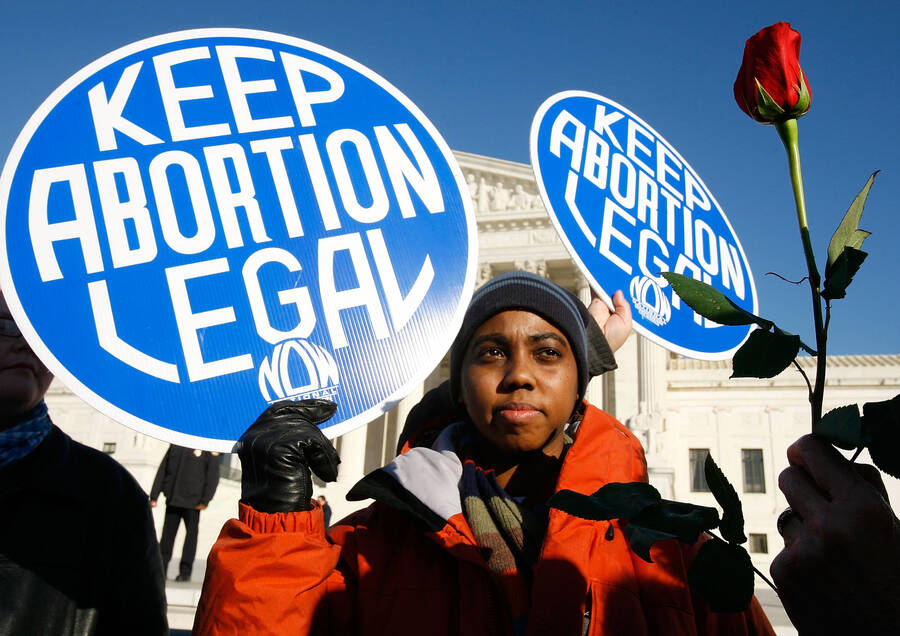 In Jan­u­ary, New York Gov. Andrew Cuo­mo signed the Repro­duc­tive Health Act (RHA), a bill expand­ing access to abor­tion after 24-weeks (the pre­vi­ous lim­it) in cir­cum­stances in which the fetus would not sur­vive the preg­nan­cy or if the mother's health is at risk. The pas­sage of the leg­is­la­tion has since inspired trou­bling rhetoric from both sides of the abor­tion war.
Relying on personal stories to appeal to the moral and empathetic senses of others, particularly those of the opposition, is a weak political strategy that abandons the principles of bodily autonomy and the right to private decision making.
In his State of the Union address in Jan­u­ary, Pres­i­dent Trump used provoca­tive imagery to inten­si­fy heinous mis­char­ac­ter­i­za­tions of women who have abor­tions fur­ther along in their preg­nan­cies, say­ing the pro­ce­dure involves rip­ping a baby from a mother's womb, min­utes before birth. (It does not.)
To refute such accu­sa­tions, abor­tion rights advo­cates have tak­en to out­lets such as the Guardian, USA Today and the Cut to tell the sto­ries of women who have had lat­er abor­tions. Such sto­ries often fore­ground how much women want­ed their preg­nan­cies, and the agony sur­round­ing their deci­sion to ter­mi­nate them, imply­ing that no woman sim­ply choos­es to have a lat­er abor­tion. The deci­sion, such nar­ra­tives sug­gest, is made only because some­thing has gone hor­ri­bly wrong with the pregnancy.
This rhetor­i­cal response, fre­quent­ly com­ing from mem­bers of the main­stream pro-choice move­ment, should be of con­cern to any­one fight­ing to pro­tect and expand abor­tion access. Such defen­sive lan­guage inad­ver­tent­ly stig­ma­tizes women who have lat­er abor­tions, while also entrench­ing a cul­ture in which women must jus­ti­fy deci­sions about our bod­ies. By shift­ing the case for lat­er abor­tion onto the ter­rain of moral argu­ments — focus­ing on the most per­son­al­ly grim of sit­u­a­tions in an attempt to elic­it sym­pa­thy — we cede ground to the anti-choice move­ment. Put sim­ply, this defense of lat­er abor­tions makes them hard­er to defend.
On the sur­face, these sto­ries may seem to serve as an effec­tive response to the anti-choice movement's dis­tor­tions and lies. Detail­ing the con­crete moti­va­tions behind an individual's deci­sion forces read­ers to under­stand the choice to seek an abor­tion on a moral lev­el, chal­leng­ing pre­con­ceived notions. Such sto­ries can also pro­vide com­fort for women who have lived for years in silent shame about their expe­ri­ences.
How­ev­er, rely­ing on per­son­al sto­ries to appeal to the moral and empa­thet­ic sens­es of oth­ers, par­tic­u­lar­ly those of the oppo­si­tion, is a weak polit­i­cal strat­e­gy that aban­dons the prin­ci­ples of bod­i­ly auton­o­my and the right to pri­vate deci­sion mak­ing. The empha­sis placed on the rar­i­ty of lat­er abor­tions or the extreme cir­cum­stances in which they become nec­es­sary tac­it­ly char­ac­ter­izes lat­er abor­tions as inher­ent­ly abhor­rent, accept­able only in unique­ly dire sit­u­a­tions. Such con­ces­sions severe­ly imper­il the abil­i­ty of the pro-choice move­ment to fight back against the unspar­ing and steady restric­tions being placed on abor­tions across the country.
The recent rhetor­i­cal defense of lat­er abor­tions under­mines the movement's more robust defense of abor­tions that hap­pen ear­li­er in preg­nan­cy. Begin­ning in the 1960s, abor­tion advo­cates issued an uncom­pro­mis­ing call for ​"abor­tion on demand with­out apol­o­gy" as they protest­ed, sat-in and fought for repro­duc­tive rights, which would even­tu­al­ly be enshrined by the pas­sage of Roe v Wade. Yet by the 1990s, with social con­ser­vatism on the rise, the Clin­ton admin­is­tra­tion — which was osten­si­bly pro-choice — walked back the case for abor­tion to the frame­work of ​"safe, legal, and rare."
For years, politi­cians talked only about reduc­ing the num­ber of abor­tions. Giv­en the inabil­i­ty of the Demo­c­ra­t­ic Par­ty to ful­ly defend and expand abor­tion rights, it's unsur­pris­ing that in 2005, Hillary Clin­ton acknowl­edged the Democ­rats' and Repub­li­cans' mutu­al inter­est in decreas­ing abor­tion rates, remark­ing that abor­tion ​"rep­re­sents a sad, even trag­ic choice to many, many women," and that ​"the best way to reduce the num­ber of abor­tions is to reduce the num­ber of unwant­ed preg­nan­cies in the first place."
The stig­ma­tiz­ing frame­work has not gone unchal­lenged. In Re-think­ing the Mantra ​'Safe, Legal and Rare, Tra­cy A. Weitz, founder of Advanc­ing Stan­dards in Repro­duc­tive Health (ANSIRH), writes that the term ​"rare" cre­ates an ​"imme­di­ate nor­ma­tive judg­ment on abor­tion." It sug­gests, she says, that ​"there are some abor­tions which should and should not occur." Instead, Weitz claims that a more sound defense of abor­tion rights requires demands for increased access to the pro­ce­dure and an artic­u­la­tion of abor­tion as a social good.
In recent years, social media cam­paigns such as Shout Your Abor­tion and We Tes­ti­fy have aimed to reduce the secre­cy and shame around such a com­mon pro­ce­dure. Many advo­cates have switched out the ​"rare" frame­work for ​"safe, legal and acces­si­ble." Some advo­cates go a step fur­ther, return­ing to ​"abor­tion on demand with­out apol­o­gy," pick­ing up the man­tle of the women's lib­er­a­tion move­ment for anoth­er gen­er­a­tion. Now there are count­less stig­ma-bust­ing sto­ries from women who say ​"I don't regret my abor­tion," or ​"my abor­tion was empowering."
This sort of pos­i­tive mes­sag­ing stands in stark con­trast to the nar­ra­tives around lat­er abor­tions which typ­i­cal­ly frame the deci­sion as a dis­tress­ing last resort. On social media, you will fre­quent­ly find dec­la­ra­tions from pro-choice advo­cates that make claims like ​"no sane woman would just have an abor­tion so late" or ​"this is the hard­est deci­sion a woman will have to make." Such state­ments read like admo­ni­tions that these types of abor­tions should be avoid­ed at all costs. They also reveal deeply held assump­tions that women's bio­log­i­cal des­tiny is to serve as moth­ers and nur­tur­ers. It seems the move­ment only acknowl­edges the need for lat­er abor­tion access inso­far as women have com­pelling rea­sons for ter­mi­na­tion, such as trau­ma or severe health risk. Oth­er­wise, the pro­ce­dure is fre­quent­ly con­sid­ered unthink­able. Yet a host of oth­er rea­sons for choos­ing an abor­tion could be at play, from finan­cial pre­car­i­ty result­ing from job loss to hav­ing an abu­sive part­ner. These ratio­nales should be con­sid­ered just as valid, and women — as arbiters of their bod­ies — should be the ones mak­ing the choic­es about their preg­nan­cies, no mat­ter the grounds.
Giv­en the antipa­thy many Amer­i­cans feel towards lat­er abor­tions, this per­spec­tive is not unrea­son­able. As a preg­nan­cy nears or pass­es the point of via­bil­i­ty, sup­port for abor­tions drops to a stag­ger­ing 14 per­cent. As such, it's under­stand­able that peo­ple may need sto­ries to help them weigh their moral objec­tions to lat­er abor­tions against the poten­tial harms cre­at­ed by the inabil­i­ty to access one.
In her book Scar­let A: The Ethics, Law, & Pol­i­tics of Ordi­nary Abor­tion, North­west­ern Uni­ver­si­ty Pro­fes­sor of Law and Ethics Katie Wat­son argues for hav­ing a more rig­or­ous con­ver­sa­tion about our val­ues sur­round­ing abor­tion. Cru­cial­ly, Wat­son explains that ​"We should be able to acknowl­edge the com­plex­i­ty of pri­vate deci­sion mak­ing with­out threat­en­ing the right of pri­vate deci­sion mak­ing." The case for bod­i­ly auton­o­my is one that demands we not give cer­tain of our own moral judg­ments about the choic­es of oth­ers — what­ev­er they might be — over to the force of law.
Yet by cir­cu­lat­ing nar­ra­tives which frame lat­er abor­tion only in the con­text of oblig­a­tion or agony, we fall into the trap of defend­ing lat­er abor­tions only in terms of the ​"com­pelling rea­sons" for them — lethal genet­ic anom­alies, threats to mater­nal health, rape or incest. This approach implies that there are also invalid rea­sons, which can­not jus­ti­fy lat­er abor­tions. But this is dan­ger­ous territory.
What counts as a ​"com­pelling rea­son" is not carved in stone tablets — it's con­struct­ed and recon­struct­ed in the realm of pol­i­tics. There are no guar­an­tees that the rea­sons pro-choice advo­cates deem ​"com­pelling" will ensure access to lat­er abor­tions, and a pow­er­ful anti-choice estab­lish­ment can suc­cess­ful­ly nar­row down the range of accept­able rea­sons to get one.
Nowhere is this clear­er than in the very respons­es to New York's. A recent op-ed in the con­ser­v­a­tive out­let the Fed­er­al­ist sug­gests the authors would rather a woman give birth to a fatal­ly ill baby, and watch it die in peri­na­tal hos­pice care, than for her to have an abor­tion. Who can for­get for­mer Mis­souri Rep. Todd Akin who in 2012 remarked that abor­tions are unnec­es­sary since, in the case of ​'legit­i­mate rape,' ​"the female body has ways to try to shut that whole thing down"? Or for­mer Mis­souri State Rep. Tila Hubrecht, who who referred to preg­nan­cies con­ceived by rape as ​"sil­ver lin­ings"? With numer­ous heart­beat bills and copy­cat six-week abor­tion bans pop­ping up across the coun­try, the opposition's agen­da is clear: a total ban on all abortions.
Insist­ing on cas­es of extreme and rare need as a pre­req­ui­site for obtain­ing a lat­er abor­tion fur­ther desta­bi­lizes abor­tion access, which is already seen not as a right to which women are enti­tled, but a right that women must earn through exces­sive vul­ner­a­bil­i­ty and pub­lic suf­fer­ing. Such an approach only serves to rein­force the per­cep­tion of women as incom­pe­tent agents of our own futures.
For far too long, the main­stream pro-choice move­ment has become inured to the arbi­trary legal lim­i­ta­tions set on abor­tion, and the moral attacks made by the oppo­si­tion. Women who have lat­er abor­tions deserve more than back­hand­ed sup­port from choice advo­cates. It's time we re-ground abor­tion in a larg­er polit­i­cal asser­tion of women's bod­i­ly auton­o­my: We are the ulti­mate arbiters of our bodies.
Bob­by Walk­er
is an abor­tion doula and repro­duc­tive jus­tice orga­niz­er liv­ing in Madi­son, Wisconsin.