Lawyer: 'We Should Stay on the Parapets and Keep Fighting'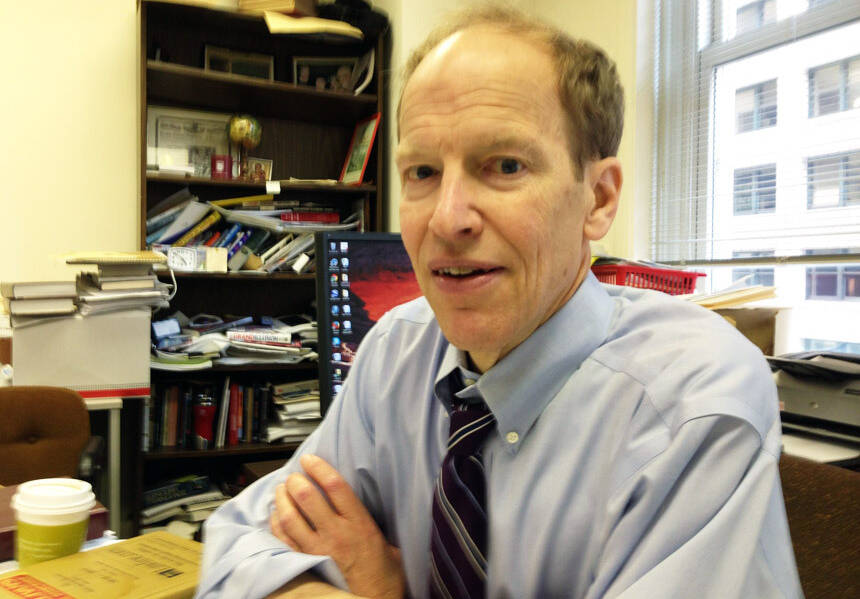 For three years in the ear­ly 1970s, jour­nal­ist Studs Terkel gath­ered sto­ries from a vari­ety of Amer­i­can work­ers. He then com­piled them into Work­ing, an oral-his­to­ry col­lec­tion that went on to become a clas­sic. Four decades after its pub­li­ca­tion, Work­ing is more rel­e­vant than ever. Terkel, who reg­u­lar­ly con­tributed to In These Times, once wrote, ​"I know the good fight — the fight for democ­ra­cy, for civ­il rights, for the rights of work­ers has a future, for these val­ues will live on in the pages of In These Times." In hon­or of that sen­ti­ment and of Work­ing​'s 40th anniver­sary, ITT writ­ers have invit­ed a broad range of Amer­i­can work­ers to describe what they do, in their own words. More ​"Work­ing at 40" sto­ries can be found here.
Philip Da Vin­ci had worked as a lawyer for a large insur­ance firm when he decid­ed he need­ed to do some­thing that felt use­ful, he told Terkel in Work­ing. He switched to a store­front law office serv­ing the elder­ly, juve­niles, prison inmates, peo­ple ​"dumped" from state men­tal hos­pi­tals, and oth­er res­i­dents of his low-income Chica­go neigh­bor­hood. But he strug­gled to hang onto his hope. ​"You can change a few things. But not much progress is being made," he told Terkel.
Tom Geoghe­gan is a Chica­go lawyer who tells In These Times that he, too, want­ed to shape the future of the coun­try through his pro­fes­sion. In addi­tion to spend­ing much of his career rep­re­sent­ing work­ers and unions, he has also writ­ten a num­ber of books. His book ​"Which Side Are You On?" (1991), which chron­i­cled the down­ward slide of orga­nized labor, was described by Terkel him­self as read­ing ​"like an enthralling nov­el." This inter­view has been edit­ed and abridged.
I became a lawyer because I came of age in the late 1960s. I grad­u­at­ed from col­lege in 1971. I saw the Civ­il Rights legal rev­o­lu­tion and I lived through the War­ren Court, which made big­ger changes in the coun­try than nor­mal elec­toral pol­i­tics. I was immense­ly influ­enced by my uncle, who was in Robert Kennedy's Jus­tice Depart­ment and worked on the Civ­il Rights bill.
I was tak­en with the idea of going in and argu­ing for the right and true; and not mak­ing any com­pro­mis­es at all but sim­ply going to the max for your client; and that you could make big changes in the coun­try and bring a bet­ter and more just way of life. The oth­er rea­son I did it is that it looked like a bet­ter option than being an aca­d­e­m­ic. I was scared that if I tried to become an aca­d­e­m­ic, I would spend years on a Ph.D. that would nev­er get fin­ished. I'm also the old­est of six sons, and so I felt it was my oblig­a­tion to go out and do some­thing that would pass muster for what an old­est son ought to do.
Labor law was still a big deal at the time and it was very clear to me that the Demo­c­ra­t­ic Par­ty and orga­nized labor were the two forces of change in this soci­ety, and that they were inex­tri­ca­bly linked. And as a non-labor per­son from the out­side, I thought the way to have the best pos­si­ble Demo­c­ra­t­ic Par­ty was to have a well-orga­nized labor move­ment. I was con­vinced that there was a ter­ri­ble rift devel­op­ing between the pro­gres­sive left and orga­nized labor.
I didn't think of labor as an endan­gered species then. At the time — the late 1960s, ear­ly 1970s — peo­ple had the pre­sump­tion that labor was here to stay. It was pow­er­ful, and the idea of using that pow­er in a more pro­gres­sive way real­ly attract­ed me.
I still am enthused about labor. I start­ed out as a young law stu­dent, and then as a very young lawyer, work­ing for a pro­gres­sive admin­is­tra­tion in the Unit­ed Mine Work­ers. All these peo­ple had basi­cal­ly tak­en on a cor­rupt union lead­er­ship, which still had some pow­er even after the reform­ers had tak­en over. That sit­u­a­tion simul­ta­ne­ous­ly exposed me to the best and worst in the labor move­ment. There is, in orga­nized labor, plen­ty of gray area, and I under­stood that lat­er. But at the begin­ning of my involve­ment in labor every­thing was black and white. There were the good guys and the bad guys in the bat­tles of the mineworkers.
I felt that tremen­dous­ly, too, when I went to the steel­work­ers and I worked for Ed Sad­lows­ki. We were fight­ing an entrenched bureau­crat­ic union lead­er­ship that wasn't as evil as the for­mer minework­ers lead­er­ship, but in some ways it was worse because you were fight­ing the banal­i­ty of a union bureau­cra­cy that should have been the cham­pi­on of the people.
And that led me to my cur­rent job at the firm — now called Despres, Schwarts and Geoghe­gan Ltd. — where I went to work with Leon Despres, who was this cham­pi­on of pro­gres­sive caus­es. He was not known as a labor lawyer, but that was who he was and how he regard­ed him­self for decades of his career. I worked with him for 25 years until he died at the age of 101.
We were dif­fer­ent from oth­er union-side lawyers, because we both rep­re­sent­ed unions and some­times sued them because they were not being demo­c­ra­t­ic enough. And that is a very tricky way for a union-side lawyer to live. It is not a good busi­ness mod­el, but it is some­thing we felt com­mit­ted to doing. As orga­nized labor shrank, dwin­dled, and became less impor­tant, it's become even more of an impor­tant cause to me.
I'm also of an age — I'm 65 years old — where I feel that I have to stay com­mit­ted to this fight if only to set a good exam­ple. There are so few of us from my gen­er­a­tion who are out fight­ing for orga­nized labor com­pared to 40 or 50 years ago. While I'm not unique, it is still a small num­ber and we should not leave it. We should stay on the para­pets and keep fighting.
What has changed about being a lawyer and a labor lawyer?
A mil­lion things have changed. But people's per­cep­tions about what the law can do have changed most of all. Back in the 1960s and ​'70s, peo­ple my age thought lawyers and judges could make big changes in the coun­try. They did make big changes — and they still can and still do — but it is much hard­er now to per­suade peo­ple on the Left that they should be using the courts more cre­ative­ly, because those peo­ple have giv­en up on law. And that's a very dumb thing to do in the Amer­i­can con­sti­tu­tion­al sys­tem. We don't major­i­ty-rule here. We have a lot of grid­lock, and lot of checks and bal­ances. Over the years, to break grid­lock, you do rely upon the courts to come in from the outside.
You give up on the courts, which I think the Left has done, and you give up the oppor­tu­ni­ty for mak­ing big changes in the Amer­i­can sys­tem, because they are nev­er going to come through nor­mal elec­toral politics.
Let me give you an exam­ple of a group that fig­ured out what was wrong. Gay rights. Yes, they demon­strat­ed in the streets. But you'll notice, with regard to same-sex mar­riage, advo­cates real­ly gave up on elec­toral pol­i­tics and went through the courts, and they've achieved real change that way. I've been try­ing to get oth­er pro­gres­sive groups, includ­ing unions, to real­ize that there's a lot that they can do in the courts now.
I've also been push­ing this idea of amend­ing the Civ­il Rights Act to give work­ers the right to go into the courts to file a com­plaint about dis­crim­i­na­tion based on union mem­ber­ship. But it is very hard to con­vince union lead­ers of that.
What's the future for labor?
I don't know, but I think it is open-end­ed. [Paus­es.] I think the labor move­ment could come back if there were a real com­mit­ment by the lead­er­ship of the Demo­c­ra­t­ic Par­ty. I don't mean Barack Oba­ma and Joe Biden. I mean peo­ple at sev­er­al lev­els of the par­ty. Peo­ple who talk about main­tain­ing the wel­fare state with­out a labor move­ment behind it are kid­ding them­selves. You will not be able to have a full-employ­ment econ­o­my with­out a labor movement.
Stephen Franklin is a for­mer labor and work­place reporter for the Chica­go Tri­bune, was until recent­ly the eth­nic media project direc­tor with Pub­lic Nar­ra­tive in Chica­go. He is the author of Three Strikes: Labor's Heart­land Loss­es and What They Mean for Work­ing Amer­i­cans (2002), and has report­ed through­out the Unit­ed States and the Mid­dle East.