Not Your Sacrifice Zone: In Lead-Poisoned East Chicago, Residents Fight for Their Health and Homes
A public housing development was built on the site of a lead smelter. Now, residents are demanding justice.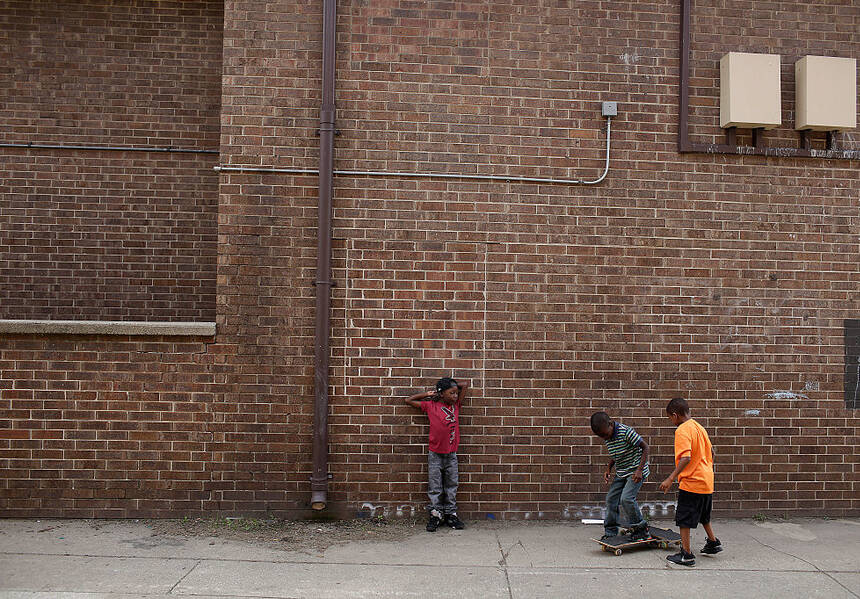 EAST CHICA­GO, IND. — As the U.S. Depart­ment of Hous­ing and Urban Devel­op­ment (HUD) rep­re­sen­ta­tive tried to explain that he was only respon­si­ble for the hous­ing demo­li­tion, the crowd began to grum­ble. They want­ed to hear about hous­ing vouch­ers, the relo­ca­tion of res­i­dents to pol­lu­tant-free homes and the long-term health impacts of liv­ing on lead-con­t­a­m­i­nat­ed land.
More than 40 years of poisoned land is now taking its toll on the health of the community, which is over 90 percent African-American and Latino.
This past April, the last of more than 1,000 res­i­dents were forcibly evac­u­at­ed from the West Calumet Hous­ing Com­plex, a pub­lic hous­ing project built at the for­mer site of a lead smelter, because of the high lev­els of lead in their yards. In order to get the area back to ​"res­i­den­tial stan­dards," HUD has been tasked with demol­ish­ing the com­plex, while the Envi­ron­men­tal Pro­tec­tion Agency has been instruct­ed to replace top lay­ers of the sur­round­ing soil.
This recent meet­ing, held haunt­ing­ly in a desert­ed ele­men­tary school in the most con­t­a­m­i­nat­ed part of city, was a result of com­mu­ni­ty demands for a voice in the demo­li­tion of West Calumet Hous­ing Com­plex. HUD claims that the demo­li­tion would pose no health risks to the sur­round­ing area. But East Chica­go res­i­dents gath­ered on June 26 to demand a seat at the table and a full envi­ron­men­tal impact assess­ment before the process begins.
When HUD Deputy Region­al Admin­is­tra­tor James Cun­ning­ham con­tin­ued to dodge their ques­tions, unrest stirred the crowd. The res­i­dents of East Chica­go, Ind., have been deal­ing with bureau­crat­ic side-step­ping since the EPA put their town on the list of top-pri­or­i­ty clean up sites in 2009.
"This was a hoax. This was an affront to the com­mu­ni­ty," says East Chica­go res­i­dent Rev. Cheryl Rivera about the meet­ing. ​"They were not pre­pared at all to answer questions."
Though more than 300 fam­i­lies have been dis­placed, those who remain have made it clear they will not accept lead-filled air, infra­struc­ture, soil and water. More than 40 years of poi­soned land is now tak­ing its toll on the health of the com­mu­ni­ty, which is over 90 per­cent African-Amer­i­can and Lati­no. The EPA learned of the lead con­t­a­m­i­na­tion in 1985, but did noth­ing sub­stan­tial about it until 2009, with res­i­dents still being invit­ed to move into the hous­ing com­plex until 2016.
The site of the hous­ing com­plex is only one part of the sto­ry. The neigh­bor­hood as a whole is one of the most severe­ly pol­lut­ed in the coun­try, with the rate of lead in the soil as high as 91,000 parts per mil­lion (ppm) in some loca­tions. To put that in con­text, the EPA's ​"accept­able" amount of lead to have in the soil is 400 ppm, although no amount of lead is safe to have in the blood­stream of chil­dren. The com­mu­ni­ty is also sub­ject to a host of oth­er indus­try runoff, includ­ing arsenic and oil spills.
"These peo­ple have been tram­pled on, stepped on, dis­re­spect­ed, and allowed to move where ill­ness­es still exist," says com­mu­ni­ty mem­ber Shirley Lowe.
"I want to be treat­ed like a human being," said Tara Adams after the meet­ing. ​"I want respect."
Com­mu­ni­ties of col­or must deal with a dis­pro­por­tion­ate amount of the poi­so­nous runoff of extrac­tive indus­try, and the gov­ern­ment is often slow­er to respond. Dur­ing Mike Pence's time as gov­er­nor in Indi­ana, he ignored demands by East Chica­go res­i­dents and the city's may­or to declare a state of emer­gency, or even visit.
Com­pare this neg­li­gence to Green­town, Ind., a 97-per­cent white neigh­bor­hood that received imme­di­ate atten­tion in 2016 from then-Gov. Pence to fix up the lead in the water of their neigh­bor­hood and high school. While the sit­u­a­tion has been resolved in Green­town, the hits just keep com­ing for East Chica­go: A new ​"con­fined dis­pos­al facil­i­ty" (neu­tral lan­guage for tox­ic waste dump) is being pushed by the U.S. Army Corps dredg­ing project to go less than a mile away from the East Chica­go Cen­tral High School, despite past com­mu­ni­ty protest for this location.
The city's woes can be traced to extrac­tive indus­try. East Chicago's prox­im­i­ty to Chica­go, the valu­able iron ore from near­by Lake Supe­ri­or and its own local lime­stone deposits have lured dozens of pro­cess­ing plants to set­tle in and around it.
"Okay, get this," says Thomas Frank, who was fired years ago from his direc­tor posi­tion at East Chica­go Water­way Man­age­ment Dis­trict for speak­ing out against BP. ​"The Amer­i­can Bar Asso­ci­a­tion includes 30,000 envi­ron­men­tal attor­neys. Of those, 28,000 are employed full time by indus­try and cor­po­ra­tions. Under 2,000 are employed by the gov­ern­ment. And less than 600 are employed by non­prof­its, some of which could be also [pro-]industry."
"The whole sys­tem is stacked up against us," he says. ​"We need to flip this whole chart around."
Frank now orga­nizes with Com­mu­ni­ty Strat­e­gy Group, and their list of demands includes free, life-long health­care for those affect­ed by the lead and pol­i­cy change around how much indus­tri­al waste is legal­ly accept­able for res­i­den­tial areas. ​"We want to be mak­ing pol­i­cy changes, we don't want to do one-offs," he says. That is, while indi­vid­ual repa­ra­tions for East Chica­go res­i­dents would be an imme­di­ate vic­to­ry, it wouldn't con­tribute to the cur­rent and future strug­gles of oth­er poi­soned com­mu­ni­ties with no easy path toward justice.
More recent­ly, the adamant voic­es of com­mu­ni­ty mem­bers seem to have got­ten through. In a fol­low-up let­ter sent July 6, Cun­ning­ham of HUD promis­es that ​"the affect­ed res­i­dents and the com­mu­ni­ty at-large will be involved and pro­vid­ed oppor­tu­ni­ties to com­ment in sev­er­al [upcom­ing] pub­lic meet­ings." It is cer­tain that the res­i­dents of East Chica­go will be there, pre­pared to advo­cate for them­selves once again.