Lead Is a National Crisis: We Need to Fight for Clean, Publicly Owned Water Before It Is Too Late
Four years after the Flint water crisis began, our nation remains plagued by unsafe drinking water. The solution is a massive public investment in infrastructure.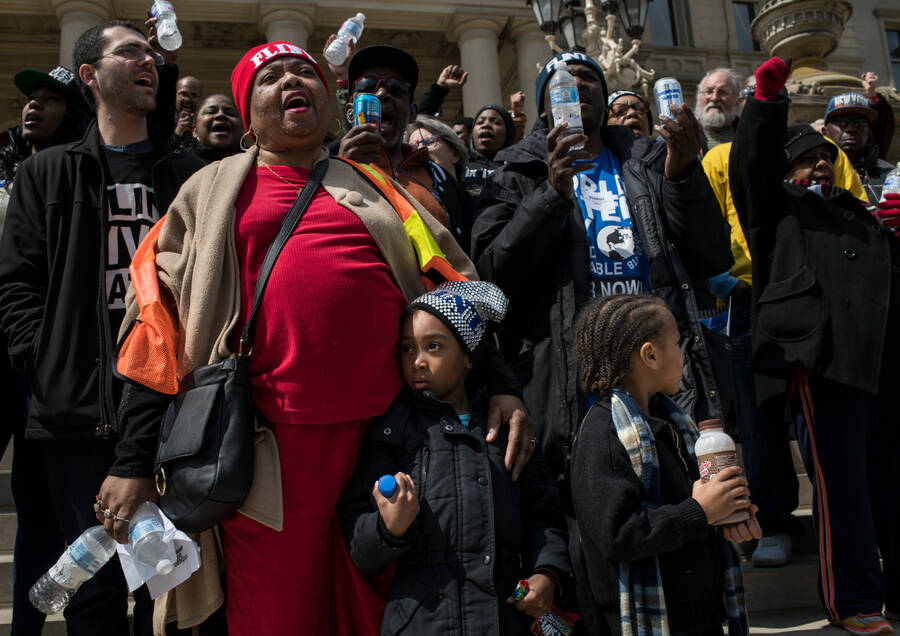 Four years ago this week, Flint, Michi­gan began receiv­ing water from the pol­lut­ed Flint riv­er, mark­ing the begin­ning of its dev­as­tat­ing water cri­sis. For res­i­dents like Melis­sa Mays, whose chil­dren suf­fered skin rash­es and hair loss short­ly there­after — and now waits to learn the extent of the long-term health con­se­quences of their lead expo­sure — trust in what comes out of the tap must seem like a dis­tant mem­o­ry. Nev­er­the­less, water bills in Flint keep ris­ing: May's bill this month was $352.
There's one path forward for clean, affordable water for all Americans: We must reinvest federal dollars into our water infrastructure.
We have long known that lead is a dan­ger­ous poi­son that affects our children's devel­op­ment. That's why in the 1970s, the Unit­ed States began to phase it out of gaso­line and banned lead-based paint, thanks to strong fed­er­al gov­ern­ment action. Now, we need a sim­i­lar com­mit­ment to ensure that we get lead pipes out of com­mis­sion and ensure that every­one can have access to clean, afford­able water.
New leg­is­la­tion intro­duced today is crit­i­cal to this vision. The Water Afford­abil­i­ty, Trans­paren­cy, Equi­ty and Reli­a­bil­i­ty (WATER) Act would cre­ate a trust fund by rolling back a small por­tion of the Trump administration's mas­sive cor­po­rate tax cuts to pro­vide $35 bil­lion a year for our water infra­struc­ture. It would allow our com­mu­ni­ties to ren­o­vate aging water sys­tems, remove lead pipes, stop sewage spills in water­ways and back­ups into base­ments, improve rur­al house­holds' water wells and sep­tic sys­tems, and pro­vide safe water in schools.
While an esti­mat­ed 12,000 lead water pipes still deliv­er water to Flint homes, a lack of clean, afford­able water is not just Flint's prob­lem. Many com­mu­ni­ties have seen ele­vat­ed lead lev­els in the water or faced oth­er con­t­a­m­i­na­tion issues. Water bills are also unaf­ford­able for thou­sands of peo­ple in cities like Detroit and Bal­ti­more and in rur­al areas across Amer­i­ca. Mar­tin Coun­ty, Ken­tucky, an impov­er­ished rur­al com­mu­ni­ty, is expe­ri­enc­ing rate hikes for a sys­tem that is cat­a­stroph­i­cal­ly failing.
Last month, the EPA released a new sur­vey that found our drink­ing water sys­tems need near­ly half a tril­lion dol­lars over the next 20 years to pro­vide safe water. Add in our waste­water and stormwa­ter sys­tems, and America's water sys­tems needs more than $35 bil­lion each year to keep our water safe and clean. This bur­den is falling heav­i­ly on local gov­ern­ments and ulti­mate­ly local res­i­dents who are expe­ri­enc­ing unman­age­able increas­es to their water bills.
It wasn't always like this. Fed­er­al fund­ing to main­tain our pub­lic water and sew­er sys­tems has declined 74 per­cent since its peak in the 1970s. On a per-capi­ta basis, that's an 82 per­cent drop. In 1977, the fed­er­al gov­ern­ment spent $76.27 per per­son (in 2014 dol­lars) on our water ser­vices but by 2014 that sup­port had fall­en to $13.68 per per­son. Pres­i­dent Trump's pro­pos­al to pri­va­tize water infra­struc­ture will do noth­ing to reverse this prob­lem of water injus­tice, and peo­ple would like­ly see the cost of their water bills increase while Trump's friends on Wall Street reap the profit.
A study from last year found that 12 per­cent of the pop­u­la­tion strug­gles to pay their water bills. In Min­neapo­lis, 3,500 homes lost water ser­vice for non­pay­ment in 2016 — affect­ing an esti­mat­ed 8,000 peo­ple — accord­ing to City of Min­neapo­lis data. That means no water to drink, cook or clean with, or bathe in. In many com­mu­ni­ties, unaf­ford­able water bills can lead to home­less­ness with homes lost to tax sale or evic­tion. This cri­sis can break up fam­i­lies and destroy communities.
There's one path for­ward for clean, afford­able water for all Amer­i­cans: We must rein­vest fed­er­al dol­lars into our water infra­struc­ture. This will take a com­mit­ment to pro­tect future gen­er­a­tions from the lead that lies below the ground in our decay­ing infra­struc­ture. Upgrad­ing our water sys­tems would cre­ate jobs, pro­tect our chil­dren, and ensure water justice.
Con­gress needs to have the vision to step in and save our tap water for future gen­er­a­tions. It must pass the WATER Act to make sure that clean, pub­licly owned and afford­able water doesn't become a dis­tant mem­o­ry for us all.
U.S. Rep. Kei­th Elli­son rep­re­sents the
5
th
Con­gres­sion­al Dis­trict of Min­neso­ta.Wenon­ah Hauter is exec­u­tive direc­tor of Food
&
amp; Water Watch, a nation­al advo­ca­cy organization.