Want to Elect Socialists? Run Them in Democratic Primaries
The Democratic Party is deeply flawed and repellent to left challenges—but it still offers the easiest path for socialists to win elections and build power now.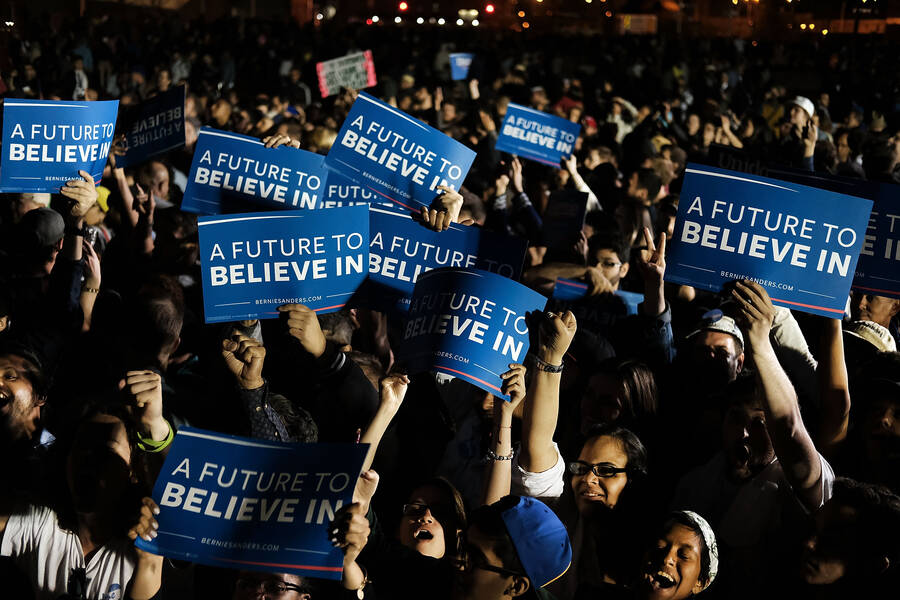 There are cur­rent­ly 7,383 state leg­is­la­tors in the Unit­ed States. Nine of them are affil­i­at­ed with the Ver­mont Pro­gres­sive Par­ty. One of them is an inde­pen­dent from Alas­ka who cau­cus­es with the Democrats.
This is the grand sum of the left pres­ence in Amer­i­can state leg­is­la­tures out­side the Demo­c­ra­t­ic Par­ty. There has been a sin­gle instance of fed­er­al-lev­el vic­to­ry in my life­time — Bernie Sanders's elec­tion as an inde­pen­dent to the U.S. House, then Sen­ate, in Ver­mont. No one else has even come close. And Sanders, after thir­ty years as an Inde­pen­dent, elect­ed to seek the pres­i­den­cy through the Demo­c­ra­t­ic primary.
In my state of Penn­syl­va­nia, many tal­ent­ed can­di­dates have attempt­ed to make a go of it run­ning for office through the Green Par­ty. Fifty-one of them have run for state office since 2000. Their vote totals ranged from 1.39% up to 19.26% — very impres­sive for a Green but still low­er than what even the more worth­less Demo­c­ra­t­ic chal­lengers reg­u­lar­ly pull in a pri­ma­ry. For com­par­i­son, less than a quar­ter of Demo­c­ra­t­ic pri­ma­ry chal­lengers for these state leg­isla­tive offices in Penn­syl­va­nia failed to achieve 20% of the vote in 2014.
On the oth­er side of the ledger, we have the recent record of left chal­lenges with­in the Demo­c­ra­t­ic Par­ty. We can look at the bot­tom, where the Cal­i­for­nia state par­ty has seen a Sanders sweep in del­e­gate elec­tions. We can look in the mid­dle, where Work­ing Fam­i­lies Par­ty (WFP)-backed chal­lengers swept a slate of incum­bents out of office in Rhode Island leg­isla­tive elec­tions in Sep­tem­ber. Or we can look at the top, where 22 statewide elec­tions were won by Sanders, an open demo­c­ra­t­ic social­ist, includ­ing hot­ly con­test­ed pri­maries in New Hamp­shire, Wis­con­sin and Michigan.
Hav­ing proven that we can win statewide elec­tions both at the bot­tom and top of the tick­et, as open demo­c­ra­t­ic social­ists, the Left should be sali­vat­ing at the oppor­tu­ni­ties pre­sent­ed by the 2018 pri­maries, bare­ly a year away. But this would involve strate­gi­cal­ly par­tic­i­pat­ing in Demo­c­ra­t­ic pri­maries, which, despite the Sanders expe­ri­ence, remains a bridge too far for some.
The expe­ri­ence of the can­di­dates endorsed by the Demo­c­ra­t­ic Social­ists of Amer­i­ca in the 2016 cycle reflects this. I worked on the cam­paign of Deb­bie Med­i­na, who, despite fac­ing a major scan­dal in the mid­dle of her cam­paign, won 40.56% of the vote in an elec­tion where 6,000 votes were need­ed to win. Had she run as a third-par­ty can­di­date in the gen­er­al, vic­to­ry would have required con­vinc­ing rough­ly 40,000 peo­ple to vote against a Demo­c­rat in deep-blue Brook­lyn — a her­culean task.
Com­pare this to Ian Schlak­man who ran for Bal­ti­more City Coun­cil on the Green Par­ty line. He ran a sol­id cam­paign, with sup­port in the com­mu­ni­ty, but still end­ed up with just 13% of the vote. Three thou­sand votes would have won the pri­ma­ry hand­i­ly, where­as the gen­er­al was won with over 9,000.
These are stark num­bers, and point to a real­i­ty for any­one in a Demo­c­ra­t­ic area: Pri­ma­ry cam­paigns pro­vide real oppor­tu­ni­ties for left­ists to com­pete and win. Cam­paigns off the par­ty line, in all but the rarest cas­es, do not.
Pri­ma­ry challenges
Long­time labor writer and Labor Notes co-founder Kim Moody's recent piece in Jacobin, ​"From Realign­ment to Rein­force­ment," argues against engag­ing in Demo­c­ra­t­ic pri­maries, cen­ter­ing large­ly around an exten­sive tax­on­o­my of the monied forces that con­trol the Demo­c­ra­t­ic Par­ty. One can­not argue with Moody's con­tention that those cur­rent­ly in con­trol of the par­ty are rich, pow­er­ful and odi­ous. They are also, as Moody points out, firm­ly deter­mined to repel left chal­lenges with­in the par­ty. These same inter­ests poured mil­lions into the Hillary Clin­ton cam­paign, and pour mil­lions more into incum­ben­cy pro­tec­tion every cycle. These argu­ments are being ampli­fied in the wake of Kei­th Ellison's defeat in his run for DNC chair.
Fair enough. And yet Moody fails to make a strong case for why third par­ty activ­i­ty holds any more promise, or to actu­al­ly gauge the short-term prospects for left vic­to­ry in Demo­c­ra­t­ic pri­maries. Much of the piece skirts this cen­tral con­sid­er­a­tion altogether.
"In gen­er­al," writes Moody, ​"because they are already well-known, incum­bents at all lev­els are able to gain impor­tant endorse­ments, union back­ing, and sup­port from par­ty activists; attract what media atten­tion there is; and raise sev­er­al times what most chal­lengers can muster." Moody fails to men­tion that these chal­lenges also apply to a third par­ty run, where they are even more pro­nounced. Unions, media atten­tion, mon­ey and endorse­ments may be in short sup­ply for left pri­ma­ry chal­lengers but it can be even hard­er to find them as a third partier.
This basic fal­la­cy sits at the core of Amer­i­can third par­ty advo­ca­cy. End­less ink is spilled on the strength and resilience of the Demo­c­ra­t­ic estab­lish­ment. But why would that tremen­dous­ly strong estab­lish­ment be any more vul­ner­a­ble to a third par­ty challenge?
The track record laid out above is sim­ple, it's stark and there's no way around it. The Demo­c­ra­t­ic Par­ty estab­lish­ment is vul­ner­a­ble — to pri­ma­ry chal­lenges. The recent record of third par­ty com­pe­ti­tion in par­ti­san races in the Unit­ed States is one of unmit­i­gat­ed fail­ure at near­ly every lev­el. Thanks to the Sanders cam­paign, the case for left chal­lenges with­in the Demo­c­ra­t­ic Par­ty has nev­er been stronger.
Bizarrely, Moody points to the Sanders cam­paign as a case argu­ing against engag­ing with the Demo­c­ra­t­ic Par­ty. ​"Of the 3,170 Demo­c­ra­t­ic state leg­is­la­tors," writes Moody, ​"Sanders won the endorse­ment of 91, less than 3 per­cent." True — and yet he received over 43% of the total pri­ma­ry vote. It would seem that the insti­tu­tion­al Demo­c­ra­t­ic Par­ty has rel­a­tive­ly lit­tle clout among its own base.
The idea that the Sanders cam­paign proved that we need to aban­don the Demo­c­ra­t­ic pri­ma­ry is among the most con­fus­ing on the Left. We all just par­tic­i­pat­ed in the most inter­est­ing (and cer­tain­ly the biggest) social­ist elec­toral project ever to take place in the Unit­ed States. But that project took place with­in the Demo­c­ra­t­ic Par­ty, and a vocal seg­ment of the Amer­i­can Left seems to believe that we should nev­er do it again.
We need to take this strate­gic gap between Demo­c­ra­t­ic and third-par­ty chal­lenges very seri­ous­ly. Thou­sands of local left-to-pro­gres­sive for­ma­tions are spring­ing up or grow­ing, from DSA to Indi­vis­i­ble to the Work­ing Fam­i­lies Par­ty. Many of them will, in 2018, have the abil­i­ty to draft and run can­di­dates for office. They will have two choic­es: one, run a can­di­date in the Demo­c­ra­t­ic pri­ma­ry, with a far low­er win num­ber than the gen­er­al, no spoil­er issue, no third-par­ty stig­ma, and a chance to win — join­ing the long list of left­ists elect­ed as Democ­rats. Two, go the inde­pen­dent route and hope that where hun­dreds upon hun­dreds of left third-par­ty chal­lengers have failed, they will succeed.
These local cam­paigns are use­ful as path­ways for left for­ma­tions to build coali­tions and recruit allies. The first ques­tion of any poten­tial ally regard­ing a local elec­tion run is one of via­bil­i­ty. A social­ist run­ning in a Demo­c­ra­t­ic pri­ma­ry can point to Bernie Sanders' result in their dis­trict, or to any num­ber of recent pro­gres­sive chal­lengers. Should a can­di­date out­side the pri­ma­ry point to Jill Stein's 1%? Nader's 3%? The Labor Party?
Out­side of extra­or­di­nary cas­es, a good left third-par­ty can­di­date gets 15 – 20% of the vote in a par­ti­san race with­out a Demo­c­rat where­as they attain 3 – 5% in a race with one. A Demo­c­ra­t­ic pri­ma­ry chal­lenger can sleep­walk to 20%. Local activists need to under­stand this, and take a hard look at what can and can­not be done out­side the primary.
These num­bers are nowhere to be found in Moody's piece. ​"It's time for social­ists to build an alter­na­tive," Moody argues instead. ​"The base is there in cities of all sizes. It is there among thou­sands of Sanderis­tas with no place to go. It is there in mil­i­tant unions and among union insur­gents fight­ing to change their unions — many of whom sup­port­ed Sanders — as well as among activists from Black Lives Mat­ter, Fight for 15, immi­grants' rights groups, and work­ers cen­ters. It is there among the mil­lions of work­ing-class African Amer­i­cans and Lati­nos who have seen both major par­ties let their neigh­bor­hoods dete­ri­o­rate. And it is even to be found among those ​'left behind' white work­ers who vot­ed for Trump."
But as Adolph Reed argued thir­ty years ago, ​"no pop­u­lar base cur­rent­ly exists with­in the black com­mu­ni­ty for wide-scale polit­i­cal orga­ni­za­tion inde­pen­dent of the Demo­c­ra­t­ic par­ty." Since then, noth­ing has hap­pened to prove him wrong. Con­jec­tur­ing ​"mil­lions of work­ing-class African-Amer­i­cans and Lati­nos" (and work­er cen­ters) as some sort of nascent base for a third-par­ty is based on noth­ing more than a wish, and one can­not build a win­ning elec­toral cam­paign around a wish.
This is, ulti­mate­ly, the weak­est aspect with Moody's piece and oth­ers like it. It returns to the Left's vision of itself as start­ing com­plete­ly from scratch, hop­ing to go from zero to hero, to ignite a ​"mass base" of mil­lions that is cur­rent­ly com­plete­ly inchoate. We don't have to fol­low this script. We have the bench­mark of the Sanders cam­paign. We have hard num­bers, a sol­id gauge of our strength. It is much more plau­si­ble to build an elec­toral force from that than from nothing.
A time to win
The 2018 elec­tion cycle is an enor­mous oppor­tu­ni­ty. The mil­lions who have marched against Pres­i­dent Trump are look­ing to those elec­tions as the next great oppor­tu­ni­ty to stop him. Those on the Left, by tak­ing a lead role in push­ing our can­di­dates, can seize and direct this ener­gy. Choos­ing this moment to adopt elec­toral strate­gies that have vir­tu­al­ly no prospect of win­ning elec­tions in 2018 would squan­der the oppor­tu­ni­ty at hand.
At this point in dis­cus­sion around the Demo­c­ra­t­ic pri­ma­ry, advo­cates of a new par­ty gen­er­al­ly assert that, while iso­lat­ed suc­cess­es may be pos­si­ble, the par­ty itself, to use Moody's word, is ​"impreg­nable." In this vision, the par­ty estab­lish­ment is a mem­brane. It may allow iso­lat­ed vic­to­ries (such as that of Sanders back­ers in Cal­i­for­nia) but will sim­ply flood the are­na with over­whelm­ing resources should there be any real pos­si­bil­i­ty of realign­ment. Giv­en this, goes the argu­ment, let's not waste time putting resources into a par­ty that will nev­er be ours. Let's build our own for­ma­tion, so at least we have a ban­ner for the long, long march ahead. In this for­mu­la­tion, par­tic­i­pa­tion in the pri­maries sim­ply delays this long march.
Let's assume that they are right and that whole­sale realign­ment is indeed impos­si­ble — an asser­tion that may well be true. This is irrel­e­vant to the imme­di­ate tac­ti­cal ques­tion, giv­en that an inde­pen­dent force can be built and nur­tured while con­tin­u­ing to engage in Demo­c­ra­t­ic primaries.
Seth Ackerman's Jacobin piece ​"The Par­ty We Need" right­ly calls for a new mass par­ty on the Left in which ​"deci­sions about how indi­vid­ual can­di­dates appear on the bal­lot would be made on a case-by-case basis and on prag­mat­ic grounds." This mod­el is the best of both worlds.
A strat­e­gy of using Demo­c­ra­t­ic pri­maries to win pow­er does not pre­clude oth­er orga­niz­ing out­side the Demo­c­ra­t­ic Par­ty in non-par­ti­san races at more local lev­els. Kshama Sawan­t's suc­cess in Seat­tle as a Social­ist Alter­na­tive-backed city coun­cil mem­ber is instruc­tive for run­ning in these types of races.
But orga­niz­ing for social­ist pol­i­tics and a left agen­da should not be mutu­al­ly exclu­sive from build­ing pow­er through win­ning Demo­c­ra­t­ic pri­maries now. We can form our new mass par­ty with­out a guid­ing prin­ci­ple that this par­ty must always have its own bal­lot line — a strat­e­gy that has already served to build third par­ties like the WFP that by and large make their bones in the Demo­c­ra­t­ic primary.
We don't have to put all our eggs in the realign­ment bas­ket. We can adopt a strat­e­gy that takes advan­tage of the low bar­ri­er to entry of the Demo­c­ra­t­ic pri­ma­ry, and use those vic­to­ries to build our own forces — forces that, once strong enough, could plau­si­bly break from the par­ty. Let's choose that strat­e­gy, and start elect­ing socialists.
Daniel Moraff
is a writer, orga­niz­er and mem­ber of the Demo­c­ra­t­ic Social­ists of Amer­i­ca. He served as the cam­paign man­ag­er for the Deb­bie Med­i­na for State Sen­ate cam­paign in Brook­lyn in
2016
.