If the Left Wants to Win Elections, It Should Heed the Lessons of This Progressive Third Party
Left groups engaging in electoral politics today can learn from the trials, errors and successes of the Working Families Party.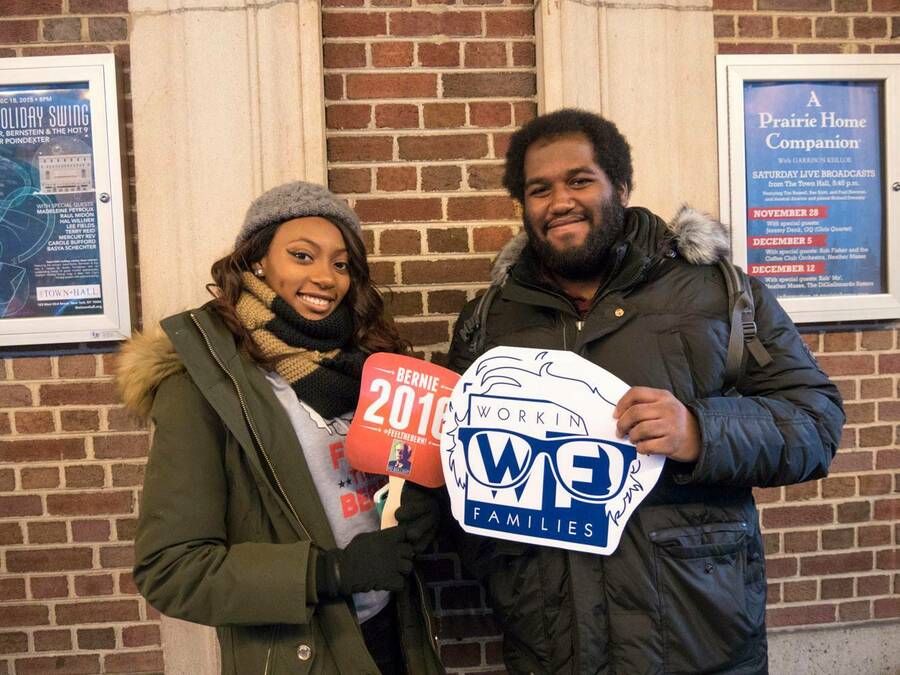 Eight months into Donald Trump's presidency — and with the 2018 elections fast approaching — the question of how the Left should engage with electoral politics is again being hotly debated. Should left groups follow Bernie Sanders' lead and work within the Democratic Party; should they strike out with a third-party strategy; or should they eschew electoral work altogether in favor of strict movement building?
Through its expansion, the party is already putting the core insight of Ackerman's proposal into practice: that a new party can be built even where electoral law makes maintaining an independent ballot line difficult, or even impossible.
With energy mounting behind the growing ​"resistance" movements, and with groups such as the Democratic Socialists of America (DSA) swelling in ranks, this debate will prove crucial in determining what role the Left plays in the coming election cycles.
One of the most valuable contributions to this discussion is Seth Ackerman's 2016 Jacobin essay ​"A Blueprint for a New Party." Ackerman presents the challenges of organizing for left politics within a Democratic Party that relies heavily on corporate support and an undemocratic internal structure. He also lays out the enormous legal and political obstacles facing progressive third-party candidacies in the United States.
As an alternative, Ackerman makes the case for a new party that operates independently of the Democratic establishment but runs candidates on Democratic ballot lines when tactically advantageous.
Ackerman presents a number of familiar prescriptions: This new party should be democratically organized, rooted in the working class and social movements, and supported by organized labor. But the key to making this strategy work, in Ackerman's eyes, is that this new party would have the flexibility to operate either on or off the Democratic Party ballot line, circumventing the restrictive ballot access rules that hamstring many independent electoral efforts before they even begin. This strategy properly places the question of what ballot line to run on in a tactical rather than purely ideological framework.
The argument is refreshing and compelling. However, the weakest aspect of the piece is its dismissal of the Working Families Party (WFP). Whatever excitement may have been generated by the Labor Party effort of the 1990s, which receives much more attention in the piece, it only ever ran one candidate for elected office. This is largely because the Labor Party was stuck debating the central dilemma for third party advocates in the U.S. two party system: how to run candidates independently without playing a spoiler role (that is, taking votes from their ideologically closest opponent in the race, generally a Democrat). Consequently, the Labor Party effort offers fewer lessons than one might expect. The WFP, on the other hand, is an existing electoral operation rooted in the labor movement that actually runs candidates for office, with many notable successes under its belt.
Ackerman largely dismisses the WFP due to the party's endorsement of Andrew Cuomo in 2014. Endorsing Cuomo, a neoliberal Democrat, drew the ire of many on the Left, and understandably so. But, taking our cue from Ackerman, instead of rejecting the WFP based on its Cuomo endorsement, we should examine the party's decision closely as an example of the type of tactical dilemmas left parties face when they enter the electoral arena: how to develop an energetic base, while maintaining support from organized labor in order to navigate the treacherous terrain of electoral politics in the United States.
Lessons from the Cuomo endorsement
The WFP's electoral model grew out of New York State's ​"fusion" balloting, which allows a single candidate to run on multiple party lines. This law has led to a proliferation of semi-independent parties, including the Conservative, Independence and Liberal Parties. In order to maintain their ballot lines, parties in New York must receive at least 50,000 votes in the gubernatorial race, either by endorsing one of the major party candidates and attracting their votes to an independent line, or by running their own candidate for governor, as the Green Party does.
Maintaining a line is no easy feat. The Liberal Party failed to reach the necessary vote threshold in the 2002 election, a misstep that cost it its ballot line permanently. Its mistake was endorsing a Democratic gubernatorial candidate who dropped out of the primary too late for the party to withdraw its endorsement, leaving the party unable to reach the necessary vote threshold. It's no small irony that the candidate whose failed campaign lost the Liberal Party its ballot line was Andrew Cuomo, in his first run for governor.

In 1998, shortly before the Liberal Party's demise, the WFP stepped onto the scene, launched by activists behind the New Party, ACORN and progressive segments of the labor movement.
The New Party had been formed by organizers Dan Cantor and Joel Rogers in 1992 but was aborted by 1998, after the group lost a Supreme Court case that would have rendered all laws banning fusion ballots unconstitutional.
Following the loss, New Party leaders decided to continue the fusion model, but solely in New York. In its first election, in 1998, the WFP fell 5,000 votes short of the required 50,000, but did a hand recount that turned up some 6,000 uncounted votes, putting it just past the threshold. The party has since grown its membership, and racked up some serious wins, but the path has not been easy — or free of conflict.
Criticisms of the WFP's gubernatorial endorsements, key to building the organization's power, go all the way back to 1998. As recently as 2010, the party had to beg Andrew Cuomo to allow them to endorse him, lest they lose their ballot line. The WFP even went so far as to sign a pledge to support Cuomo's austerity agenda, with cuts to state spending including for union contracts.
Sixteen years after the party's founding, the 2014 elections presented a major opportunity for the WFP to flex political muscle in New York state. Bill de Blasio, a close ally of the WFP, had just won the New York City mayoral election the year before. Party leaders had close relationships with the new mayor, whose political career they had helped to develop. De Blasio's victory helped signal the WFP's growing political power in New York.
The choice between endorsing the incumbent, Cuomo, or his progressive primary challenger, Zephyr Teachout — whom party leaders had themselves recruited to the race — came down to a raucous 700-person convention. It was a nerve-racking and inspiring display of real democracy in action.
Yet this excitement was dampened by what, for many, was a dispiriting outcome. Teachout's impassioned speech to the convention could not have contrasted more starkly with the robotic video message from Gov. Cuomo, which many described as " a hostage tape." But in a reversal of the WFP's humiliation four years earlier when it signed onto Cuomo's agenda, this time Cuomo publicly committed to a laundry list of the party's priorities including the DREAM Act, a higher minimum wage and campaign finance reform.
On the convention floor, those in favor of endorsing Cuomo argued: Why back a long-shot challenger and risk our entire political project, when the likely winner is endorsing our agenda?
But behind the scenes, a different, and perhaps even more compelling argument was being made for Cuomo's endorsement. Every major union that supported the WFP had lined up behind Cuomo, in some cases wringing their own concessions from him. Some of those unions — most notably SEIU Local 1199 — pressured WFP leaders not to endorse Teachout, and in exchange, agreed to stop endorsing pro-labor ​"lite" Republicans. If sincere, this agreement had the potential to alter the New York State political terrain. With or without these concessions, however, unions had a strong incentive to stick with an incumbent who was highly likely to win re-election, and who directly and indirectly influenced their members' contracts.
These unions constituted the primary funding base of the WFP and were threatening to withdraw if Teachout earned the party's endorsement. By the day of the convention, a Teachout endorsement seemed to not only carry the external threat of a potential failed campaign costing WFP its party status, but also an internal threat of the party losing its funding, its connection to union workers and its identity as New York's de facto labor party.
In the general election, Cuomo went on to win over his Republican challenger by a comfortable margin. Following his victory, however, Cuomo went back on a number of the core promises he made to WFP at the convention, including his commitment to help return the state Senate to Democratic control. Once the endorsement was made, the party had significantly less leverage over a sitting governor, who said as much shortly after the convention, telling reporters, ​"It's very simple, at these political conventions, you either win or you lose. And I won."
Nevertheless, a number of the policy outcomes that the WFP championed did come to pass with Cuomo's involvement, including the historic increase in New York's minimum wage.
These are the challenges and dilemmas that any left party will have to confront as it attempts to build electoral power: undemocratic electoral laws and a historically weak and divided labor movement. Rather than dismissing the WFP, then, we should name and assess these challenges and dilemmas.
Working with labor
How can a party that relies on funding and support from the labor movement endorse independent progressive candidates in the face of opposition from union leadership?
The 2016 Democratic primary offers one lesson in the emergence of the rank-and-file-driven Labor for Bernie network. This group helped members put pressure on their unions to support Sanders, or voice dissent if leadership went against the membership's will.
If a Labor for Zephyr network had existed in 2014, it might have weakened labor leaders' nearly united front against Teachout. Supporting the growth of these types of bottom-up networks could help the party connect with rank-and-file union members, and make the case directly to membership for progressive political endorsements.
But at best, networks like Labor for Bernie are only a partial solution. They don't address the fundamental problems facing third parties such as the WFP: How can the party operate independently while reliant on union funding, and how can membership be activated into the kind of mass party model prescribed by Ackerman?
Simply abandoning the support of major unions would be strategically unwise. While today's labor movement is at a historical weak point, it still represents the most powerful vehicle for the organized working class to fight for their interests. And at the very least, the WFP experience shows that it is possible to convince major labor unions to put financial support behind a formal political party other than Democrats and Republicans.
In its early days, the WFP recruited directly from the ranks of union members, but the party has gradually moved away from this model. Formally, it still has chapters for individual party members who are monthly sustainers, but outside Brooklyn — the party's home — these entities are relatively dormant.
This missing mass base is a major limitation on the party's influence. If there was ever a moment to work toward such a mass party model, it is now, as civic engagement increases under the threats to our democracy posed by Trump's presidency. The WFP is currently grappling with how to integrate the surge of new activists that came out of the Bernie campaign, and to balance their energy with the organized interests of the labor unions that fund the organization. This is not an easy task, but it is one that any serious left party must perform.
How to get much bigger, faster
While the WFP was founded under the belief that fusion voting was the key to electing progressive candidates through an inside/​outside approach to the Democratic Party, recent years have seen the party grow in places without fusion laws on the books.
In 2008, the party moved beyond New York and Connecticut to open up shop in New Jersey, operating on the Democratic Party ballot line, but still building a unique party identity. Inspired by the Tea Party explosion in 2010, which catapulted conservatives to office nationwide, the WFP has since founded state organizations to elect progressives in Oregon, Maryland, Pennsylvania, Wisconsin, Rhode Island, Nevada, New Mexico and Washington, D.C.
At this point, the WFP also has individual members in all 50 states, if not yet an organizational presence. The party has performed successfully in Democratic Primaries (Rhode Island), non-partisan primaries (Ohio) and even won elections on their own line without the Democrats (Connecticut and New York). And on this relatively newer terrain, they have been a part of important minimum wage and paid sick days victories in D.C., Milwaukee, Wisconsin, Philadelphia and in 13 municipalities across New Jersey.
Through its expansion, the party is already putting the core insight of Ackerman's proposal into practice: that a new party can be built even where electoral law makes maintaining an independent ballot line difficult, or even impossible. The Rhode Island case is telling. Even without access to its own ballot line, in the 2016 Democratic primary, the WFP helped replace incumbent State House Majority Leader John DeSimone with progressive challenger Marcia Ranglin-Vassell. Three other candidates endorsed by the WFP also won their races in the primary contests.
Whether you agree with how the WFP has attempted to resolve the dilemmas it has faced, there are many lessons to be learned from the party's experience, especially as left organizations like the DSA attempt to run left candidates for office this year, next year and beyond.
Limited time: $10 gift subscriptions
We've made it easier and more affordable to give the gift of In These Times than ever. Give a shining example of a free, independent press to all the progressive thinkers on your gift list. For a limited time, 12-issue gift subscriptions are just $10.
Sam Lewis is a union organizer and member of Democratic Socialists of America. He lives in Brooklyn, New York.Luke Elliott-Negri holds a leadership position in the Professional Staff Congress, AFT Local
2334
. He is a PhD student at the CUNY Graduate Center, where he studies political parties and social movements. Luke sits on the New York State Committee of the Working Families Party and is a member of the Democratic Socialists of America.
Special Offer: Gift subscriptions for just $10
For a limited time, you can give a gift subscription to In These Times magazine for just $10.