If the Left Wants to Win Elections, It Should Heed the Lessons of This Progressive Third Party
Left groups engaging in electoral politics today can learn from the trials, errors and successes of the Working Families Party.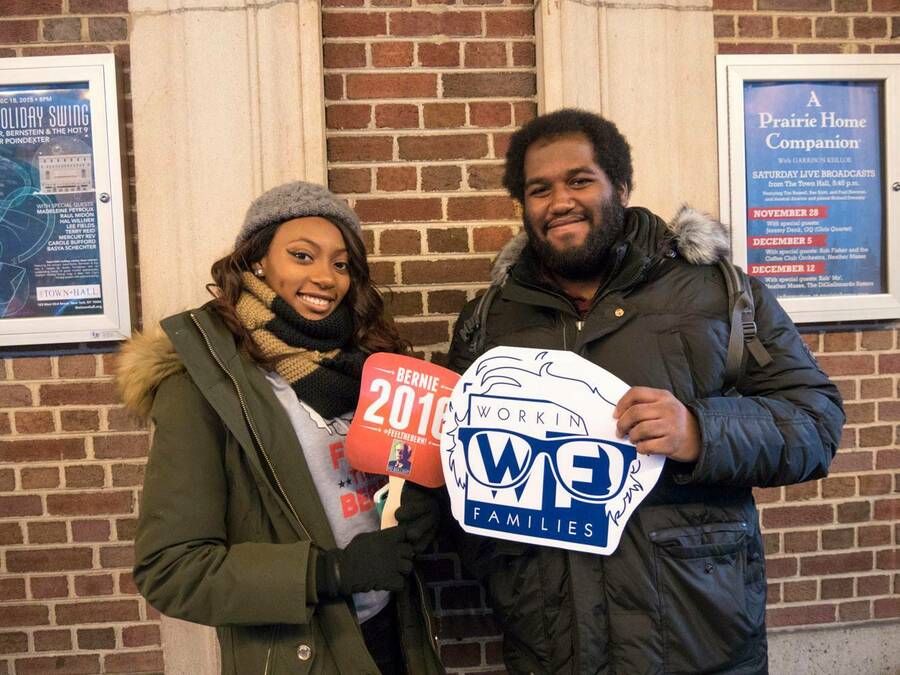 Eight months into Don­ald Trump's pres­i­den­cy — and with the 2018 elec­tions fast approach­ing — the ques­tion of how the Left should engage with elec­toral pol­i­tics is again being hot­ly debat­ed. Should left groups fol­low Bernie Sanders' lead and work with­in the Demo­c­ra­t­ic Par­ty; should they strike out with a third-par­ty strat­e­gy; or should they eschew elec­toral work alto­geth­er in favor of strict move­ment building?
Through its expansion, the party is already putting the core insight of Ackerman's proposal into practice: that a new party can be built even where electoral law makes maintaining an independent ballot line difficult, or even impossible.
With ener­gy mount­ing behind the grow­ing ​"resis­tance" move­ments, and with groups such as the Demo­c­ra­t­ic Social­ists of Amer­i­ca (DSA) swelling in ranks, this debate will prove cru­cial in deter­min­ing what role the Left plays in the com­ing elec­tion cycles.
One of the most valu­able con­tri­bu­tions to this dis­cus­sion is Seth Ackerman's 2016 Jacobin essay ​"A Blue­print for a New Par­ty." Ack­er­man presents the chal­lenges of orga­niz­ing for left pol­i­tics with­in a Demo­c­ra­t­ic Par­ty that relies heav­i­ly on cor­po­rate sup­port and an unde­mo­c­ra­t­ic inter­nal struc­ture. He also lays out the enor­mous legal and polit­i­cal obsta­cles fac­ing pro­gres­sive third-par­ty can­di­da­cies in the Unit­ed States.
As an alter­na­tive, Ack­er­man makes the case for a new par­ty that oper­ates inde­pen­dent­ly of the Demo­c­ra­t­ic estab­lish­ment but runs can­di­dates on Demo­c­ra­t­ic bal­lot lines when tac­ti­cal­ly advantageous.
Ack­er­man presents a num­ber of famil­iar pre­scrip­tions: This new par­ty should be demo­c­ra­t­i­cal­ly orga­nized, root­ed in the work­ing class and social move­ments, and sup­port­ed by orga­nized labor. But the key to mak­ing this strat­e­gy work, in Ackerman's eyes, is that this new par­ty would have the flex­i­bil­i­ty to oper­ate either on or off the Demo­c­ra­t­ic Par­ty bal­lot line, cir­cum­vent­ing the restric­tive bal­lot access rules that ham­string many inde­pen­dent elec­toral efforts before they even begin. This strat­e­gy prop­er­ly places the ques­tion of what bal­lot line to run on in a tac­ti­cal rather than pure­ly ide­o­log­i­cal framework.
The argu­ment is refresh­ing and com­pelling. How­ev­er, the weak­est aspect of the piece is its dis­missal of the Work­ing Fam­i­lies Par­ty (WFP). What­ev­er excite­ment may have been gen­er­at­ed by the Labor Par­ty effort of the 1990s, which receives much more atten­tion in the piece, it only ever ran one can­di­date for elect­ed office. This is large­ly because the Labor Par­ty was stuck debat­ing the cen­tral dilem­ma for third par­ty advo­cates in the U.S. two par­ty sys­tem: how to run can­di­dates inde­pen­dent­ly with­out play­ing a spoil­er role (that is, tak­ing votes from their ide­o­log­i­cal­ly clos­est oppo­nent in the race, gen­er­al­ly a Demo­c­rat). Con­se­quent­ly, the Labor Par­ty effort offers few­er lessons than one might expect. The WFP, on the oth­er hand, is an exist­ing elec­toral oper­a­tion root­ed in the labor move­ment that actu­al­ly runs can­di­dates for office, with many notable suc­cess­es under its belt.
Ack­er­man large­ly dis­miss­es the WFP due to the party's endorse­ment of Andrew Cuo­mo in 2014. Endors­ing Cuo­mo, a neolib­er­al Demo­c­rat, drew the ire of many on the Left, and under­stand­ably so. But, tak­ing our cue from Ack­er­man, instead of reject­ing the WFP based on its Cuo­mo endorse­ment, we should exam­ine the party's deci­sion close­ly as an exam­ple of the type of tac­ti­cal dilem­mas left par­ties face when they enter the elec­toral are­na: how to devel­op an ener­getic base, while main­tain­ing sup­port from orga­nized labor in order to nav­i­gate the treach­er­ous ter­rain of elec­toral pol­i­tics in the Unit­ed States.
Lessons from the Cuo­mo endorsement
The WFP's elec­toral mod­el grew out of New York State's ​"fusion" bal­lot­ing, which allows a sin­gle can­di­date to run on mul­ti­ple par­ty lines. This law has led to a pro­lif­er­a­tion of semi-inde­pen­dent par­ties, includ­ing the Con­ser­v­a­tive, Inde­pen­dence and Lib­er­al Par­ties. In order to main­tain their bal­lot lines, par­ties in New York must receive at least 50,000 votes in the guber­na­to­r­i­al race, either by endors­ing one of the major par­ty can­di­dates and attract­ing their votes to an inde­pen­dent line, or by run­ning their own can­di­date for gov­er­nor, as the Green Par­ty does.
Main­tain­ing a line is no easy feat. The Lib­er­al Par­ty failed to reach the nec­es­sary vote thresh­old in the 2002 elec­tion, a mis­step that cost it its bal­lot line per­ma­nent­ly. Its mis­take was endors­ing a Demo­c­ra­t­ic guber­na­to­r­i­al can­di­date who dropped out of the pri­ma­ry too late for the par­ty to with­draw its endorse­ment, leav­ing the par­ty unable to reach the nec­es­sary vote thresh­old. It's no small irony that the can­di­date whose failed cam­paign lost the Lib­er­al Par­ty its bal­lot line was Andrew Cuo­mo, in his first run for governor.

In 1998, short­ly before the Lib­er­al Party's demise, the WFP stepped onto the scene, launched by activists behind the New Par­ty, ACORN and pro­gres­sive seg­ments of the labor movement.
The New Par­ty had been formed by orga­niz­ers Dan Can­tor and Joel Rogers in 1992 but was abort­ed by 1998, after the group lost a Supreme Court case that would have ren­dered all laws ban­ning fusion bal­lots unconstitutional.
Fol­low­ing the loss, New Par­ty lead­ers decid­ed to con­tin­ue the fusion mod­el, but sole­ly in New York. In its first elec­tion, in 1998, the WFP fell 5,000 votes short of the required 50,000, but did a hand recount that turned up some 6,000 uncount­ed votes, putting it just past the thresh­old. The par­ty has since grown its mem­ber­ship, and racked up some seri­ous wins, but the path has not been easy — or free of conflict.
Crit­i­cisms of the WFP's guber­na­to­r­i­al endorse­ments, key to build­ing the organization's pow­er, go all the way back to 1998. As recent­ly as 2010, the par­ty had to beg Andrew Cuo­mo to allow them to endorse him, lest they lose their bal­lot line. The WFP even went so far as to sign a pledge to sup­port Cuomo's aus­ter­i­ty agen­da, with cuts to state spend­ing includ­ing for union contracts.
Six­teen years after the party's found­ing, the 2014 elec­tions pre­sent­ed a major oppor­tu­ni­ty for the WFP to flex polit­i­cal mus­cle in New York state. Bill de Bla­sio, a close ally of the WFP, had just won the New York City may­oral elec­tion the year before. Par­ty lead­ers had close rela­tion­ships with the new may­or, whose polit­i­cal career they had helped to devel­op. De Blasio's vic­to­ry helped sig­nal the WFP's grow­ing polit­i­cal pow­er in New York.
The choice between endors­ing the incum­bent, Cuo­mo, or his pro­gres­sive pri­ma­ry chal­lenger, Zephyr Tea­chout — whom par­ty lead­ers had them­selves recruit­ed to the race — came down to a rau­cous 700-per­son con­ven­tion. It was a nerve-rack­ing and inspir­ing dis­play of real democ­ra­cy in action.
Yet this excite­ment was damp­ened by what, for many, was a dispir­it­ing out­come. Teachout's impas­sioned speech to the con­ven­tion could not have con­trast­ed more stark­ly with the robot­ic video mes­sage from Gov. Cuo­mo, which many described as " a hostage tape." But in a rever­sal of the WFP's humil­i­a­tion four years ear­li­er when it signed onto Cuomo's agen­da, this time Cuo­mo pub­licly com­mit­ted to a laun­dry list of the par­ty's pri­or­i­ties includ­ing the DREAM Act, a high­er min­i­mum wage and cam­paign finance reform.
On the con­ven­tion floor, those in favor of endors­ing Cuo­mo argued: Why back a long-shot chal­lenger and risk our entire polit­i­cal project, when the like­ly win­ner is endors­ing our agenda?
But behind the scenes, a dif­fer­ent, and per­haps even more com­pelling argu­ment was being made for Cuomo's endorse­ment. Every major union that sup­port­ed the WFP had lined up behind Cuo­mo, in some cas­es wring­ing their own con­ces­sions from him. Some of those unions — most notably SEIU Local 1199 — pres­sured WFP lead­ers not to endorse Tea­chout, and in exchange, agreed to stop endors­ing pro-labor ​"lite" Repub­li­cans. If sin­cere, this agree­ment had the poten­tial to alter the New York State polit­i­cal ter­rain. With or with­out these con­ces­sions, how­ev­er, unions had a strong incen­tive to stick with an incum­bent who was high­ly like­ly to win re-elec­tion, and who direct­ly and indi­rect­ly influ­enced their mem­bers' contracts.
These unions con­sti­tut­ed the pri­ma­ry fund­ing base of the WFP and were threat­en­ing to with­draw if Tea­chout earned the party's endorse­ment. By the day of the con­ven­tion, a Tea­chout endorse­ment seemed to not only car­ry the exter­nal threat of a poten­tial failed cam­paign cost­ing WFP its par­ty sta­tus, but also an inter­nal threat of the par­ty los­ing its fund­ing, its con­nec­tion to union work­ers and its iden­ti­ty as New York's de fac­to labor party.
In the gen­er­al elec­tion, Cuo­mo went on to win over his Repub­li­can chal­lenger by a com­fort­able mar­gin. Fol­low­ing his vic­to­ry, how­ev­er, Cuo­mo went back on a num­ber of the core promis­es he made to WFP at the con­ven­tion, includ­ing his com­mit­ment to help return the state Sen­ate to Demo­c­ra­t­ic con­trol. Once the endorse­ment was made, the par­ty had sig­nif­i­cant­ly less lever­age over a sit­ting gov­er­nor, who said as much short­ly after the con­ven­tion, telling reporters, ​"It's very sim­ple, at these polit­i­cal con­ven­tions, you either win or you lose. And I won."
Nev­er­the­less, a num­ber of the pol­i­cy out­comes that the WFP cham­pi­oned did come to pass with Cuomo's involve­ment, includ­ing the his­toric increase in New York's min­i­mum wage.
These are the chal­lenges and dilem­mas that any left par­ty will have to con­front as it attempts to build elec­toral pow­er: unde­mo­c­ra­t­ic elec­toral laws and a his­tor­i­cal­ly weak and divid­ed labor move­ment. Rather than dis­miss­ing the WFP, then, we should name and assess these chal­lenges and dilemmas.
Work­ing with labor
How can a par­ty that relies on fund­ing and sup­port from the labor move­ment endorse inde­pen­dent pro­gres­sive can­di­dates in the face of oppo­si­tion from union leadership?
The 2016 Demo­c­ra­t­ic pri­ma­ry offers one les­son in the emer­gence of the rank-and-file-dri­ven Labor for Bernie net­work. This group helped mem­bers put pres­sure on their unions to sup­port Sanders, or voice dis­sent if lead­er­ship went against the membership's will.
If a Labor for Zephyr net­work had exist­ed in 2014, it might have weak­ened labor lead­ers' near­ly unit­ed front against Tea­chout. Sup­port­ing the growth of these types of bot­tom-up net­works could help the par­ty con­nect with rank-and-file union mem­bers, and make the case direct­ly to mem­ber­ship for pro­gres­sive polit­i­cal endorsements.
But at best, net­works like Labor for Bernie are only a par­tial solu­tion. They don't address the fun­da­men­tal prob­lems fac­ing third par­ties such as the WFP: How can the par­ty oper­ate inde­pen­dent­ly while reliant on union fund­ing, and how can mem­ber­ship be acti­vat­ed into the kind of mass par­ty mod­el pre­scribed by Ackerman?
Sim­ply aban­don­ing the sup­port of major unions would be strate­gi­cal­ly unwise. While today's labor move­ment is at a his­tor­i­cal weak point, it still rep­re­sents the most pow­er­ful vehi­cle for the orga­nized work­ing class to fight for their inter­ests. And at the very least, the WFP expe­ri­ence shows that it is pos­si­ble to con­vince major labor unions to put finan­cial sup­port behind a for­mal polit­i­cal par­ty oth­er than Democ­rats and Republicans.
In its ear­ly days, the WFP recruit­ed direct­ly from the ranks of union mem­bers, but the par­ty has grad­u­al­ly moved away from this mod­el. For­mal­ly, it still has chap­ters for indi­vid­ual par­ty mem­bers who are month­ly sus­tain­ers, but out­side Brook­lyn — the party's home — these enti­ties are rel­a­tive­ly dormant.
This miss­ing mass base is a major lim­i­ta­tion on the party's influ­ence. If there was ever a moment to work toward such a mass par­ty mod­el, it is now, as civic engage­ment increas­es under the threats to our democ­ra­cy posed by Trump's pres­i­den­cy. The WFP is cur­rent­ly grap­pling with how to inte­grate the surge of new activists that came out of the Bernie cam­paign, and to bal­ance their ener­gy with the orga­nized inter­ests of the labor unions that fund the orga­ni­za­tion. This is not an easy task, but it is one that any seri­ous left par­ty must perform.
How to get much big­ger, faster
While the WFP was found­ed under the belief that fusion vot­ing was the key to elect­ing pro­gres­sive can­di­dates through an inside/​outside approach to the Demo­c­ra­t­ic Par­ty, recent years have seen the par­ty grow in places with­out fusion laws on the books.
In 2008, the par­ty moved beyond New York and Con­necti­cut to open up shop in New Jer­sey, oper­at­ing on the Demo­c­ra­t­ic Par­ty bal­lot line, but still build­ing a unique par­ty iden­ti­ty. Inspired by the Tea Par­ty explo­sion in 2010, which cat­a­pult­ed con­ser­v­a­tives to office nation­wide, the WFP has since found­ed state orga­ni­za­tions to elect pro­gres­sives in Ore­gon, Mary­land, Penn­syl­va­nia, Wis­con­sin, Rhode Island, Neva­da, New Mex­i­co and Wash­ing­ton, D.C.
At this point, the WFP also has indi­vid­ual mem­bers in all 50 states, if not yet an orga­ni­za­tion­al pres­ence. The par­ty has per­formed suc­cess­ful­ly in Demo­c­ra­t­ic Pri­maries (Rhode Island), non-par­ti­san pri­maries (Ohio) and even won elec­tions on their own line with­out the Democ­rats (Con­necti­cut and New York). And on this rel­a­tive­ly new­er ter­rain, they have been a part of impor­tant min­i­mum wage and paid sick days vic­to­ries in D.C., Mil­wau­kee, Wis­con­sin, Philadel­phia and in 13 munic­i­pal­i­ties across New Jersey.
Through its expan­sion, the par­ty is already putting the core insight of Ackerman's pro­pos­al into prac­tice: that a new par­ty can be built even where elec­toral law makes main­tain­ing an inde­pen­dent bal­lot line dif­fi­cult, or even impos­si­ble. The Rhode Island case is telling. Even with­out access to its own bal­lot line, in the 2016 Demo­c­ra­t­ic pri­ma­ry, the WFP helped replace incum­bent State House Major­i­ty Leader John DeS­i­mone with pro­gres­sive chal­lenger Mar­cia Ran­glin-Vas­sell. Three oth­er can­di­dates endorsed by the WFP also won their races in the pri­ma­ry contests.
Whether you agree with how the WFP has attempt­ed to resolve the dilem­mas it has faced, there are many lessons to be learned from the party's expe­ri­ence, espe­cial­ly as left orga­ni­za­tions like the DSA attempt to run left can­di­dates for office this year, next year and beyond.
Sam Lewis is a union orga­niz­er and mem­ber of Demo­c­ra­t­ic Social­ists of Amer­i­ca. He lives in Brook­lyn, New York.Luke Elliott-Negri holds a lead­er­ship posi­tion in the Pro­fes­sion­al Staff Con­gress, AFT Local
2334
. He is a PhD stu­dent at the CUNY Grad­u­ate Cen­ter, where he stud­ies polit­i­cal par­ties and social move­ments. Luke sits on the New York State Com­mit­tee of the Work­ing Fam­i­lies Par­ty and is a mem­ber of the Demo­c­ra­t­ic Social­ists of America.