Leslie Orear, 103, Helped Bring Together Black and White Packinghouse Workers in the 1930s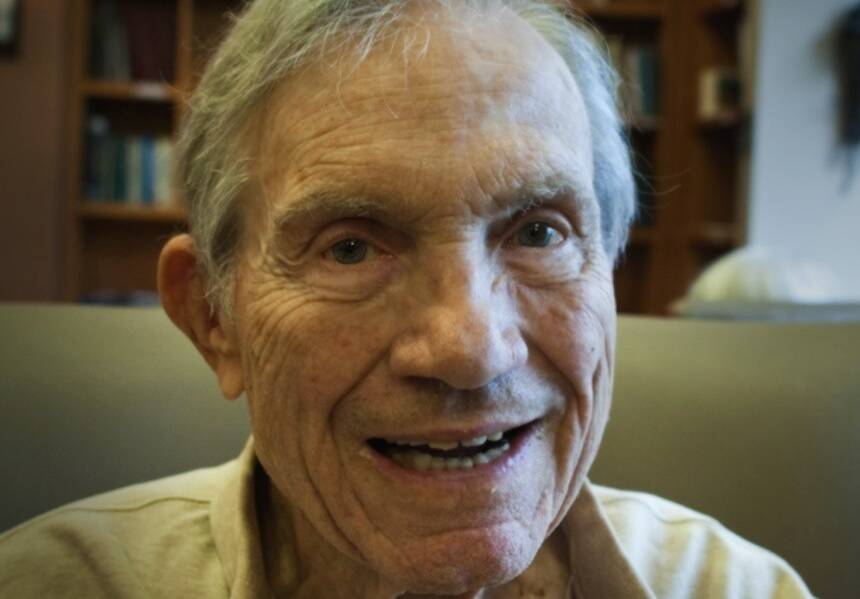 Leslie Ore­ar, a life­long labor activist, died in Chica­go on May 30 at the age of 103. After enter­ing the Chica­go stock­yards at a time when the idea of unions for blue-col­lar work­ers was spread­ing like wild­fire, Ore­ar quick­ly emerged as a voice for stock­yard workers.
Leslie Ore­ar start­ed in the giant pack­ing house's sweet-pick­le ship­ping depart­ment in 1932, tying string onto hunks of bacon. It was often hot and stunk, and the pay was a measly 32.5‑cents an hour.
But Ore­ar need­ed the job at the Armour & Co. plant in Chicago's Union Stock Yards. The Great Depres­sion had pulled him out of col­lege, and he need­ed work to help his family.
The job turned out to be an eye-open­ing encounter with an indus­try that had changed lit­tle in the decades since Upton Sin­clair exposed the stock­yards' cru­el­ty in his turn-of-the cen­tu­ry nov­el, The Jun­gle.
The expe­ri­ence also became a door­way for Ore­ar into a life­time of labor activism, and ulti­mate­ly a place as a spokesman and guardian of labor his­to­ry. A co-founder of Illi­nois Labor His­to­ry Soci­ety, he fought to pre­serve the places, strug­gles and words that have marked work­ers' march towards progress.
​"He was the agent of change for some of the most impor­tant things in Amer­i­can and labor his­to­ry but it was nev­er about him. It was always about oth­er peo­ples' con­tri­bu­tions. Peo­ple don't know his name," says Lar­ry Spi­vack, pres­i­dent of the Illi­nois Labor His­to­ry Soci­ety and region­al direc­tor for AFSCME Coun­cil 31.
When work­ers at the Armour & Co. plant began try­ing to union­ize in the mid-1930s, one of Orear's first tasks in the move­ment was to become an edi­tor of the Armour Cleaver, a week­ly hand­bill for the union dri­ve. He was giv­en the job, because he was one of the activists who could spell, he explained years lat­er to me with a chuckle.
​"It was a won­der­ful time for me because I was this young fel­la and rad­i­cal ideas are com­ing nowa­days, I feel like I'm on the cusp," he said in a 2008 inter­view on WBEZ. ​"I'm one of those that is giv­ing lead­er­ship to the work­ing force that's going into the union….And it's going on all over the coun­try. I'm not a lone war­rior. I'm part of the vast machine."
Orear's pas­sion about the dire work­place con­di­tions pack­ing­house work­ers faced and the hopes that stirred them was cap­tured in a 1968 pam­phlet that he wrote with Stephen Dia­mond to mark the 25th anniver­sary of the found­ing con­ven­tion of the Unit­ed Pack­ing­house Food and Allied Work­ers Union. The pam­phlet describes the role and pur­pose of the union:
The sto­ry of this union is vis­cer­al, writ­ten by the men and women of humid gut shanties and stink­ing tank rooms. Their hands slew the steers and linked sausages stretch­ing to infin­i­ty. A union's mean­ing lies in its capac­i­ty to turn around per­son­al frus­tra­tion beyond the indi­vid­ual to a larg­er com­mit­ment to the col­lec­tive good. That response gives life to the automa­ton and gives pur­pose to the cog in the wheel.
Mind­ful of the pack­ing­house work­ers' two pri­or fail­ures to orga­nize, Ore­ar was a white union activist who focused on the need to bring togeth­er black and white work­ers. ​"That was why the pack­ing­house work­ers became one of the most pro­gres­sive unions," Spi­vack explains.
Indeed, a Chica­go Defend­er sto­ry from 1939 talks about the way that black work­ers — from the union's assis­tant nation­al direc­tor down to shop stew­ards — were the ​"back­bone" of the Pack­ing­house Work­ers Orga­niz­ing Com­mit­tee, the union's fore­run­ner. The PWOC was char­tered by the CIO in 1937 and it became the Unit­ed Pack­ing­house Work­ers of Amer­i­ca in 1943.
Ore­ar worked as an orga­niz­er for the union and lat­er as edi­tor of its news­pa­per, the Pack­ing­house Work­er. After sev­er­al merg­ers, the union became known as the Unit­ed Food and Com­mer­cial Work­ers union. The Union Stock Yards closed in 1971 after 106 years, leav­ing small only small rem­nants of the indus­try in Chicago.
Con­cerned by work­ers' lack of knowl­edge about labor his­to­ry, Ore­ar joined togeth­er with a group of labor lead­ers and advo­cates in May 1969 to mark the Hay­mar­ket Square inci­dent in Chica­go. That was the 1886 riot when work­ers, ral­ly­ing for an eight-hour day, clashed with police. Sev­en police offi­cers and at least one civil­ian were killed and eight labor lead­ers were con­vict­ed for incit­ing the riot. Four were even­tu­al­ly hanged and one com­mit­ted suicide.
Work­ers world­wide cel­e­brate the lega­cy of that event on May 1.
The gath­er­ing inspired Ore­ar, who became a co-founder lat­er in 1969 of the Illi­nois Labor His­to­ry Soci­ety. After retir­ing from the union in 1977, he became a full-time vol­un­teer at its down­town offices.
​"This labor his­to­ry soci­ety is sort of my child," he said to me one day in 2005 as he wait­ed patient­ly for vis­i­tors to the his­tor­i­cal soci­ety. ​"I have to come down and hold its hand and keep it breathing."
As part of his quest to pre­serve doc­u­ments and mem­o­ra­bil­ia about labor's lega­cy, Ore­ar helped push for nation­al land­mark sta­tus for the gate at the Union Stock Yards, Moth­er Jones' memo­r­i­al in south­ern Illi­nois, and the Hay­mar­ket Mar­tyrs mon­u­ment at the For­est Home Ceme­tery in For­est Park.
Despite fail­ing health, Ore­ar was a fre­quent guest at labor union events. ​"To his very last days of his 103 years, he was com­ing up with ideas about what we should do to pre­serve labor his­to­ry," says Spivack.
While Ore­ar mourned labor's hard times, he also saw hope in its history.
​"You have to swim in what­ev­er pool there is and rebuild and rebuild," he said in 2005. ​"This is the sto­ry of Amer­i­can labor — defeat, star­va­tion and rebirth."
He is sur­vived by his three chil­dren, three grand­chil­dren and his two half-broth­ers. His fam­i­ly has asked that dona­tions be made to the Illi­nois Labor His­to­ry Soci­ety.
Full dis­clo­sure: AFSCME is a spon­sor of In These Times. Spon­sors have no role in edi­to­r­i­al content.
Stephen Franklin is a for­mer labor and work­place reporter for the Chica­go Tri­bune, was until recent­ly the eth­nic media project direc­tor with Pub­lic Nar­ra­tive in Chica­go. He is the author of Three Strikes: Labor's Heart­land Loss­es and What They Mean for Work­ing Amer­i­cans (2002), and has report­ed through­out the Unit­ed States and the Mid­dle East.