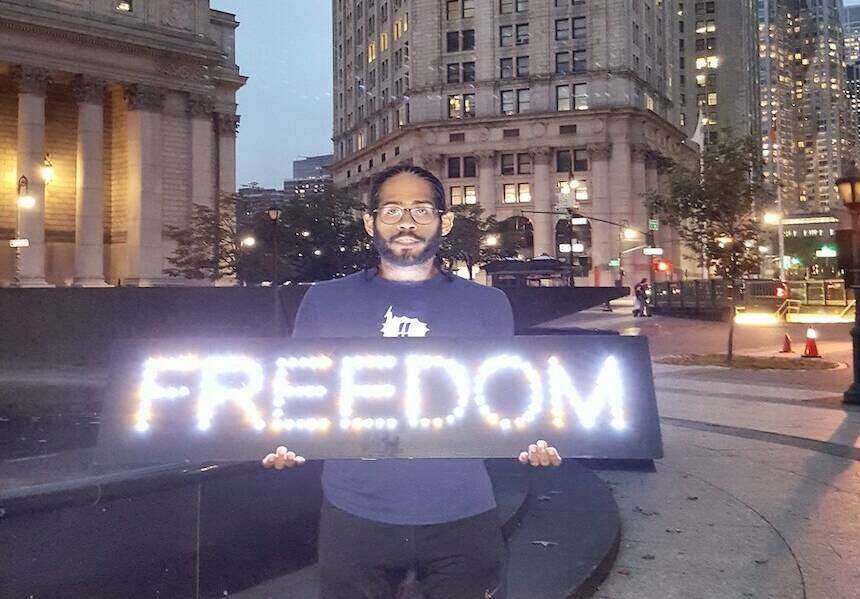 Governor Cuomo:
We're not asking the impossible. In August, California's Governor Brown issued 18 commutations in one day.
Congratulations on securing a third term. This time around, are you ready to do right by criminalized survivors of domestic violence?
We need to talk about the fact that you've been MIA on commutations. You have sole power to, with the stroke of a pen, free any criminalized survivor of domestic violence (and anyone else sentenced to incarceration in New York) today. Yet in this ​"Me Too" moment, you've done nothing for those who had to go to the greatest lengths to survive gender-based violence.

This time last election cycle, things looked promising. You promised New Yorkers a more accessible, transparent commutations system. In December 2014, weeks after the election, you launched a new clemency website and bureau. Then, in October of 2015, you announced an initiative to actively seek incarcerated individuals whose sentences you could commute, and encouraged law firms and public defenders to provide assistance to individuals who wanted to prepare petitions. Your stated goal for this initiative was to ​"ensure that clemency is a more accessible and tangible reality," for incarcerated New Yorkers.
Since that time, we have been waiting patiently to hear of more sentence commutations, specifically for individuals who are incarcerated due to acts of survival, or survivors of gender violence. For thousands of survivors incarcerated in New York, clemency has yet to become a ​"tangible reality" as you promised. You have created a clemency bureau to supposedly make clemency ​"accessible," but at the same time you created arbitrary guidelines that impede that very accessibility. In reality, you have absolute power to commute anyone's sentence at any time for any reason. Your executive clemency website says that ​"The Governor may commute a sentence in any way that he considers appropriate."
Governor Cuomo — what happened? You've been eight years in office now, but we have only 12 commutations to show for it. Only one of them, Valerie Seeley, was a survivor of domestic violence. There are thousands of survivors of domestic violence incarcerated throughout the New York State prison system, many of whom are there for reasons relating to the violence they endured. Most are serving long sentences; many were incarcerated at a very young age. Many we've spoken with have persevered in the harsh environment of prison to learn about domestic violence, how it affected their lives, and how they can change their lives for the better. Incarceration continues to traumatize these survivors — an extension of the violence and abuse that they have endured throughout their lives. All have families and communities waiting for them to come home.
We're not asking the impossible. In August, California's Governor Brown issued 18 commutations in one day! Yet while Governor Brown publishes reports on his commutations record, you removed the data on your abysmal commutations record from your site. Governor Cuomo, you don't have to be ashamed about broken promises or the people you've let languish in prison: Just pick up your pen, and free them.
We want to know what you are waiting for. Patrice Smith would also like to know. She has been incarcerated since the age of 16, and would like you to know why you should commute her sentence and let her come home. Here is a letter from her, telling you why in her own words:
Click here to read Patrice's full letter to Governor Cuomo.
The clemency power has historically been used generously, and should be — by commuting Patrice's sentence and the sentences of thousands of others. You hold the key to their freedom. But it is not just their freedom — it is that of their families who ​"do time" with them, and whose lives are put on hold while they are drained financially trying to support an incarcerated loved one. And the freedom of communities who are deprived of their presence and contributions as active members. The cost in both human and financial terms is astronomical.
It's time to live up to your promises. It's time to send them home. #FreeThemNY
Be one of the first
Help kick off the new era of In These Times! Without a media that brings people together and creates a written record of the struggles of workers, their voices will be fragmented and forgotten.
The mission of In These Times is to be that written record, and to guide and grow those movements.
We have a lot of work ahead of us, and that work starts today. Early support is the most valuable support, and that's why we're asking you to pitch in now. If you are excited for this new era of In These Times, please make a donation today.
S
&
amp;P NYC is the New York affiliate of the here.