The Unit­ed States is in an agri­cul­tur­al bind. Farm­ers are retir­ing at alarm­ing rates, prof­its are down, and start­ing a new small farm takes guts and mon­ey. The next gen­er­a­tion faces mount­ing debt and a lack of afford­able farm­land, but also inher­its a grow­ing pub­lic weari­ness of dom­i­nant pro­duc­tion mod­els that rely on eco­log­i­cal short­sight­ed­ness to keep bad food cheap.
With or with­out the infra­struc­ture in place, there is demand for healthy food that does­n't require a war on nature to pro­duce. New farm­ers are ris­ing to the chal­lenge, but they need all the sup­port they can get.
The Stone Barns Cen­ter for Food and Agri­cul­ture, in Ter­ry­town, N.Y., is a non-prof­it orga­ni­za­tion work­ing to pro­mote sus­tain­able, com­mu­ni­ty-based food pro­duc­tion. This includes oper­at­ing a farm, CSA, restau­rant and edu­ca­tion­al resource cen­ter that's open to the pub­lic. Last month, the Cen­ter released Let­ters to a Young Farmer—an anthol­o­gy of essays and let­ters by influ­en­tial farm­ers, writ­ers, and lead­ers in the sus­tain­able food move­ment. Writ­ing to inspire the next gen­er­a­tion of farm­ers, con­trib­u­tors include Bar­bara King­solver, Bill McK­ibben, Michael Pol­lan, Dan Bar­ber, Tem­ple Grandin, Wen­dell Berry, Rick Bay­less, Mar­i­on Nes­tle and 24 others.
In the fol­low­ing inter­view Danielle Nieren­berg, the pres­i­dent of Food Tank and an expert on food issues, speaks with Stone Barns Cen­ter CEO Jill Isen­barg­er about the book and why it's important:
The Unit­ed States is on the cusp of the largest retire­ment of farm­ers in U.S. his­to­ry, with more farm­ers over the age of 75 than between the ages of 35 and 44. Let­ters to a Young Farmer aims to help begin­ning farm­ers suc­ceed through advice and encour­age­ment, while inspir­ing all who work in or care about the food system.
Food Tank spoke with Isen­barg­er, who says, ​"We cre­at­ed this book to give voice to farm­ers and illu­mi­nate the choic­es that can lead to a stronger future, for them and for all of us who eat. It reminds us that farm­ing has always been a polit­i­cal act. These young farm­ers, who choose to farm rather than go into law or med­i­cine or finance — they are tak­ing a stand; they are express­ing their com­mit­ment to the land, to their com­mu­ni­ties, to the food movement."
Food Tank: Why do young farm­ers need encouragement?
Farm­ers are becom­ing an endan­gered species. The num­ber of farms and farm­ers con­tin­ues to shrink, and farm­ers are aging off of the land at an alarm­ing rate. The aver­age age of a farmer in the Unit­ed States is 58.3 and climb­ing, and only six per­cent of farm­ers are under the age of 35.
Young farm­ers need encour­age­ment because our soci­ety doesn't val­ue them the way they should be val­ued. ​"You're just a farmer" is the com­mon refrain. Bar­bara King­solver, Wen­dell Berry, and Bill McK­ibben all write about this in the book. We've also lost many agri­cul­tur­al tra­di­tions based on com­mu­ni­ty, a com­mon his­to­ry of stew­ard­ship and hard work.
To sup­port the kind of dig­ni­fied labor and envi­ron­men­tal­ly sound land stew­ard­ship that will help us cre­ate a more sus­tain­able farm­ing sys­tem, we sim­ply may have to pay more for our food. Accord­ing to the USDA, in 1960, Amer­i­cans spent 17.5 per­cent of their income on food. By 2013, that had dropped to 9.9 per­cent. As a coun­try, we've grown accus­tomed to cheap food — food that is not only inex­pen­sive, but food that doesn't taste good and isn't good for us. Pay­ing more for qual­i­ty, nutri­tious food (and help­ing those of less­er means gain access to it), grown by farm­ers able to earn a liv­ing wage and pro­vide health care to their work­ers — that would go a long way to help­ing raise us all up.
What unique obsta­cles do young farm­ers face?
Bill McK­ibben writes about sur­viv­ing the ​"car­bon binge," and the chal­lenges that a chang­ing cli­mate will bring to farm­ers who grow our food. Mar­ry this with the chal­lenges of find­ing afford­able land to farm, pay­ing off stu­dent loans, the dearth of start-up cap­i­tal and a lack of region­al agri­cul­tur­al infra­struc­ture in some parts of the coun­try, and you have a daunt­ing set of obsta­cles that most young farm­ers face.
It is hope­ful to note that H.R. 1060, the Young Farmer Suc­cess Act, a bipar­ti­san bill spon­sored by Rep. Joe Court­ney (D‑CT), Rep. Glenn Thomp­son (R‑PA), and Rep. John Faso (R‑NY), was rein­tro­duced in the House of Rep­re­sen­ta­tives in Feb­ru­ary. This bill will help pro­vide col­lege loan relief to young farm­ers. So, some in Con­gress are pay­ing atten­tion, espe­cial­ly among them Rep. Chel­lie Pin­gree (D‑ME), her­self a con­trib­u­tor to our book.
What are some of the most impor­tant areas for young farm­ers to focus their skills?
One is soil health, the very foun­da­tion of sus­tain­able agri­cul­ture. There's a say­ing, ​"civ­i­liza­tions rise or fall on the health of soil." Farm­ing with nature is the key; farm­ing that builds up soil, uses water wise­ly and with an eye on the future — we absolute­ly need more of this. Wes Jack­son talks about this in his let­ter: ​"Eco­log­i­cal agri­cul­ture has the dis­ci­plines of ecol­o­gy and evo­lu­tion­ary biol­o­gy to call on, based on mil­lions of years of emerg­ing effi­cien­cies such as those seen in nature's prairie ecosystems."
At Stone Barns Cen­ter, we focus on two aspects of build­ing soil health: one is through farm­ing, and we teach and exper­i­ment with agroe­col­o­gy. The oth­er is the con­cept of cre­at­ing what we call a farm-dri­ven cui­sine in Amer­i­ca — cat­alyz­ing a cul­ture of eat­ing based on what ecosys­tems, includ­ing farms and their soils, need to be healthy and regenerative.
Young farm­ers need to focus not just on the prac­ti­cal skills to grow, har­vest, and sell their prod­ucts; they also need to focus on build­ing strong con­nec­tions to their com­mu­ni­ties, shar­ing their deep love of land and place, and help­ing peo­ple under­stand the val­ue and impor­tance of farm­ing done well.
Which let­ters inspired you the most?
So many of the let­ters and essays are extra­or­di­nary and inspir­ing and deeply mov­ing. They flow with humor and insight, grat­i­tude and humil­i­ty. I love the wry wit of Bar­bara Dam­rosch, Mary Berry, Bill McK­ibben, and Gary Nab­han, and the lyri­cal insights of Raj Patel and Bar­bara King­solver. I was drawn to Amy Halloran's line, ​"Eat­ing is hunt­ing in nature for food." It pulls you back to the bond that we need to have with the earth. It is pri­mal. I appre­ci­ate Wendy Millet's artic­u­la­tion of her ​"hun­dred years" val­ue, the idea of tak­ing a long-term per­spec­tive on eco­nom­i­cal­ly and eco­log­i­cal­ly sus­tain­able management.
What were the most com­mon themes you found in the letters?
There are many over­lap­ping ideas that rip­ple out in their own ways, but these are a few themes that arose in a num­ber of the essays and letters:
Bridg­ing the gulf between nature and agri­cul­ture, between land con­ser­va­tion and food pro­duc­tion — and find­ing the path toward to a more sus­tain­able future.
Renew­ing respect for farm­ers in a soci­ety that has taught chil­dren farm­ing is a low­ly occu­pa­tion, and in a coun­try that was found­ed by and large­ly com­posed of farm­ers until the mid-

20

th century.
The chang­ing nature of today's young farm­ers, from gen­er­a­tional — ones that inher­it­ed their roles and land — to the self-select­ed farm­ers who want to be agents of change.
What have farm­ers' reac­tions been to the book?
"When are you putting togeth­er the next book? I want to write a piece." This has been a heart­en­ing response. Shar­ing the sto­ries about the peo­ple who grow our food and stew­ard our lands and waters is pow­er­ful and impor­tant. Farm­ers are a hearty, opti­mistic, and deter­mined breed. To have received their sup­port and encour­age­ment is a great hon­or and means that we are advanc­ing our mis­sion in an impor­tant and mean­ing­ful way.
(This inter­view was orig­i­nal­ly pub­lished on Food Tank and is repost­ed with permission.)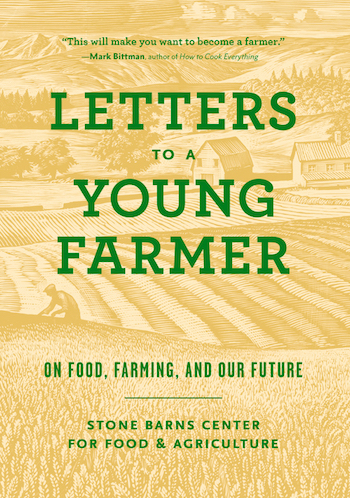 Stone Barns Cen­ter for Food and Agri­cul­ture is a non­prof­it sus­tain­able agri­cul­ture orga­ni­za­tion with a mis­sion to cre­ate a healthy and sus­tain­able food sys­tem that ben­e­fits all. The orga­ni­za­tion trains farm­ers, edu­cates food cit­i­zens, devel­ops agroe­co­log­i­cal farm­ing prac­tices, and con­venes change­mak­ers through pro­grams such as a Sum­mer Insti­tute for High School Stu­dents and a two-day Poul­try School con­fer­ence. Let­ters to a Young Farmer is their first book.