The Political Revolution Is Alive and Well in Nebraska
Climate campaigner and Democratic Party activist Jane Kleeb is lighting a fire on the prairie.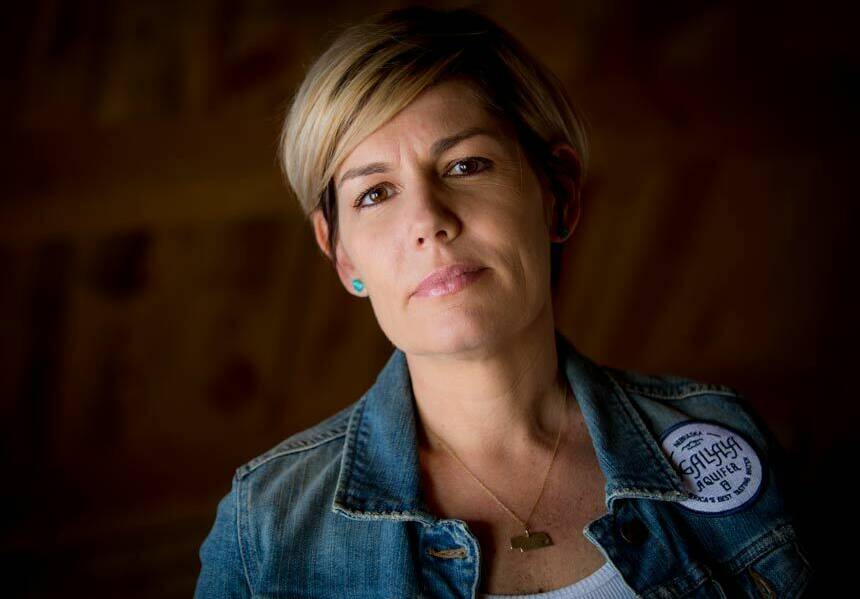 The polit­i­cal rev­o­lu­tion is alive and well in Nebras­ka. In Decem­ber 2016, Jane Kleeb, a self-described ​"mom with a mini­van," took the reins of the Nebras­ka Demo­c­ra­t­ic Par­ty. In the race for par­ty chair the pre­vi­ous June, Kleeb, a Sanders sur­ro­gate dur­ing the pri­maries, defeat­ed Chuck Has­se­brook (who backed Hillary Clin­ton) by 42 votes out of the 410 cast. Fol­low­ing her elec­tion, Kleeb threw down the gaunt­let and declared: ​"The oppo­si­tion par­ty is now here."
We have to get back to the 50-state strategy's decentralized model of trusting people to know what they're doing. We know how to win elections—on the ground.
Kleeb grew up in Broward Coun­ty, Fla., the daugh­ter of a moth­er who was pres­i­dent of Flori­da Right to Life. In 2004, at the age of 30, she got her start in nation­al pol­i­tics work­ing for the Demo­c­ra­t­ic Nation­al Com­mit­tee as the exec­u­tive direc­tor of the Young Democ­rats of Amer­i­ca. In 2011, she was elect­ed to the school board of Hast­ings, Neb. She lives out­side the town of 25,000 on a farm with her hus­band Scott and their three daughters.
In 2010, Kleeb found­ed Bold Nebras­ka, an orga­ni­za­tion that began orga­niz­ing oppo­si­tion to the Key­stone XL pipeline. In These Times first fea­tured Kleeb in a Feb­ru­ary 2014 sto­ry in which she spoke out against AFL-CIO Pres­i­dent Richard Trumka's endorse­ment of Key­stone and invit­ed him ​"to come to Nebras­ka and vis­it with farm­ers and ranch­ers whose liveli­hoods are direct­ly put at risk." Two months lat­er, In These Times cov­ered the anti-pipeline protests in Wash­ing­ton that Kleeb helped organize.
This spring, Kleeb was back in the spot­light. She joined the board of Our Rev­o­lu­tion, the orga­ni­za­tion that grew out of the Sanders cam­paign, which endorsed Heath Mel­lo, a pro­gres­sive Nebras­ka state leg­is­la­tor who ran for may­or of Oma­ha. The Wall Street Jour­nal false­ly report­ed that Mel­lo had cospon­sored a bill ​"requir­ing women to look at an ultra­sound image of their fetus before receiv­ing an abor­tion." Ilyse Hogue, pres­i­dent of NAR­AL Pro-Choice Amer­i­ca and a big Clin­ton sup­port­er, ran with the sto­ry, lam­bast­ing Sanders and Tom Perez for kick­ing off the Democ­rats' Uni­ty Tour with an endorse­ment of Mel­lo. (She appar­ent­ly for­got that NAR­AL had endorsed Clinton's pro-life vice-pres­i­den­tial pick Tim Kaine months before.) Perez sub­se­quent­ly waf­fled on his sup­port of Mel­lo, who lost in a city that Clin­ton had car­ried. Kleeb, how­ev­er, was a vocal defend­er of Mel­lo and remains so. (For anoth­er per­spec­tive on the con­tro­ver­sy, see ​"Democ­rats' Waf­fling on Abor­tion Rights Isn't Just Wrong, It's a Huge Polit­i­cal Mis­take") In These Times spoke with Kleeb by phone.
How is the Demo­c­ra­t­ic Party's 50-state strat­e­gy work­ing out?
It's not, yet. We have to get back to the 50-state strategy's decen­tral­ized mod­el of trust­ing peo­ple to know what they're doing. We know how to win elec­tions — on the ground. We had this very pro­gres­sive can­di­date run­ning for may­or in Oma­ha, Heath Mel­lo, and Democ­rats in the entire state were behind him. This race was crit­i­cal — it was in one of the top 10 con­gres­sion­al dis­trict tar­gets in the coun­try for us to take back the House. But Mel­lo is pro-life, like many of the Democ­rats in Nebras­ka, and Demo­c­ra­t­ic Nation­al Com­mit­tee Chair Tom Perez got pres­sured by NAR­AL and sent out a press release con­demn­ing Mel­lo. Democ­rats can't stay in this D.C. bub­ble and think that is how we're going to win elections.
How do pro­gres­sive down-bal­lot can­di­dates in Nebras­ka have to dif­fer from those in, say, Brooklyn?
They have to be con­nect­ed to where the peo­ple are on the issues that they care about, because they're rep­re­sent­ing those indi­vid­u­als. Heath Mel­lo was authen­ti­cal­ly pro-life. His mom was a teenage mom who cleaned hous­es to raise a fam­i­ly, and he feels deeply com­mit­ted to the choice that his mom made. But we also have to chal­lenge the vot­ers and make sure that they under­stand that being pro-life means expand­ing Med­ic­aid, and not tak­ing away fund­ing from health clin­ics, espe­cial­ly our rur­al health clin­ics. That's where we Democ­rats have to stand up. We can't become Republican-lite.
Farm­ers and ranch­ers know that I'm a pro­gres­sive Demo­c­rat and that I sup­port gay mar­riage, and I sup­port gun safe­ty laws, but that I also sup­port their prop­er­ty rights. So, you earn vot­ers' respect by being very clear on where you stand — but at the same time, real­ly try­ing to push peo­ple out of their com­fort zone.
Do you think it was a mis­take to make Heath Mello's race a nation­al race?
Nation­al­iz­ing races is exact­ly what we should be doing, so we can lift up the local issues that we're fight­ing for and show­case Democ­rats like Mel­lo, who stood up for DREAM­ers when nobody else was in Nebras­ka, and who as a leg­is­la­tor came up with the first-ever cli­mate action plan in the state. If we're not going to take dark mon­ey and big cor­po­rate mon­ey, we need as many peo­ple as pos­si­ble to be giv­ing small dona­tions to can­di­dates all over the country.
Can some­one be a pro-life progressive?
You can def­i­nite­ly be pro-life and pro­gres­sive. But, if you're pro-life in name only, that's where I would draw the line. Some Repub­li­cans are pro-life in name only. If they were tru­ly pro-life, they would be giv­ing more mon­ey to health clin­ics, rather than tak­ing it away. They would be expand­ing Med­ic­aid for all, rather than tak­ing health insur­ance away. But pro-life Democ­rats also need to sup­port women's repro­duc­tive rights. So if you're a pro-life Demo­c­rat and you are out there say­ing that you're going to ban abor­tion, then you should prob­a­bly change your par­ty reg­is­tra­tion to Repub­li­can. But if you're a pro-life Demo­c­rat doing every­thing you can to reduce the num­ber of abor­tions — expand­ing birth con­trol, expand­ing Med­ic­aid, sup­port­ing com­pre­hen­sive sex ed in schools — then you're just as pro­gres­sive as a pro-choice Democrat.
Nebras­ka is shap­ing up to be the last stand against the Key­stone Pipeline. What is your strat­e­gy for winning?
Focus­ing on the landown­ers. We believe — not just with Key­stone XL but with all pipeline fights — that the one thing that cit­i­zens hold in their con­trol that the pipeline com­pa­nies need is land. We are going to focus on prop­er­ty rights. Key­stone would be the first time in our state's his­to­ry that we are giv­ing emi­nent domain for pri­vate gain to a for­eign cor­po­ra­tion. That opens a dan­ger­ous door to oth­er for­eign cor­po­ra­tions that are cur­rent­ly buy­ing up land in our state, par­tic­u­lar­ly Chi­na, which wants to cre­ate these big hog facil­i­ties to then ship their prod­ucts back to Chi­na. Those for­eign cor­po­ra­tions use our land and threat­en our water so they can get prod­ucts to the export mar­ket. That's exact­ly what Tran­sCana­da is doing.
Do you see a path for U.S. action in time to avert cat­a­stroph­ic cli­mate change?
The path is clear. One, end emi­nent domain for pri­vate gain for fos­sil fuel cor­po­ra­tions. Two, ban new fos­sil fuel infra­struc­ture, includ­ing drilling in our pub­lic lands and in our pub­lic oceans. Three, cre­ate a hard-hat rev­o­lu­tion. Not just for build­ing solar and wind, which clear­ly we need to do, but also expand­ing the use of bio­fu­els, which I know some of my sis­ters and broth­ers in the cli­mate move­ment don't agree with. I think it takes the mar­ket share away from big oil, and it's cer­tain­ly bet­ter for the envi­ron­ment and for emissions.
We have let the cli­mate get very close to the brink of dis­as­ter. What could the cli­mate move­ment have done better?
Not make us feel guilty for not hav­ing an elec­tric car, which is some­times what I feel in a room of cli­mate advo­cates. I dri­ve a mini­van and my hus­band dri­ves a pick­up, there­fore I'm a bad envi­ron­men­tal­ist? Um, no. Can we start talk­ing about sys­temic ways that we're going to tack­le cli­mate change?
How did grow­ing up with a moth­er who was an anti-abor­tion activist affect you?
I would go with my mom to every speech she would give, every vig­il and protest she would orga­nize. I saw from an ear­ly age that the way you take action is in the streets. I didn't real­ize that wasn't nor­mal for oth­er families.
What do you see as the like­ly future of the Demo­c­ra­t­ic Party?
It's going to be more local, and it's going to be way more diverse, and that's not just diver­si­ty of skin col­or, right, but diver­si­ty of geog­ra­phy and eco­nom­ic background.
And the future of the GOP?
The Repub­li­cans con­tin­ue to go to the extreme far right, from build­ing the wall and ban­ning Mus­lims, to tak­ing away health insur­ance and vot­ing rights, to say­ing that cli­mate change does not exist. They're on a very nar­row elec­toral path, and I think you'll see a very dif­fer­ent 2018 elec­tion cycle.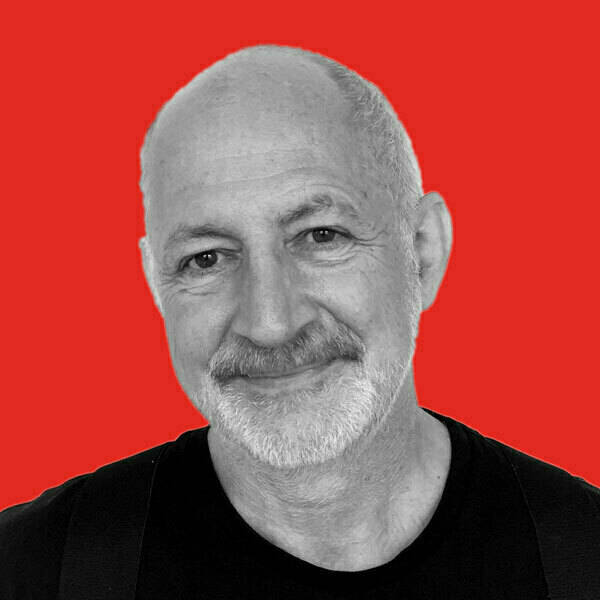 Joel Blei­fuss, a for­mer direc­tor of the Peace Stud­ies Pro­gram at the Uni­ver­si­ty of Mis­souri-Colum­bia, is the edi­tor & pub­lish­er of In These Times, where he has worked since Octo­ber 1986.