Lincoln: Better Off Undead
Spielberg's new Lincoln doesn't hold a candle to Abraham Lincoln: Vampire Hunter.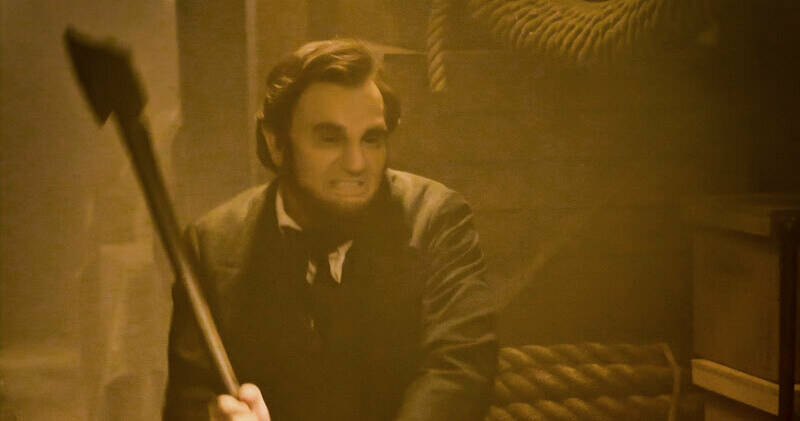 One comes away from Dis­ney Dream­Works' Lin­coln won­der­ing what temp­ta­tions induced play­wright Tony Kush­n­er, the author of the heart­break­ing, hilar­i­ous and deeply intro­spec­tive Angels in Amer­i­ca, to write the screen­play for Steven Spielberg's $50 mil­lion cin­e­mat­ic civics lesson.
Spielberg whitewashes Lincoln much as Martin Luther King Jr. has been whitewashed by our political culture, which emphasizes healing and unity at the expense of truth and justice.
A mélange of Ken Burns doc­u­men­tary, grifters' caper, Mr. Smith Goes to Wash­ing­ton and Edward Albee psy­chodra­ma — with a redeem­ing dose of 1860s-style Mod­ern Fam­i­ly—Spielberg's Lin­coln is not so much an explo­ration of his­to­ry and char­ac­ter as it is a high pro­duc­tion-val­ue social-stud­ies film illus­trat­ing how a bill becomes a law or, in this case, the 13th Amend­ment to the Unit­ed States Constitution.
Lin­coln takes place from Jan­u­ary to April of 1865. Except for a per­func­to­ry bat­tle­field scene and a graph­ic depic­tion of a gur­ney unload­ing a bloody pile of recent­ly ampu­tat­ed limbs, the action occurs inside var­i­ous gov­ern­men­tal offices, con­gres­sion­al cham­bers and the White House, giv­ing the film an odd­ly claus­tro­pho­bic feel. The ten­sion dri­ving the film is between Lincoln's con­vic­tion that the Con­sti­tu­tion must be amend­ed to ban slav­ery before the Confederacy's sur­ren­der, and the coun­ter­vail­ing polit­i­cal pres­sures to nego­ti­ate an imme­di­ate peace and sac­ri­fice all chance of a 13th Amend­ment. Lincoln's argu­ment rests on the sta­tus of slaves not as peo­ple but as war con­tra­band belong­ing to the vic­to­ri­ous North. The amendment's enact­ment, there­fore, is depict­ed not as a tri­umph of moral­i­ty but, as the result of clever lawyer­ing, pet­ty patron­age and per­son­al will.
The action cen­ters on the gov­ern­ing elites, depict­ing Lin­coln as the ulti­mate insid­er. Thus, if you are only going to see one Lin­coln biopic this year, I hearti­ly rec­om­mend instead Abra­ham Lin­coln: Vam­pire Hunter, which — after a brief the­atri­cal run this sum­mer—is now avail­able on DVD. Its fan­tas­ti­cal nar­ra­tive is actu­al­ly the more truth­ful in show­ing how rev­o­lu­tion­ary change gets accom­plished through the mil­i­tan­cy and mobi­liza­tion of out­siders and the oppressed.
In the film, 9‑year-old Abe wit­ness­es his mother's mur­der at the hands of a vam­pire slave trad­er when his father can't pay a debt. There­after obsessed with vengeance, Abe comes under the tute­lage of Hen­ry Sturges, an immor­tal who knows how to hold a grudge. Ini­ti­at­ed into vam­pirism against his will and repulsed by what he has become, Sturges seeks out human allies to per­form the nec­es­sary wet work of vam­pire-slay­ing that he, as a vam­pire, is unable to com­plete — an art he painstak­ing­ly teach­es the young rail split­ter from Illinois.
When Sturges informs Abe about ​"one of God's lit­tle tricks: Vam­pires can­not kill their own," he is essen­tial­ly point­ing out the dif­fer­ence between reform and rev­o­lu­tion. Vam­pirism can only be over­thrown from the out­side, not from within.
The film traces the evo­lu­tion of Lincoln's moral­i­ty, from a sin­gle-mind­ed fix­a­tion with per­son­al vengeance to a broad­er tran­scen­dent vision of social jus­tice. Of neces­si­ty this evo­lu­tion involves elim­i­nat­ing not just his mother's mur­der­er, but the entire blood­suck­ing class of vam­pires, as well as the sys­tem of oppres­sion off which they feed. With Sturges' guid­ance, Abe comes to rec­og­nize vam­pirism as the per­fect lit­er­al and metaphor­i­cal def­i­n­i­tion of slav­ery. In a piv­otal entry in his jour­nal, on May 4, 1831, a 22-year-old Lin­coln writes:
Not long after the first ships land­ed in this New World, I believe that vam­pires reached a tac­it under­stand­ing with slave own­ers. I believe that this nation holds some spe­cial attrac­tion for them because here, in Amer­i­ca, they can feed on human blood with­out fear of dis­cov­ery or reprisal.
The slave trade estab­lished an eco­nom­ic and moral sys­tem that rest­ed on suck­ing the life's blood from an entire race of human beings in order to main­tain a hier­ar­chi­cal social order. That social order became devot­ed almost sin­gle-mind­ed­ly to pre­serv­ing its sor­did self. Fit­ting­ly, in a key scene, Adam, King of the Vam­pires, makes a deal with Jef­fer­son Davis to pre­serve the sup­ply chain of enslaved peo­ples' blood by agree­ing to pro­vide the South ​"as many of my kind as you will need" to replen­ish the ranks of the Con­fed­er­ate army, which accounts for the heavy casu­al­ties vis­it­ed on the Union troops dur­ing the first day at Gettysburg.
At one point, Lin­coln remarks, ​"His­to­ry remem­bers the bat­tle, but for­gets the blood," an over­sight the film's direc­tor, Timur Bek­mam­be­tov, suc­ceeds in not repeat­ing. It is the mem­o­ry of the blood and the impli­ca­tions of that mem­o­ry that dif­fer­en­ti­ates Bekmambetov's Lin­coln from Spielberg's.
Spiel­berg white­wash­es Lin­coln much as Mar­tin Luther King Jr. has been white­washed by our polit­i­cal cul­ture, which empha­sizes heal­ing and uni­ty at the expense of truth and jus­tice. In that regard, Abra­ham Lin­coln: Vam­pire Hunter is a polit­i­cal­ly coura­geous film that spares audi­ences the bull­shit moral rel­a­tivism you often get when Amer­i­can his­to­ri­ans deal with slave­hold­ers like Robert E. Lee, and their sup­posed inner con­flicts over states' rights ver­sus actu­al human beings' rights.
Which is why I rec­om­mend Abra­ham Lin­coln: Vam­pire Hunter for your view­ing plea­sure and fac­tu­al enlight­en­ment. When decid­ing between these two films, choose the one that swings a bright sil­ver ax into our nation's excul­pa­to­ry mytholo­gies, not the one that per­pet­u­ates them.