It's Easy To Blame the Democratic Party for Trump—But Reality is More Complicated
Thomas Frank and others lament that the party favored Clinton over Sanders, without asking why Democratic voters went along.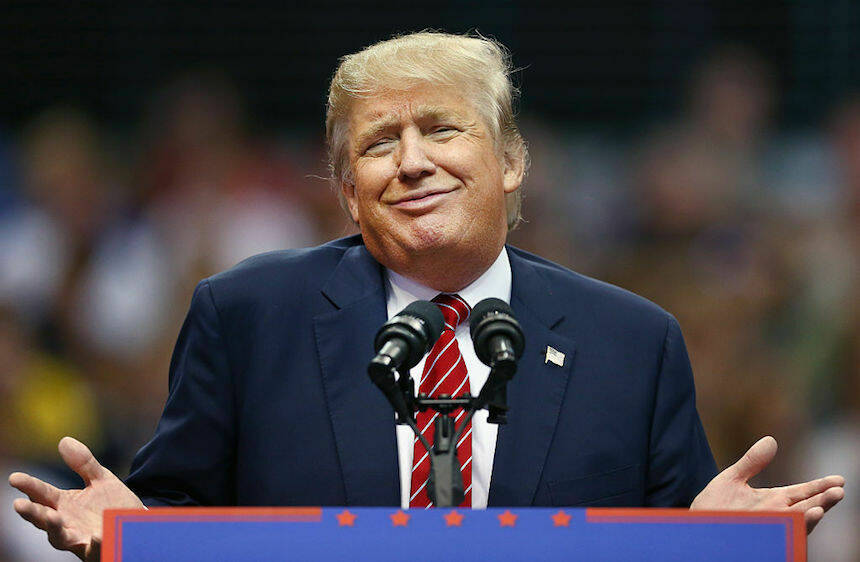 Why did Trump win? Many lib­er­al intel­lec­tu­als who sup­port­ed Hillary Clin­ton in the Demo­c­ra­t­ic pri­ma­ry, like Paul Krug­man, blame the Repub­li­can Par­ty. Many left intel­lec­tu­als who sup­port­ed Bernie Sanders, like Thomas Frank (author of Lis­ten, Lib­er­al), blame the Demo­c­ra­t­ic Party.
We need to ask why these divisions persist and how they might be overcome, even if the answers we find undermine preconceived notions of class solidarity.
Nei­ther par­ty-blam­ing claim is entire­ly con­vinc­ing. They both ignore the cross­cut­ting iden­ti­ties and some­times con­flict­ing inter­ests that weak­en the Demo­c­ra­t­ic coalition.
Like many of my friends, I wish that Bernie Sanders and not Hillary Clin­ton had won the Demo­c­ra­t­ic nom­i­na­tion. But he didn't, and we should think longer and hard­er about why.
In Frank's account, ​"Demo­c­ra­t­ic lead­ers" chose Clin­ton. If my mem­o­ry serves me right, pri­ma­ry vot­ers also chose her. I find it hard to believe that the par­ty estab­lish­ment is as hege­mon­ic as Frank implies. Estab­lish­ment Repub­li­cans obvi­ous­ly lacked the pow­er to sand­bag Trump. Estab­lish­ment Democ­rats threw some sand at the Sanders cam­paign, but they did not have the pow­er to sink it on their own.
Sanders' fail­ures had deep­er roots. He nev­er won enough sup­port from black or His­pan­ic vot­ers, key com­po­nents of the Demo­c­ra­t­ic coali­tion. One could argue that he deserved such sup­port on the basis of a clear­ly artic­u­lat­ed social­ist pol­i­tics and his pro­gres­sive vot­ing record in the Sen­ate. But in his eager­ness to ham­mer the income inequal­i­ty nail, he put rel­a­tive­ly lit­tle empha­sis on race and gen­der dis­crim­i­na­tion, police vio­lence, immi­gra­tion or fam­i­ly pol­i­cy. He also did not align him­self with the pop­u­lar Oba­ma pres­i­den­cy, as Hillary Clin­ton did. As a result, he failed to get much vis­i­bil­i­ty with vot­ers of col­or or to explic­it­ly mobi­lize women.
What would have hap­pened to Sanders' sup­port among non-col­lege-edu­cat­ed white vot­ers if he had spo­ken out more clear­ly on issues of race, immi­gra­tion and gen­der? We don't know the answer to this ques­tion. But Trump's pop­u­lar­i­ty sug­gests that many non-col­lege-edu­cat­ed white vot­ers are com­fort­able with racist and misog­y­nist views; they might have been turned off had Sanders artic­u­lat­ed an explic­it­ly pro­gres­sive alternative.
Frank also fails to men­tion the gen­der and racial dif­fer­ences that marked the pres­i­den­tial vote. Exit polls show that Trump won men 53% to Clinton's 41%; Clin­ton won women by 54% to Trump's 42%. The racial dif­fer­ences car­ried even more wal­lop: Trump won only 8% of the black vote to Clinton's 88%. Gen­der and race inter­sect­ed in pre­dictable ways: Clin­ton car­ried 93% of black women, but only 80% of black men.
Sup­port for Trump can­not be boiled down to pop­ulist dis­sat­is­fac­tion with neolib­er­al eco­nom­ic poli­cies, although that is one fac­tor. Many groups with­in the Amer­i­can elec­torate define their polit­i­cal inter­ests in terms that depart from the tra­di­tion­al left empha­sis on income, wealth and class.
We need to ask why these divi­sions per­sist and how they might be over­come, even if the answers we find under­mine pre­con­ceived notions of class sol­i­dar­i­ty: Many whites, for exam­ple, resent pub­lic poli­cies that ben­e­fit low-income peo­ple of col­or. And many men don't like the prospect of tak­ing orders from a suc­cess­ful old­er woman.
The left wing of the Demo­c­ra­t­ic Par­ty, rep­re­sent­ed by Sen­a­tors Bernie Sanders and Eliz­a­beth War­ren (among oth­ers), offers a small but cru­cial bul­wark against the com­ing Repub­li­can onslaught.
This bul­wark needs help over­com­ing polit­i­cal divi­sions based not just on class but on race, eth­nic­i­ty, cit­i­zen­ship and gen­der. It needs a strat­e­gy for polit­i­cal coali­tion-build­ing that goes beyond mere con­tempt for estab­lish­ment liberals.
Nan­cy Fol­bre
is a fem­i­nist econ­o­mist at the Uni­ver­si­ty of Mass­a­chu­setts, Amherst.