Lockout at Quebec Rio Tinto Aluminum Smelter Drags On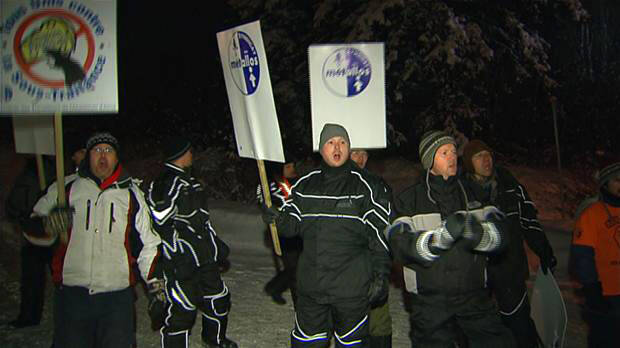 About 780 workers at an aluminum smelter run by the mining giant Rio Tinto in Quebec are heading into the fourth week of a lockout, with many still braving the frigid weather to picket though an injunction — in place until April — that bars them from blocking the smelter entrance. Their contract had expired New Year's Eve after weeks of fruitless negotiations. On New Year's Day, the company locked them out.
The union, a United Steelworkers local, voted to authorize a strike and warned one was imminent, with a major point of contention being Rio Tinto's increasing reliance on nonunion subcontracters. A Montreal paper reported that the company planned to more than double subcontracter work hours from 140,000 in 2010 to 350,000 this coming year.
Shortly after the lockout started, the Syndicat des Métallos d'Alma union accused Rio Tinto of illegally bringing in replacement workers by helicopter, and filed a complaint with the government. The company said about 200 managers were running the plant, which normally employs 1,000, and that production at the facility, which is about 150 miles north of Quebec City, was cut by a third.
Railway workers had reportedly previously refused to cross the picket line to deliver aluminum oxide raw materials, but resumed deliveries after being suspended and threatened with losing their jobs.
The smelter is one of Rio Tinto subsidiary Alcan's largest in North America. Rio Tinto bought Alcan four years ago for $38 billion, making the company the world's largest aluminum supplier.
But last fall, Rio Tinto announced it is shrinking its investment in the aluminum business worldwide, and concentrating more on iron ore globally and a small number of highly profitable Canadian aluminum operations. The company said that in the face of falling aluminum prices thanks to oversupply from China, it would sell $8 billion worth of aluminum operations in the United States, Britain, Australia, New Zealand, France and Germany.
It will keep its Canadian operations, which are more profitable in part because they are powered by government-owned hydro-electric plants on nearby rivers.
The World Socialist website reported:
The union has demanded that the provincial Liberal government of Jean Charest prevent Hydro-Quebec, the government-owned power utility, from buying back electricity which will go unused by Rio Tinto Alcan during the conflict. The production of aluminum requires a huge amount of electricity and Rio Tinto has a preferential agreement with Hydro-Quebec.

But Quebec Minister of Natural Resources Clement Gignac has refused to intervene. The reality is Quebec's Liberal government wholeheartedly supports Rio Tinto Alcan. One of Charest's first acts on coming to power in 2003 was to amend the Labour Code to facilitate the hiring of contract labour.
In The Globe and Mail, Canadian Auto Workers economist Jim Stanford described the Alcan lockout and the lockout of Caterpillar workers in Canada as examples of how even as employers blame work stoppages for cutting production and profits, they are increasingly using the tactic to break unions and force concessions. He called for provincial governments to join Manitoba in forcing negotiations or otherwise intervening in protracted impasses:
Business lobbyists used to express grave concern about the economic impact of strikes. Those concerns were always overstated; time lost in work stoppages has declined by 90 per cent from the 1970s. Nevertheless, companies traditionally complain that work stoppages damage sales, productivity and, of course, profits.

Recently, however, business leaders have warmed to work stoppages. In the current bargaining environment, companies (especially multinational firms) hold the best cards. And executives are increasingly willing to precipitate their own work stoppages – through management lockouts – to enforce demands for lower wages and benefits.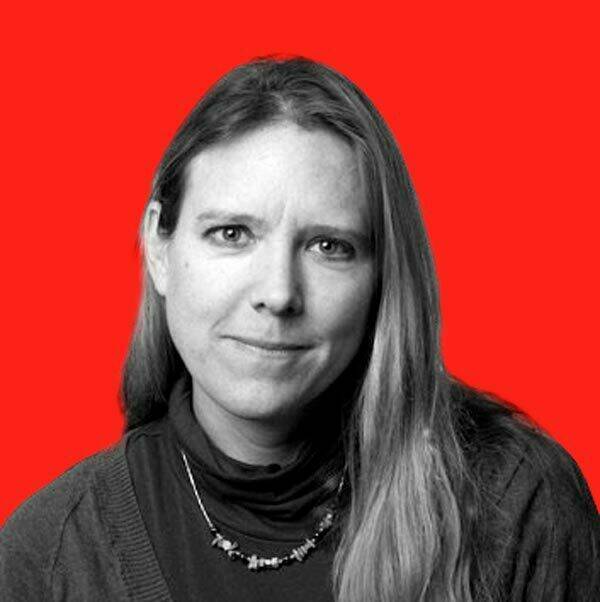 Kari Lydersen is a Chicago-based journalist, author and assistant professor at Northwestern University, where she leads the investigative specialization at the Medill School of Journalism, Media, Integrated Marketing Communications. Her books include Mayor 1%: Rahm Emanuel and the Rise of Chicago's 99%.