In a Landslide Vote, the LA Times Just Unionized, Upending a Long Anti-Labor History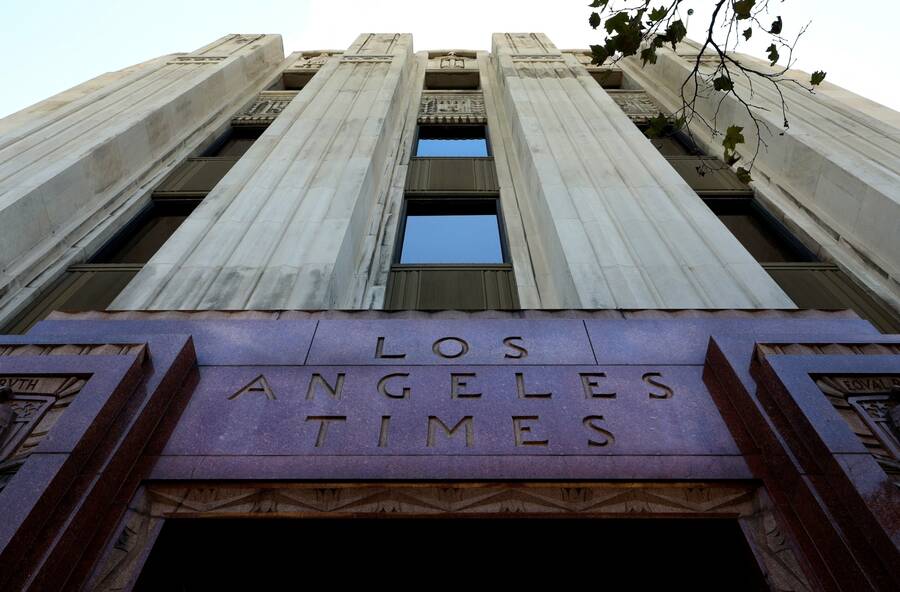 Update: On Fri­day, Jan­u­ary 19, the News Guild announced that Los Ange­les Times jour­nal­ists had vot­ed over­whelm­ing­ly in favor of a union, 248 – 44. The vic­to­ry will lead to the paper's first staff union, after 136 years in oper­a­tion. Kristi­na Bui, Guild orga­niz­er and a copy edi­tor at the LA Times, told the paper, ​"This was a long time com­ing, and we're all thrilled that this has final­ly hap­pened. The news­room has put up with so much dis­rup­tion and mis­man­age­ment, and this vote just under­scores how much of a say we need to have in the deci­sion-mak­ing process. The news­room is demand­ing a seat at the bar­gain­ing table."
Emi­ly Alpert Reyes and Car­oli­na Miran­da are among the Los Ange­les Times news­room staff anx­ious­ly await­ing Jan­u­ary 19, when they will find out whether the year-long cam­paign to orga­nize their work­place has been a success.
Staff vot­ed Jan­u­ary 4 on whether to join the News­Guild-Com­mu­ni­ca­tions Work­ers of Amer­i­ca, and Miran­da and Alpert Reyes — along with many News Guild orga­niz­ers — believe that a major­i­ty of eli­gi­ble employ­ees vot­ed for the union. An offi­cial count will occur after the Jan­u­ary 18 dead­line for mail-in bal­lots from employ­ees in remote bureaus.
Cer­ti­fi­ca­tion as a union work­place would mark a major mile­stone for the ven­er­a­ble pub­li­ca­tion and fourth most wide­ly read news­pa­per in the Unit­ed States. And it would cut against a long anti-labor his­to­ry at the LA Times.
If the union does come out vic­to­ri­ous, then the hard work will real­ly begin: nego­ti­at­ing a con­tract with a com­pa­ny noto­ri­ous­ly hos­tile to unions in an increas­ing­ly pre­car­i­ous media ecosystem.
Miran­da, a staff writer cov­er­ing cul­ture ​"from high to low," pre­vi­ous­ly worked in two oth­er union­ized news­rooms—Time and News­day.
"It wasn't that unions made any­thing per­fect," she says. ​"But we had a mod­icum of pro­tec­tion. There were nego­ti­at­ed sev­er­ance pack­ages, lay­offs only for just cause — not at will. The com­pa­ny couldn't change our ben­e­fits uni­lat­er­al­ly. Here at the LA Times, we work with no pro­tec­tions what­so­ev­er. We're at-will employ­ees, the com­pa­ny can change our ben­e­fits when­ev­er they want, and we can't real­ly fight it."
Miran­da notes that today there are few jour­nal­ists who don't feel the ​"specter of lay-offs" hov­er­ing over them. The LA Times cur­rent­ly employs around 500 news­room employ­ees, down from 1,200 at its peak around the turn of the mil­len­ni­um. The staff has since been pared down by mul­ti­ple waves of lay­offs and buy­outs, includ­ing a mass lay­off of 250 peo­ple in 2008.
City Hall reporter Alpert Reyes pre­vi­ous­ly worked at the non­prof­it online out­let Voice of San Diego, until she was laid off six years ago. When she was hired at the LA Times short­ly after, she was thrilled. Now she's focused on mak­ing sure she and her cowork­ers have job pro­tec­tions in place.
"The con­stant here is the folks who are pro­duc­ing the sto­ries, mak­ing amaz­ing pho­tographs, putting the paper togeth­er," says Alpert Reyes. ​"We need a voice for our­selves, not only for our own job secu­ri­ty, but real­ly for the sur­vival and the con­tin­ued thriv­ing of the paper."
A sea change
The elec­tion at the LA Times comes on the heels of a recent spate of suc­cess­ful media union dri­ves at out­lets includ­ing In These Times, the Chica­go Read­er, Huff­Post, Vox and Vice Media.
The LA Times is owned by the media com­pa­ny Tronc, for­mer­ly the Tri­bune Pub­lish­ing Com­pa­ny, which also owns the Chica­go Tri­bune and is known for its con­ser­v­a­tive and anti-union stances. The 136-year-old LA Times' own anti-labor his­to­ry goes all the way back to its first pub­lish­er Har­ri­son Gray Otis, who mer­ci­less­ly fought union­iza­tion in the late 1800s and ear­ly 1900s. Dur­ing his tenure as the LA Times pub­lish­er, Otis brought in scabs to break a typog­ra­phers' strike in 1890, orga­nized oth­er busi­ness own­ers into an anti-union asso­ci­a­tion and worked tire­less­ly to sup­press labor orga­niz­ing at the paper.
James O'Shea, who served as LA Times edi­tor-in-chief from 2006 to 2008, says that staff union­iza­tion would be ​"pret­ty his­toric giv­en the LA Times has tra­di­tion­al­ly been fierce­ly anti-union." O'Shea left the paper in 2008 over dis­agree­ments with top man­age­ment over plans O'Shea thought would lead to dras­tic bud­get cuts and lay­offs. He says the finan­cial chal­lenges fac­ing news­pa­pers such as the LA Times are dire, and that it is in the inter­est of both man­age­ment and union­ized employ­ees to work togeth­er to over­come them.
"Nei­ther side has the time to car­ry on a war," says O'Shea, whose father was pres­i­dent of an elec­tri­cal work­ers union in Des Moines. ​"They need to get down to the busi­ness of fig­ur­ing out what to do. These prob­lems have been devel­op­ing for over 10 years, they were bub­bling up when I was there. Try­ing to fig­ure out if you can meet the next chal­lenge by lay­ing more peo­ple off, that's not the answer. The key ques­tion is, How are you going to finance qual­i­ty jour­nal­ism? That's the ques­tion fac­ing the whole industry."
Dave Roed­er is a con­sul­tant for the Chica­go News Guild. He sees the LA Times' poten­tial union­iza­tion as an inspi­ra­tion for oth­er news­rooms. Roed­er pre­vi­ous­ly worked at the Chica­go Sun-Times where he served as a busi­ness reporter and colum­nist until 2013. And, as part of his work with the News Guild, he helped orga­nize the recent pur­chase of the Sun-Times by the Chica­go Fed­er­a­tion of Labor and investor Edwin Eisendrath.
"[The LA Times union dri­ve] has prompt­ed a lot of dis­cus­sion among jour­nal­ists here in Chica­go who are not in a union," Roed­er says. ​"Is it a time to orga­nize so we can bet­ter advo­cate for our­selves with own­er­ship? In the dif­fi­cult state of this busi­ness, you find old-line media that are in the hands of own­ers who may not have jour­nal­ism as a core prin­ci­ple; they might just be inter­est­ed in min­ing a com­pa­ny for assets, sell­ing what they can, and leav­ing the rest. The case for being in a union in this field in par­tic­u­lar is very clear right now."
Basic issues
Miran­da and Alpert Reyes say they hope a union can help pro­vide sta­bil­i­ty and a voice for employ­ees by fight­ing for poli­cies such as advance notice of lay­offs, stan­dard­ized min­i­mum salaries, com­pet­i­tive parental leave and the abil­i­ty to cash out or roll over unused vaca­tion time.
Alpert Reyes says management's changes to vaca­tion pol­i­cy last year were a major blow for many reporters, replac­ing earned vaca­tion time with the pos­si­bil­i­ty to request ​"infi­nite vaca­tion" from a supervisor.
"In the past you had a set amount each year and if you did­n't use it, it would roll over," Alpert Reyes notes. ​"If you left the paper you could cash out that vaca­tion, you had some finan­cial secu­ri­ty, or some peo­ple used it to pad mater­ni­ty leave."
She adds that employ­ees also want a union to help ​"ensure equal pay for men and women and jour­nal­ists of col­or; and make it the kind of place where you can have a career path, where there's some pos­si­bil­i­ty of rais­es — not just a place that has a revolv­ing door."
Anti-union tac­tics
Since the union­iza­tion effort began in late 2016, LA Times employ­ees have report­ed that man­age­ment has engaged in anti-union tac­tics such as dis­trib­ut­ing anti-union fliers and sug­gest­ing that employ­ees who joined a union would have to rene­go­ti­ate their ben­e­fits, as report­ed by the New York Times.
LA Times spokesper­son Hillary Man­ning said in a state­ment that: ​"Whether the Los Ange­les Times news­room has a union or not, we are unit­ed as one orga­ni­za­tion with an impor­tant pur­pose. We are com­mit­ted to pro­vid­ing the inde­pen­dent, trust­wor­thy jour­nal­ism that our read­ers rely on."
Miran­da says the com­pa­ny told employ­ees that union orga­niz­ers are ​"bring­ing in a third par­ty to come between the employ­ees and man­age­ment, that the union can't guar­an­tee any of the ben­e­fits they're describ­ing … that reporters would be sac­ri­fic­ing their inde­pen­dence if we signed on to a union. All the bogey­man anti-union scare tactics."
After man­age­ment emailed employ­ees say­ing that ​"union­iza­tion will not and can­not address our industry's extreme­ly dif­fi­cult busi­ness con­di­tions," LA Times nation­al cor­re­spon­dent Matt Pearce point­ed out on Twit­ter that the com­pa­ny recent­ly agreed to pay a com­pa­ny owned by ven­ture cap­i­tal­ist and Tronc major share­hold­er Michael W. Fer­ro Jr. $5 mil­lion a year for con­sult­ing over the next three years, as laid out in a Dec. 20, 2017, fil­ing with the Secu­ri­ties and Exchange Commission.
"There is mon­ey in Tronc's bud­get for rais­es," Pearce tweet­ed, ​"Just not for you."
O'Shea says he would advise LA Times man­age­ment to work earnest­ly with the union.
"If they enter with the idea unions are evil things and they're going to destroy our com­pa­ny and they do every­thing they can to break [the union], that would be a dis­as­ter," O'Shea says. ​"If they're smart, they'll say these peo­ple vot­ed to be in the union, they want rep­re­sen­ta­tion, we should make the table big enough, we should lis­ten to them, con­vince them we real­ly have a prob­lem here and if we don't work togeth­er to solve it that will be to the detri­ment of everybody."
When O'Shea was a reporter at the Des Moines Reg­is­ter in the 1970s, union­iza­tion was nar­row­ly vot­ed down after a con­tentious cam­paign that O'Shea says ​"left a bit­ter lega­cy." ​"It real­ly tore the news­room apart. Long­time friend­ships were bro­ken, it was just awful," he says.
Alpert Reyes says the year-long union­iza­tion cam­paign at the LA Times has been a very dif­fer­ent sto­ry: a large­ly pos­i­tive expe­ri­ence that has brought news­room employ­ees closer.
"One of the real­ly great things about this whole process has been get­ting this sense of band­ing togeth­er across dif­fer­ent parts of the news­room and get­ting to express our appre­ci­a­tion for each oth­er in ways that don't real­ly hap­pen over rushed dead­lines," she says.
While some of her col­leagues are opposed to union­iz­ing, ​"my hope is that we can show them that no mat­ter how you vot­ed, we are here to fight for you," Alpert Reyes says. ​"We want a voice, we want a seat at the table, and we want some way to pro­tect the things we love about this place."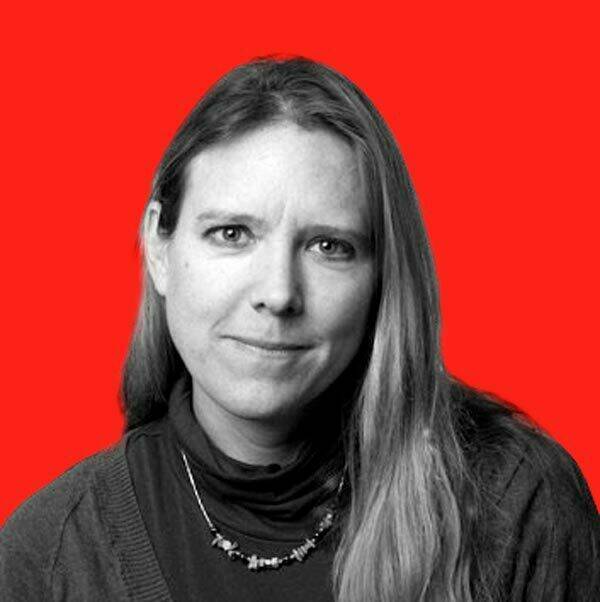 Kari Lyder­sen
is a Chica­go-based reporter, author and jour­nal­ism instruc­tor, lead­ing the Social Jus­tice
&
amp; Inves­tiga­tive spe­cial­iza­tion in the grad­u­ate pro­gram at North­west­ern Uni­ver­si­ty. She is the author of May­or
1
%: Rahm Emanuel and the Rise of Chicago's
99
%.