We Won Sick Days at Macy's—And We Did It With Style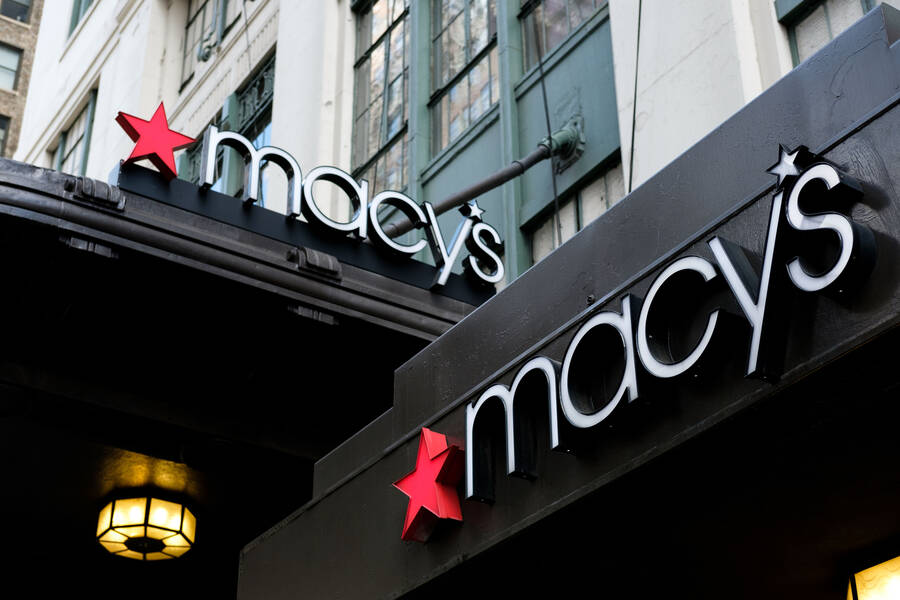 When depart­ment-store work­ers fight, we do it fash­ion­ably. Have you ever seen a union con­tract cam­paign that fea­tured makeovers and feath­er boas? Read on.
We had worked hard for Macy's, and frankly we were fed up. Like a lot of work­ing peo­ple out there, we work for a com­pa­ny that's doing fine, yet they want to cut staff and expect us to pick up the slack.
The slack, if there ever was any, was picked up a long time ago. If you're like us — and like most peo­ple in Amer­i­ca — you're strug­gling to make ends meet even though you have a job.
The good news is, unlike most work­ers in retail depart­ment stores, we have a union. Here in north­west Wash­ing­ton state, 850 employ­ees at six Macy's stores are mem­bers of Food and Com­mer­cial Work­ers Local 21. Nation­wide we're joined by UFCW mem­bers at 27 oth­er Macy's stores.
In our lat­est con­tract cam­paign we were able to fend off Macy's demands and make sig­nif­i­cant gains… and we had fun doing it. A record num­ber of our co-work­ers got involved, helped dream up cre­ative tac­tics, and turned up the heat until Macy's gave in.
Last spring, our con­tract was get­ting ready to expire. Our co-work­ers want­ed wage increas­es and to solve sched­ul­ing prob­lems. For many of us it was dif­fi­cult to get enough work hours in a week, and the com­pa­ny kept chang­ing our schedules.
BIGGEST C.A.T. EVER
We knew man­age­ment would resist mak­ing improve­ments, because the mar­ket for our stores is chal­leng­ing. We work retail every day, so you don't need to tell us that. What we did not know was that Macy's would push so hard for cuts to our exist­ing contract.
For exam­ple, we have two cat­e­gories of jobs — the sales staff and the sup­port work­ers who place the mer­chan­dise. Macy's want­ed to turn every­one into a gen­er­al­ist doing all the func­tions in the store, but the com­pa­ny wasn't will­ing to pay every­one the high­er wage.
Sick leave was anoth­er big stick­ing point. Our union had helped to pass a new state law requir­ing employ­ers to offer paid sick days. But instead of adding sick days to com­ply with the new law, man­age­ment want­ed to count the per­son­al days and vaca­tion time that we already had in our con­tract. We felt we had earned that time off, and sick leave should be some­thing separate.
Incensed at the company's demands, we built the biggest Con­tract Action Team we've ever had. Long­time union activists did a great job recruit­ing new­er co-work­ers. We start­ed with a bar­gain­ing sur­vey and grad­u­al­ly esca­lat­ed the pres­sure on Macy's.
PRO-UNION MAKEOVER
To ensure wide par­tic­i­pa­tion, we chose a first action that wasn't too hard: wear­ing but­tons. We designed the but­tons to look sim­i­lar to Macy's ads, but with union mem­bers as the mod­els in the photographs.
Since we were coor­di­nat­ing our cam­paign with Macy's work­ers at UFCW Local 400 in the D.C. area, both unions used the same but­ton theme. We even wore some of each other's but­tons to show our unity.
We also looked for ways to show Macy's that cus­tomers would take our side.
Unions and com­mu­ni­ty groups helped by par­tic­i­pat­ing in ​"makeover" days. Sup­port­ers would come into the store, wear­ing the T‑shirts of their unions and orga­ni­za­tions, and sign up for ser­vices such as hav­ing mas­cara applied.
Before leav­ing, each cus­tomer would vis­it the store manager's office to deliv­er a coupon with a mes­sage of sup­port for our fight.
For Seattle's famous Pride Parade in Capi­tol Hill, we wrapped a vehi­cle bumper-to-bumper with our UFCW 21 logo and mis­sion. Macy's had its own float right behind ours, so the com­pa­ny got a prime view of us tak­ing our cam­paign to the public.
FEATH­ERS EVERYWHERE
As the cam­paign got hot­ter, the Con­tract Action Team was meet­ing in per­son every few weeks to hear bar­gain­ing updates and plan upcom­ing actions. We used every means to keep our co-work­ers up to date: newslet­ters, emails, mass text mes­sages, and lots of face-to-face conversations.
A mem­ber-run Face­book group grew into a live­ly cam­paign hub. Out of 850 work­ers, about 300 were active in this group, shar­ing action pho­tos and dis­cussing store issues. There were new posts near­ly every day.
When the Macy's CEO came to vis­it one of our stores, we tried to set up a meet­ing with him. He refused to talk, and tried to avoid us. The bar­gain­ing team end­ed up pur­su­ing him through the store. That expe­ri­ence fired mem­bers up.
Next we held ​"Work It" fash­ion shows out­side our stores. At the entrance to the South Cen­ter Mall we set up a red car­pet, bal­loons, and a big speak­er. We invit­ed com­mu­ni­ty part­ners too. Union mem­bers and sup­port­ers strut­ted and flounced down the run­way while the emcee described what they had cho­sen to wear and why.
Macy's work­ers had a great time. So did cus­tomers, who stopped to watch and clap. We hand­ed out bal­loons and feath­er boas in our union col­ors, yel­low and blue. Many cus­tomers took them, espe­cial­ly those with kids. Soon the stores were full of feath­ers and man­agers were com­ing out to gripe.
We hoped those man­agers were think­ing, ​"If they're doing this now, what are they going to do next?"
EMP­TY STORES
As the sum­mer dragged on into August, Macy's was still stand­ing firm. We held infor­ma­tion­al pick­et­ing in front of our stores to talk to cus­tomers. In Sep­tem­ber we vot­ed over­whelm­ing­ly to reject the company's con­tract proposal.
Despite our vote, Macy's stuck to its guns with pro­pos­als that would have kept wages far too low, left our hours and sched­ul­ing messed up, and forced us to give up our vaca­tion time in exchange for sick days.
So in Octo­ber we held anoth­er infor­ma­tion­al pick­et. This time, even work­ers who were sched­uled to work used their per­son­al days to come out­side and join the picketing.
The stores were near­ly desert­ed. It wasn't a strike, but it gave Macy's a taste of what a strike might look like. Final­ly the com­pa­ny got the message.
That's when Macy's start­ed to do what you're sup­posed to do in nego­ti­a­tions — actu­al­ly nego­ti­ate. The com­pa­ny began to with­draw its real­ly bad pro­pos­als and we were able to get down to busi­ness. In fact, we won some big advances.
STEPS FOR­WARD
In the final deal, we pro­tect­ed our vaca­tion days and added an addi­tion­al per­son­al day, some­thing Macy's work­ers haven't been able to win any­where else in the country.
We won new sched­ul­ing options that will allow peo­ple to get more hours. We also changed the wage pro­gres­sion so that it's based on years worked, instead of hours worked — remov­ing an obsta­cle that had made it hard­er for part-time work­ers to get a raise.
The only place where we allowed the com­pa­ny to com­bine the sales and sup­port func­tions into gen­er­al­ist jobs is at the Macy's Back­stage stores, which employ very few work­ers — and even there, all those work­ers will get the high­er wage rate. They will also have the option to move into a reg­u­lar store if they don't want to do both job functions.
We feel this con­tract cam­paign was a suc­cess sto­ry. It worked because we stuck togeth­er and kept a clear-eyed focus on the issues that were most impor­tant — and because so many mem­bers worked to get their co-work­ers involved in the fight.
This sto­ry first appeared at Labor Notes.
Nic­hole Book­er is a sales asso­ciate at the SeaT­ac Macy's. Cur­tisy Bryant is a cos­met­ics asso­ciate at the South­Cen­ter Macy's. Both are mem­bers of UFCW
21
and were mem­bers of the Macy's con­tract bar­gain­ing team in
2018
.