Made in Dagenham: Lessons for Today From the Golden Age of Factory Unrest?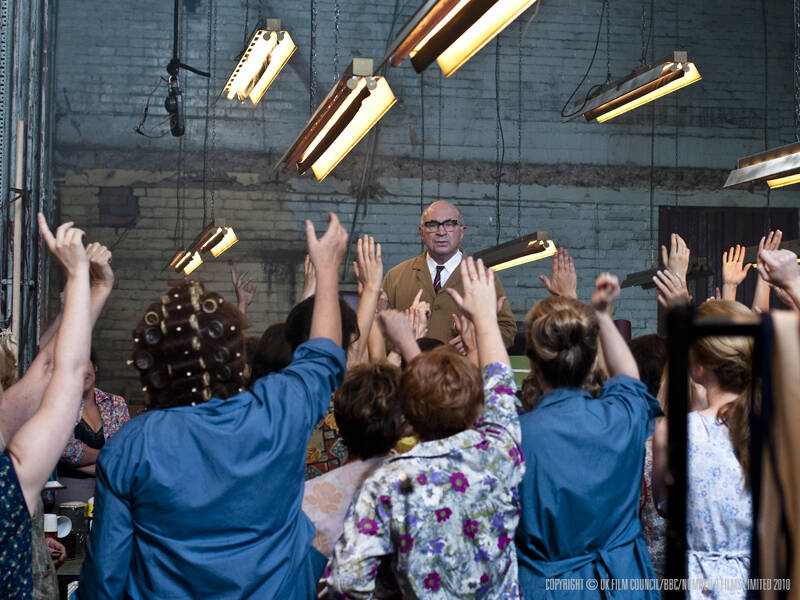 In 1968, the world was trans­fixed by glob­al stu­dent unrest. Less atten­tion was paid to fac­to­ry upris­ings that occurred at the same time and over­lapped with cam­pus protests in places like France. In one small cor­ner of the Ford Motor Company's huge pro­duc­tion com­plex in Dagen­ham, Eng­land, sev­er­al hun­dred women did their part in the ​"year of revolt."
Toil­ing in their own sex-seg­re­gat­ed depart­ment, the only females in a plant of 55,000 had walked out many times in the past, over strike issues dear to their male co-work­ers. Now, it was their turn to shut down sewing machines, stop pro­duc­tion of seat cov­ers, and pick­et Ford over a pay dis­pute with broad­er social impli­ca­tions.

Made in Dagen­ham is the sto­ry of their strike — born of work­ing class fem­i­nist con­scious­ness in a labor move­ment even more dom­i­nat­ed by ​"the lads" forty years ago than it is today. Schmaltzy, up beat and out of synch with our cur­rent work­place gestalt of hope­less­ness and defeat, this film is just what the head doc­tor ordered for hol­i­day enter­tain­ment. It is, by far, the best pop­u­lar depic­tion of union activist cre­ation since Ken Loach's Bread and Ros­es and Mar­tin Ritt's Nor­ma Rae.
If unions don't use it to train shop stew­ards and bar­gain­ing com­mit­tee mem­bers, that fail­ure of labor edu­ca­tion imag­i­na­tion will be under­stand­able because Made in Dagen­ham cap­tures the fre­quent ten­sion between labor's full­time offi­cial­dom and its work­ing mem­bers, par­tic­u­lar­ly dur­ing strikes.
The strike leader played by Sal­ly Hawkins in Nigel Cole's new movie is a very British ver­sion of the South­ern tex­tile work­er por­trayed so famous­ly by Sal­ly Fields in 1979. Rita O'Grady is not even a union stew­ard in the film's ear­ly scenes of shop-floor life and work. She steps into that role only because her old­er co-work­er, Con­nie, is deal­ing with the sui­ci­dal depres­sion of her hus­band, a dam­aged sur­vivor of wartime duty in the RAF. Unlike the mill where Nor­ma Rae toiled, the Dagen­ham plant is com­plete­ly orga­nized. Unfor­tu­nate­ly, with the excep­tion of Albert, a love­able chief stew­ard ally (won­der­ful­ly played by Bob Hoskins), the union, which is a com­pos­ite of sev­er­al actu­al­ly involved, seems to func­tion as an arm of Ford's HR depart­ment, a labor-man­age­ment rela­tion­ship not unknown to auto work­ers in this coun­try.

The polit­i­cal tra­di­tions of British trade unions give this arrange­ment humor­ous left cov­er. In one mem­o­rable scene, a clutch of wor­ried offi­cials, in jack­ets and ties, are try­ing to talk Rita out of strike action that might upend some murky, big pic­ture strat­e­gy the lead­er­ship is pur­su­ing. While con­de­scend­ing to the only work­er in the room, they address each oth­er as ​"com­rade" and invoke Marx as the final author­i­ty on what should and should not be done!

Rita's first bar­gain­ing ses­sion is a face-to-face meet­ing with Ford offi­cials about their mis-clas­si­fi­ca­tion of the sewing machine oper­a­tors as unskilled labor. Both Rita and Con­nie (Geral­dine James) get a day off from work and over-dress for the occa­sion. Mon­ty, their full-time union rep­re­sen­ta­tive (played by Ken­neth Cran­ham), first takes them out for a well-lubri­cat­ed lunch, a perk designed to put Rita and Con­nie (Geral­dine James) in his debt. Mon­ty has obvi­ous­ly been off the job and out of the plant for years; his main pre­oc­cu­pa­tion now seems to be eat­ing and drink­ing at dues-pay­er expense, dress­ing nice­ly, and see­ing the company's side of things. When the union del­e­ga­tion final­ly sits down with man­age­ment, Mon­ty does all the talk­ing and fails to give Ford a firm dead­line for fix­ing the prob­lem.

Shocked by the incom­pe­tence of her own union nego­tia­tor, and his obvi­ous cozi­ness with the employ­er rep­re­sen­ta­tives, Rita com­man­deers the meet­ing. She inter­rupts Mon­ty and pulls out sam­ples of the seat cov­ers stitched by the work­ers in her depart­ment. She explains the com­plex­i­ty of the labor process involved and insists that Ford prop­er­ly reward the skill and expe­ri­ence nec­es­sary to do the job. The scene is a great tuto­r­i­al in how make effec­tive job upgrade pre­sen­ta­tions — and, believe me, they're always done best by those who do the actu­al work. The boss­es are so tak­en aback that one can only respond with a threat of dis­ci­pline for Rita's lift­ing of the mate­r­i­al used in her demon­stra­tion.

The rad­i­cal­iza­tion of Rita that fol­lows is a sight to be seen. Hawkins' char­ac­ter in this film is no Pop­py, the loopy Cock­ney in Mike Leigh's Hap­py-Go-Lucky that won her a Gold­en Globe and a slew of oth­er awards in 2008. She is a moth­er with two chil­dren, work­ing the prover­bial ​"dou­ble shift" in a tra­di­tion­al mar­riage to a fel­low Dagen­ham work­er (played by Daniel Mays) who is sweet but weak-willed. She's a woman pre­vi­ous­ly lack­ing in per­son­al self-con­fi­dence, a stranger to pub­lic speak­ing, and bereft of ​"polit­i­cal expe­ri­ence" (as Ford offi­cials dis­cov­er when they scour her file expect­ing to find evi­dence of left-wing par­ty con­nec­tions).

Under the tute­lage of Albert (a far more appeal­ing ver­sion of the union men­tors played by Ron Leib­man in Nor­ma Rae and Adrien Brody in Bread and Ros­es), Rita finds her own voice, a streak of deter­mi­na­tion, and the capac­i­ty to move oth­ers. As in many strikes, rank-and-file uni­ty is stronger at the begin­ning. Then, as the job action spreads, thou­sands are thrown out of work and the recrim­i­na­tions begin to fly. For some work­ers, orga­niz­ing strike relief, attend­ing ral­lies, main­tain­ing pick­et-lines, and meet­ing oth­er union mem­bers is a learn­ing expe­ri­ence, lib­er­at­ing and even euphor­ic. Oth­ers — in this case, main­ly fear­ful or dis­grun­tled guys — slink away to the pub. There, they watch strike cov­er­age on the tel­ly and grouse about the eco­nom­ic hard­ship inflict­ed on the real bread-win­ners in the com­mu­ni­ty by a hand­ful of unrea­son­able women.

Rita's own Nor­ma Rae moment occurs at a union con­fer­ence, not stand­ing on the pick­et-line or a work bench in the plant. Mon­ty and the oth­er ​"com­rades" have sched­uled a vote, among the entire­ly male con­fer­ence del­e­gates, that will end this cost­ly ​"indus­tri­al action" at Ford, with­out a favor­able res­o­lu­tion of the job grad­ing issue. Rita and her rov­ing pick­ets are the only women at the meet­ing. Rita takes the stage and deliv­ers a mov­ing but sim­ple speech recall­ing the wartime courage of her co-worker's hus­band, the now deceased RAF vet­er­an. ​"Men and women, we are in this togeth­er," she tells the stone-faced crowd. ​"We are not divid­ed by sex. Only by those will­ing to accept injus­tice." Moved, shamed and/​or inspired by her mes­sage, the del­e­gates vote to con­tin­ue union back­ing for the Dagen­ham strike, which, by then, was cre­at­ing wide­spread dis­rup­tion of Ford pro­duc­tion.

The com­pa­ny responds by send­ing a hard-nosed exec­u­tive from Detroit to read the riot act to Britain's then-Labour Gov­ern­ment. If the strike is not end­ed, Ford strong­ly hints, it might shift Corti­na pro­duc­tion to a land where the blokes and birds aren't so strike hap­py. The prime min­is­ter at the time was the wishy-washy Harold Wil­son. His First Sec­re­tary of State was Bar­bara Cas­tle, a long­time mem­ber of par­lia­ment (played with flair by Miran­da Richard­son) who takes charge of the sit­u­a­tion when Wil­son doesn't. In the film, with a lit­tle wav­ing of Castle's mag­ic wand, a dis­pute over pay-grad­ing in a par­tic­u­lar auto plant job clas­si­fi­ca­tion gets trans­formed, for PR pur­pos­es, into a broad­er demand for ​"equal pay." Two years after the walk-out was final­ly set­tled with an increase for the sewing machine oper­a­tors (that still left them earn­ing less than men in the same job grade), Par­lia­ment did enact leg­is­la­tion against pay dis­crim­i­na­tion, based on gen­der. The mea­sure was not ful­ly imple­ment­ed until 1975.

But the social real­i­ty, in the mean­time, was a bit more com­plex, as sev­er­al British com­men­ta­tors, includ­ing Sheila Cohen, have not­ed. (See Cohen's cri­tique of the film at The Com­mune) The real-life Labour Par­ty fem­i­nist shown nego­ti­at­ing with Rita and her friends in Lon­don trig­gered a trade union revolt in 1969 with a white paper enti­tled, ​"In Place of Strife." Cas­tle (who lat­er become Baroness Cas­tle of Black­burn) cre­at­ed a back­lash against Wilson's gov­ern­ment and con­tributed to Labour's elec­toral defeat in 1970, when she tried to curb union rights and quell the broad­er strike wave that the women of Dagen­ham surfed so impres­sive­ly.

The fin­er points of British left and labor his­to­ry aside, if you like Brassed Off, The Full Mon­ty, or Bil­ly Elliot, Made in Dagen­ham is the film for you. The lyrics for its theme song, per­formed by for­mer Dagen­ham work­er Sandie Shaw, were writ­ten by the British protest rock­er, Bil­ly Bragg (who has a street in Dagen­ham named after him.) It's not coal min­ers or steel­work­ers who take cen­ter stage this time, but sewing machine oper­a­tors who were no less skilled in the hard work of union solidarity.
Steve Ear­ly worked for 27 years as an orga­niz­er and inter­na­tion­al rep­re­sen­ta­tive for the Com­mu­ni­ca­tions Work­ers of Amer­i­ca. He is the author of sev­er­al books, includ­ing Refin­ery Town: Big Oil, Big Mon­ey, and the Remak­ing of an Amer­i­can City (Bea­con Press).