The law­suit alleges that San Juan County's 2014 switch to mail-in elec­tions makes it hard for non-Eng­lish-speak­ing Nava­jos to vote because they can't read the Eng­lish-only bal­let. Fur­ther, the change is pred­i­cat­ed on the reservation's unre­li­able postal sys­tem. If a vot­er doesn't receive or under­stand a bal­lot, the option of cast­ing one in per­son in the large­ly white north­ern part of the coun­ty — which has the only polling place left — is a dif­fi­cult and cost­ly trek for trib­al mem­bers, who most­ly live at great dis­tances from it. These unequal bur­dens vio­late the Vot­ing Rights Act and the Con­sti­tu­tion, says the com­plaint, Nava­jo Nation Human Rights Com­mis­sion v. San Juan Coun­ty et al.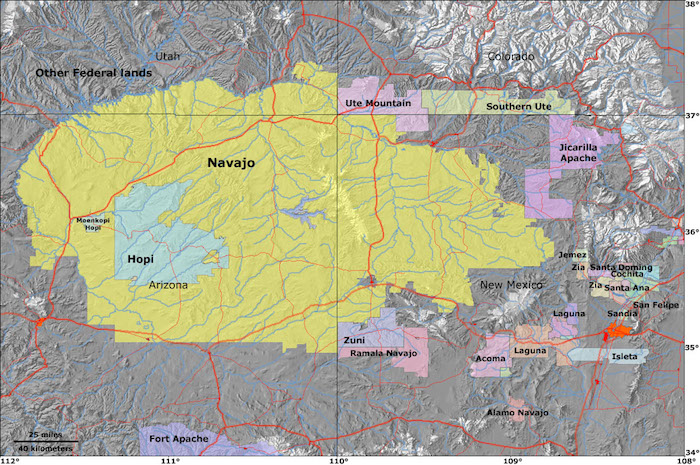 The Nava­jo Nation is the largest (27,000 square miles) and most pop­u­lat­ed reser­va­tion in the Unit­ed States. San Juan Coun­ty, Utah bor­ders Ari­zona, Col­orado and New Mex­i­co at the four cor­ners. (Image: usgs​.gov)
"Pro­tect­ing the right to vote has not res­onat­ed equal­ly across the coun­try," says Leonard Gor­man, exec­u­tive direc­tor of the Nava­jo Nation Human Rights Com­mis­sion. ​"This caus­es our peo­ple to lose con­fi­dence in gov­ern­ment. How­ev­er, we at NNHRC are immers­ing our­selves in this issue and respond­ing to each new chal­lenge to our right to vote."
For an in-depth look at San Juan County's mail-in elec­tion prob­lems, see the Rur­al Amer­i­ca August 2015 sto­ry, Going Postal: How Mail-In Vot­ing Thwarts Nava­jo Vot­ers. Accord­ing to Arusha Gor­don, asso­ciate coun­sel for the Lawyers' Committee's Vot­ing Rights Project, the arti­cle pro­vid­ed con­text for the attor­neys and groups involved as they were craft­ing the lawsuit.
Where the bal­lot does, and doesn't, get through
This is San Juan County's fourth time at bat in a fed­er­al vot­ing-rights mat­ter. A fed­er­al judge recent­ly found the county's school-board and coun­ty-com­mis­sion dis­tricts uncon­sti­tu­tion­al. In the 1980s, the coun­ty set­tled two law­suits brought by the Depart­ment of Jus­tice. One set­tle­ment required the coun­ty to replace at-large elec­tions that had dilut­ed the Nava­jo vote with sin­gle-mem­ber dis­tricts; in the oth­er set­tle­ment, San Juan Coun­ty agreed to pro­vide fed­er­al­ly man­dat­ed lan­guage assis­tance to those not pro­fi­cient in English.
"The new law­suit builds on decades of work," says Gor­don. ​"There is also more under­stand­ing nowa­days that indige­nous people's vot­ing rights are fre­quent­ly left out of the conversation."
Juris­dic­tions around the coun­try have turned to the Post Office for their elec­tions. Twen­ty-two states offer some mail-in options, and three states — Ore­gon, Wash­ing­ton and Col­orado — use the mail for all elec­tions, accord­ing to the Nation­al Coun­cil of State Leg­is­la­tures (NCSL). The deci­sion is typ­i­cal­ly made in hope that this will be more con­ve­nient for vot­ers and might even save mon­ey, among oth­er fac­tors, says the council.
Whether postal elec­tions are liv­ing up to their promise is not clear. They can increase elec­tion costs because of high­er print­ing bills, says NCSL. They can also be unre­li­able. More than 20 per­cent of attempts to vote by mail fail, wrote polit­i­cal sci­en­tist Jean Schroedel in a 2014 research paper. This hap­pens when bal­lots are lost on the way to vot­ers or back to the elec­tion office and when miss­ing sig­na­tures and oth­er errors dis­qual­i­fy bal­lots, accord­ing to Schroedel. Mail­ing a bal­lot also appeals to bet­ter-off, bet­ter-edu­cat­ed vot­ers, she found, which impacts bal­lot-box equality.
In 2014, the mail-in process seems to have worked well for San Juan Coun­ty precincts in the main­ly non-Native north­ern part of the coun­ty. Coun­ty turnout records show these precincts had an over­all lift in elec­tion par­tic­i­pa­tion when com­pared to the two pri­or non-pres­i­den­tial con­tests, 2006 and 2010. But then, mail deliv­ery in these areas — coun­ty seat Mon­ti­cel­lo and near­by Bland­ing, Utah, among them — is sim­i­lar to that of oth­er U.S. towns and cities. And if vot­ers want­ed to cast a bal­lot in per­son, they could take an easy dri­ve to the last remain­ing polling place, in the coun­ty seat.
[If you like what you are read­ing, help us spread the word. ​

"

Like" Rur­al Amer­i­ca In These Times on Face­book. Click on the ​

"

Like Page" but­ton below the wolf on the upper right of your screen.]
Not so on the reser­va­tion, in the south­ern part of the coun­ty. Cross the line and you are in a dif­fer­ent world, of ancient cul­ture, vast dis­tances, great pover­ty, Nava­jo-lan­guage speak­ers — and a very dif­fer­ent response to the mail-in elec­tion. When com­pared to the non-pres­i­den­tial elec­tions in 2006 and 2010, some reser­va­tion precincts saw 2014 turnout drops as much as 20 percent.
Mail ser­vice here is also anoth­er world. To send and receive let­ters and pack­ages, reser­va­tion res­i­dents rely on a patch­work of trad­ing posts, con­tract post offices, reg­u­lar post offices and com­mer­cial mail ser­vices, along with trucks shut­tling mail among far-flung oper­a­tions that may be a sev­er­al-hour dri­ve from any giv­en trib­al member's home.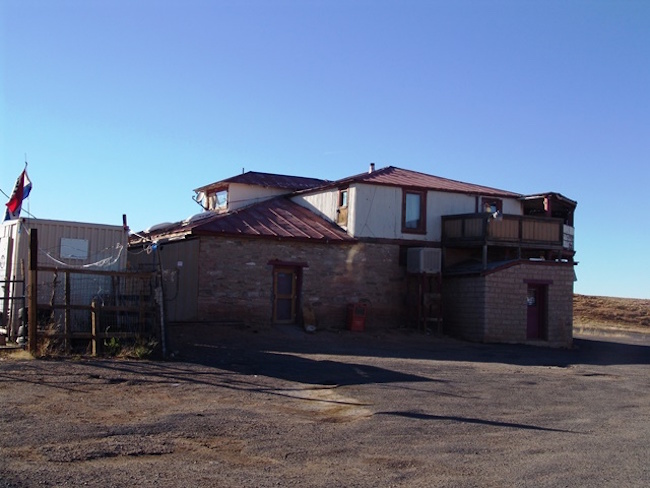 The Tonalea (Red Lake) Trad­ing Post in the north­ern part of the reser­va­tion also serves as a post office. (Pho­to: jamesm​cgillis​.com)
Once a bal­lot is in this sys­tem, it trav­els to the reser­va­tion vot­er or back to the coun­ty via a sort­ing facil­i­ty in Ari­zona, New Mex­i­co or Utah, some­times via mul­ti­ple states. In research­ing reser­va­tion mail pat­terns, civ­il rights attor­ney Maya Kane, of the law firm Maynes, Brad­ford, Shipps and Shef­tel, found that some 2014 bal­lots from Nava­jo precincts arrived at the coun­ty seat elec­tion office sev­er­al months after the election.
Expert trans­la­tion, please!
For trib­al mem­bers who speak Nava­jo, but not Eng­lish, the sit­u­a­tion is very con­fus­ing. They may not real­ize that a par­tic­u­lar piece of mail they've received is their bal­lot. ​"There was a lot of talk after the last elec­tion of bal­lots that went into the trash bin because Nava­jo-speak­ing vot­ers didn't know what they were," says plain­tiff and human-rights advo­cate Wil­fred Jones, a res­i­dent of the reser­va­tion town of Mon­tezu­ma Creek, Utah. ​"Peo­ple from the coun­ty did come to chap­ter [Nava­jo Nation sub­di­vi­sion] meet­ings to explain the new sys­tem, but they spent a few min­utes on it. It wasn't enough."
Coun­ty offi­cials have claimed that rel­a­tives can trans­late. Jones objects. Assum­ing the bal­lot didn't end up in the garbage, it inevitably con­tains com­plex ref­er­en­dum ter­mi­nol­o­gy that doesn't have ready equiv­a­lents in Nava­jo, accord­ing to Jones. It has to be trans­lat­ed by an expert, he says — spe­cial­ists who used to be avail­able at local precincts, as required by the Vot­ing Rights Act.
On Elec­tion Day, if reser­va­tion vot­ers real­ize they don't have a bal­lot, or have one but can't read it, they can dri­ve to the coun­ty seat to vote in per­son. For plain­tiff Ter­ry White­hat, a hos­pi­tal admin­is­tra­tor and res­i­dent of the reser­va­tion town of Nava­jo Moun­tain, Utah, the jour­ney would be about 400 miles round trip across the parched desert and rugged moun­tains of the Mon­u­ment Val­ley region.
White­hat explains what such an under­tak­ing means in this for­bid­ding land. ​"I stock up on food and water. I make sure my vehi­cle is in good con­di­tion and tuned up. I check the water, oil and tire pres­sures. I gas up and make sure I have mon­ey for the return trip." Many of his neigh­bors are impov­er­ished and don't have access to a reli­able vehi­cle and the cash for fuel; for them, the trek is out of the question.
Coun­ty com­mis­sion chair Phil Lyman has told Rur­al Amer­i­ca that the 2014 elec­tion was a ​"test case" and that ​"we aren't wed­ded to vote by mail." By pub­li­ca­tion time he had not respond­ed to Rur­al Amer­i­ca regard­ing the lat­est law­suit. How­ev­er, Lyman has told Utah Pub­lic Radio that the case was ​"spu­ri­ous" and the result of a vendet­ta by for­mer com­mis­sion­ers. About the coun­ty's recent vot­ing-rights loss­es in fed­er­al court, he said to UPR, ​"The appalling thing to me is that you've got a fed­er­al judge who enter­tains this crap. And I don't know what San Juan Coun­ty's response is, oth­er than, you know, fil­ing law­suits ourselves."
"Don't penal­ize me because of who I am and where I live," says Jones. ​"The gov­ern­ment put us on this reser­va­tion, and now we can't vote because we live here. We Nava­jos have a right to vote. This is the twen­ty-first cen­tu­ry. Why has this tak­en so long?"