5 Things the Mainstream Media Missed About Charlottesville
We can't ignore the long history of white supremacist violence—and anti-fascist organizing.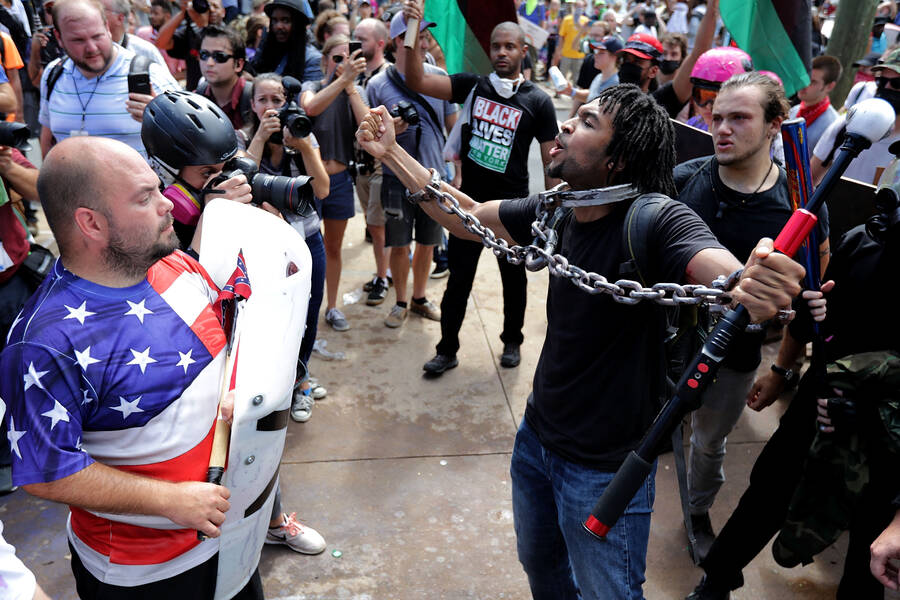 White suprema­cists' coup on the cul­ture may have hit its zenith with the August 12 ​"Unite the Right" ral­ly — a con­ver­gence of far-right groups that end­ed with racist attacks, dozens of injuries and three dead. In the firestorm of con­tro­ver­sy that fol­lowed the fas­cist onslaught in Char­lottesville and Trump's open sup­port for keep­ing the Con­fed­er­ate mon­u­ments in place, a num­ber of impor­tant issues have gone under-report­ed across main­stream news outlets.
While the media focused closely on the spectacle of white polos and khaki pants worn by the killer, most sources missed a long backstory of far-right political violence.
1. Cov­er­age ignored antifas­cist organizing.
While atten­tion has been giv­en to dif­fer­ences of opin­ion on strate­gies and tac­tics, less report­ing has giv­en cre­dence to the sol­i­dar­i­ty that exist­ed. The mas­sive wave that con­front­ed the Unite the Right con­fig­u­ra­tion was the result of the hard work of orga­niz­ers in left move­ments that built on their exist­ing projects and net­works to cre­ate a plan. Sol­i­dar­i­ty C'Ville func­tioned as the local coali­tion, draw­ing togeth­er anti-racist orga­niz­ers with com­mu­ni­ty groups and faith orga­ni­za­tions — and help­ing to bring in speak­ers, includ­ing hun­dreds of cler­gy and faith leaders.
Char­lottesville Black Lives Mat­ter used a strat­e­gy of com­mu­ni­ty defense, under­scor­ing that police assaults on black peo­ple are waged along­side vio­lence inflict­ed by armed insur­rec­tionary white nation­al­ists. ​"We are not all going to agree on the best way to free one's city from an influx, an incur­sion, of racial hatred," Black Lives Mat­ter orga­niz­er Lisa Wool­fork told In These Times. ​"But I believe that all of us are moti­vat­ed by a strong feel­ing of love and fellowship."
Mass mobi­liza­tions like this are nec­es­sary to stop fas­cist events, and can only hap­pen with the con­scious coor­di­na­tion of huge num­bers of par­tic­i­pants through col­lab­o­ra­tive net­works. As Cor­nel West point­ed out in lat­er inter­views, anti-racist rad­i­cals saved lives on August 12. Those life-sav­ing actions were the result of a huge upsurge in respon­sive orga­niz­ing around the country.
2. Trump won't name the name.
Trump's ongo­ing blun­der of a response has become a meme, but the words he chose have not been scru­ti­nized close­ly enough. In his sec­ond state­ment, he went after low-hang­ing fruit: the KKK and neo-Nazis — orga­ni­za­tions that right­ful­ly inspire fear and hatred. He refused to name the alt-right. When Trump lat­er berat­ed the ​"fake news," he demand­ed a reporter define the alt-right before out­ra­geous­ly plac­ing blame on the ​"alt-left."
Trump's unwill­ing­ness to include the alt-right in the open white suprema­cist camp, even though that label is empir­i­cal­ly pre­cise, shows his clear under­stand­ing of the role they played in his elec­tion and his depen­dence on fig­ures like Chief Strate­gist Steve Ban­non. All of this adds an air of con­fu­sion with Bannon's final removal from the White House, indi­cat­ing con­flict­ing influ­ences and the pos­si­bil­i­ty of a GOP attack on Trump's pop­ulist cadre. White nation­al­ist lead­ers like David Duke and The Dai­ly Stormer's Andrew Anglin praised much of Trump's response while politi­cians and pun­dits round­ly decried him, all while he dou­bled down in defense of the white nation­al­ist cor­ner of his base.
3. This is what white suprema­cists do.
While the media focused close­ly on the spec­ta­cle of white polos and kha­ki pants worn by the killer, most sources missed a long back­sto­ry of far-right polit­i­cal vio­lence. Not only did a Three Per­center who admires Tim­o­thy McVeigh attempt to explode a truck bomb in Okla­homa City on the day of the Char­lottesville vio­lence, but Tuck­er Carlson's Dai­ly Caller web­site released a video in Jan­u­ary fea­tur­ing 90 sec­onds glo­ri­fy­ing a dozen dif­fer­ent inci­dents of cars run­ning over pro­test­ers in Min­neapo­lis, Bal­ti­more and oth­er cities. Memes about run­ning over pro­test­ers have been pop­u­lar among right-wing groups for over a year, and have been shared by such pub­lic fig­ures as a New Mex­i­co police union chief and Instapun­dit blog­ger Glenn Reynolds. Ear­li­er this year in Indi­ana, GOP law­mak­ers attempt­ed to legal­ize run­ning over protesters.
Aside from the gen­er­al ero­sion of civil­i­ty toward pro­test­ers — par­tic­u­lar­ly Black Lives Mat­ter demon­stra­tors — the alt-right has been respon­si­ble for ran­dom machete attacks, mur­ders, the alleged attempt­ed man­u­fac­ture of a dirty bomb and open attacks on left­ist groups and ral­lies. Such appar­ent­ly ​"ran­dom" vio­lence is deeply root­ed in the alt-right's online cel­e­bra­tion of lone wolf attacks, as well as the cul­ture of unac­count­abil­i­ty sur­round­ing the White House.
4. This was their break with conservatism.
"The alt-right means white nation­al­ism, or it means noth­ing," said alt-right com­men­ta­tor Greg John­son of Counter-Cur­rents Pub­lish­ing — and he was right. While the term has been bandied about to describe icon­o­clas­tic right-wingers — Trump­ists in the anti-polit­i­cal cor­rect­ness order — it is actu­al­ly a move­ment that takes its cues from Euro­pean white nation­al­ism. The sphere around them, includ­ing peo­ple like Lau­ren South­ern, Milo Yiannopou­los and Mike Cer­novich, has been labeled the ​"alt-light," a ref­er­ence to sup­pos­ed­ly more mod­er­ate coun­ter­parts who refuse to take on the more explic­it­ly fas­cist ideas.
After recent feuds dur­ing con­tentious ​"free speech" ral­lies, Unite the Right was a chance to unite all areas to the right of con­ser­vatism. This was a white nation­al­ist break from its more main­stream part­ners, a chance for them to try and stand on their own and take own­er­ship over an autonomous, pop­ulist move­ment. As alt-light groups sup­pos­ed­ly dis­avowed the mobi­liza­tion, the alt-right exposed their will­ing­ness to fur­ther mar­gin­al­ize them­selves and stand instead with the more vio­lent actors inside their ideology.
5. Moral­i­ty is not victory.
Much of the press has struck a tone of moral vic­to­ry, as pub­lic opin­ion turns against the white nation­al­ists revealed as mur­der­ers. Sim­i­lar­ly, the ear­ly-1990s growth of the con­tro­ver­sial Patri­ot mili­tia move­ment con­nect­ed to neo-Nazi Chris­t­ian Iden­ti­ty church­es fell apart after Tim­o­thy McVeigh set off the bomb in the Okla­homa City Alfred P. Mur­rah Fed­er­al Build­ing, killing 168 peo­ple, includ­ing a num­ber of chil­dren. This cul­tur­al shift is fleet­ing, how­ev­er, with­out a con­scious orga­niz­ing that fol­lows it. Orga­ni­za­tions like the Mon­tana Human Rights Net­work worked tire­less­ly to con­front the mili­tias in the wake of the Okla­homa City tragedy, join­ing with new­ly politi­cized com­mu­ni­ties. With­out orga­ni­za­tions con­tin­u­ing this work and trans­fer­ring the shift in pub­lic per­cep­tion into pub­lic action, moral vic­to­ry will turn into moral failure.
Alt-right's future
In the days that fol­lowed, major alt-right insti­tu­tions have been shut down, from web host­ing to fund­ing ser­vices to email providers to social media. Par­tic­i­pants in the ral­ly have been fired from their jobs, dis­owned by their fam­i­lies and have returned home to out­raged com­mu­ni­ties. This does not bode well for a move­ment depen­dent on a media echo cham­ber and Web 2.0 speech plat­forms. While alt-right celebri­ties like Andrew Anglin and Christo­pher Cantwell dou­bled down on their vio­lent rhetoric, oth­ers are attempt­ing to dis­tance them­selves. This sig­nals fur­ther splits in the alt-right move­ment. The grow­ing anti-fas­cist move­ment can widen the gap and build a base in the com­mu­ni­ties the right wants to recruit.
Shane Bur­ley is a writer and film­mak­er based in Port­land, Ore­gon. His work as appeared in places such as In These Times, Truth-Out, Labor Notes, ThinkProgress, Roar Mag, and Upping the Anti. He is the author of forth­com­ing book Fas­cism Today: What It Is and How We End It (AK Press,
2017
). His most recent doc­u­men­tary ​
"
Expect Resis­tance" chron­i­cles the inter­sec­tion of the hous­ing jus­tice and Occu­py Wall­street move­ment. His work can be found at ShaneB​ur​ley​.net, or reach him on Twit­ter at @shane_burley
1
.
Alexan­der Reid Ross is a lec­tur­er in geog­ra­phy at Port­land State Uni­ver­si­ty and the author of Against the Fas­cist Creep (AK Press, 2017). His arti­cles have been pub­lished in ROAR Mag­a­zine, Wag­ing Non­vi­o­lence, Think Progress, and Truthout.