The Polluters Must Pay
Fossil fuel companies' profits are morally illegitimate. The public has the right to take those profits—to clean up their mess.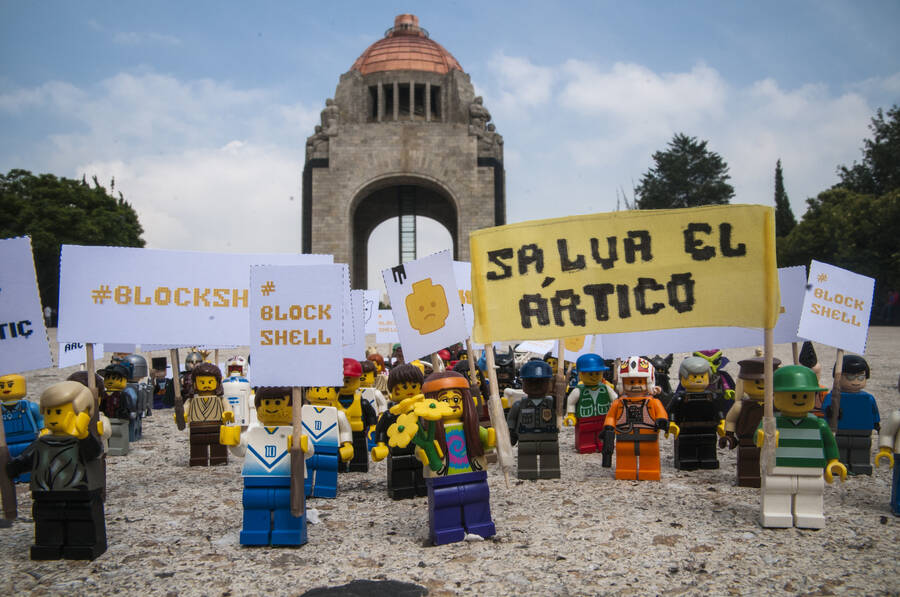 When the call came in that the Uni­ver­si­ty of Glas­gow had vot­ed to divest its 153-mil­lion-pound endow­ment from fos­sil fuel com­pa­nies, I hap­pened to be in a room filled with cli­mate activists in Oxford. They imme­di­ate­ly broke into cheers. There were lots of hugs and a few tears. This was big — the first uni­ver­si­ty in Europe to make such a move.
Are fossil fuel companies—long toxic to our natural environment—becoming toxic in the public relations environment as well?
The next day there were more cel­e­bra­tions in cli­mate cir­cles: Lego announced it would not be renew­ing a rela­tion­ship with Shell Oil, a long­time co-brand­ing deal that saw tod­dlers fill­ing up their plas­tic vehi­cles at toy Shell gas sta­tions. ​"Shell is pol­lut­ing our kids' imag­i­na­tions," a Green­peace video that went viral declared, attract­ing more than 6 mil­lion views. Pres­sure is build­ing mean­while on London's Tate Mod­ern to sev­er the museum's long­time rela­tion­ship with BP.
What is hap­pen­ing? Are fos­sil fuel com­pa­nies — long tox­ic to our nat­ur­al envi­ron­ment — becom­ing tox­ic in the pub­lic rela­tions envi­ron­ment as well? It seems so. Gal­va­nized by the Car­bon Track­er Ini­tia­tive research show­ing that these firms have sev­er­al times more car­bon in their reserves than our atmos­phere can safe­ly absorb, the city coun­cil of Oxford, Eng­land, has vot­ed to divest; so has the British Med­ical Association.
Inter­na­tion­al­ly, there are hun­dreds of active fos­sil fuel divest­ment cam­paigns on uni­ver­si­ty and col­lege cam­pus­es, as well as ones tar­get­ing local city gov­ern­ments, non-prof­it foun­da­tions and reli­gious orga­ni­za­tions. And the vic­to­ries keep get­ting bigger.
In May, for instance, Stan­ford Uni­ver­si­ty in Cal­i­for­nia announced it would divest its $18.7 bil­lion endow­ment from coal. And on the eve of September's Unit­ed Nations cli­mate sum­mit in New York, a por­tion of the Rock­e­feller fam­i­ly — a name syn­ony­mous with oil — announced that it would divest its foundation's hold­ings from fos­sil fuels and expand its invest­ments in renew­able energy.
Some observers are skep­ti­cal. They point out that none of this will hurt oil or coal com­pa­nies — dif­fer­ent investors will snap up their stocks and most of us will keep buy­ing their prod­ucts. Our economies, after all, remain hooked on fos­sil fuels, and afford­able renew­able options are too often out of reach. So are these bat­tles over fos­sil fuel invest­ments and spon­sor­ships just a cha­rade? A way to clean our con­sciences but not the atmos­phere? The crit­i­cism over­looks the deep­er pow­er and poten­tial of these cam­paigns. At their core, all are tak­ing aim at the moral legit­i­ma­cy of fos­sil fuel com­pa­nies and the prof­its that flow from them. This move­ment is say­ing that it is uneth­i­cal to be asso­ci­at­ed with an indus­try whose busi­ness mod­el is based on know­ing­ly desta­bi­liz­ing the planet's life sup­port systems.
Every time a new insti­tu­tion or brand decides to cut its ties, every time the divest­ment argu­ment is pub­licly made, it rein­forces the idea that fos­sil fuel prof­its are ille­git­i­mate — that ​"these are now rogue indus­tries," in the words of author Bill McK­ibben. And it is this ille­git­i­ma­cy that has the poten­tial to break the stale­mate in mean­ing­ful cli­mate action. Because if those prof­its are ille­git­i­mate, and this indus­try is rogue, it brings us a step clos­er to the prin­ci­ple that has been sore­ly miss­ing from the col­lec­tive cli­mate response so far: The pol­luter pays.
Take the Rock­e­fellers. When Valerie Rock­e­feller Wayne explained her deci­sion to divest, she said that it was pre­cise­ly because her family's wealth was made through oil that they were ​"under greater moral oblig­a­tion" to use that wealth to stop cli­mate change.
That, in a nut­shell, is the ratio­nale behind ​"the pol­luter pays." It holds that when com­mer­cial activ­i­ty cre­ates hefty pub­lic health and envi­ron­men­tal dam­age, the pol­luters must shoul­der a sig­nif­i­cant share of the costs of repair. But it can't stop with indi­vid­u­als and foun­da­tions, nor can the prin­ci­ple be enforced voluntarily.
As I explore in my book This Changes Every­thing, fos­sil fuel-based com­pa­nies have pledged for more than a decade to use their prof­its to tran­si­tion us away from dirty ener­gy. BP has rebrand­ed itself as ​"Beyond Petro­le­um" — only to back off renew­ables and dou­ble down on the dirt­i­est fos­sil fuels.
Richard Bran­son pledged to spend $3 bil­lion of Virgin's prof­its find­ing a mir­a­cle green fuel and fight­ing glob­al warm­ing — only to sys­tem­at­i­cal­ly low­er expec­ta­tions while sharply increas­ing his fleet of air­planes. Clear­ly, pol­luters aren't going to pay for this tran­si­tion unless they are forced to do so by law.
Up until the ear­ly 1980s, that was still a guid­ing prin­ci­ple of envi­ron­men­tal law­mak­ing in North Amer­i­ca. And the prin­ci­ple hasn't total­ly dis­ap­peared — it's the rea­son why Exxon and BP were forced to pick up large por­tions of the bills after the Valdez and Deep­wa­ter Hori­zon disasters.
But since the era of mar­ket fun­da­men­tal­ism took hold in the 1990s, direct reg­u­la­tions and penal­ties on pol­luters have been super­seded by the dri­ve to cre­ate com­plex mar­ket mech­a­nisms and vol­un­tary ini­tia­tives designed to min­i­mize the impact of envi­ron­men­tal action on corporations.
When it comes to cli­mate change, the result of these so-called win-win solu­tions has been a dou­ble loss: Green­house emis­sions are up and sup­port for many forms of cli­mate action is down, in large part because poli­cies are per­ceived — quite right­ly — as pass­ing costs to already over­bur­dened con­sumers while let­ting big cor­po­rate pol­luters off the hook.
It is this cul­ture of lop­sided sac­ri­fice that has to stop — and the Rock­e­fellers, odd­ly, are show­ing the way. Large parts of the Stan­dard Oil trust, the empire John D. Rock­e­feller co-found­ed in 1870, evolved into Exxon Mobil. In 2008 and 2012, Exxon earned about $45 bil­lion in prof­its, which remains the high­est year­ly prof­it ever report­ed in the U.S. by a sin­gle com­pa­ny. Oth­er Stan­dard Oil spin-offs include Chevron and Amo­co, which would lat­er merge with BP.
The astro­nom­i­cal prof­its these com­pa­nies and their cohorts con­tin­ue to earn from dig­ging up and burn­ing fos­sil fuels can­not con­tin­ue to hem­or­rhage into pri­vate cof­fers. They must, instead, be har­nessed to help roll out the clean tech­nolo­gies and infra­struc­ture that will allow us to move beyond these dan­ger­ous ener­gy sources, as well as to help us adapt to the heavy weath­er we have already locked in.
A min­i­mal car­bon tax whose price tag can be passed on to con­sumers is no sub­sti­tute for a real pol­luter-pays frame­work — not after decades of inac­tion has made the prob­lem immea­sur­ably worse (inac­tion secured, in part, by a cli­mate denial move­ment fund­ed by some of these same corporations).
And that's where these seem­ing­ly sym­bol­ic vic­to­ries come in, from Glas­gow to Lego. The prof­its of the fos­sil fuel sec­tor, made by know­ing­ly treat­ing our atmos­phere like a sewage dump, should not just be seen as tox­ic — some­thing from which pub­licly mind­ed insti­tu­tions will nat­u­ral­ly dis­tance them­selves. If we accept that those prof­its are moral­ly ille­git­i­mate, they should also be seen as odi­ous — some­thing to which the pub­lic itself can make a claim, in order to clean up the mess these com­pa­nies have left, and con­tin­ue to leave, behind.
When that hap­pens, the per­va­sive sense of hope­less­ness in the face of a cri­sis as vast and cost­ly as cli­mate change will final­ly begin to lift.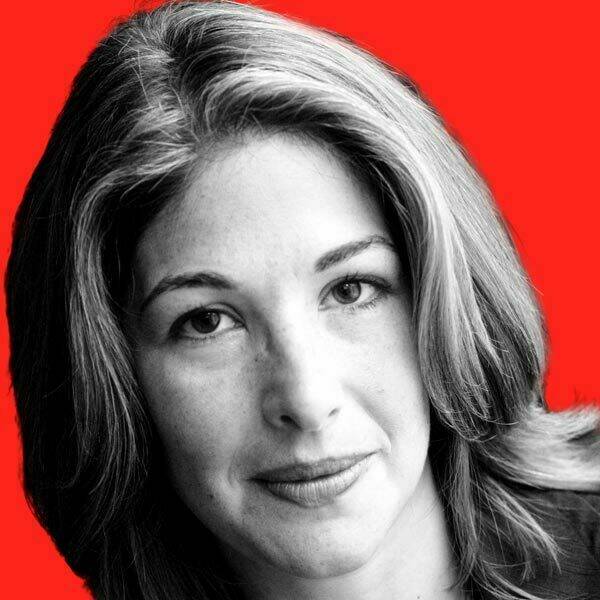 Nao­mi Klein
is a for­mer colum­nist for
In These Times.
She is the author of
No Logo: Tak­ing Aim at the Brand Bul­lies
,
Fences and Win­dows: Dis­patch­es from the Front Lines of the Glob­al­iza­tion Debate
and
The Shock Doc­trine: The Rise of Dis­as­ter Cap­i­tal­ism
.