In Iraq and Beyond, U.S. Foreign Policy is Based On Complete Fallacies
How can we ever hope for a sane foreign policy in the Middle East when America's bedrock assumptions about the region are completely wrong?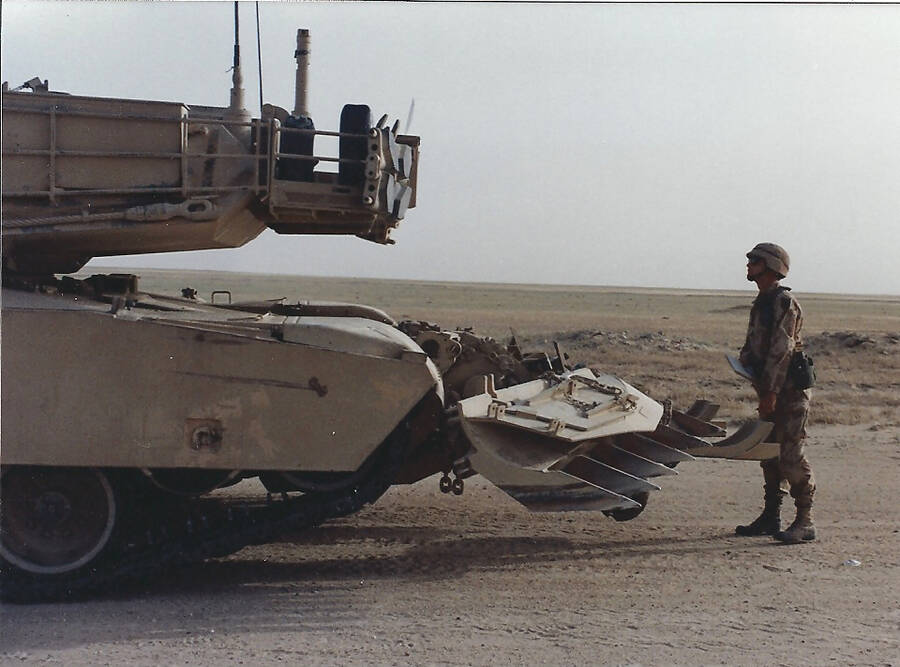 This sto­ry first appeared at TomDis­patch.
The "peace process" is a fiction. Why should the United States persist in pretending otherwise?
"Iraq no longer exists." My young friend M, sip­ping a cap­puc­ci­no, is dead­ly seri­ous. We are sit­ting in a scruffy restau­rant across the street from the Cathe­dral of St. John the Divine on Manhattan's Upper West Side. It's been years since we've last seen each anoth­er. It may be years before our paths cross again. As if to dri­ve his point home, M repeats him­self: ​"Iraq just doesn't exist."
His is an opin­ion ground­ed in expe­ri­ence. As an enlist­ed sol­dier, he com­plet­ed two Iraq tours, serv­ing as a mem­ber of a rifle com­pa­ny, before and dur­ing the famous Petraeus ​"surge." After sep­a­rat­ing from the Army, he went on to grad­u­ate school where he is now writ­ing a dis­ser­ta­tion on insur­gen­cies. Choos­ing the Amer­i­can war in Iraq as one of his cas­es, M has returned there to con­tin­ue his research. Indeed, he was head­ing back again that very evening. As a researcher, his perch pro­vides him with an excel­lent van­tage point for tak­ing stock of the ongo­ing cri­sis, now that the Islam­ic State, or I.S., has made it impos­si­ble for Amer­i­cans to sus­tain the pre­tense that the Iraq War ever ended.
Few in Wash­ing­ton would endorse M's asser­tion, of course. Inside the Belt­way, pol­i­cy­mak­ers, politi­cians, and pun­dits take Iraq's exis­tence for grant­ed. Many can even locate it on a map. They also take for grant­ed the propo­si­tion that it is incum­bent upon the Unit­ed States to pre­serve that exis­tence. To para­phrase Chris Hedges, for a cer­tain group of Amer­i­cans, Iraq is the cause that gives life mean­ing. For the mil­i­tary-indus­tri­al com­plex, it's the gift that keeps on giving.
Con­sid­ered from this per­spec­tive, the ​"Iraqi gov­ern­ment" actu­al­ly gov­erns, the ​"Iraqi army" is a nation­al­ly rep­re­sen­ta­tive fight­ing force, and the ​"Iraqi peo­ple" gen­uine­ly see them­selves as con­sti­tut­ing a com­mu­ni­ty with a shared past and an imag­in­able future.
Arguably, each of these propo­si­tions once con­tained a mod­icum of truth. But when the Unit­ed States invad­ed Iraq in 2003 and, as then-Sec­re­tary of State Col­in Pow­ell pre­dict­ed, broke the place, any mer­it they pre­vi­ous­ly pos­sessed quick­ly dis­si­pat­ed. Years of effort by Amer­i­can occu­piers intent on cre­at­ing a new Iraq out of the ruins of the old pro­duced lit­tle of val­ue and next to noth­ing that has last­ed. Yet even today, in Wash­ing­ton the con­vic­tion per­sists that try­ing hard­er might some­how turn things around. Cer­tain­ly, that con­vic­tion informs the renewed U.S. mil­i­tary inter­ven­tion prompt­ed by the rise of I.S.
So when David Ignatius, a well-informed and nor­mal­ly sober colum­nist for the Wash­ing­ton Post, reflects on what the Unit­ed States must do to get Iraq War 3.0 right, he offers this ​"men­tal check­list": in Bagh­dad, the U.S. should fos­ter a ​"clean­er, less sec­tar­i­an gov­ern­ment"; to ensure secu­ri­ty, we will have to ​"rebuild the mil­i­tary"; and to end inter­nal fac­tion­al­ism, we're going to have to find ways to ​"win Kur­dish sup­port" and ​"rebuild trust with Sun­nis." Ignatius does not pre­tend that any of this will be easy. He mere­ly argues that it must be — and by impli­ca­tion can be — done. Unlike my friend M, Ignatius clings to the fan­ta­sy that ​"Iraq" is or ought to be polit­i­cal­ly viable, mil­i­tar­i­ly capa­ble, and social­ly cohe­sive. But sure­ly this qual­i­fies as wish­ful thinking.
The val­ue of M's insight — of, that is, oth­er­wise intel­li­gent peo­ple pur­port­ing to believe in things that don't exist — can be applied well beyond Amer­i­can assump­tions about Iraq. A sim­i­lar incli­na­tion to fan­ta­size per­me­ates, and there­by warps, U.S. poli­cies through­out much of the Greater Mid­dle East. Con­sid­er the fol­low­ing claims, each of which in Wash­ing­ton cir­cles has attained qua­si-canon­i­cal status.
The pres­ence of U.S. forces in the Islam­ic world con­tributes to region­al sta­bil­i­ty and enhances Amer­i­can influence.
The Per­sian Gulf con­sti­tutes a vital U.S. nation­al secu­ri­ty interest.
Egypt and Sau­di Ara­bia are val­ued and valu­able Amer­i­can allies.
The inter­ests of the Unit­ed States and Israel align.
Ter­ror­ism pos­es an exis­ten­tial threat that the Unit­ed States must defeat.
For decades now, the first four of these asser­tions have formed the foun­da­tion of U.S. pol­i­cy in the Mid­dle East. The events of 9⁄11 added the fifth, with­out in any way prompt­ing a recon­sid­er­a­tion of the first four. On each of these mat­ters, no senior U.S. offi­cial (or any­one aspir­ing to a posi­tion of influ­ence) will dare say oth­er­wise, at least not on the record.
Yet sub­ject­ed to even casu­al scruti­ny, none of the five will stand up. To take them at face val­ue is the equiv­a­lent of believ­ing in San­ta Claus or the Tooth Fairy — or that John Boehn­er and Mitch McConnell real­ly, real­ly hope that the Oba­ma admin­is­tra­tion and the upcom­ing Repub­li­can-con­trolled Con­gress can find grounds to cooperate.
Let's exam­ine all five, one at a time.
The Pres­ence of U.S. Forces: Ever since the U.S. inter­ven­tion in Lebanon that cul­mi­nat­ed in the Beirut bomb­ing of Octo­ber 1983, intro­duc­ing Amer­i­can troops into pre­dom­i­nant­ly Mus­lim coun­tries has sel­dom con­tributed to sta­bil­i­ty. On more than a few occa­sions, doing so has pro­duced just the oppo­site effect.
Iraq and Afghanistan pro­vide mourn­ful exam­ples. The new book ​"Why We Lost" by retired Lieu­tenant Gen­er­al Daniel Bol­ger final­ly makes it per­mis­si­ble in offi­cial cir­cles to declare those wars the fail­ures that they have been. Even grant­i­ng, for the sake of argu­ment, that U.S. nation-build­ing efforts were as pure and hon­or­able as suc­ces­sive pres­i­dents por­trayed them, the results have been more cor­ro­sive than con­struc­tive. The I.S. mil­i­tants plagu­ing Iraq find their coun­ter­part in the soar­ing pro­duc­tion of opi­um that plagues Afghanistan. This qual­i­fies as stability?
And these are hard­ly the only exam­ples. Sta­tion­ing U.S. troops in Sau­di Ara­bia after Oper­a­tion Desert Storm was sup­posed to have a reas­sur­ing effect. Instead, it pro­duced the deba­cle of the dev­as­tat­ing Kho­bar Tow­ers bomb­ing. Send­ing G.I.'s into Soma­lia back in 1992 was sup­posed to demon­strate Amer­i­can human­i­tar­i­an con­cern for poor, starv­ing Mus­lims. Instead, it cul­mi­nat­ed in the embar­rass­ing Mogadishu fire­fight, which gained the sobri­quet Black Hawk Down, and doomed that mission.
Even so, the pre­tense that posi­tion­ing Amer­i­can sol­diers in some Mid­dle East hotspot will bring calm to trou­bled waters sur­vives. It's far more accu­rate to say that doing so pro­vides our adver­saries with what sol­diers call a tar­get-rich envi­ron­ment — with Amer­i­cans as the targets.
The Impor­tance of the Per­sian Gulf: Although U.S. inter­ests in the Gulf may once have qual­i­fied as vital, the chang­ing glob­al ener­gy pic­ture has ren­dered that view obso­lete. What's prob­a­bly bad news for the envi­ron­ment is good news in terms of cre­at­ing strate­gic options for the Unit­ed States. New tech­nolo­gies have once again made the Unit­ed States the world's largest pro­duc­er of oil. The U.S. is also the world's largest pro­duc­er of nat­ur­al gas. It turns out that the lunatics chant­i­ng ​"drill, baby, drill" were right after all. Or per­haps it's ​"frack, baby, frack." Regard­less, the assumed ener­gy depen­dence and ​"vital inter­ests" that inspired Jim­my Carter to declare back in 1980 that the Gulf is worth fight­ing for no longer pertain.
Access to Gulf oil remains crit­i­cal­ly impor­tant to some coun­tries, but sure­ly not to the Unit­ed States. When it comes to prop­ping up the waste­ful and prof­li­gate Amer­i­can way of life, Texas and North Dako­ta out­rank Sau­di Ara­bia and Kuwait in terms of impor­tance. Rather than wor­ry­ing about Iraqi oil pro­duc­tion, Wash­ing­ton would be bet­ter served ensur­ing the safe­ty and well-being of Cana­da, with its boun­ti­ful sup­plies of shale oil. And if mil­i­tarists ever find the itch to increase U.S. oil reserves becom­ing irre­sistible, they would be bet­ter advised to invade Venezuela than to pick a fight with Iran.
Does the Per­sian Gulf require polic­ing from the out­side? Maybe. But if so, let's vol­un­teer Chi­na for the job. It will keep them out of mischief.
Arab Allies: It's time to reclas­si­fy the U.S. rela­tion­ship with both Egypt and Sau­di Ara­bia. Cat­e­go­riz­ing these two impor­tant Arab states as ​"allies" is sure­ly mis­lead­ing. Nei­ther one shares the val­ues to which Wash­ing­ton pro­fess­es to attach such great importance.
For decades, Sau­di Ara­bia, Plan­et Earth's clos­est equiv­a­lent to an absolute monar­chy, has pro­mot­ed anti-West­ern rad­i­cal jihadism — and not with­out effect. The rel­e­vant num­bers here are two that most New York­ers will remem­ber: 15 out of 19. If a con­spir­a­cy con­sist­ing almost entire­ly of Rus­sians had suc­ceed­ed in killing sev­er­al thou­sand Amer­i­cans, would U.S. author­i­ties give the Krem­lin a pass? Would U.S.-Russian rela­tions remain unaf­fect­ed? The ques­tions answer themselves.
Mean­while, after a brief dal­liance with democ­ra­cy, Egypt has once again become what it was before: a cor­rupt, oppres­sive mil­i­tary dic­ta­tor­ship unwor­thy of the bil­lions of dol­lars of mil­i­tary assis­tance that Wash­ing­ton pro­vides from one year to the next.
Israel: The Unit­ed States and Israel share more than a few inter­ests in com­mon. A com­mit­ment to a ​"two-state solu­tion" to the Pales­tin­ian prob­lem does not num­ber among them. On that issue, Washington's and Tel Aviv's pur­pos­es diverge wide­ly. In all like­li­hood, they are irrecon­si­l­able.
For the gov­ern­ment of Israel, view­ing secu­ri­ty con­cerns as para­mount, an accept­able Pales­tin­ian state will be the equiv­a­lent of an Arab Ban­tus­tan, basi­cal­ly defense­less, enjoy­ing lim­it­ed sov­er­eign­ty, and pos­sess­ing lim­it­ed min­i­mum eco­nom­i­cal poten­tial. Con­tin­u­ing Israeli encroach­ments on the occu­pied ter­ri­to­ries, under­tak­en in the teeth of Amer­i­can objec­tions, make this self-evident.
It is, of course, entire­ly the pre­rog­a­tive — and indeed the oblig­a­tion — of the Israeli gov­ern­ment to advance the well being of its cit­i­zens. U.S. offi­cials have a sim­i­lar oblig­a­tion: they are called upon to act on behalf of Amer­i­cans. And that means refus­ing to serve as Israel's enablers when that coun­try takes actions that are con­trary to U.S. interests.
The ​"peace process" is a fic­tion. Why should the Unit­ed States per­sist in pre­tend­ing oth­er­wise? It's demeaning.
Ter­ror­ism: Like crime and com­mu­ni­ca­ble dis­eases, ter­ror­ism will always be with us. In the face of an out­break of it, prompt, effec­tive action to reduce the dan­ger per­mits nor­mal life to con­tin­ue. Wis­dom lies in strik­ing a bal­ance between the actu­al­ly exist­ing threat and exer­tions under­tak­en to deal with that threat. Grown-ups under­stand this. They don't expect a crime rate of zero in Amer­i­can cities. They don't expect all peo­ple to enjoy per­fect health all of the time. The stan­dard they seek is ​"tol­er­a­ble."
That ter­ror­ism threat­ens Amer­i­cans is no doubt the case, espe­cial­ly when they ven­ture into the Greater Mid­dle East. But aspi­ra­tions to elim­i­nate ter­ror­ism belong in the same cat­e­go­ry as cam­paigns to end illit­er­a­cy or home­less­ness: it's okay to aim high, but don't be sur­prised when the results achieved fall short.
Elim­i­nat­ing ter­ror­ism is a chimera. It's not going to hap­pen. U.S. civil­ian and mil­i­tary lead­ers should sum­mon the hon­esty to acknowl­edge this.
My friend M has put his fin­ger on a prob­lem that is much larg­er than he grasps. Here's hop­ing that when he gets his degree he lands an aca­d­e­m­ic job. It's cer­tain he'll nev­er find employ­ment in our nation's cap­i­tal. As a sol­dier-turned-schol­ar, M inhab­its what one of George W. Bush's clos­est asso­ciates (believed to be Karl Rove) once deri­sive­ly referred to as the ​"real­i­ty-based com­mu­ni­ty." Peo­ple in Wash­ing­ton don't have time for real­i­ty. They're lost in a world of their own.
Andrew J. Bace­vich
is pro­fes­sor of his­to­ry and inter­na­tion­al rela­tions at Boston Uni­ver­si­ty. He has been a fel­low of the Paul H. Nitze School of Advanced Inter­na­tion­al Stud­ies at Johns Hop­kins Uni­ver­si­ty, the John F. Kennedy School of Gov­ern­ment at Har­vard Uni­ver­si­ty and the Coun­cil on For­eign Rela­tions in New York.