On Jan­u­ary 12, 2010, a mag­ni­tude 7.0 earth­quake struck Haiti, killing hun­dreds of thou­sands and dev­as­tat­ing the impov­er­ished country's already frag­ile infra­struc­ture. The world watched in hor­ror, and then it act­ed — in the­o­ry, at least — to help rebuild Haiti's homes, roads, gov­ern­ment and econ­o­my. But as of June 21, a mere 2 per­cent of the $5.3 bil­lion in near-term aid pledges made by donor coun­tries at a March Unit­ed Nations con­fer­ence had actu­al­ly been deliv­ered, the Asso­ci­at­ed Press report­ed. On June 17, for­mer U.S. Pres­i­dent Bill Clin­ton inau­gu­rat­ed the Inter­im Haiti Recon­struc­tion Com­mis­sion, which aims to over­see the dis­per­sal of inter­na­tion­al recon­struc­tion dol­lars, and announced $66 mil­lion in approved aid projects.
But a June 22 report by U.S. Sen­ate Democ­rats, writ­ten as Con­gress decides whether to autho­rize $2 bil­lion in Haiti recon­struc­tion aid, offered a grim pic­ture of a nation with mil­lions still dis­placed as hur­ri­cane sea­son begins. ​"While many imme­di­ate human­i­tar­i­an relief pri­or­i­ties appear to have been met, there are trou­bling signs that the recov­ery and longer term rebuild­ing activ­i­ties are flag­ging," the report said, going on to under­score that recon­struc­tion has been marred by an absence of lead­er­ship from the Hait­ian gov­ern­ment, led by Pres­i­dent Rene Preval and Prime Min­is­ter Jean-Max Bellerive.
The Lam­bi Fund of Haiti has been try­ing to improve Haitian's lives out­side of gov­ern­ment chan­nels for 16 years. The mis­sion of the non­prof­it, found­ed by Haitians and Amer­i­cans, is clear enough: ​"to assist the pop­u­lar, demo­c­ra­t­ic move­ment in Haiti. Its goal is to help strength­en civ­il soci­ety in Haiti as a nec­es­sary foun­da­tion for democ­ra­cy and devel­op­ment." Since the earth­quake, the Lam­bi Fund has focused on assist­ing Haiti's rur­al areas, to which 500,000 Port-au-Prince res­i­dents have fled.
Marie Saint Cyr, head of Lambi's Board of Direc­tors, believes last­ing change in Haiti has to come from the grass­roots — rather than through out­side pow­ers that have inter­fered in Haiti for cen­turies — and that sus­tain­able agri­cul­ture has to be at the cen­ter of the country's future. In These Times recent­ly e‑mailed with Cyr, a social work­er by pro­fes­sion, about Lambi's ongo­ing relief pro­grams, the Unit­ed State's role in Haiti's long-run­ning polit­i­cal and eco­nom­ic insta­bil­i­ty, and what the media got wrong in its cov­er­age of the earth­quake and its aftermath.
—In These Times Web Editor/​Associate Edi­tor Jere­my Gantz
Pol­i­tics
How would you rate the inter­na­tion­al relief and recon­struc­tion effort to help Haitians recov­er? Has it gone bet­ter or worse than what you expect­ed, in the basic sense of help­ing peo­ple most dev­as­tat­ed by the disaster?
The Hait­ian peo­ple are grate­ful for the imme­di­ate response and the pledges of mil­lions of dol­lars in aid. But many issues remain, such as decen­tral­iza­tion. Much of the aid went to Port-au-Prince, con­sid­ered the cen­ter of the coun­try, but res­i­dents of towns such as Leogane did not receive sup­port in terms of food dis­tri­b­u­tion and res­cue efforts.
The stark real­i­ty is that in the last five decades of my life, I have wit­nessed the inter­na­tion­al com­mu­ni­ty ​"help­ing us" run schools, clin­ics, vac­ci­na­tion dri­ves and oth­er pro­grams. This led to a cer­tain depen­den­cy on inter­na­tion­al aid, to the detri­ment of the coun­try as a whole.
The Lam­bi Fund has con­vened ​"region­al assem­blies" of Hait­ian grass­roots orga­ni­za­tions to help Haitians ​"define and pri­or­i­tize rebuild­ing needs." Do you think non-elite Haitians have been left out of the recon­struc­tion process? If so, how exact­ly are these assem­blies revers­ing that trend?
The pri­ma­ry focus of these assem­blies is for par­tic­i­pants to share with Lam­bi an assess­ment of their needs. Through­out Haiti's his­to­ry, non-elites have been kept out of the process in such pro­found ways that it is even reflect­ed in the lan­guage. The elite refers to the rest of the pop­u­la­tion as ​"Moun sa yo"(those peo­ple), and ​"paysan nan figi moun" (peas­ants are in our faces or they don't know their place).
These region­al assem­blies allow par­tic­i­pants to rep­re­sent their com­mu­ni­ties and affirms their capac­i­ty to make their own deci­sions. When we fund their ini­tia­tives and take into con­sid­er­a­tion their pro­ject­ed analy­sis of need, we are empow­er­ing the Hait­ian peo­ple by includ­ing them in the deci­sion-mak­ing process. Ours is a bot­tom-up process that empow­ers and brings rel­e­vance to the efforts of the peo­ple in rur­al Haiti.
Giv­en the long U.S. his­to­ry of direct inter­fer­ence in Hait­ian polit­i­cal and eco­nom­ic affairs, what does the U.S. gov­ern­ment — i.e., Amer­i­can tax­pay­ers — owe Haiti in terms of post-earth­quake recon­struc­tion sup­port? (Or if ​"owe" smacks too much of repa­ra­tions, what are Amer­i­cans moral­ly oblig­at­ed to pro­vide to Haitians?)
The Unit­ed States is in many ways as respon­si­ble for sti­fling Haiti's trade pos­si­bil­i­ties as France was in the 19th cen­tu­ry. The coun­try has a moral imper­a­tive and the ide­o­log­i­cal respon­si­bil­i­ty to advance democ­ra­cy in Haiti. It is quite evi­dent how­ev­er, that poli­cies toward Haiti do not uphold the prac­tices that lend them­selves to democ­ra­cy. Amer­i­can tax­pay­ers must be more informed and encour­aged to engage their con­gres­sion­al rep­re­sen­ta­tives in the efforts to change the U.S. tra­di­tion of accept­ing and sup­port­ing cor­rupt Hait­ian gov­ern­ments with no account­abil­i­ty. More­over, the UN's peace­keep­ing forces have been used as a tool to reduce class antag­o­nisms in Haiti by main­tain­ing a veneer of peace, but do noth­ing to address the malaise at their root caus­es, there­by only post­pon­ing and delay­ing class conflict.
A basic prin­ci­ple of the Lam­bi Fund is ​"self-sus­tain­abil­i­ty," and its pro­grams focus on sus­tain­able devel­op­ment and agri­cul­ture. What does (or should) ​"sus­tain­able devel­op­ment" look like in Haiti?
Over a three-year peri­od, I had the priv­i­lege to observe the evo­lu­tion of a grass­roots effort to build a mill. I watched as mem­bers of an orga­ni­za­tion eager­ly received the train­ing need­ed to build, man­age and sus­tain the project. I was there to wit­ness this most extra­or­di­nary process of bot­tom-up sus­tain­able trans­for­ma­tion. Sus­tain­abil­i­ty in Haiti is a bal­anc­ing act that involves defer­ring to indige­nous know-how while intro­duc­ing a train­ing pro­to­col need­ed to strength­en the capac­i­ty to achieve those goals.
Sus­tain­able devel­op­ment, but more specif­i­cal­ly sus­tain­able agri­cul­ture, inte­grates three main goals: envi­ron­men­tal health, eco­nom­ic prof­itabil­i­ty and social and eco­nom­ic equi­ty. It refers to agri­cul­tur­al pro­duc­tion that can be main­tained with­out harm­ing the envi­ron­ment and the fol­low­ing principles:
-Pro­vide food.
‑Improve the envi­ron­ment and the nat­ur­al resource base upon which the agri­cul­tur­al econ­o­my depends.
‑Make the most effi­cient use of non­re­new­able resources and on-farm resources
‑Sus­tain the eco­nom­ic via­bil­i­ty of farm operations.
‑Enhance the qual­i­ty of life for farm­ers and soci­ety as a whole.
Can you describe exact­ly how Lam­bi is try­ing to help Hait­ian farm­ers become self-sufficient?
The Lam­bi Fund of Haiti only funds local orga­ni­za­tions to help Hait­ian farm­ers become self-suf­fi­cient. We increase their capac­i­ty to man­age projects by build­ing and strength­en­ing farm­ers' lead­er­ship skills. Lam­bi Fund's strat­e­gy is also based heav­i­ly on the bot­tom-up approach, which relies pri­mar­i­ly on peas­ant input in project devel­op­ment and implementation.
More infor­ma­tion about our projects and how we fund them is avail­able at www​.lamb​i​fund​.org.
The food riots in Haiti in 2008 showed how sus­cep­ti­ble the coun­try is to food price fluc­tu­a­tions on the inter­na­tion­al mar­kets. Many crit­ics see that sus­cep­ti­bil­i­ty as a result of neolib­er­al ​"reforms" pushed by the U.S. begin­ning in the 1980s, which dam­aged Haiti's rur­al econ­o­my by flood­ing the coun­try with cheap sub­si­dized rice from the north. Giv­en those trade-lev­el issues, do you think macro-lev­el pol­i­cy changes will have to be paired with bet­ter micro-lev­el devel­op­ment prac­tices for Hait­ian pover­ty to be sig­nif­i­cant­ly curtailed?
Unfor­tu­nate­ly, the covert and overt role of the U.S., not just in Haiti, but the Caribbean over­all, has result­ed in the cur­rent eco­nom­ic sit­u­a­tion. The U.S. tol­er­ates Hait­ian gov­ern­ments that engage in fraud and cor­rup­tion. Noth­ing can change unless there is moral respon­si­bil­i­ty on the part of the U.S. and polit­i­cal will from the Hait­ian gov­ern­ment to stand for the wel­fare of the peo­ple of Haiti.
What's the one thing Amer­i­cans should know about recovery/​reconstruction efforts in Haiti that they prob­a­bly aren't aware of?
The Unit­ed States has had a strong hand in the man­age­ment of this coun­try since 1917 and essen­tial­ly Haiti is an occu­pied ter­ri­to­ry, albeit unof­fi­cial­ly. The Amer­i­can gov­ern­ment dri­ves most of the recov­ery and recon­struc­tion efforts there. These efforts and con­tracts will ben­e­fit big busi­ness­es both in the U.S. and in Haiti and will not nec­es­sar­i­ly help to improve Haiti's econ­o­my, facil­i­tate greater trans­fer of skills or sup­port Haiti's needs for a durable long-term devel­op­ment plan.
How hope­ful are you that the trag­ic earth­quake might actu­al­ly rep­re­sent an oppor­tu­ni­ty to Haitians?
I am very wor­ried that the glob­al response to Haiti's needs may not prove fruit­ful over the long term. It appears there is a con­ver­gence toward cre­at­ing anoth­er elite body to over­see the ​"recon­struc­tion in Haiti." But this infers a return to the old order of things. Over two decades fol­low­ing the Duva­lier era and with strong U.S. back­ing, we evolved amid cor­rup­tion, fraud and blind steal­ing of the resources allo­cat­ed by inter­na­tion­al donors. These same play­ers are still on the ground. They are vying to cre­ate a new envi­ron­ment where they will still be in con­trol while keep­ing the major­i­ty of the peo­ple in the periph­ery with­out any oppor­tu­ni­ty to share their hopes, wish­es and visions for a new Haiti.
Pol­i­tics
What's one piece of nation­al leg­is­la­tion you'd like to see passed right now?
I would like to see an immi­gra­tion bill that address­es bor­der pro­tec­tion and the sta­tus of undoc­u­ment­ed res­i­dents in the U.S.
Tell us about a pol­i­cy debate that you're still on the fence about.
I am on the fence about the immi­gra­tion issue, because while I sup­port the legal­iza­tion of undoc­u­ment­ed and law-abid­ing indi­vid­u­als in the coun­try, I under­stand and sup­port the right of a coun­try to con­trol its borders.
My polit­i­cal awak­en­ing occurred when …
..I decid­ed to study inter­na­tion­al affairs. I was total­ly devot­ed to a world where we can actu­al­ly meet as a unit­ed peo­ple and treat each oth­er with kind­ness. I had come from Haiti to the USA at 16, and was part of a large fam­i­ly. I was extreme­ly shel­tered in a great net­work held togeth­er by kin­ship ties. The bonds of mutu­al sup­port were so strong that I nev­er expe­ri­enced pover­ty, nor lacked for any­thing. Although priv­i­leged, I did observe that oth­er chil­dren [in Haiti] — par­tic­u­lar­ly inden­tured ser­vants called ​"restaveks" — were much less for­tu­nate than I was.
What is the great­est chal­lenge fac­ing humankind today? And what's one thing we can do about it?
Sav­ing the envi­ron­ment is one of the great­est chal­lenges fac­ing humankind today. It is our respon­si­bil­i­ty to meet this chal­lenge, and to ensure that the envi­ron­ment will sus­tain the next gen­er­a­tion. I have made it part of my advo­ca­cy work in Haiti to sup­port efforts that help the envi­ron­ment, like refor­esta­tion and edu­ca­tion programs.
Who is your favorite elect­ed leader, past or present? Why?
Dumar­sais Estimé, a pro­to­type of the pres­i­dent that is need­ed in Haiti today, was elect­ed in 1946. His elec­tion was deemed to be a break with Haiti's polit­i­cal tra­di­tion. Estimé was a civil­ian of hum­ble ori­gins and pas­sion­ate­ly anti-elit­ist. Accord­ing to my 90-year-old father Joseph, he was the best chief of State that Haiti ever had and demon­strat­ed a gen­uine con­cern for the wel­fare of the peo­ple. He ini­ti­at­ed but nev­er secured pas­sage of Haiti's first social-secu­ri­ty leg­is­la­tion. He did, how­ev­er, expand the school sys­tem, encour­age the estab­lish­ment of rur­al coop­er­a­tives, raise the salaries of civ­il ser­vants, and increase the rep­re­sen­ta­tion of mid­dle-class and low­er-class blacks in the pub­lic sector.
Actions like the nation­al­iza­tion of the Stan­dard Fruit banana con­ces­sion and the require­ment for work­ers to invest between 10 per­cent and 15 per­cent of their salaries in nation­al-defense bonds result­ed in less­en­ing his pop­u­lar­i­ty. The Army forced Pres­i­dent Dumar­sais Estime to resign on May 10, 1950.
What cam­paign should we all sign on to right now?
The green cam­paign to pro­tect the envi­ron­ment, because we are respon­si­ble to the next gen­er­a­tion. It should be a world­wide priority.
Media
What's the biggest thing U.S. media have got­ten wrong in their por­tray­al of Haiti since the earth­quake? What has most angered you about cov­er­age of the earth­quake and its aftermath?
What has both­ered me about U.S. media cov­er­age is its focus on the Amer­i­can response and not the inter­na­tion­al community's response. For exam­ple, Cuba has pro­vid­ed med­ical ser­vices since 1998 and has been assessed by the Pan Amer­i­can Health Orga­ni­za­tion (PAHO) as ​"hav­ing made impor­tant improve­ment in the health pro­file of the Hait­ian peo­ple, improv­ing infant mor­tal­i­ty, explic­it brain gain through train­ing of med­ical per­son­nel and estab­lish­ing long term relationship[s?]" (See this page on PAHO​'s web­site.) Cuba was bare­ly men­tioned in the coverage.
More­over, the focus was on Port-au-Prince with lim­it­ed atten­tion giv­en to provin­cial towns such as Leogane (the epi­cen­ter of the quake), which were deeply impact­ed and dev­as­tat­ed by the earth­quake. Media cov­er­age also failed to men­tion the major impact of the quake on the rest of the coun­try. There was lit­tle to no report­ing on the migra­tion of inter­nal­ly dis­placed per­sons to rur­al com­mu­ni­ties and its impact on already impov­er­ished regions.
What media, whether local, nation­al or inter­na­tion­al, do you depend on to know what's real­ly going on?
BBC, CNN, RFI, the New York Times and a wide vari­ety of jour­nals (includ­ing AARP, Chron­i­cle of Phil­an­thropy). I am an avid read­er of books in many lan­guages includ­ing French, Eng­lish and Span­ish). It would seem that there is nev­er enough time.
Per­son­al
What's a lifestyle choice you've made recent­ly to be greener?
Being con­sis­tent in recy­cling plas­tic and buy­ing no soda for con­sump­tion in my home.
Name a his­tor­i­cal fig­ure you'd like to take out to din­ner. Why?
For­mer Pres­i­dent Bill Clin­ton. I would like to influ­ence his think­ing and his strat­e­gy for Haiti. He is being pre­sent­ed as the new voice of Haiti. Now that he is out of office I would hope that he could be open to see­ing how Amer­i­can poli­cies have hurt this nation and what can be done to reverse them for the bet­ter­ment of the Hait­ian people.
What's the best piece of advice some­one gave you when you were young?
My par­ents encour­aged me to val­ue edu­ca­tion. I can remem­ber stand­ing next to my moth­er, and my aunt, with a book open on their lap, read­ing. I was even allowed to lean on them while I read.
What are your prej­u­dices? What are you doing to over­come them?
The pride of being Hait­ian and an expec­ta­tion of courage, strength and abil­i­ty to fight for one's own bat­tles is often a pit­fall that must be assessed. Such an atti­tude can be empow­er­ing, but it can also cloud one's think­ing and judg­ment toward others.
—June 22, 2010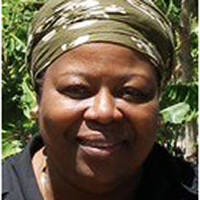 Marie Saint Cyr
, a social work­ers by pro­fes­sion, is chair of the Board of Direc­tors of the
Lam­bi Fund of Haiti
. is a social work­er by pro­fes­sion. She holds a B.A. in Inter­na­tion­al Rela­tions and a Mas­ter's degree in Social Work from the Uni­ver­si­ty of Penn­syl­va­nia in Philadelphia.