50 Years After Memphis Sanitation Workers Went On Strike, Remembering MLK's Words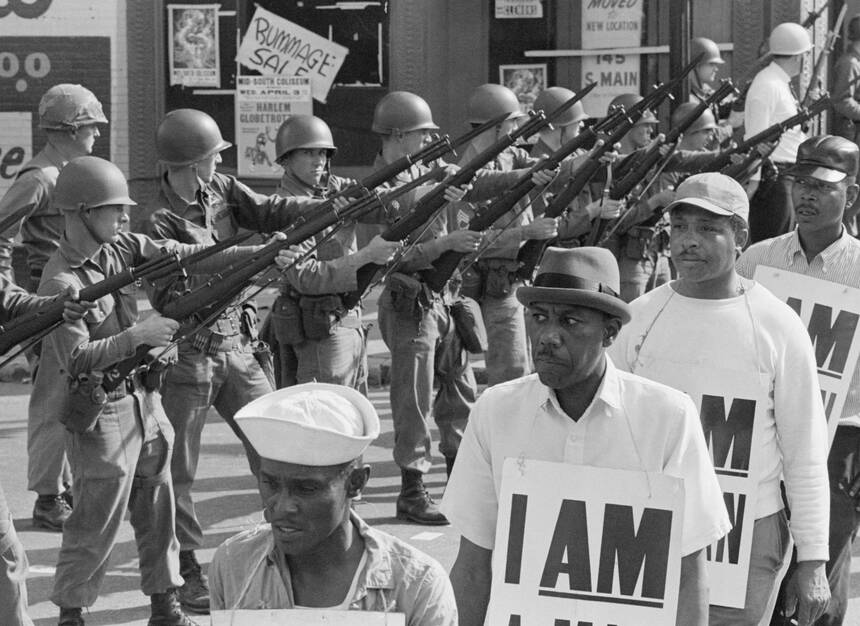 Exact­ly 50 years ago, rough­ly 1,300 san­i­ta­tion work­ers in Mem­phis, Tenn. went on strike for bet­ter work con­di­tions, ade­quate pay and union recog­ni­tion. Here is the speech that Dr. Mar­tin Luther King, Jr. deliv­ered in sup­port of the work­ers on April 3, 1968 — one day before he was assassinated.
Thank you very kind­ly, my friends. As I lis­tened to Ralph Aber­nathy in his elo­quent and gen­er­ous intro­duc­tion and then thought about myself, I won­dered who he was talk­ing about. It's always good to have your clos­est friend and asso­ciate say some­thing good about you. And Ralph is the best friend that I have in the world.
I'm delight­ed to see each of you here tonight in spite of a storm warn­ing. You reveal that you are deter­mined to go on any­how. Some­thing is hap­pen­ing in Mem­phis, some­thing is hap­pen­ing in our world.
As you know, if I were stand­ing at the begin­ning of time, with the pos­si­bil­i­ty of gen­er­al and panoram­ic view of the whole human his­to­ry up to now, and the Almighty said to me, ​"Mar­tin Luther King, which age would you like to live in?" — I would take my men­tal flight by Egypt through, or rather across the Red Sea, through the wilder­ness on toward the promised land. And in spite of its mag­nif­i­cence, I would­n't stop there. I would move on by Greece, and take my mind to Mount Olym­pus. And I would see Pla­to, Aris­to­tle, Socrates, Euripi­des and Aristo­phanes assem­bled around the Parthenon as they dis­cussed the great and eter­nal issues of reality.
But I would­n't stop there. I would go on, even to the great hey­day of the Roman Empire. And I would see devel­op­ments around there, through var­i­ous emper­ors and lead­ers. But I would­n't stop there. I would even come up to the day of the Renais­sance, and get a quick pic­ture of all that the Renais­sance did for the cul­tur­al and esthet­ic life of man. But I would­n't stop there. I would even go by the way that the man for whom I'm named had his habi­tat. And I would watch Mar­tin Luther as he tacked his nine­ty-five the­ses on the door at the church in Wittenberg.
But I would­n't stop there. I would come on up even to 1863, and watch a vac­il­lat­ing pres­i­dent by the name of Abra­ham Lin­coln final­ly come to the con­clu­sion that he had to sign the Eman­ci­pa­tion Procla­ma­tion. But I would­n't stop there. I would even come up to the ear­ly thir­ties, and see a man grap­pling with the prob­lems of the bank­rupt­cy of his nation. And come with an elo­quent cry that we have noth­ing to fear but fear itself.
But I would­n't stop there. Strange­ly enough, I would turn to the Almighty, and say, ​"If you allow me to live just a few years in the sec­ond half of the twen­ti­eth cen­tu­ry, I will be hap­py." Now that's a strange state­ment to make, because the world is all messed up. The nation is sick. Trou­ble is in the land. Con­fu­sion all around. That's a strange state­ment. But I know, some­how, that only when it is dark enough, can you see the stars. And I see God work­ing in this peri­od of the twen­ti­eth cen­tu­ry in a away that men, in some strange way, are respond­ing — some­thing is hap­pen­ing in our world. The mass­es of peo­ple are ris­ing up. And wher­ev­er they are assem­bled today, whether they are in Johan­nes­burg, South Africa; Nairo­bi, Kenya; Accra, Ghana; New York City; Atlanta, Geor­gia; Jack­son, Mis­sis­sip­pi; or Mem­phis, Ten­nessee — the cry is always the same — ​"We want to be free."
And anoth­er rea­son that I'm hap­py to live in this peri­od is that we have been forced to a point where we're going to have to grap­ple with the prob­lems that men have been try­ing to grap­ple with through his­to­ry, but the demand did­n't force them to do it. Sur­vival demands that we grap­ple with them. Men, for years now, have been talk­ing about war and peace. But now, no longer can they just talk about it. It is no longer a choice between vio­lence and non­vi­o­lence in this world; it's non­vi­o­lence or nonexistence.
That is where we are today. And also in the human rights rev­o­lu­tion, if some­thing isn't done, and in a hur­ry, to bring the col­ored peo­ples of the world out of their long years of pover­ty, their long years of hurt and neglect, the whole world is doomed. Now, I'm just hap­py that God has allowed me to live in this peri­od, to see what is unfold­ing. And I'm hap­py that He's allowed me to be in Memphis.
I can remem­ber, I can remem­ber when Negroes were just going around as Ralph has said, so often, scratch­ing where they did­n't itch, and laugh­ing when they were not tick­led. But that day is all over. We mean busi­ness now, and we are deter­mined to gain our right­ful place in God's world.
And that's all this whole thing is about. We aren't engaged in any neg­a­tive protest and in any neg­a­tive argu­ments with any­body. We are say­ing that we are deter­mined to be men. We are deter­mined to be peo­ple. We are say­ing that we are God's chil­dren. And that we don't have to live like we are forced to live.
Now, what does all of this mean in this great peri­od of his­to­ry? It means that we've got to stay togeth­er. We've got to stay togeth­er and main­tain uni­ty. You know, when­ev­er Pharaoh want­ed to pro­long the peri­od of slav­ery in Egypt, he had a favorite, favorite for­mu­la for doing it. What was that? He kept the slaves fight­ing among them­selves. But when­ev­er the slaves get togeth­er, some­thing hap­pens in Pharao­h's court, and he can­not hold the slaves in slav­ery. When the slaves get togeth­er, that's the begin­ning of get­ting out of slav­ery. Now let us main­tain unity.
Sec­ond­ly, let us keep the issues where they are. The issue is injus­tice. The issue is the refusal of Mem­phis to be fair and hon­est in its deal­ings with its pub­lic ser­vants, who hap­pen to be san­i­ta­tion work­ers. Now, we've got to keep atten­tion on that. That's always the prob­lem with a lit­tle vio­lence. You know what hap­pened the oth­er day, and the press dealt only with the win­dow-break­ing. I read the arti­cles. They very sel­dom got around to men­tion­ing the fact that one thou­sand, three hun­dred san­i­ta­tion work­ers were on strike, and that Mem­phis is not being fair to them, and that May­or Loeb is in dire need of a doc­tor. They did­n't get around to that.
Now we're going to march again, and we've got to march again, in order to put the issue where it is sup­posed to be. And force every­body to see that there are thir­teen hun­dred of God's chil­dren here suf­fer­ing, some­times going hun­gry, going through dark and drea­ry nights won­der­ing how this thing is going to come out. That's the issue. And we've got to say to the nation: we know it's com­ing out. For when peo­ple get caught up with that which is right and they are will­ing to sac­ri­fice for it, there is no stop­ping point short of victory.
We aren't going to let any mace stop us. We are mas­ters in our non­vi­o­lent move­ment in dis­arm­ing police forces; they don't know what to do, I've seen them so often. I remem­ber in Birm­ing­ham, Alaba­ma, when we were in that majes­tic strug­gle there we would move out of the 16th Street Bap­tist Church day after day; by the hun­dreds we would move out. And Bull Con­nor would tell them to send the dogs forth and they did come; but we just went before the dogs singing, ​"Ain't gonna let nobody turn me round." Bull Con­nor next would say, ​"Turn the fire hoses on." And as I said to you the oth­er night, Bull Con­nor did­n't know his­to­ry. He knew a kind of physics that some­how did­n't relate to the transphysics that we knew about. And that was the fact that there was a cer­tain kind of fire that no water could put out. And we went before the fire hoses; we had known water. If we were Bap­tist or some oth­er denom­i­na­tion, we had been immersed. If we were Methodist, and some oth­ers, we had been sprin­kled, but we knew water.
That could­n't stop us. And we just went on before the dogs and we would look at them; and we'd go on before the water hoses and we would look at it, and we'd just go on singing ​"Over my head I see free­dom in the air." And then we would be thrown in the pad­dy wag­ons, and some­times we were stacked in there like sar­dines in a can. And they would throw us in, and old Bull would say, ​"Take them off," and they did; and we would just go in the pad­dy wag­on singing, ​"We Shall Over­come." And every now and then we'd get in the jail, and we'd see the jail­ers look­ing through the win­dows being moved by our prayers, and being moved by our words and our songs. And there was a pow­er there which Bull Con­nor could­n't adjust to; and so we end­ed up trans­form­ing Bull into a steer, and we won our strug­gle in Birmingham.
Now we've got to go on to Mem­phis just like that. I call upon you to be with us Mon­day. Now about injunc­tions: We have an injunc­tion and we're going into court tomor­row morn­ing to fight this ille­gal, uncon­sti­tu­tion­al injunc­tion. All we say to Amer­i­ca is, ​"Be true to what you said on paper." If I lived in Chi­na or even Rus­sia, or any total­i­tar­i­an coun­try, maybe I could under­stand the denial of cer­tain basic First Amend­ment priv­i­leges, because they had­n't com­mit­ted them­selves to that over there. But some­where I read of the free­dom of assem­bly. Some­where I read of the free­dom of speech. Some­where I read of the free­dom of the press. Some­where I read that the great­ness of Amer­i­ca is the right to protest for right. And so just as I say, we aren't going to let any injunc­tion turn us around. We are going on.
We need all of you. And you know what's beau­ti­ful tome, is to see all of these min­is­ters of the Gospel. It's a mar­velous pic­ture. Who is it that is sup­posed to artic­u­late the long­ings and aspi­ra­tions of the peo­ple more than the preach­er? Some­how the preach­er must be an Amos, and say, ​"Let jus­tice roll down like waters and right­eous­ness like a mighty stream." Some­how, the preach­er must say with Jesus, ​"The spir­it of the Lord is upon me, because he hath anoint­ed me to deal with the prob­lems of the poor."
And I want to com­mend the preach­ers, under the lead­er­ship of these noble men: James Law­son, one who has been in this strug­gle for many years; he's been to jail for strug­gling; but he's still going on, fight­ing for the rights of his peo­ple. Rev. Ralph Jack­son, Bil­ly Kiles; I could just go right on down the list, but time will not per­mit. But I want to thank them all. And I want you to thank them, because so often, preach­ers aren't con­cerned about any­thing but them­selves. And I'm always hap­py to see a rel­e­vant ministry.
It's all right to talk about ​"long white robes over yon­der," in all of its sym­bol­ism. But ulti­mate­ly peo­ple want some suits and dress­es and shoes to wear down here. It's all right to talk about ​"streets flow­ing with milk and hon­ey," but God has com­mand­ed us to be con­cerned about the slums down here, and his chil­dren who can't eat three square meals a day. It's all right to talk about the new Jerusalem, but one day, God's preach­ers must talk about the New York, the new Atlanta, the new Philadel­phia, the new Los Ange­les, the new Mem­phis, Ten­nessee. This is what we have to do.
Now the oth­er thing we'll have to do is this: Always anchor our exter­nal direct action with the pow­er of eco­nom­ic with­draw­al. Now, we are poor peo­ple, indi­vid­u­al­ly, we are poor when you com­pare us with white soci­ety in Amer­i­ca. We are poor. Nev­er stop and for­get that col­lec­tive­ly, that means all of us togeth­er, col­lec­tive­ly we are rich­er than all the nations in the world, with the excep­tion of nine. Did you ever think about that? After you leave the Unit­ed States, Sovi­et Rus­sia, Great Britain, West Ger­many, France, and I could name the oth­ers, the Negro col­lec­tive­ly is rich­er than most nations of the world. We have an annu­al income of more than thir­ty bil­lion dol­lars a year, which is more than all of the exports of the Unit­ed States, and more than the nation­al bud­get of Cana­da. Did you know that? That's pow­er right there, if we know how to pool it.
We don't have to argue with any­body. We don't have to curse and go around act­ing bad with our words. We don't need any bricks and bot­tles, we don't need any Molo­tov cock­tails, we just need to go around to these stores, and to these mas­sive indus­tries in our coun­try, and say, ​"God sent us by here, to say to you that you're not treat­ing his chil­dren right. And we've come by here to ask you to make the first item on your agen­da fair treat­ment, where God's chil­dren are con­cerned. Now, if you are not pre­pared to do that, we do have an agen­da that we must fol­low. And our agen­da calls for with­draw­ing eco­nom­ic sup­port from you."
And so, as a result of this, we are ask­ing you tonight, to go out and tell your neigh­bors not to buy Coca-Cola in Mem­phis. Go by and tell them not to buy Seal­test milk. Tell them not to buy — what is the oth­er bread? — Won­der Bread. And what is the oth­er bread com­pa­ny, Jesse? Tell them not to buy Hart's bread. As Jesse Jack­son has said, up to now, only the garbage men have been feel­ing pain; now we must kind of redis­trib­ute the pain. We are choos­ing these com­pa­nies because they haven't been fair in their hir­ing poli­cies; and we are choos­ing them because they can begin the process of say­ing, they are going to sup­port the needs and the rights of these men who are on strike. And then they can move on down­town and tell May­or Loeb to do what is right.
But not only that, we've got to strength­en black insti­tu­tions. I call upon you to take your mon­ey out of the banks down­town and deposit your mon­ey in Tri-State Bank — we want a ​"bank-in" move­ment in Mem­phis. So go by the sav­ings and loan asso­ci­a­tion. I'm not ask­ing you some­thing we don't do our­selves at SCLC. Judge Hooks and oth­ers will tell you that we have an account here in the sav­ings and loan asso­ci­a­tion from the South­ern Chris­t­ian Lead­er­ship Con­fer­ence. We're just telling you to fol­low what we're doing. Put your mon­ey there. You have six or sev­en black insur­ance com­pa­nies in Mem­phis. Take out your insur­ance there. We want to have an ​"insur­ance-in."
Now these are some prac­ti­cal things we can do. We begin the process of build­ing a greater eco­nom­ic base. And at the same time, we are putting pres­sure where it real­ly hurts. I ask you to fol­low through here.
Now, let me say as I move to my con­clu­sion that we've got to give our­selves to this strug­gle until the end. Noth­ing would be more trag­ic than to stop at this point, in Mem­phis. We've got to see it through. And when we have our march, you need to be there. Be con­cerned about your broth­er. You may not be on strike. But either we go up togeth­er, or we go down together.
Let us devel­op a kind of dan­ger­ous unselfish­ness. One day a man came to Jesus; and he want­ed to raise some ques­tions about some vital mat­ters in life. At points, he want­ed to trick Jesus, and show him that he knew a lit­tle more than Jesus knew, and through this, throw him off base. Now that ques­tion could have eas­i­ly end­ed up in a philo­soph­i­cal and the­o­log­i­cal debate. But Jesus imme­di­ate­ly pulled that ques­tion from mid-air, and placed it on a dan­ger­ous curve between Jerusalem and Jeri­cho. And he talked about a cer­tain man, who fell among thieves. You remem­ber that a Levite and a priest passed by on the oth­er side. They did­n't stop to help him. And final­ly a man of anoth­er race came by. He got down from his beast, decid­ed not to be com­pas­sion­ate by proxy. But with him, admin­is­ter­ing first aid, and helped the man in need. Jesus end­ed up say­ing, this was the good man, this was the great man, because he had the capac­i­ty to project the ​"I" into the ​"thou," and to be con­cerned about his broth­er. Now you know, we use our imag­i­na­tion a great deal to try to deter­mine why the priest and the Levite did­n't stop. At times we say they were busy going to church meet­ings — an eccle­si­as­ti­cal gath­er­ing — and they had to get on down to Jerusalem so they would­n't be late for their meet­ing. At oth­er times we would spec­u­late that there was a reli­gious law that ​"One who was engaged in reli­gious cer­e­mo­ni­als was not to touch a human body twen­ty-four hours before the cer­e­mo­ny." And every now and then we begin to won­der whether maybe they were not going down to Jerusalem, or down to Jeri­cho, rather to orga­nize a ​"Jeri­cho Road Improve­ment Asso­ci­a­tion." That's a pos­si­bil­i­ty. Maybe they felt that it was bet­ter to deal with the prob­lem from the causal root, rather than to get bogged down with an indi­vid­ual effort.
But I'm going to tell you what my imag­i­na­tion tells me. It's pos­si­ble that these men were afraid. You see, the Jeri­cho road is a dan­ger­ous road. I remem­ber when Mrs. King and I were first in Jerusalem. We rent­ed a car and drove from Jerusalem down to Jeri­cho. And as soon as we got on that road, I said to my wife, ​"I can see why Jesus used this as a set­ting for his para­ble." It's a wind­ing, mean­der­ing road. It's real­ly con­ducive for ambush­ing. You start out in Jerusalem, which is about 1200 miles, or rather 1200 feet above sea lev­el. And by the time you get down to Jeri­cho, fif­teen or twen­ty min­utes lat­er, you're about 2200 feet below sea lev­el. That's a dan­ger­ous road. In the days of Jesus it came to be known as the ​"Bloody Pass." And you know, it's pos­si­ble that the priest and the Levite looked over that man on the ground and won­dered if the rob­bers were still around. Or it's pos­si­ble that they felt that the man on the ground was mere­ly fak­ing. And he was act­ing like he had been robbed and hurt, in order to seize them over there, lure them there for quick and easy seizure. And so the first ques­tion that the Levite asked was, ​"If I stop to help this man, what will hap­pen to me?" But then the Good Samar­i­tan came by. And he reversed the ques­tion: ​"If I do not stop to help this man, what will hap­pen to him?"
That's the ques­tion before you tonight. Not, ​"If I stop to help the san­i­ta­tion work­ers, what will hap­pen to all of the hours that I usu­al­ly spend in my office every day and every week as a pas­tor?" The ques­tion is not, ​"If I stop to help this man in need, what will hap­pen to me?" ​"If I do not stop to help the san­i­ta­tion work­ers, what will hap­pen to them?" That's the question.
Let us rise up tonight with a greater readi­ness. Let us stand with a greater deter­mi­na­tion. And let us move on in these pow­er­ful days, these days of chal­lenge to make Amer­i­ca what it ought to be. We have an oppor­tu­ni­ty to make Amer­i­ca a bet­ter nation. And I want to thank God, once more, for allow­ing me to be here with you.
You know, sev­er­al years ago, I was in New York City auto­graph­ing the first book that I had writ­ten. And while sit­ting there auto­graph­ing books, a dement­ed black woman came up. The only ques­tion I heard from her was, ​"Are you Mar­tin Luther King?"
And I was look­ing down writ­ing, and I said yes. And the next minute I felt some­thing beat­ing on my chest. Before I knew it I had been stabbed by this dement­ed woman. I was rushed to Harlem Hos­pi­tal. It was a dark Sat­ur­day after­noon. And that blade had gone through, and the X‑rays revealed that the tip of the blade was on the edge of my aor­ta, the main artery. And once that's punc­tured, you drown in your own blood — that's the end of you.
It came out in the New York Times the next morn­ing, that if I had sneezed, I would have died. Well, about four days lat­er, they allowed me, after the oper­a­tion, after my chest had been opened, and the blade had been tak­en out, to move around in the wheel chair in the hos­pi­tal. They allowed me to read some of the mail that came in, and from all over the states, and the world, kind let­ters came in. I read a few, but one of them I will nev­er for­get. I had received one from the Pres­i­dent and the Vice-Pres­i­dent. I've for­got­ten what those telegrams said. I'd received a vis­it and a let­ter from the Gov­er­nor of New York, but I've for­got­ten what the let­ter said. But there was anoth­er let­ter that came from a lit­tle girl, a young girl who was a stu­dent at the White Plains High School. And I looked at that let­ter, and I'll nev­er for­get it. It said sim­ply, ​"Dear Dr. King: I am a ninth-grade stu­dent at the White Plains High School." She said, ​"While it should not mat­ter, I would like to men­tion that I am a white girl. I read in the paper of your mis­for­tune, and of your suf­fer­ing. And I read that if you had sneezed, you would have died. And I'm sim­ply writ­ing you to say that I'm so hap­py that you did­n't sneeze."
And I want to say tonight, I want to say that I am hap­py that I did­n't sneeze. Because if I had sneezed, I would­n't have been around here in 1960, when stu­dents all over the South start­ed sit­ting-in at lunch coun­ters. And I knew that as they were sit­ting in, they were real­ly stand­ing up for the best in the Amer­i­can dream. And tak­ing the whole nation back to those great wells of democ­ra­cy which were dug deep by the Found­ing Fathers in the Dec­la­ra­tion of Inde­pen­dence and the Con­sti­tu­tion. If I had sneezed, I would­n't have been around in 1962, when Negroes in Albany, Geor­gia, decid­ed to straight­en their backs up. And when­ev­er men and women straight­en their backs up, they are going some­where, because a man can't ride your back unless it is bent. If I had sneezed, I would­n't have been here in 1963, when the black peo­ple of Birm­ing­ham, Alaba­ma, aroused the con­science of this nation, and brought into being the Civ­il Rights Bill. If I had sneezed, I would­n't have had a chance lat­er that year, in August, to try to tell Amer­i­ca about a dream that I had had. If I had sneezed, I would­n't have been down in Sel­ma, Alaba­ma, been in Mem­phis to see the com­mu­ni­ty ral­ly around those broth­ers and sis­ters who are suf­fer­ing. I'm so hap­py that I did­n't sneeze.
And they were telling me, now it does­n't mat­ter now. It real­ly does­n't mat­ter what hap­pens now. I left Atlanta this morn­ing, and as we got start­ed on the plane, there were six of us, the pilot said over the pub­lic address sys­tem, ​"We are sor­ry for the delay, but we have Dr. Mar­tin Luther King on the plane. And to be sure that all of the bags were checked, and to be sure that noth­ing would be wrong with the plane, we had to check out every­thing care­ful­ly. And we've had the plane pro­tect­ed and guard­ed all night."
And then I got to Mem­phis. And some began to say the threats, or talk about the threats that were out. What would hap­pen to me from some of our sick white brothers?
Well, I don't know what will hap­pen now. We've got some dif­fi­cult days ahead. But it does­n't mat­ter with me now. Because I've been to the moun­tain­top. And I don't mind. Like any­body, I would like to live a long life. Longevi­ty has its place. But I'm not con­cerned about that now. I just want to do God's will. And He's allowed me to go up to the moun­tain. And I've looked over. And I've seen the promised land. I may not get there with you. But I want you to know tonight, that we, as a peo­ple, will get to the promised land. And I'm hap­py, tonight. I'm not wor­ried about any­thing. I'm not fear­ing any man. Mine eyes have seen the glo­ry of the com­ing of the Lord.