Black Panther Engages with Decades of Black Liberatory Theory—And Is Also a Great Movie
The film, in no uncertain terms, considers the possibility and necessity of revolution for Black people across the world.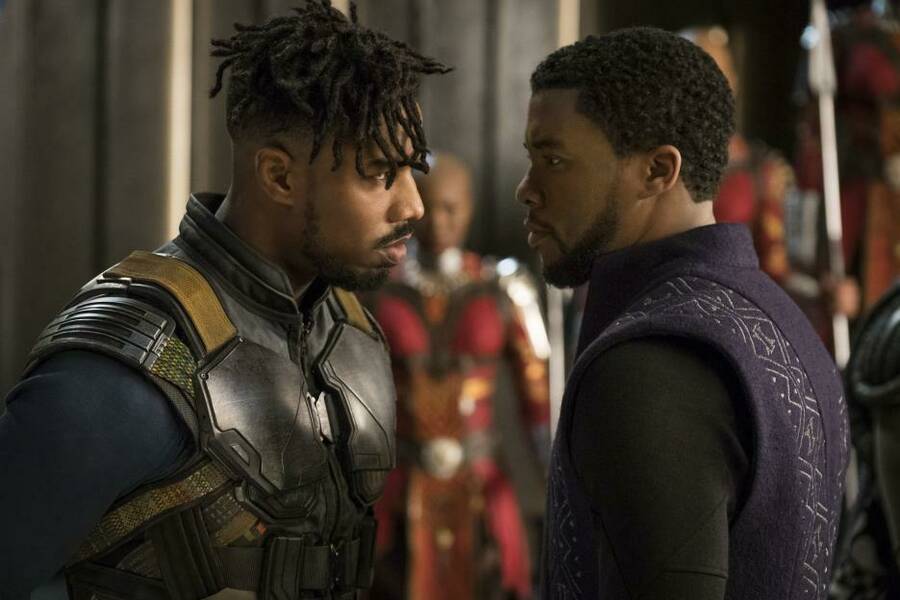 The first words uttered in director Ryan Coogler's Black Panther are, ​"Tell me a story, the story of home." From that phrase the film opens, not in the fictional African nation of Wakanda, but rather, in early 1990s Oakland, Calif.
Two Black men are plotting some type of caper in a small apartment. The film doesn't clarify if it's a robbery or the genesis of a revolution. But a television in the background broadcasts scenes of Los Angeles on fire during the 1992 riots after the arrest and beating of Rodney King. Outside the apartment, young Black boys shoot hoops to the soundtrack of Oakland's own Too $hort.
When the co-conspirators fear the police are about to burst in, they conceal their armory in walls decked out with African print and a Public Enemy album poster (the aptly titled, It Takes a Nation of Millions To Hold Us Back).
The philosophical debate about Black freedom in the United States has often been reduced to a binary choice between integration and separatism: W. E. B. Du Bois' immediate equality or Booker T. Washington's industrial education. Martin Luther King, Jr.'s Southern movement against Jim Crow or Malcolm X's crusade for Black awakening.
In Black Panther, those conversations are turned on their head. This is a film that fundamentally questions the nature of power, freedom and responsibility. It's unlike any other film Marvel has released thus far.
The character of Black Panther first appeared in the July 1966 issue of the Fantastic Four series, which was the prestige Marvel title at the time. Created by Jack Kirby and Stan Lee, the character debuted during the Civil Rights Movement and was the first Black superhero in mainstream American comics. Only a few months later, in October 1966, the Black Panther Party would be founded in Oakland. The overlapping names were a coincidence, but a fitting one.
In that first issue, the Fantastic Four met King T'Challa, regent of the mysterious African country of Wakanda. T'Challa dons the mantle of the Black Panther to protect his kingdom's people and its technological advancements, which far outstrip the outside world's, from those who would exploit them. The conceit is one of sympathy with the plight of Black people (even if it was spurred by Marvel realizing a business opportunity in Black readers).
Black Panther has since become an important character within the Marvel Universe, often used to introduce storylines that deal with race. In one of his earliest appearances, T'Challa uses his Black Panther persona to fight the Ku Klux Klan in the American South. In recent years, writers like Ta-Nehisi Coates, Roxane Gay and Yona Harvey have examined the politics of Wakanda's ruling monarchy and the conflict between T'Challa's desire to be a superhero and his responsibilities as king.
And now Black Panther is the first Black-led film released within the Marvel Cinematic Universe, which is currently celebrating its 10-year anniversary.
Central to the new film are questions of power and responsibility regarding Wakanda, the technologically advanced country of mystically powerful Black people. Should the fictional Afrofuturistic land stay free by continuing an isolationist view that protects its resources from possible outside exploitation? Or should Wakanda, the most advanced nation on Earth in the Marvel Cinematic Universe, take the helm of a global Black uprising?
It is telling that this story roots itself in Oakland, the birthplace of both the Black Panther Party and Coogler. Almost immediately, the film stares down the difficult implications of an Afrofuturist oasis like Wakanda existing alongside the historical oppression of African diasporic peoples. The film, in no uncertain terms, considers the possibility and necessity of revolution for Black people across the world.
One of the film's strengths is its portrayal of Black people within a full and varied world. Early on, White arms dealer Ulysses Klaue (Andy Serkis) seems poised to be the primary antagonist. Klaue is interested in the mining and theft of Wakanda's ​"vibranium" — the strongest known metal in the Marvel Cinematic Universe and the source of Wakanda's advancement and wealth. Yet, in an inspired and uncommonly concise moment of superhero storytelling, Klaue quickly takes a backseat to Erik Killmonger, played by frequent Coogler collaborator Michael B. Jordan.
Killmonger, the son of a Wakandan prince who grew up outside the utopian Wakanda, is full of justifiable anger at the oppression of people of African descent throughout world. And his anger is only fueled by Wakanda's isolationist history and policies.
Thus, Killmonger's conflict with T'Challa (Chadwick Boseman) goes far beyond a typical comic book villain's pursuit of wealth or world domination. Instead, the fight is philosophical. Do Black folks with resources, like the people of Wakanda, have a responsibility to dominate the world as recompense for those who have been oppressed by white supremacy?
In the subsequent conflict between the two young warriors, and the larger Wakandan kingdom, we see avatars of various strains of Black liberatory theory — ranging from the traditional honor society of the Jabari to the David Walker-esque notion of violent uprising presented by Killmonger.
The film never really resolves this debate, and leaves it an open question. So while Killmonger wants to give oppressed people power the film doesn't delve into whether that would mean Wakanda institutes a new global black supremacy or simply leads by example to achieve a more just world.
In what could have been a heavy-handed misfire, the generally superb writing of Coogler and Joe Robert Cole avoids too much proselytizing about the struggle of Black people in the United States and Africa (save for an early speech from Sterling K. Brown's character N'Jobu). And throughout the film we see multiple characters wrestle with their own definition of justice without those struggles being reduced to a series of civil rights position summaries.
Yet perhaps the most admirable narrative paradox Coogler and Cole tackle in Black Panther is the complication of having a Black superhero in a White world.
Even though it never suffered under white rule, Wakanda has to contend with a history of white colonial domination that has shaped the world around it. So T'Challa must deal with the microaggressions of being undermined by U.S. intelligence operative Everett K. Ross (Martin Freeman), despite his status as the head of state of the most advanced independent nation on Earth.
These moments, even when they happen at the relatively small level of physical touch or a flippant comment, display for the audience the supremacist thinking that underwrites U.S. policy in the so-called third world and in domestic communities of color. Wakandans don't shrink from those disrespects, but rather smirk to themselves with the knowledge of their own technological and economic preeminence.
Of course, Black Panther is still a Disney film, and it misses a distinct opportunity to inject a Black queer element into the storyline. In the most recent Marvel comics, two of the Dora Milaje (Wakanda's elite all-women warrior battalion) were romantically linked. Not so in the film. That storyline would have been an easy opportunity for a different kind of representation of superhero romance than the heterosexual tropes marched out in seemingly every movie.
Still, Coogler and Cole have written a film that intelligently considers what freedom looks like for Black people. They develop a relationship between characters that explores the tensions of diaspora and the unavoidable mythmaking that happens in Black American imaginings of an African homeland.
With an eye toward the historical backdrops of Black life, Black Panther imagines a fierce, lush landscape of complicated possibility that is rare for the genre.
For a limited time: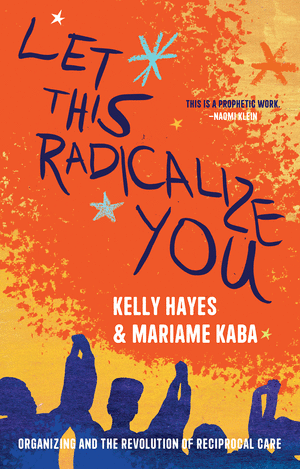 Donate $20 or more to support In These Times and we'll send you a copy of Mariame Kaba's new book, Let This Radicalize You.
Longtime organizers and movement educators Mariame Kaba and Kelly Hayes examine the political lessons of the Covid-19 pandemic, and the convergence of mass protest and mass formations of mutual aid. Featuring insights from a spectrum of experienced organizers, including Sharon Lungo, Carlos Saavedra, Ejeris Dixon, Barbara Ransby, and Ruth Wilson Gilmore and more.
"Kelly Hayes and Mariame Kaba have created a visionary and urgently needed guide to cultivating hope and action in treacherous times." —L.A. Kauffman