Here's Why These 3 Rank-And-File Union Members Are Running for Maryland Public Office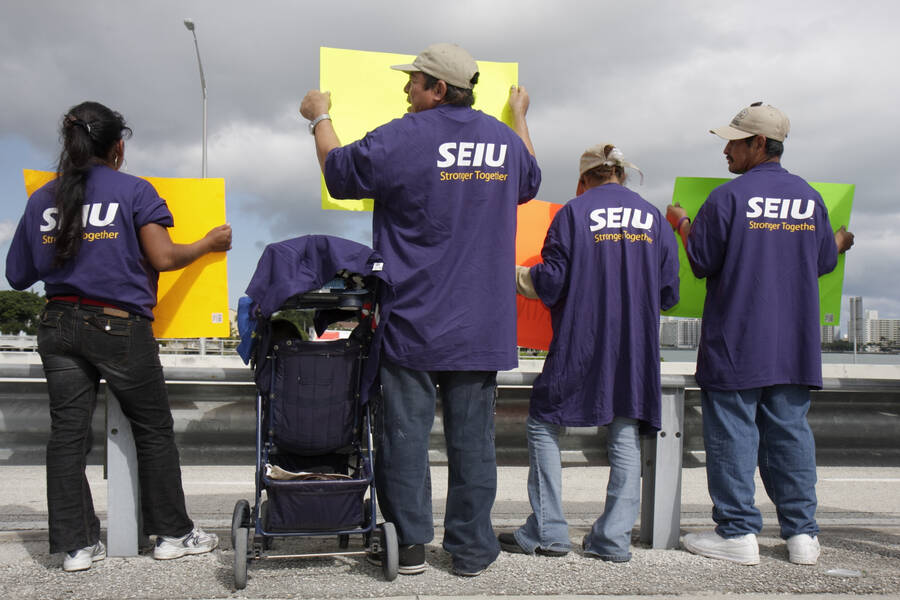 BAL­TI­MORE – Deter­mined to win a larg­er role in the state Demo­c­ra­t­ic Par­ty orga­ni­za­tion, Maryland's labor unions are enter­ing the 2018 off-year elec­tion sea­son ear­ly, and bet­ting on some of their own rank-and-file mem­bers for places in the state leg­is­la­ture and oth­er local offices.
Some of the prepara­to­ry work began this past sum­mer, says Char­ly Carter of Mary­land Work­ing Fam­i­lies, a union-backed polit­i­cal orga­ni­za­tion that will be aid­ing pro­gres­sive, pro-work­er can­di­dates in the state's Demo­c­ra­t­ic pri­maries. Carter's group, promi­nent­ly sup­port­ed by the Ser­vice Employ­ees Inter­na­tion­al Union (SEIU), spon­sored train­ing ses­sions for union mem­bers and oth­er pro­gres­sives intent on get­ting involved in races for local elec­tive offices for the first time. Some 300 peo­ple enrolled in the train­ings, she says, includ­ing prospec­tive can­di­dates, would-be cam­paign staffers and oth­er elec­tion activists.
"The Demo­c­ra­t­ic Par­ty is just not doing its job in Mary­land," in recruit­ing a new gen­er­a­tion of par­ty lead­ers who will defend pro­gres­sive val­ues, Carter tells In These Times. ​"They seem to regard their role as pro­tect­ing incum­bents, and noth­ing more."
A lot of the pro­gres­sives involved in the train­ing were spurred to action by the exam­ple of the 2016 pres­i­den­tial cam­paign. The suc­cess of Don­ald Trump in win­ning the White House, and the fail­ure of Bernie Sanders to win the Demo­c­ra­t­ic nom­i­na­tion, impressed on many the need to change the direc­tion of elec­toral pol­i­tics, Carter says.
For Alethia McCaskill, the 2016 pres­i­den­tial elec­tion was only the end point of a grow­ing con­vic­tion that she should become more involved in local elec­tions. The African-Amer­i­can neigh­bor­hoods around her home in the sub­urb of Catonsville have long suf­fered from neglect from their cur­rent offi­cials, espe­cial­ly Demo­c­ra­t­ic Sen. Shirley Nathan-Pul­liam, she says. So the SEIU Local 500 mem­ber decid­ed to take the leap and chal­lenge the incum­bent in the par­ty pri­ma­ry com­ing up in June.
Unions in Bal­ti­more were recep­tive to her ambi­tion, she says. Some of them were unhap­py with Nathan-Pulliam's per­for­mance in the leg­isla­tive fight over a Mary­land paid-sick-leave law, where some Democ­rats qui­et­ly tried to weak­en the new law, despite over­whelm­ing pub­lic sup­port for the mea­sure. McCaskill counts her­self as a pas­sion­ate sup­port­er of a strong bill, and also of a new $15-an-hour statewide min­i­mum wage. She tells In These Times she is expect­ing offi­cial endorse­ments, as well as finan­cial sup­port for her cam­paign, from sev­er­al unions that sup­port­ed Nathan-Pul­liam in the past.
The 10-year mem­ber of Local 500 says of her oppo­nent: ​"We were expect­ing her to step up on paid sick leave. She tried to water it down." More broad­ly, she sees her oppo­nent as too pas­sive in the leg­isla­tive fights impor­tant to work­ing-class vot­ers. ​"I'm not a ​'sit qui­et­ly in your office' kind of girl."
McCaskill is being joined in chal­leng­ing an incum­bent Demo­c­ra­t­ic sen­a­tor by Cory McCray, a young leg­is­la­tor with roots in the Inter­na­tion­al Broth­er­hood of Elec­tri­cal Work­ers (IBEW). McCray, 35, was elect­ed to the state's low­er House of Del­e­gates in 2014 with sup­port from Mary­land Work­ing Fam­i­lies and the IBEW, and is now ready to chal­lenge incum­bent Demo­c­rat Sen. Nathaniel McFad­den. Like Nathan-Pul­liam, McFad­den is a vet­er­an of the local polit­i­cal machine who has come under crit­i­cism for an over­ly con­ser­v­a­tive, go-slow approach to governance.
McCray is anoth­er sup­port­er of a statewide $15 min­i­mum wage and tells In These Times that now is the time to push it through. Although a high­er min­i­mum is opposed by Gov. Lar­ry Hogan ®, the major­i­ty of state leg­is­la­tors are Democ­rats, and should be able to over­ride any veto, he says. Con­ser­v­a­tive Democ­rats were respon­si­ble for too-gen­er­ous com­pro­mis­es with pro-busi­ness lob­by­ists when Mary­land passed its first-ever min­i­mum wage law back in 2014, he says, but the state leg­is­la­ture should be in a good posi­tion to cor­rect those errors after the 2018 election.
McCray was a fresh­man leg­is­la­tor in 2015 when angry protests against the police killing of African-Amer­i­can man Fred­die Gray rocked the city. Since then, McCray has worked steadi­ly to improve job oppor­tu­ni­ties for Baltimore's African-Amer­i­can com­mu­ni­ty, par­tic­u­lar­ly with the union­ized appren­tice­ship pro­grams avail­able through IBEW. ​"In my own life, a good sol­id union job made the dif­fer­ence. All the young men and women in Mary­land deserve a chance at the same thing," he says.
A sim­i­lar eth­ic is inspir­ing Samir Paul, a high school com­put­er sci­ence teacher from the Wash­ing­ton, D.C., sub­urb of Mont­gomery Coun­ty. A child of immi­grants from India, Paul is stand­ing for elec­tion to the Mary­land House of Del­e­gates after sev­er­al years as a pub­lic edu­ca­tion activist and cam­paign­er for Barack Obama.
"Don­ald Trump is a real chal­lenge to Amer­i­can val­ues. And there is a reflec­tion of that here in Mary­land with Gov. Hogan. In terms of (edu­ca­tion) pol­i­cy, Hogan and Trump are not that dif­fer­ent," says Paul, a four-year mem­ber of a local affil­i­ate of the teacher's union Mary­land State Edu­ca­tion Asso­ci­a­tion (MSEA).
Paul tells In These Times he wants orga­nized labor to ​"have a seat at the table" as the state leg­is­la­ture con­sid­ers changes to pub­lic edu­ca­tion law. Cur­rent­ly, a pan­el known as the Kir­wan Com­mis­sion is con­sid­er­ing pro­pos­als for changes that are expect­ed to be debat­ed in 2018 – 2019, and Paul says it is vital that pro-work­er, pro-union voic­es are heard in the closed-door meet­ings that typ­i­cal­ly take place in debates of this kind. ​"Hogan has not been a friend to pub­lic edu­ca­tion or to teach­ers … I'd like to be in the room," when new leg­is­la­tion is writ­ten, he says.
Paul is not chal­leng­ing an incum­bent but is run­ning for an open seat in the House of Del­e­gates. He says he has good prospects of get­ting for­mal sup­port from MSEA in June's Demo­c­ra­t­ic Par­ty pri­ma­ry, where the gen­er­al elec­tion is usu­al­ly decid­ed in heav­i­ly Demo­c­ra­t­ic Mont­gomery Coun­ty. ​"It's not auto­mat­ic," that I get union sup­port, he says, ​"but my chances are good."
Work­ing Fam­i­lies' Carter pre­dicts 2018 will be a good year in Mary­land for labor forces. The governor's elec­tion will be the pre­mier event and will ener­gize the tra­di­tion­al Demo­c­ra­t­ic Par­ty. Trump' unpop­u­lar­i­ty in Mary­land will pro­vide a favor­able plat­ing field, she says. ​"I think the Democ­rats will do well and the ear­ly prepa­ra­tion work should pay off for us," Carter says.
Bruce Vail
is a Bal­ti­more-based free­lance writer with decades of expe­ri­ence cov­er­ing labor and busi­ness sto­ries for news­pa­pers, mag­a­zines and new media. He was a reporter for Bloomberg BNA's Dai­ly Labor Report, cov­er­ing col­lec­tive bar­gain­ing issues in a wide range of indus­tries, and a mar­itime indus­try reporter and edi­tor for the Jour­nal of Com­merce, serv­ing both in the newspaper's New York City head­quar­ters and in the Wash­ing­ton, D.C. bureau.